Hands-On Lilienthal Berlin Watches Review

Hello everyone, today we're going to be taking a look at a fantastic German made watch from Lilienthal Berlin. I had a huge amount of trouble picking which watch I wanted to feature from this brand as they honestly have such a stunning collection available, in the end I decided on one of their automatic models, the Zeitgeist Automatik.
The Zeitgeist Automatik is designed and sustainably produced in Germany, it's built with a high quality Swiss automatic movement and a sapphire crystal glass lens.
This model is available in silver or black with a choice of 5 straps available in brown, black, grey, blue and light brown. You can find this model on their website for £429.00.
In today's watch review I'll be talking about the Lilienthal Berlin watches brand, the details of their watch and the packaging.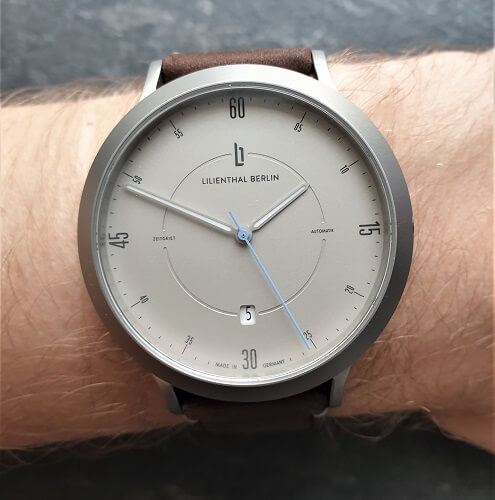 About Lilienthal Berlin Watches

Lilienthal Berlin are an award winning German brand that has a focus on minimalistic and profound design.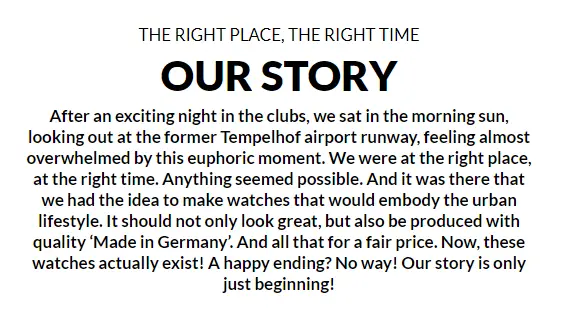 Directly from their site:
"Many of the details depict the urban attitude of life in Berlin. The subtle features on the dial, the architecture of the case and the colours of the straps reflect the city in which they were designed. Some details draw direct inspiration, like the shape of the crown which mimics the Weltzeituhr, while others focus on specific sentiments of the city, like the seconds hand in 'Serenity Blue' inspired by the 'blue hour'. Our design is even officially excellent, with the L1 winning the German Design Award, the iF Design Award and the Green Product Award!"
The aim to guarantee the top quality of their watches is one of the reasons it's so important to them to produce their watches in Germany. They're able to maintain a close relationship with their suppliers and manufactures in Germany where components such as the straps, packaging and dials for the LI are produced.
I'm also pleased to say that Lilienthal Berlin do their best to use environmentally friendly materials when possible, this includes the likes of their plant-tanned leather straps and their choice of green alternatives when it comes to packaging and shipping.
"We even choose the green alternative when it comes to our packaging and shipping method. We also support cultural and charitable projects in Berlin, particularly those who take care of children in need. Because we do all this without making any compromises in design, we were presented with the Green Product Award 2017."
You can learn more about Lilienthal Berlin watches on their about page
The Zeitgeist Automatik 
For today's Lilienthal Berlin watch review I've picked out the Zeitgeist Automatik. This is a men's minimalist watch with a high end Swiss movement and sapphire crystal glass. I picked this as a way of showing an example of the best of what's available from this brand.
For my review I've been wearing the watch on and off for a few weeks now, really taking the time to get a feel for the timepiece for this hands-on review.
It's time to take a deeper look at the elements of this watch, as always, let us know what you thought of it in the comments section at the end.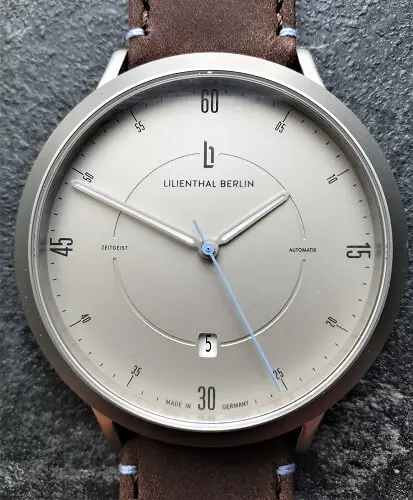 Dial Design
The Zeitgeist Automatik features a distinctive, clean and minimal dial design with a metallic galvanised, matte-blasted finish that I think looks terrific. The neat little hour markers, the logo and even the font is working well for me to be honest. They've opted to have the words Lilienthal Berlin, Zeitgeist, Automatik and made in Germany written on the dial, they're in a nice small font size to ensure it's not overbearing on the dial, I think was a great great choice.
The hour and minute hands are layered with Superluminova for excellent visibility in dim lit condition, something I like to see from watches in this type of price range. I love the extended second hand in "Serenity blue", it's a lovely touch of colour to the dial in my opinion.
Some will be happy to see they've opted for a small date display located at the 6 o'clock position. I think the position of the date is important, the use of the 6 o'clock position ensures the dial keeps its balance.
Watch Case & Sizing
It's time to take a look at how the casing holds up. Built with a matte 316 surgical stainless steel casing with a diameter of 42.5mm and a thickness of 10mm this watch has a comfortable bit of weight to it (77grams), you know the weight that gives you that feeling of quality, it's that sort of weight. The 42.5mm diameter is perfect for most people's tastes these days, these larger watches are very much the in thing at the moment.
The crown is an element worth talking about, it's embedded into the slim 10 millimetre casing in the shape of the famous Berlin Weltzeituhr.
On the rear of the watch we can see the beautiful Swiss made SW200 Sellita movement through the screwed-on exhibition style caseback made from sapphire crystal glass. As I often say, this is one of my favourite features in an automatic watch, I love being able to take a look at the movement working away.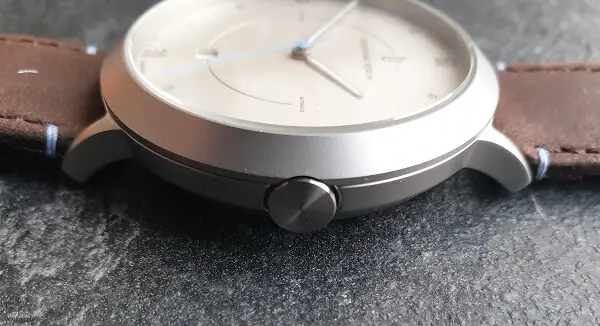 Watch Movement
Powering this masterpiece of a watch is one of my absolute favourite Swiss made movements. The SW200 automatic movement by Sellita is a beautiful and precise 26 jewel movement with a power reserve up to 38 hours. It beats at a frequency of 28,800 bph which gives you a smooth 8 ticks per second. Lilienthal have made use of a black galvanised and branded rotor which I personally appreciate the addition of.
The Sellita SW200 is the primary competitor to ETA's own flagship movement the ETA 2824 workhorse movement. The Sellita SW200 is more readily available and more economical which is why you'll often see it chosen over the ETA.
The Sellita SW-200 has an accuracy rating of ±12 seconds per day and features both hacking and a quick date function, for some, this is an absolute must so it's nice to have the ability available in this watch.
I find Caliber corner an excellent place to head to for information on movements so I recommend heading there to find out more about the Sellita SW200 movement.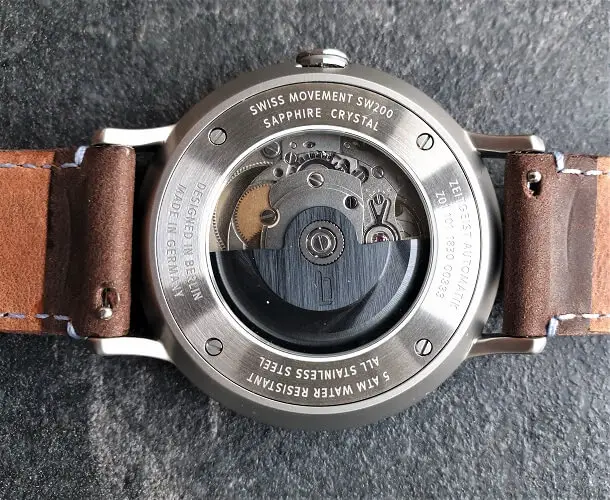 Watch Crystal
A high quality sapphire crystal glass lens protects the front and rear of the watch from scratches with a Mohs hardness rating of 9, you'd need to use a diamond to make a scratch on this glass.
At this price range, for this style of watch, this is exactly what I was expecting to find. Sapphire crystal glass offers extremely good scratch protection that can't be beaten.
Sapphire glass has one slight downside which is that it doesn't offer as much of a shatter resistance as the cheaper mineral crystal glass lens. I'd still personally prefer a sapphire glass for this style of watch though.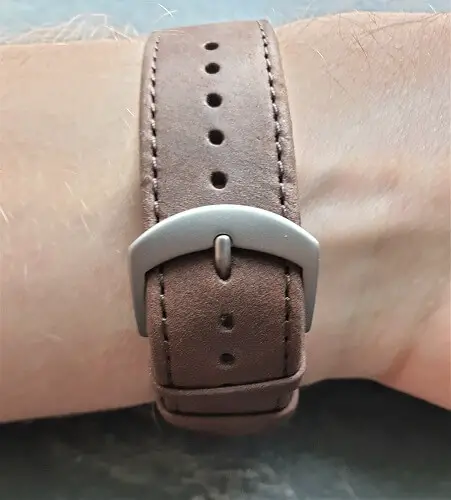 Strap & Clasp
The Lilienthal Berlin Zeitgeist automatik features a soft genuine leather strap that's made from German cattle and is tanned using a purely plant based process. Lilienthal Berlin's straps are 100% chromium-free and are also free of all harmful substances.
Having worn the watch on and off for a few weeks now during my review period, I can honestly say I found the strap to be very comfortable and easy to wear.
All of the straps from Lilienthal Berlin feature an extremely easy-to-use quick change function that allows you to alter your style at a moments notice.
As you can see, with the use of flash pumps you don't even require any tools to change the straps, it's easily done within a few seconds. I'm a fan of quick change straps and would honestly like to see even more brands heading in this direction. It makes the option of adding an extra strap into the basket all the more reasonable.
With a large range of quick change straps available in leather, pattern or metal mesh I recommend taking a look at what's available from their store also, view all available straps here.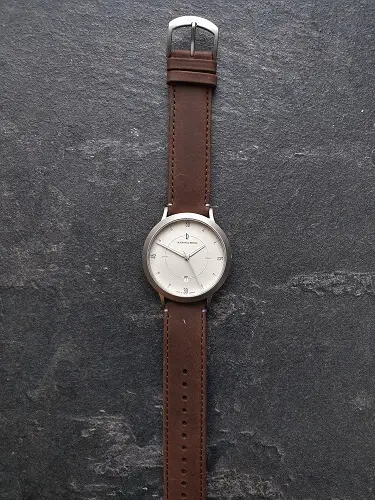 Water Resistance Rating
The water resistance rating of this watch is 5atm / 50m. This is suitable for everyday use, showering, bathing, shallow-water swimming, snorkeling, water related work, fishing. Splash/rain resistant.. You can read up more about water resistance ratings here.
Around the 50m mark is what I would expect from this style of watch in this price range so I'm pleased with this. I don't see any need for a higher rating as it's not a diver style timepiece.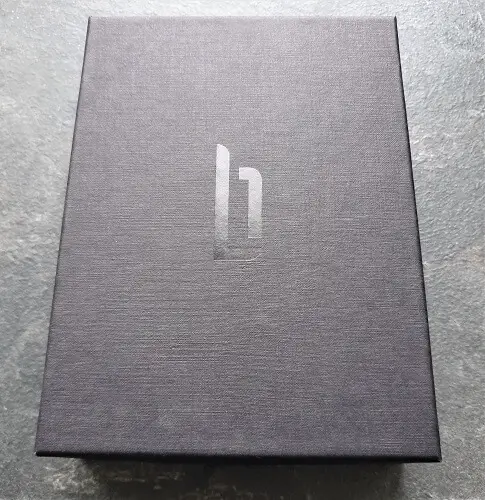 Packaging
The watch arrived in a rather nice looking box that's made of Eco-friendly materials in Germany. The contents includes some information cards and a small booklet on how to operate your watch, your serial number certificate and three post cards as you can see in the photos.
When it comes to packaging I often sway towards eco-friendliness. I don't personally have much use for watch packaging once I have a watch, I personally use a watch storage box for mine. In this case I'm more than happy with what Lilienthal Berlin have opted for, it's not the nicest packaging I've come across, but it is Eco-friendly and that's far more important to me personally.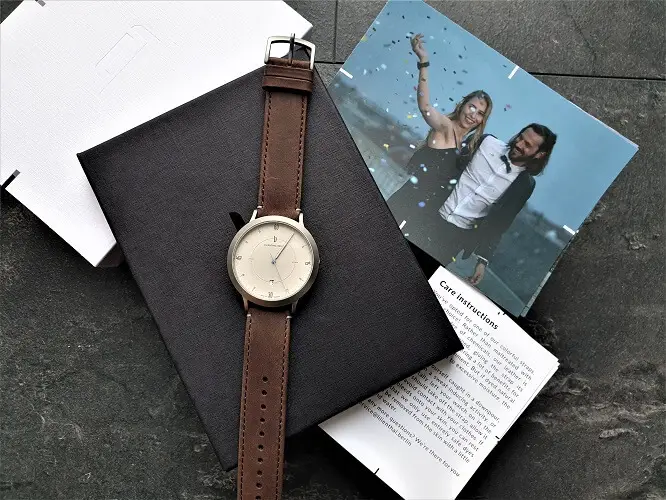 Specifications
Below I've listed some of the important specifications for the Charlie Paris Initial Power Reserve (for those of you who are skim reading).
42.5mm diameter
Swiss Automatic SW200 movement by Sellita
38 hour power reserve
Sapphire crystal glass
50m water resistance rating
Plant tanned German leather strap
24 month warranty
Made in Germany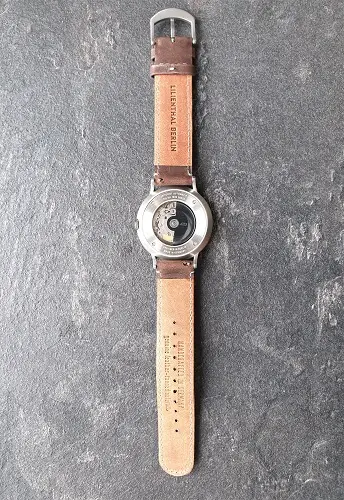 Overall Thoughts
This is the first time I've come across the Lilienthal Berlin brand and overall I've been pleased with everything I've seen. This model I've featured is one of their higher end automatic models but for those on a budget I would highly recommend checking out their whole range as there are some fantastic looking watches available at more affordable prices.
The watch has plenty of great features, I particularly liked the Swiss SW200 Sellita automatic movement and the fact you could see through to it via the exhibition caseback. The sapphire crystal glass was also a must have in this price range for me so that was excellent to see.
When it comes to value for money, it's all there in my opinion. I'd consider this a good buy when taking everything into account.
If you want to see more of what this brand has to offer I'd recommend you head over to the Lilienthal Berlin store front today.
Thank you for taking the time to read through today's Lilienthal Berlin watch review. What do you think of the brand and their watches? Comment below and let us know.