An In Depth Sekonda Watches Review
Hello everyone, today we've put together a Sekonda watches review. We'll be taking a look at the quality of Sekonda watches and viewing 5 of their most popular watches currently available.
Sekonda Watches History
Established in 1966, Sekonda is a brand that focuses on affordable timepieces. Sekonda really does aim for the mass market, this huge brand has something available for almost every style with watches available for men, women and children.
Whether you like contemporary, traditional, or fashion watches, there should be something here for you. You also have a wide choice of straps from Sekonda, these include metal, leather, cotton, and rubber.
Are Sekonda Watches Good?
Sekonda are definitely a brand you can trust, they've been around a very long time and know what they're doing. Are their watches any good though? That depends what you personally consider to be good. If you're asking if Sekonda offer value for money then I honestly feel they do. They've very affordable timepieces so you shouldn't be expecting all these extra bells and whistles, and for what they cost they're fair.
5 Best Sekonda Watches For Men
Below I've put together a list of 5 of the most popular Sekonda watches for men. As always I'd love to hear what your favourite is so let us know in the comments section at the end.
Why not check out my top 21 watches under £200 next.
1:  Sekonda 3536.25 Men's Quartz Watch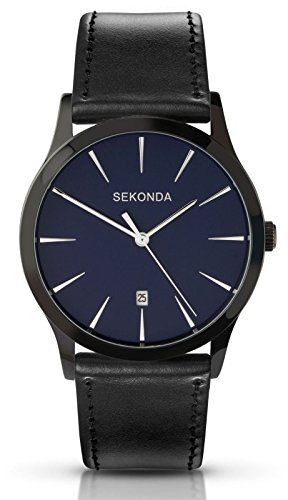 Buy on Amazon
First up in our list of the best Sekonda watches for men is this very affordable and simple timepiece. This men's Sekonda watch is perfect for day to day wear. It's built with a round alloy casing that has a diameter of 40mm with a nice slim 8mm thickness.
The timepiece features a reliable and accurate quartz movement and also comes with a mineral crystal glass lens for resistance against scratches and shattering. The date is nice and easy to read with a small date display located at the 6 o'clock position.
2. Sekonda 1565.27 Men's Chronograph Watch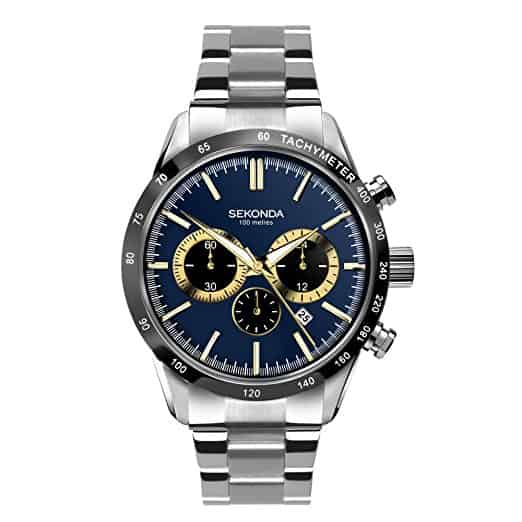 Buy on Amazon
Up next we have this rather impressive looking chronograph timepiece from Sekonda. It is a little more expensive than the first Sekonda watch I featured, but I'd still say it's very affordable, to be honest. I really like the design of the dial with the 3 chronograph subdials as well as the small and useful date display located between the 4 and 5 o'clock hour markers.
The casing for this model is made of stainless steel and comes in a slightly larger 44mm diameter with a thickness of 12mm to cater for the chronograph movement. I like that this model comes with a better quality 100m water resistance rating too. This is well worth considering if you prefer a more sports style watch.
3. Sekonda 3882 Affordable Quartz Watch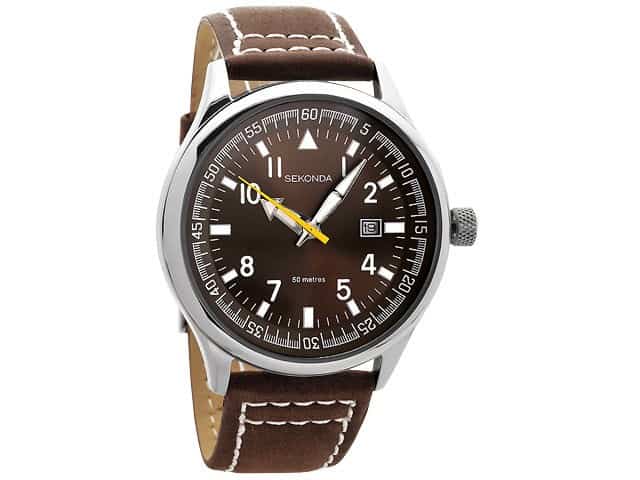 Buy on Amazon
The Sekonda 3882 is one of this brands most consistently best-selling watches. It's very affordable and could make the perfect timepiece for someone. It receives a huge amount of great feedback about it. This cool looking men's watch features a high visibility pilot style dial design with bold hands and hour markers that stand out against the brown background. There's also a handy date indicator at the 3 o'clock position on the dial.
Powering this men's watch is a quartz movement, these are battery powered movements that offer you reliable and accurate timekeeping. A mineral crystal glass lens also offers you a good level of resistance against scratches and shattering. You'll be pleased to find out this model also has a 50m water resistance rating, not bad for a watch in this price range.
4. Sekonda 3078 Sports Watch for Men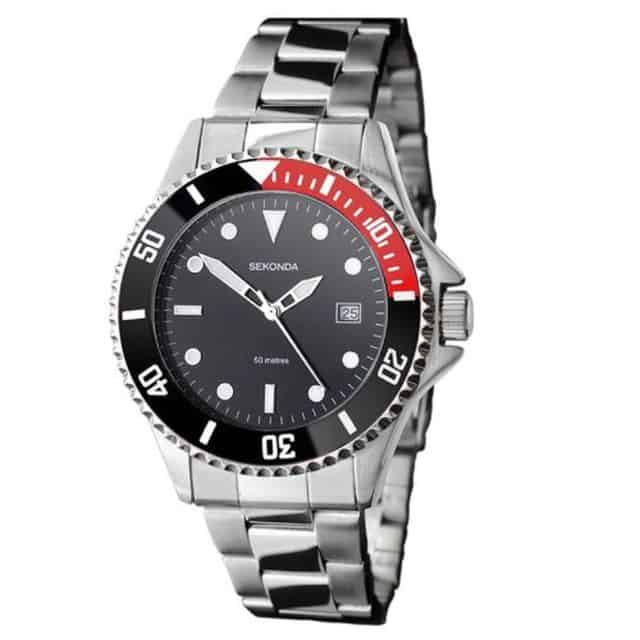 Buy on Amazon
If you love the look of sports watches but were after something very affordable, then this Sekonda 3079 men's watch may be just right for you. A lot of people love the look of these two-toned bezels, myself included. Again we have another Sekonda watch with a high visibility dial design that's easy to read and featured a date display at the 3 o'clock position.
The watch itself is built with a 39mm stainless steel casing that has an 11mm thickness. Powering the watch is a reliable quartz movement which we've covered within the earlier watches. A mineral crystal glass lens also protects the dial. Again it's nice to see a 50m water resistance rating, although, with a sports watch this is the minimum I'd want to see in most cases.
5. Sekonda 1065.27 with Mesh Style Strap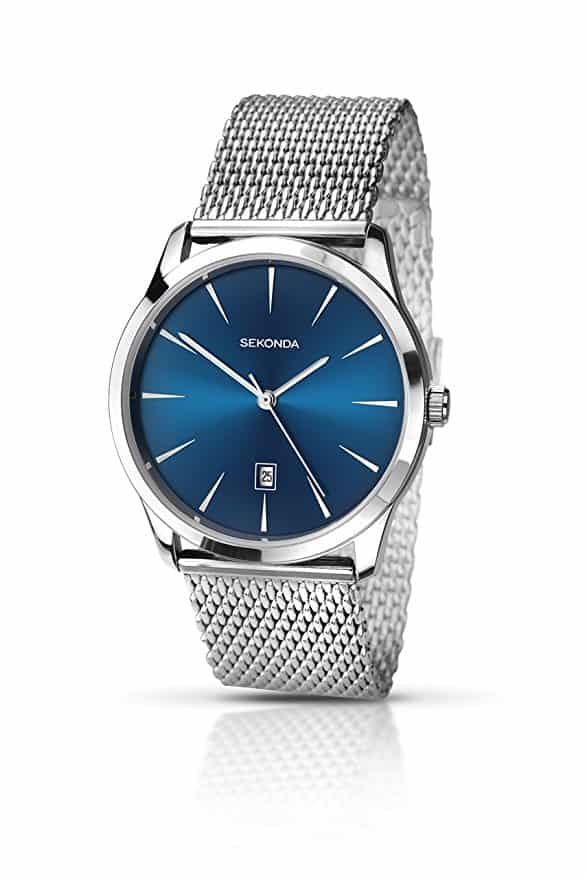 Buy on Amazon
Last up in today's list of the best affordable Sekonda watches for men is the stunning Sekonda 1065. It comes with this beautiful deep blue dial which the silver-toned hands and hour markers stand out on wonderfully. It's an elegant looking timepiece with a very comfortable mesh-style stainless steel strap, these happen to be one of my favourite strap types. The timepiece is fastened with a fold over clasp.
Just like the previous Sekonda watches, this model makes use of a quartz movement and a mineral crystal glass lens. There's not much in the way of water resistance so I don't recommend getting this watch wet. It's perfect for day to day wear or when you're heading out for a meal perhaps.
Conclusion
So there you have it, our top 5 best Sekonda watches for men. Personally, I've always been a fan of the Sekonda brand, sure they don't target the luxury market, but that's why I love them. They create stylish yet affordable watches which are perfect for anyone who's just getting into the watch market.
As always, I'd love to hear what you're favourite model from today's list is? We update our lists often and change around our recommendations depending on what's popular and trending at the time. Let us know if you have any suggestions for our next list update below and we'll take them all into consideration when we do our update.