Ball Watches Review – Value For Money?
Hey everyone, today I've put together a Ball watches review for you browse through. I'll be talking about the history of the Ball watch company followed up with a look at 5 of their most popular watches that are currently available.
Brief Ball Watches History
The Ball Watch Company SA is an American company that's based in La Chaux-de-Fonds, Switzerland. The company was established by Webb C. Ball in 1891 in Cleveland, Ohio. Its history is linked to the American railroad.
There wasn't actually any need for a standardization of time before the development of railways across the US. Towns would use the position of the sun to keep local time and no real level of accuracy was required.
However, when trains began to connect cities across really long distances things got quite problematic and it became difficult to avoid collisions. There was also no policy or standard for the watches used by any of the railroad employees.
The inevitable finally happened on April 18, 1891. A head on collision occurred between two trains in Kipton, Ohio. This sadly resulted in several deaths. Back in 1891 trains would use the same line in opposite directions and had to use defined crossing points to pass by each other. One of the conductors' watches ended up stopping for four minutes, leading to the fatal collision.
In an attempt to make trains safer Webb C. Ball was designated as Chief Time Inspector, he set up tests and standards for all watches used on trains. These strict criteria for accuracy and reliability later inspired the Swiss Official Testing Institue (COSC).
You can learn more about the history of Ball watches on their Wiki page.
Are Ball Watches Good?
So are Ball watches actually any good? In short, yes. Ball focuses on high-end extremely accurate watches that are designed to continue working under pressure. You'll find their Swiss made watches feature impressive movements as well as a variety of useful extras like protection from magnetic forces and high quality tritium gas tubes (depending on model).
Ball watches today are inspired by freedom, travel and facing adversity head-on, for those who dare to dream and strive to live well.
Personally, I love the variety of designs and styles available from Ball's six distinct collections, these include: Engineer Hydrocarbon, Engineer Master II, Engineer II, Trainmaster, Conductor, and Fireman. There's no denying that these are expensive timepieces, but I think you definitely get your money's worth with this brand.
You can learn more about the Ball watch company on their website.
5 Best Ball Watches For Men
Now we're going to be taking a look at some of the best Ball watches for men. These are some of the top selling timepieces for the brand that are currently available. If you have any questions about any of the watches featured here today simply comment at the end and I'll try and help you out as soon as I can.
1. Ball Men's Engineer Hydrocarbon Nedu Chronometer Titanium Automatic Chronograph Watch
Click here for the latest reviews, ratings, and PRICES on Watch Shop
The first timepiece to feature in our list of the best Ball watches for men is this stunning extreme diving watch. This is a very high quality diving watch that's designed to perform under pressure.
Powering the watch is a RR1042-C Chronometer specification Swiss made automatic chronograph movement that's COSC certified. This is a tritium watch with 21 gas tubes that don't require recharging to provide their incredible low ligh visibility.
The casing features a patented helium release valve that's built into the crown, this protects the watch from damage during saturation diving, allowing the watch to have a static water resistance rating of an incredible 600m.
The casing of this Ball men's diving watch is made of titanium for a lightweight feel and uses a ceramic unidirectional bezel. An impressive 3.7mm thick sapphire crystal protects against scratches and is coated with an anti-reflective material to minimize glare.
You can read my full DC3026A-SC-BK Ball watch review here soon.
 2. Men's Ball Engineer II Green Berets Chronometer Automatic Watch
Click here for the latest reviews, ratings, and PRICES on Amazon or Watch Shop
 Next up in our list of the most popular Ball watches for men is this Green Berets Chronometer automatic timepiece. This Ball watch is designed to handle the stresses and demands of combat. It's built with a solid lightweight titanium casing that has a dark carbide finish at a popular 43mm diameter sizing.
This impressive casing is resistant to corrosion and oxidation as well as offering protection to the movement inside the watch, including from magnetic forces up to 4800A/m and impacts of up to 5000G's.
This ball watch also makes use of tritium lighting using patented gas tubes that never need to be recharged or exposed to light.
At the heart of this timepiece is a Ball RR1103-C automatic mechanical movement with COSC certification for brilliant accuracy.
You can read my full Ball NM2028C-L4CJ-BK watch review here soon.
3. Ball Fireman Night Train DLC Automatic Watch
Click here for the latest reviews, ratings, and PRICES on Amazon or Watch Shop
 Here we have the men's Ball Fireman Night Train DLC watch that's made with a stainless steel casing with scratch resistant Diamond Like Carbon DLC coating. This is accompanied by a hard wearing sapphire crystal glass for excellent scratch resistance.
Powering this Ball timepiece is an impressive ETA 2824-2 Swiss made automatic movement for reliable and accurate timekeeping.
The dial of this timepiece features very good luminosity with its 75 tritium gas tubes that never need charging in order to work.
You can read my full NM2092C-P-BK Ball automatic watches review here once it's complete.
4. Ball Fireman Racer Classic Automatic Men's Watch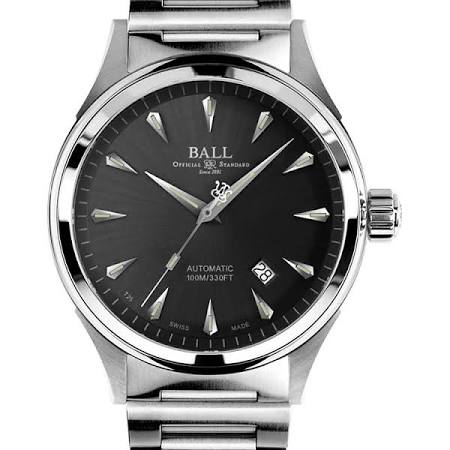 Click here for the latest reviews, ratings, and PRICES on Watch Shop
 In at number 4 we have the Ball Racer Classic which features a more traditional dress watch design. The casing of this model is made from stainless steel with a diameter of 43mm and a thickness of 12mm.
At the heart of this Swiss made timepiece is a reliable and accurate Swiss automatic movement. A sapphire crystal glass with anti-reflective coating is used to help prevent scratches and scuffs to the front of the watch. It also has a useful 100m water resistance rating.
You can read my full NM2288C-SJ-GY Ball watches review here soon.
 5. Ball Trainmaster Worldtime Watch
Click here for the latest reviews, ratings, and PRICES on Watch Shop
 This has to be one of my favourite Ball watches featured today. This is the Ball Trainmaster Worldtime watch, it's a very impressive automatic Chronometer timepiece.
This eye catching timepiece is reliable and precise with its COSC certification. It uses micro-gas pipes on the hour, minute, and seconds pointers for some of the best readability in dim lit conditions. The stainless steel casing is also shock resistant to 5,000G.
A sapphire crystal glass protects the front and rear exhibition caseback from scratches and scuffs. This has an anti-reflective coating to minimise glare which is a handy added extra to have.
You can read my full Ball Chronometer watch review here soon.
Conclusion
Thanks for taking the time to read through today's brief Ball watches review. As I mentioned above, my favourite has to be the 5th watch featured. What was your favourite model featured today? Comment below and let us know.