Seiko SKX033 Review

My rating: 8.5/10. An impressive Seiko automatic diver watch with a Pepsi style bezel.

Hey everyone. Today I'm taking a look at the Seiko SKX033, this timepiece was next up on my list of the most popular Seiko watches. This model features the sought after Pepsi style bezel and is powered by a reliable 7S26 automatic movement. It should be quite an interesting timepiece to take a look at. I hope you enjoy today's Seiko SKX033 review.
You can check out more of the top Seiko diving watches here.
Below is an up-close image of the Seiko SKX033 featuring a stainless steel strap.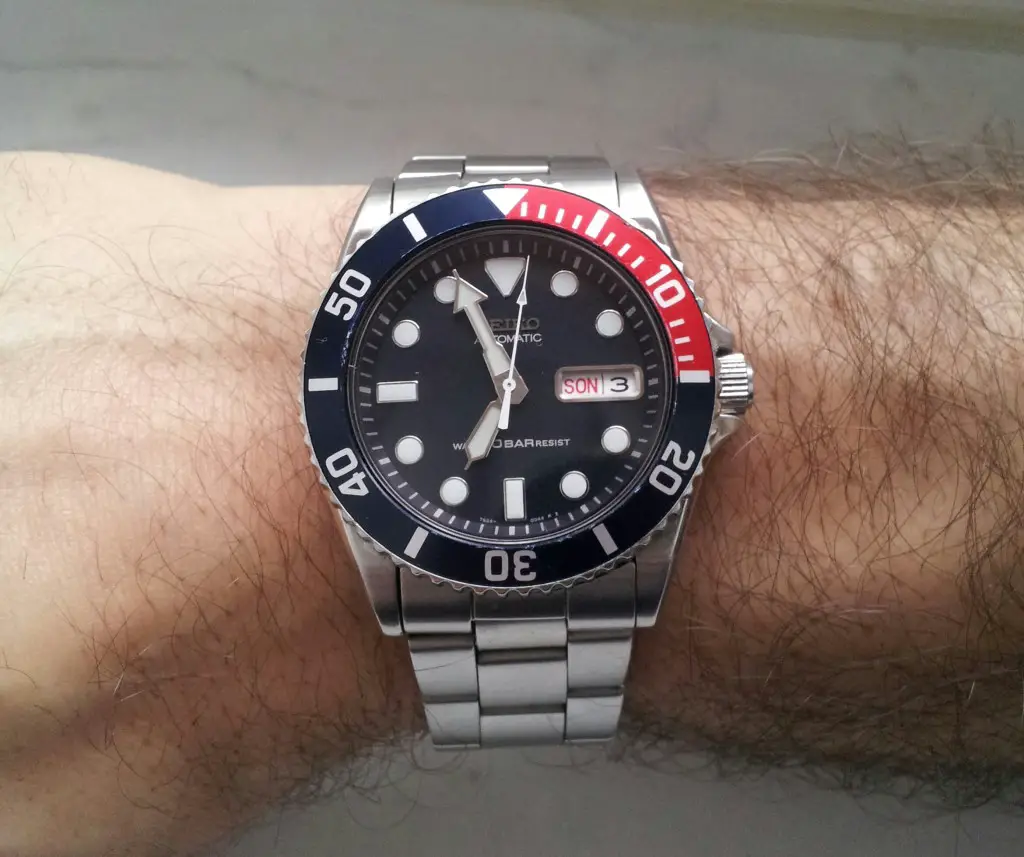 Seiko SKX033 Technical specifications
I like to start off with a quick run through the general specifications of the watch. This gives you the opportunity to see if you like this style of watch from the get-go. For example, some people wouldn't want to go for a very large watch.
Model Number: SKX033
Crystal Material: Hardlex crystal
Case Diameter: 39mm
Case Thickness: 12mm
Movement: 7S26 Automatic
Water Resistance: 100m / 10 bar
Strap Material: Rubber or Stainless steel
Seiko SKX033 Dial and Casing Design

The Seiko SKX033 "Submariner" as it's known is a popular vintage Seiko diving watch. It features that typical diving style high visibility dial design with bold hands and hour markers that stand out well against the dark blue background of the dial. The hands and hour markers have a coating of lume for excellent visibility in dim lit conditions.
On the dial, we find the terms 'Seiko', 'Automatic', 21 jewels' and the water resistance rating. There's also a day and date feature at the 3 o'clock position on the dial.
The casing itself is made from stainless steel with a diameter of 39mm and a thickness of 12mm. A large uni-directional bezel sits on top of the watch with minute numbering and that classic Pepsi style blue and red colouring.
Note that the crown sits at the 3 o'clock position on this model and can be screwed down to help prevent it accidentally being pulled out.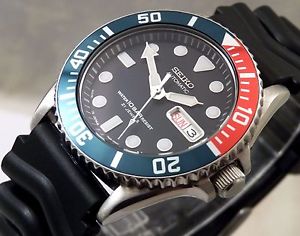 Strap & Clasp
The strap on this Seiko SKX033 automatic diving watch can vary depending on where you find it. As it's a vintage Seiko watch, you'll likely be looking at second hand models online most of the time. You often find either a stainless steel, rubber, or Nato style strap attached to this watch.
Note that if you wish to do so, you can actually change the strap to whichever you prefer. The gap between the lug measures 22mm wide. Purchase a watch repair kit for all the tools required for this job.
The Seiko SKX033 Movement
At the heart of this popular vintage diving watch is the Seiko 7s26 caliber movement. This is a well-loved movement that features in many of Seiko's most popular diving watches from the SKX collection.
The 7s26 is a 21 jewel movement that beats at 21,600 BPH, this gives you a nice and smooth 6 ticks per second sweeping second hand. When fully wound the movement has a power reserve of 43 hours, the movement doesn't feature hacking.
Seiko SKX033 Crystal
At the front of the watch is a protective Hardlex crystal glass lens. This is a proprietary glass owned by Seiko and used in many of their watches. You'll commonly find this is many Seiko, Pulsar, and Lorus watches. Hardlex glass gives you a good level of resistance to scratches and shattering, ideal for this type of timepiece.
Also Read: Best Minimalist Watches
SKX033 Water Resistance 
The water resistance rating of the Seiko SKX033 is 100m, also known as 10 bar. As per Wikipedia, this is suitable for recreational surfing, swimming, snorkeling, sailing and water sports. Note that this is not suitable for diving.
Seiko SKX033 Pros & Cons
I wanted to point out some of the pros and cons of this Seiko SKX033 and display them in a nice and easy to read format so you can see if this watch is right for you.
Seiko SKX033 Pros
High-quality lume
Pepsi style bezel
Smooth 6 ticks per second
Workhorse 7S26 automatic movement
21 jewels
43 hour power reserve
100m water resistance rating
Hardlex glass
Day/date display
Seiko SKX033 Cons:
None to mention (Comment below if you have any points to add)
A Final Word On The Seiko SKX033

The Seiko Diver SKX033 is a beautiful diving timepiece. It's just a shame it's so hard to get a hold of these days. If you trawl some of the bigger forums you may find a few people selling them at least.
Overall, it's a very well built watch that features a decent automatic 7S26 movement and has a 100m water resistance rating. The dial is easy to read with its bold design and the Pepsi style bezel stands out on your wrist. With all these features it's easy to see why the Seiko SKX033 has been such a success.
If you like the design of these type of timepieces I recommend checking out my list of the best diving watches for all budgets. You should also consider the Seiko SKX007 and the Seiko SKX009.
Having taken a look at the quality, specifications, and pricing of this watch, I've decided to give it a 8.5/10.
Where To Buy The Seiko SKX033

I like to stick to listing retailers that I've actually had experience buying from in the past. Below I've listed some of the top places to buy this watch from, check all for the best price.
Buy on Amazon Unavailable
Buy on Watch Shop Unavailable
Thanks For Reading
I hope you enjoyed having a read through of this Seiko SKX033 review. As always let us know what you thought in the comments section below.
Why not check out our top 100 best watches under £500 next.