Seiko SKA369 Watch Review Summary
My rating: 8/10. Seiko 5 SKA369 watch, also known as theSKA369P1. Affordable kinetic diving timepiece.

Hello, today I'm doing a Seiko SKA369 review. This is another popular Seiko diver, this model features a Kinetic quartz movement though. These are hard wearing reliable movements with very long power reserves. It also features a diver's 200m water resistance rating. You should also check out list if you're looking for the best diving watch.
I hope you enjoy this Seiko SKA369 review below.
You may also like my: 100 Best Watches Under £500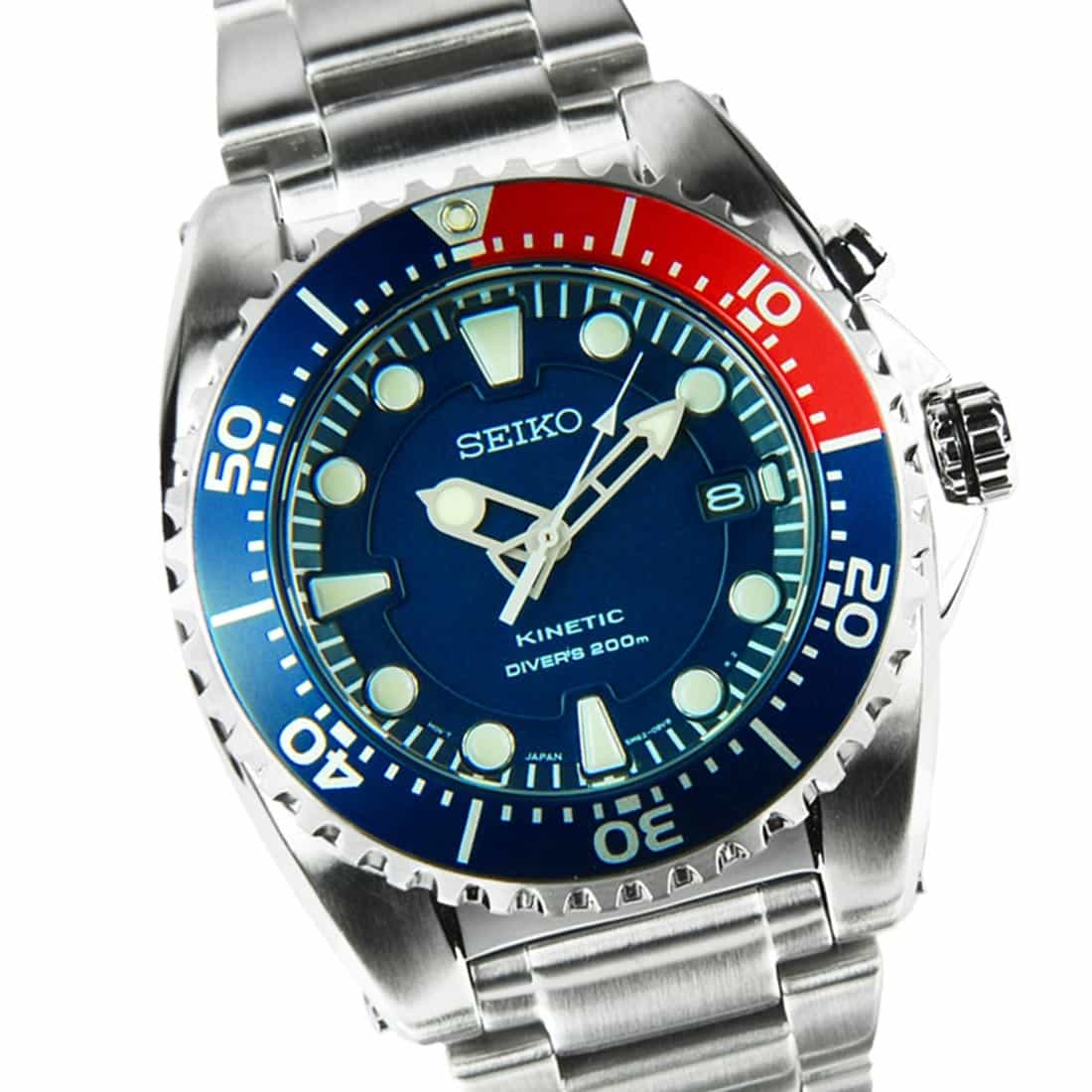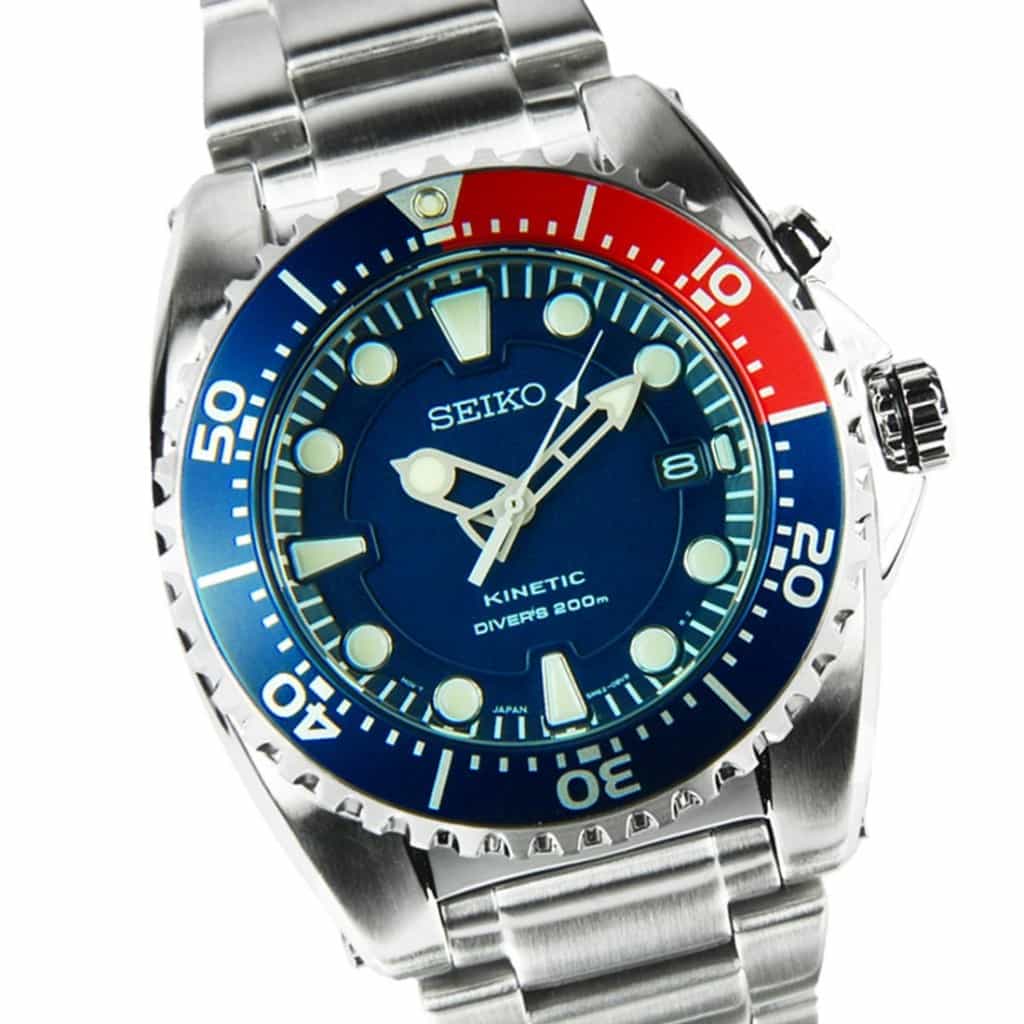 Latest reviews, ratings and prices: Seiko SKA369 watch
At the bottom of this article, you can find a list of my recommended retailers to purchase this watch from
Seiko SKA369 Watch Review
Seiko SKA369 Dial & Case Design
This Seiko SKA369 is a diving style timepiece with a large, extremely easy to read dial, as you'd expect from a diving watch.
The dial features these bold hands and hour markers that have a great coating of lume making them very easy to read in dim lit conditions.
It features a Pepsi style bezel which is often popular for Seiko diving watches. The bezel rotates unidirectional and has minute numbering on it.
The casing of the watch is made of stainless steel and features a screw down crown at the 3 o'clock position.
Also read: Steinhart Ocean 1 review
Seiko SKA369 Type Of Crystal
This Seiko kinetic watch uses a Hardlex crystal glass which is commonly found on many Seiko watches. It's tougher than traditional mineral crystal glass and gives you a good level of scratch and knock resistance.
Seiko SKA369 Watch Movement
Powering the watch is an interesting Kinetic Quartz movement, the 5M62. The 5m62 movement has a 6 month power reserve and features hacking. Note that the movement doesn't feature manual winding.
Seiko SKA369 Watch Size
This is a large Seiko diving watch with a 45mm casing diameter (not including the crown). The thickness comes in at approximately 14mm making this a nice large chunky style timepiece.
Seiko SKA369 Strap
The strap of the watch is made of stainless steel and has a width of 20mm which goes nicely with the casing size. The strap fastens with a fold over style push release clasp. The strap can be replaced if you want to.
Seiko SKA369P1 Water Resistance Rating
This Seiko watch has a very good diver's 200m water resistance rating which is suitable for most people's needs. A 200m or 20 bar rating makes this watch suitable for scuba diving at depths not suitable for saturation diving.
Seiko SKA369 Watch Specifications
Band: Stainless steel strap, standard length, 20mm width, fold over style clasp.
Case: Stainless steel casing, sizing diameter: 45mm and thickness: 14mm.
Dial: Analogue display. Hardlex crystal glass window lens.
Movement: Kinetic Quartz movement.
Water Resistant: A water resistance of up to diver's 200m / 20 bar.
Seiko SKA369 Watch Advantages
High visibility display
Luminous hands
Diver's 200m water resistance rating
Hardlex crystal
Kinetic quartz movement
Seiko SKA369 Watch Disadvantages 
With a larger 45mm casing diameter, this watch may not be suitable for people with smaller wrists
My Final Thoughts On This Seiko SKA369 Review:
It's well worth checking out my 14 Best Seiko 5 watches where you can take a look at many of the top timepieces from Seiko.
It's great to feature a kinetic diving watch from Seiko, they're very efficient timepieces with up to 6 months power reserve which is very good. This model has remained popular over time due to it's affordable pricing and high build quality.
After looking into the watch design, quality, features, and pricing this watch received a 8/10 from us at The Watch Blog.
You may also like my Best Watches For Teens
Where to buy the Seiko SKA369

I like to stick to listing retailers that I've actually had experience buying from in the past. Below I've listed some of the top places to buy this watch from, check all for the best price. Variations of this watch include: Seiko SKA369, Seiko SKA369P1.

Buy now at Amazon
Buy at Watch Shop Unavailable

Hope you enjoyed this Seiko SKA369P1 review. Find more watch reviews below.