Guide To The Best Homage Watches Of Famous Timepieces
Hello everyone, today I'm putting together an informative article about some of the worlds most iconic luxury watches and their much more affordable homage alternatives. Whilst the dream is to own many of these luxury watches, real life has a way of getting in the way of it. With all the expenses in life, sometimes it just isn't a sensible option to go out and spend in excess of £5000 on a watch.
Personally, on my type of budget, you'd find me more accustomed to lists like my top 100 best watches under £500 or at a stretch the best automatic watches under £1000. That's not to say I wouldn't like a luxury timepiece, it just simply isn't an option just yet.
This is why a homage watch is sometimes a nice alternative to settle for, if you like the general design and style of a luxury watch but can't quite afford it, then a homage watch is the way to go.
Where do you draw the line between homage a watch and replica?
There's a big difference between a homage watch and a replica, I would never endorse a replica watch and am personally heavily against them. Replicas just want to steal intellectual property and also use the brand name on the timepiece.
whereas a good homage watch takes design inspiration from the original and often substitutes high-quality expensive parts for more reasonable options, for instance, a mineral glass instead of sapphire. Or a quartz movement instead of a high end Swiss mechanical movement. You'll even find them proud to use their own brand on homage watches.
Here are 5 popular Luxury watches and their affordable homage alternatives
1. Rolex Daytona
Check out the latest Rolex Daytona watches on Goldsmiths
Where better to start than the world famous Rolex Daytona on today's feature of the best homage alternative watches. It's fair to say there are more expensive and considerably more complicated Rolex watches available. But the original Rolex Cosmograph Daytona still remains one of the most sought after watches for any watch collector.
What makes the Rolex Daytona so popular? This watch is often referred to as the Paul Newman Daytona. When it was first introduced the watch wasn't in high demand. It wasn't until Joanne Woodward gave her husband Paul Newman one when he took up automobile racing in 1972 that the watch became so popular.
As you find with many things in life, when a famous star starts wearing your watch, people start to take attention to it. These days even a basic Rolex Daytona will set you back a pretty hefty sum. In 2013 a special Rolex themed auction was held in Geneva, they sold a rare Rolex Daytona Ref 6263 in steel that was manufactured in 1969 for well over 1 million dollars.
Rolex Homage Alternatives
So what brand would I recommend taking a look at for a very affordable Rolex alternative? I'm putting forward Invicta watches (hear me out). Admittedly, Invicta are known to be a bit of a marmite brand, you either love them or you hate them.
When it comes to watches that look like Rolex, Invicta has quite the range available. These are very affordable watches as well. Of course, they don't come with high specification movements and often simply have mineral crystal glass rather than the highly scratch resistant sapphire, but they have the look. And a lot of the time the look is the main thing people are looking for.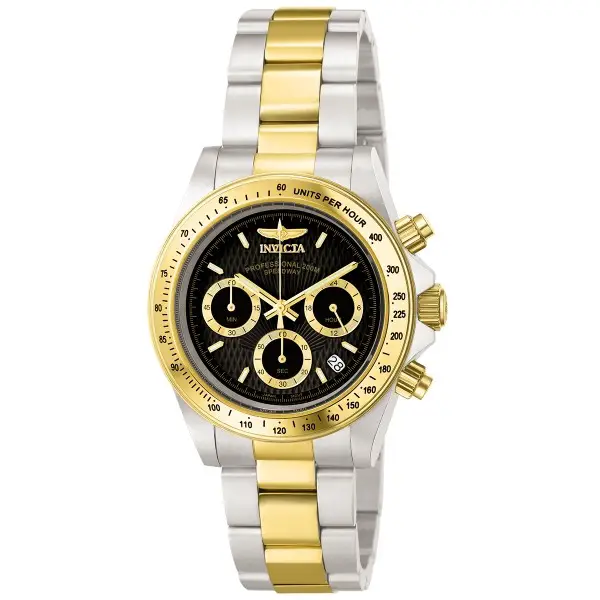 Check out the latest reviews, ratings, and prices on Amazon
Above is an Invicta Speedway, you can see they've really gone for the overall style of the Rolex watch featured. It's actually one of Invicta's most popular watches because of this.
2. Rolex Submariner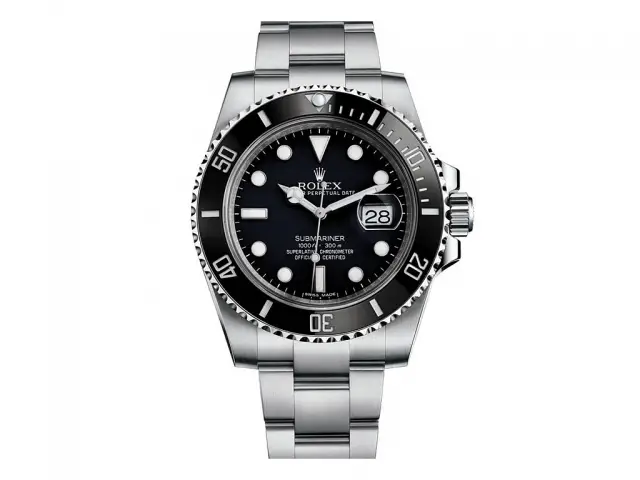 Check out the latest Rolex Submariner watches on Goldsmiths
Next up we're taking a look at the Rolex Submariner. If you think luxury dive watch, the Rolex Submariner is often the go timepiece. The Oyster Perpetual Submariner Date really is the top watch that all other diving watches will be judged against.
The original model of Rolex Submariner watches was launched in 1953 and has grown to become a truly iconic watch. Many variations are available of this watch with different finishes and dial variations with and without date functions.
The latest series has subtly redesigned Oyster cases with very distinctive dial designs and large luminescent hour markers, as well as rotatable Cerachrom bezel and solid link Oyster bracelet.
The Rolex Submariner featured is waterproof to 300m and runs on a mechanical, self-winding movement with a perpetual calendar, the power reserve on this movement is approximately 48 hours. It also has Superlative Chronometer COSC and Rolex certification after casing.
Rolex Submariner Homage
So what do you go for if you're after a watch similar to Rolex Submariner? The Steinhart Ocean 1. This is what I'd class as a true Rolex homage watch, much more so than the previous Invicta timepieces.
Steinhart are a very well known brand for their homage watches, the Steinhart Ocean 1 is a well sought after homage timepiece for the very fact that it's a high quality timepiece that takes design inspiration from such a desired high end watch, that and the fact it is still pretty affordable at around €350.
Powering the Steinhart Ocean 1 homage watch is a Swiss automatic ETA 2824-2 movement that's featured in many high end timepieces. The screw down crown and 300m water resistance rating are popular features, instead of simply looking the part, they also produced a very useful diving watch.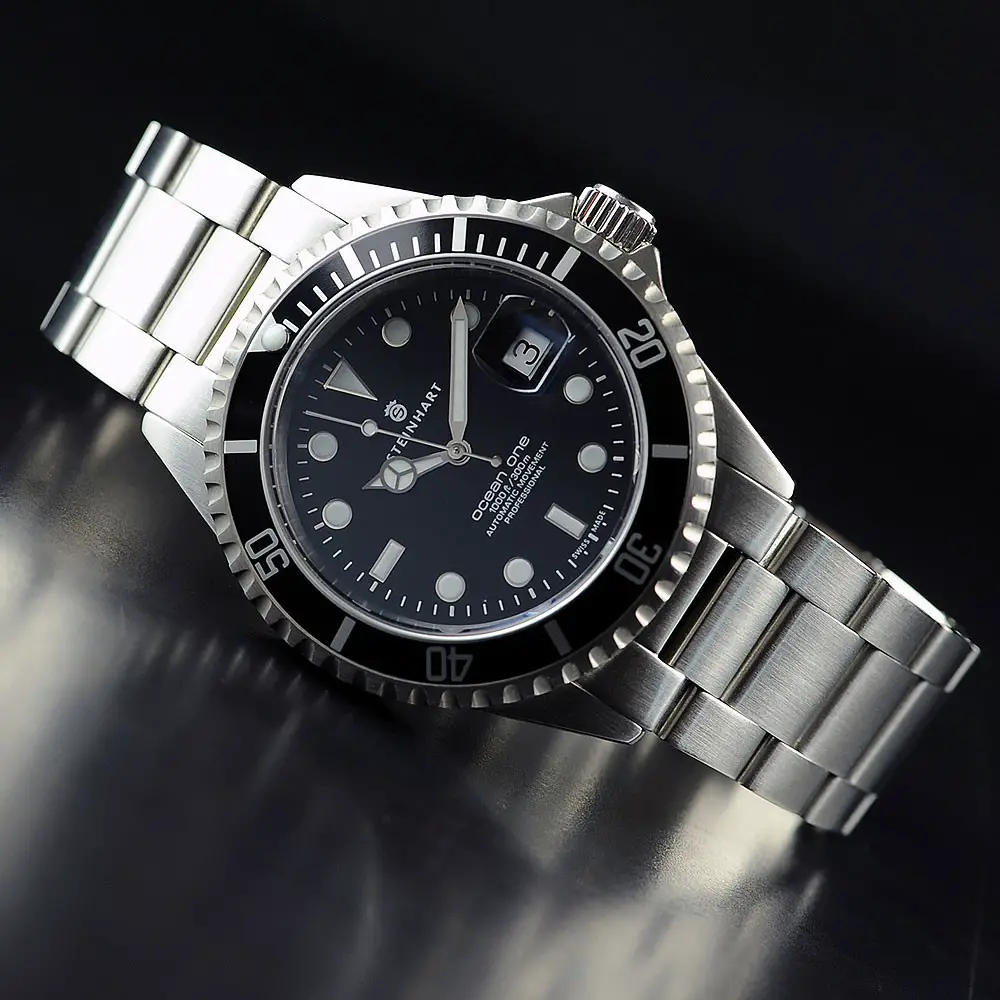 The dial features a high visibility design with excellent luminosity and a cyclops magnifier that enlarges the date to 1.5x normal size.
I highly recommend reading my full Steinhart Ocean 1 watch review where I take a look at this timepiece in detail.
 3. Breitling Navitimer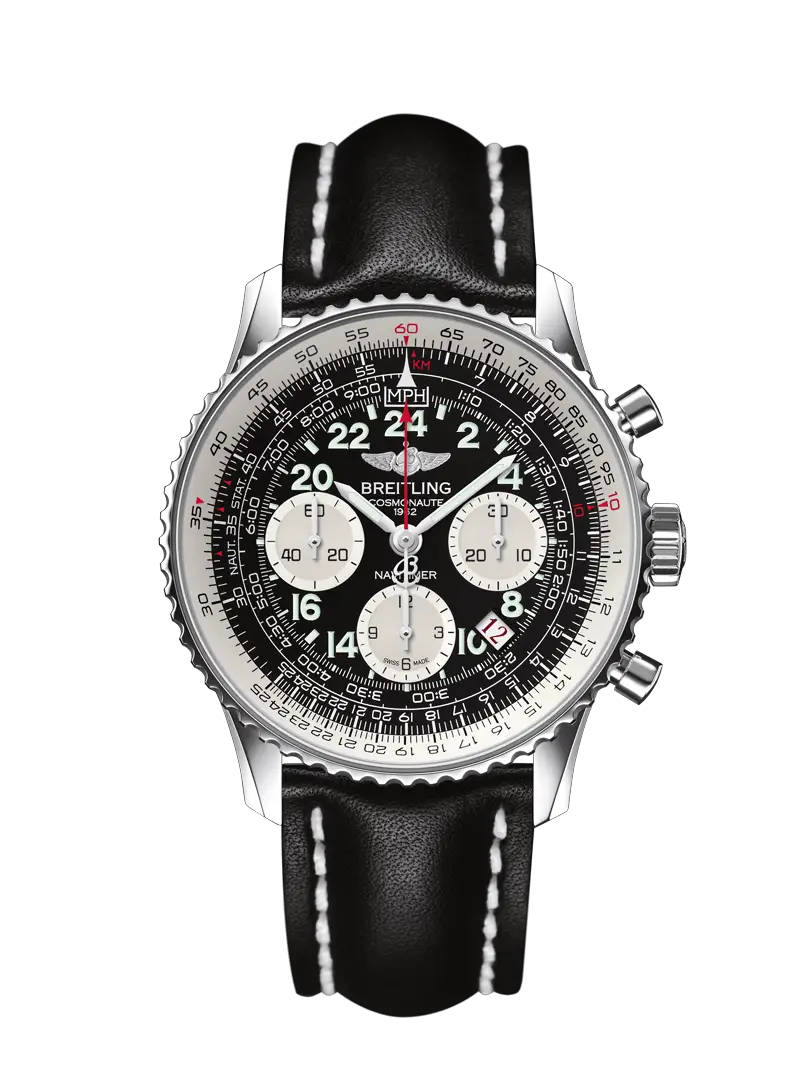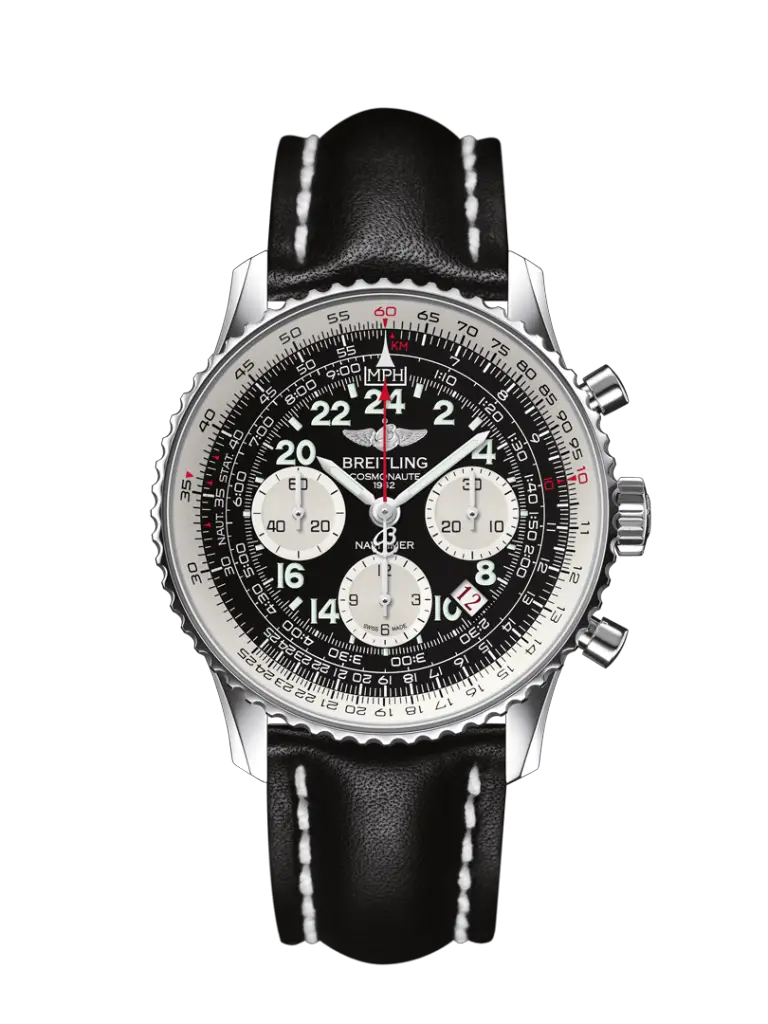 Check out the latest Breitling Navitimer watches on Goldsmiths
 If you're a fan of pilot watches than I'm sure you've heard of the Breitling Navitimer. The first Breitling Navitimer was released in 1952 and became an instant hit for people who love all things aircraft. The Navitimer was originally a very useful and essential tool for pilots, the watch could be used to measure fuel requirements and flight times with the use of its patented slide rule bezel.
Both reliability and performance are at the forefront of the Breitling Navitimer to help ensure its legendary status as the go to timepiece for pilots.
The Breitling 01 is powered by a self-winding mechanical movement that beats at 28,800 BPH making it a very accurate timepiece. the movement has a 47 jewel design and a minimum power reserve of 70 hours which is extremely impressive.
Homage Breitling Watches
So what would you go for if you're looking for a Breitling Navitimer Homage? The Parnis Navitimer Homage has been recommended on forums quite often actually and I have to admit it seems like a pretty good option.
Parnis are an affordable brand that focuses on homage watches. They aren't the standard of Steinhart though, Parnis produces much cheaper watches but sticks to basic quality.
You'll have to compromise with a basic quartz movement and mineral crystal glass. But you do get the overall style of a Breitling Navitimer for a very affordable price.
View all Parnis watches on Amazon
I found an interesting discussion about the Parnis Navitimer over on the Watchuseek forums which is worth reading if you're considering this timepiece.
4. Omega Seamaster
Check out the latest Omega Seamaster watches on Goldsmiths
 Omega are a luxury Swiss brand that has been redefining watchmaking since 1894. The Omega Seamaster collection is absolutely no exception, making the Seamaster a first choice for finding a professional divers' watch. The Seamaster collection was first unveiled in 1948 and offers both innovative design and style, teamed up with impressive precision technology.
The Omega Seamaster has quite the following among celebrities too, these include Prince William, Joe Biden, Jeremy Clarkson, Gabriel Holmes and Adam Savage. Obviously, the fact James Bond wears the Planet Ocean has greatly increased the popularity of this timepiece. You can learn all about the history of the Omega Seamaster here.
Omega Seamaster Homage
What if you're considering watches like the Omega Seamaster then? A nice looking Homage to the Omega Seamaster is this timepiece from Alpha that you can find available here.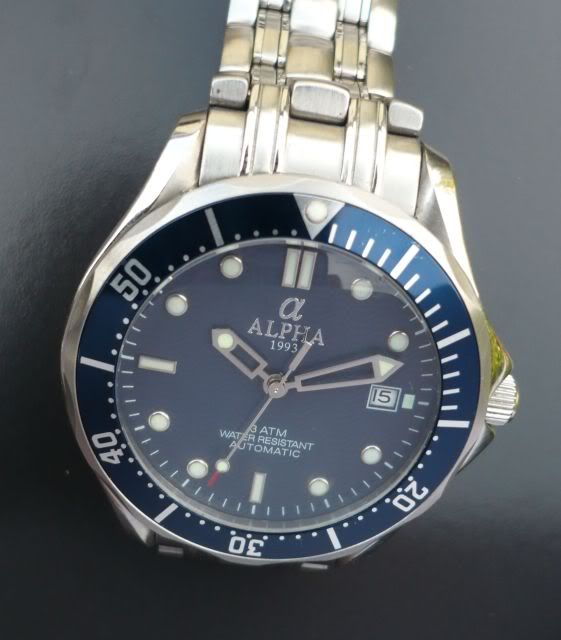 It's not a bad watch either to be fair. The movement at the heart of the watch is a Seagull 21 jewel automatic. Both the hands and hour markers have a coating of lume for better visibility in dim lit conditions too.
The water resistance rating can be a little confusing on this Omega homage watch though. From what I can work out, the old versions (as picture here) have a basic 30m water resistance rating. The newer ones from the website come with a 50m water resistance rating though, it's just something to try and keep an eye on really.
Talking of water resistance rating, it's one of the main put-offs for people searching for an Omega homage. Many people say they would much rather a diving style watch that actually had at least a 100m water resistance rating, which is fair comment.
5. Panerai Luminor Watch
Check out the latest Panerai watches on Goldsmiths
The final legendary luxury watch we're featuring is the Panerai Luminor. The history of this timepiece is pretty impressive. Panerai watches were designed and manufactured by Rolex SA and played a role in assisting the Frogmen of the Decima Flottiglia MAS during World War II. The most notable include the Luminor and Radiomir wrist watches.
Originally only 350 pieces were made and the Italian frogmen who were captured often had their watches confiscated and never saw them again. Many a year later Sylvester Stallone helped the brand achieve a cult status. You'll find a genuine Panerai Luminor will set you back at least 6,000 Euros.
You can learn all about Panerai watches on their Wikipedia page.
Panerai Homage Watch
What's a sensible Panerai look alike watch to go for then? We're back at Parnis again. Their Panerai homage watch runs on a Seagull 3600 hand wound movement and has a mineral crystal glass for scratch and shatter resistance. It's built with a 316L stainless steel 47mm casing and calls itself the Marina Militare which is a reference to the Italian name for Navy.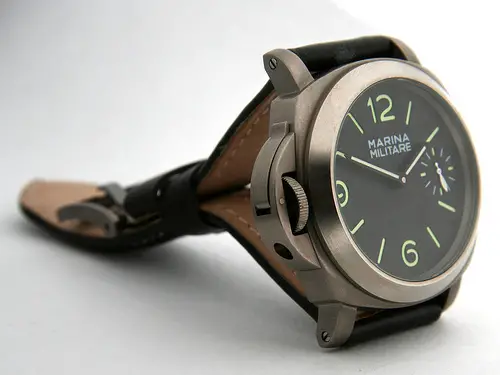 There's a really great discussion with plenty of awesome pictures of this watch available on watchuseek forums. If you want to learn more about this timepiece a read a mixed bag of reviews, that's the place to go.
Conclusion
Thank you for taking the time to read through today's article on homage watches. This is a subject that often causes a lot of discussions so feel free to add you comments in the section below this article.
What are the best homage watches you would like to add in here? Any suggestions would help the community greatly.