Best Skeleton Watches Under £500
 The history of skeletonization in watches and clocks is nothing new at all, in fact, clocks manufactured in the early 14th century would have their inner working of gears exposed which seemed like the exposure of a skeleton, hence the term skeletonization.
Clocks were made this way so that they could be easily repaired and maintenance would be less of a hassle but as we approached the 19th century, along came with it a surge of sophistication in the clock & watch making industry which ended up in the decoration and miniaturization of the timepieces and a massive trend emerged among the clock-makers to show off the innovatory inner workings of the timepiece.
In fact, back then these clocks were seen to possess cutting edge technology at their time and to own such a magnificent work of craftsmanship had become a real demonstration of one's wealth.
But even to this day, Skeleton watches are by no means a thing of the past, big luxury brands like Dreyfuss and Co, Orient, Stuhrling, Rotary, Hugo Boss, Fossil and Bulova all manufacture the best skeletonized watches with their own trademark skeletonized designs which are an absolute sight to see and such a large collection of luxury watches often condemn people to a maze of uncertainty because the choices are so many.
That is why I have compiled a list of 10 best skeleton watches under £500. But do not worry! even among a plethora of watches that usually have a humungous price tag with themselves, there are still plenty of cheap skeleton watches that have such craftsmanship that it will surely invite comments and praises too.
Such watches fall under the £200 category and I'll make sure you can find something that not only suits your exquisite sense of style and taste in watches but also complies with your budget with ease.
Let's get started!
10. Men's Rotary Automatic Skeleton Dial Black Leather Strap Analogue Watch GS00400/05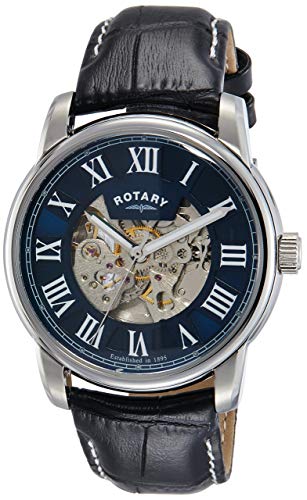 The world-famous brand Rotary was first established in Switzerland but by the 20th century, it had paved its way through the international market to become one of the most successful watch brands in Britain's market with every household harboring a Rotary watch.
The UK's super-brand Rotary not only makes affordable skeleton watches, but they also produce skeleton watches that are etched with the trademark aesthetic of Britain's fine gentleman culture.
This watch looks absolutely staggering when paired up with a suit and tie complimenting your formal wear in a professional manner. The Rotary GS00400/05 is bound with Britain's fine genuine leather with a skeleton dial visible from the front and even from the back of the casing.
The watch is powered by your movement because of the automatic mechanical mechanism. This watch is priced at the low cost of £169.99 but offers way more than what it charges. With its modest price tag, it can also make a wonderful gift or a safe first-time experience if you are not generally into skeleton watches.
9. Thomas Earnshaw Longitude Men's Automatic Watch (ES-8006)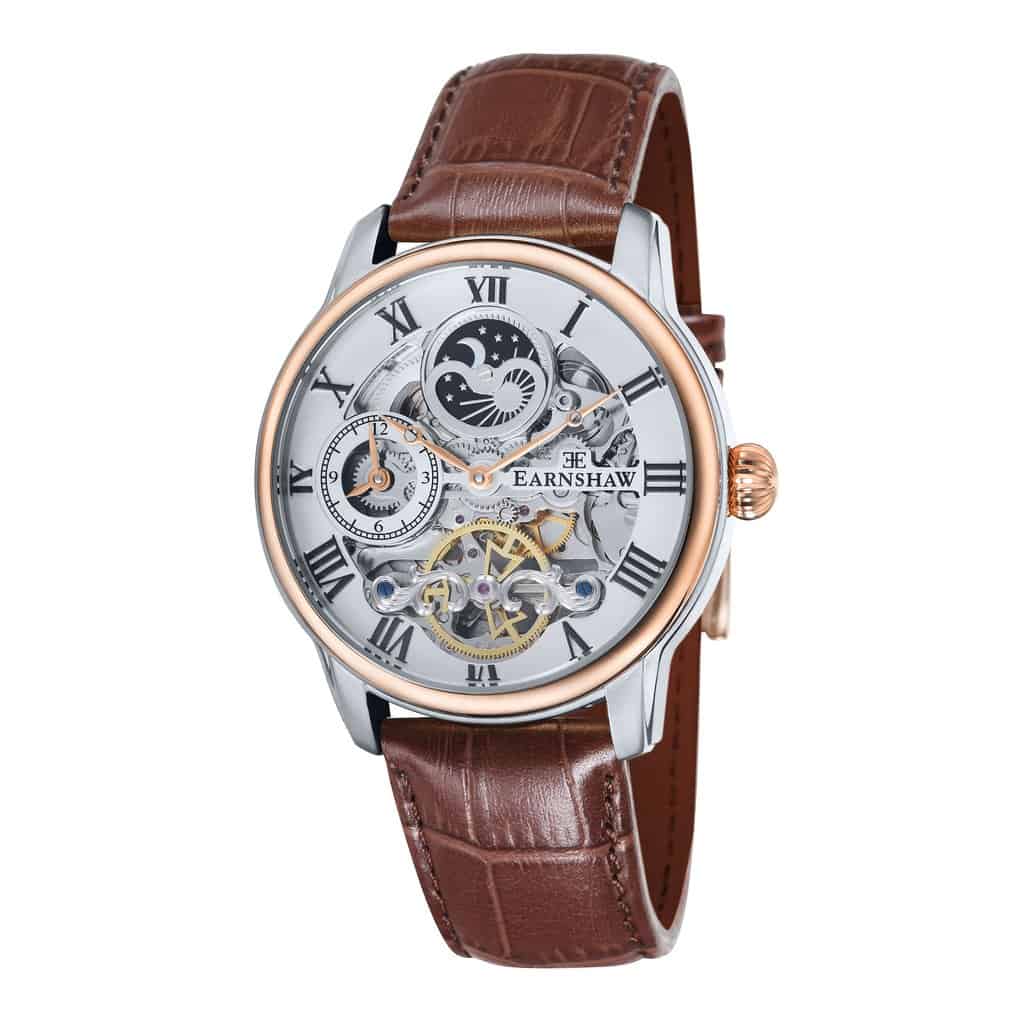 Number 9th on our fiery list of the best skeleton watches, we take a look at the ES-8006-3 from the renowned brand Thomas Earnshaw. Thomas Earnshaw has manufactured a variety of mechanical skeleton watches which harbor both quality and aesthetics.
The ES-8006-3 model incorporates the Self Winding 22 jeweled automatic skeleton movement and a hand polished stainless-steel case with a refreshing rose gold top ring and a crown on the side to adjust the time or to wind the clock manually if it has stopped working because of not being worn daily.
The first look at the watch can show the beautiful contrast of the rose gold tint and the black Roman numerals being complimented with those beautiful jewels just look stunning. The watch also features an automatic am/pm indicator just at the top.
This aesthetic and lovely design was inspired by the late British watchmaker Thomas Earnshaw, hence the brand name and these watches truly embrace the British culture and aesthetics being displayed in their masterful craftsmanship.
Thomas Earnshaw, without a doubt, manufacture one of the best-skeletonized watches and the ES-8006-3 truly bears witness to this fact. Such an amazing watch at the low price of £119.00 is an absolute deal breaker.
8. STUHRLING ORIGINAL 371.01 LEGACY SILVER/BLACK LEATHER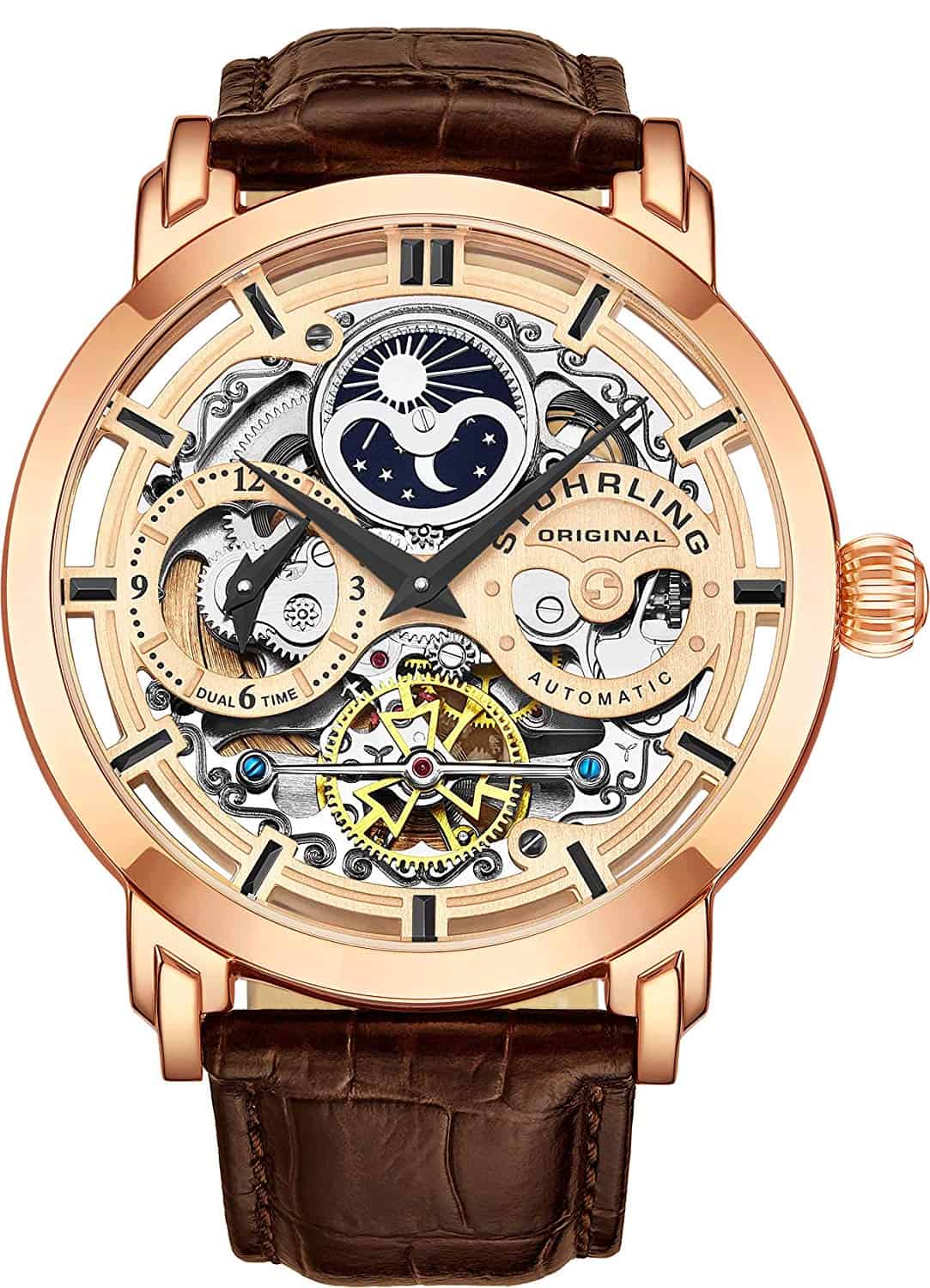 The Stuhrling Original series of skeleton watches are considered a top of the line luxury watches but with the affordable price tag of £224.99 on this wonderful timepiece, we can experience the exquisite aesthetics of this state-of-the-art amazing watch.
If this is your first time experiencing the sophisticated taste of skeleton watches, be ready because the interface of the Stuhrling Original 371.01 is just a sight to behold. It ends up being quite fun for a short amount of time to look at the movement of the gears and being visually able to see your timepiece mark the time.
The case is fairly large to make it eye-catching but not large enough to make it obnoxious to wear. The 24mm wide premium made in U.S Alligator embossed leather band definitely testifies its premium quality without catching any stains or cracking even if you wear it for the longer part of your day continuously. It has to offer a fair bit of resilience in every part of its manufacturing.
The brown and Rose-Gold bezel contrast to the dial with a side of wonderful golden gear held by the jewels just brilliantly compliments the thought that went into the craftsmanship of such a sophisticated and amazing timepiece.
This Stuhrling watch is without any shred of a doubt the best skeleton watch that you can buy under £500. There are many other options of affordable skeleton watches but this is watch from Stuhrling is a deal breaker.
7.Stuhrling Original Special Reserve Emperor's Grandeur Men's Automatic Watch 127A.333531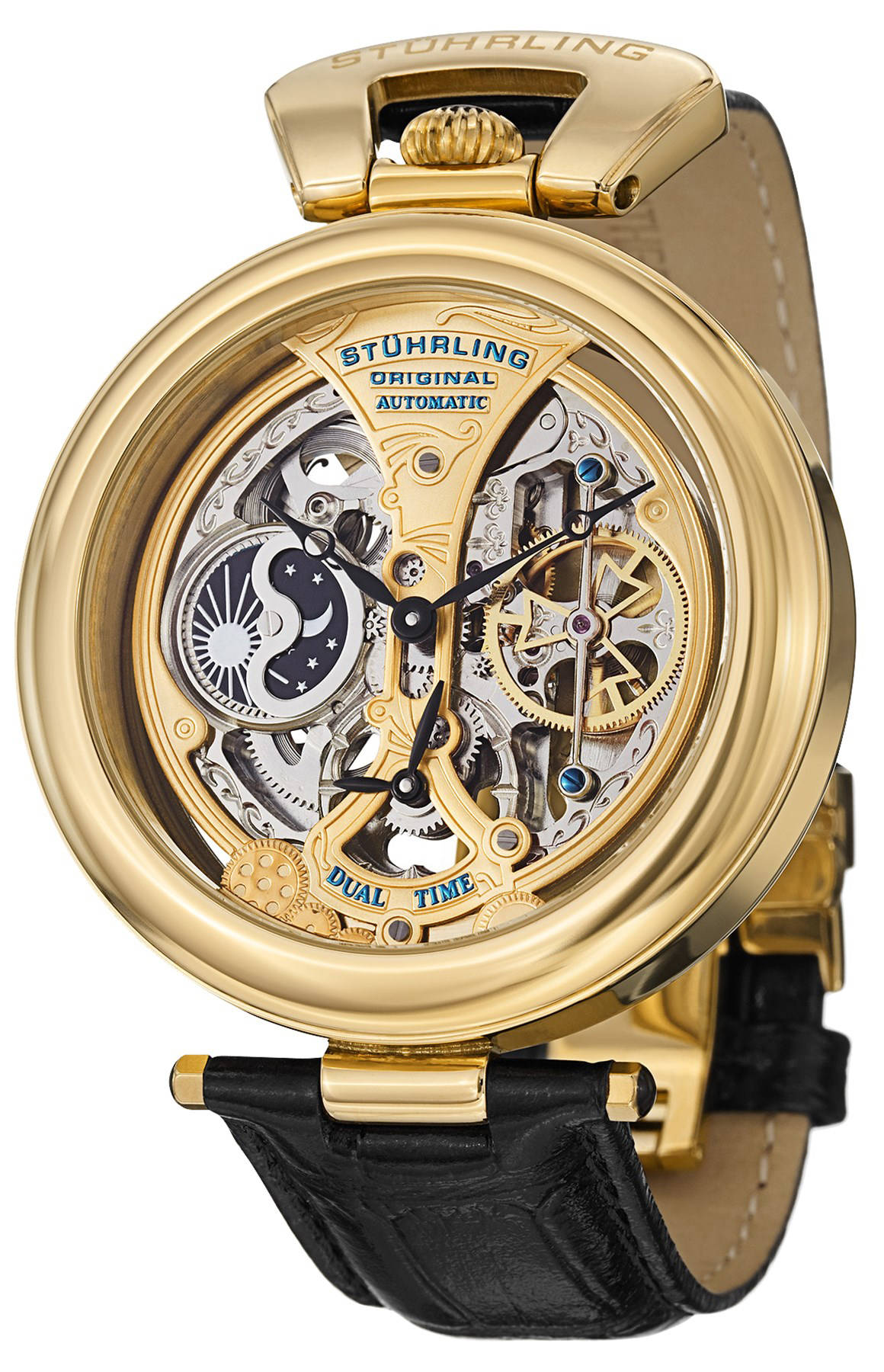 The Stuhrling Original Special Reserve is a timepiece that deserves the grand name that Stuhrling has given it. The case diameter of the watch is a whopping 49mm with a thickness of 14mm and this is by no means ostentatious, it actually serves to exhibit the grand 23k yellow majestic gold layered round shaped case with a polished beveled bezel.
This watch also has an amazing protective krysterna crystal on the front and the back to better guard the delicate machinery. The skeleton dial further showcases dual time movement and animated A.M/P.M depicted by the Sun and Moon display, a trademark design of Stuhrling.
This is not all, this majestic timepiece is strapped with a black alligator embossed genuine leather with a push-button clasp. In all senses, the timepiece is verily true to its name, The Grandeur and leaves no stone unturned when leaving exceptionally grand impressions.
This watch does not only feature one or two details that serve to make it stand out, but on the contrary, the entire piece as a whole is bold, imposing, beautiful, and a commanding presence that can absolutely NEVER be found anywhere else.
The Stuhrling Original Special Reserve Emperor's Grandeur is without any doubt among the best skeleton watches around with a price tag of only £209.99. Do not let this opportunity slip by!
6. Hugo Boss Watch Mens Skeleton Automatic Watch with Leather Strap 1513643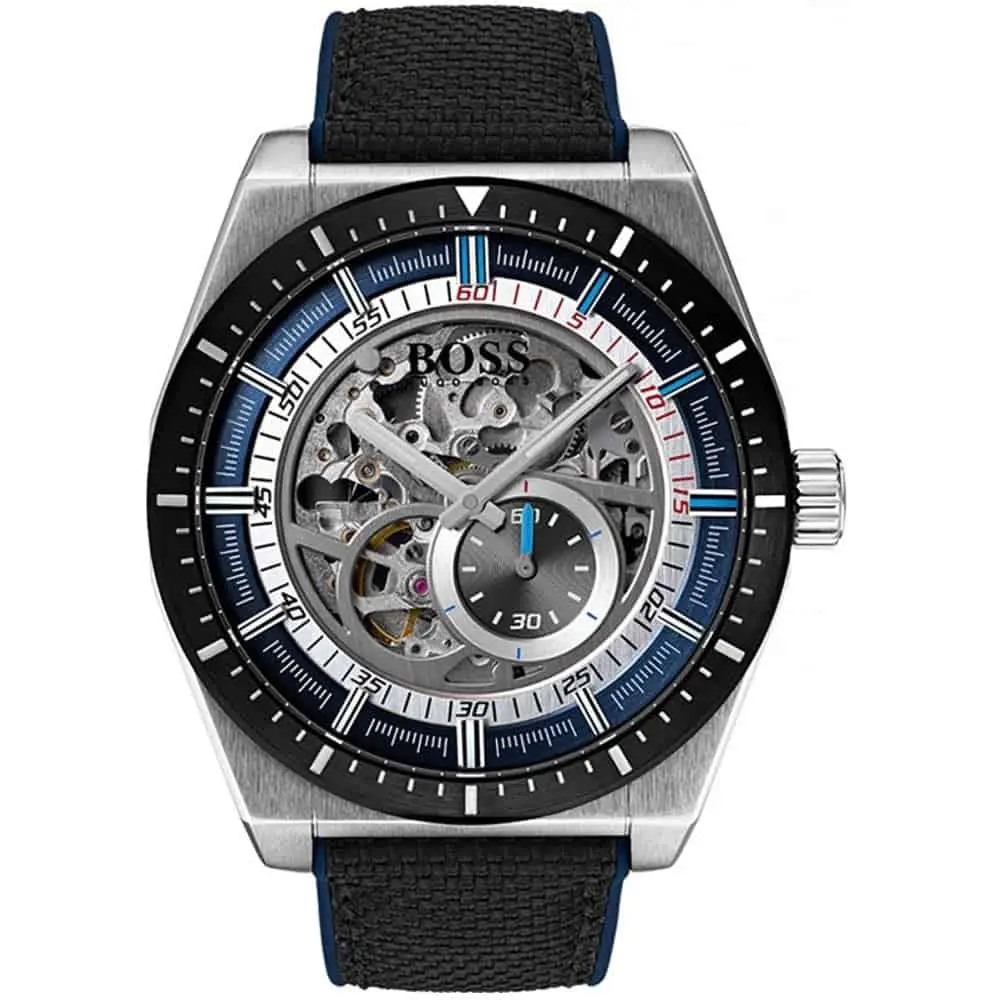 Hugo is well known for their timepieces with their intrinsic air of elegant sophistication and creating beautiful bridges connecting classic, modern and sporty design together forming a variety of timepieces that best suit your style and the Hugo Boss 1513643 does the job in the best way it could.
This Timepiece utilizes the renowned integrated Japanese movement with a feature of their unique seconds' sub-dial position enhancing the already innovative and immaculate look of the watch.
The unique dial offers a view of the brilliant mechanics behind this boss watch. The black and blue nylon and rubber strap matches the subtle black and blue contrast of the watch's dial.
The Hugo Boss 1513643 elaborates the dominant touch of the owner's fashion and style when paired with a classy suit. The watch ranging below the £500 tag makes it a formidable contender as one of the best skeleton watches under £500.
So be sure to grab yourself one if don't have it because the sooner you own it, the sooner you can appreciate the of how big of a deal this watch actually is.
5. Stuhrling Original Symphony DT Men's Automatic Watch 411.335B1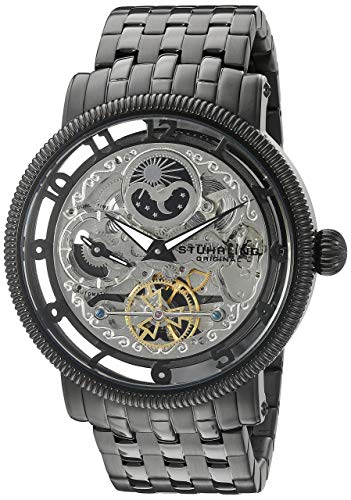 The Swedish watchmakers have already outdone their competitors in their specific price market, but they have yet again put forth another gunmetal black and grey contrasted masterpiece.
The case of the Stuhrling skeleton watch is black ion plated and is sure to retain its stellar color and contrast throughout the years. The case also has milled bezels and onion-shaped crown on the side.
The inner machinery is protected by the covering of a magnificent protective krysterna crystal both on the front and the back with a water resistance of up to 165 feet (50m) It also makes this amazing watch suitable for swimming and showering without losing your glamour.
On a closer look, this timepiece is showcasing a silver-floating dial with black numerals with the Stuhrling trademark of the dual time displayed with the animated A.M/P.M indicator.
The case is connected with the same contrast of black ion plated stainless steel band and looks immaculately staggering. This timepiece from Stuhrling's legacy collection at the price of £239.99 might just appeal to your style if you often fancy the black dressings on most occasions.
4. Invicta 26237 Star Wars – Stormtrooper Men's Wrist Watch stainless steel Automatic White Dial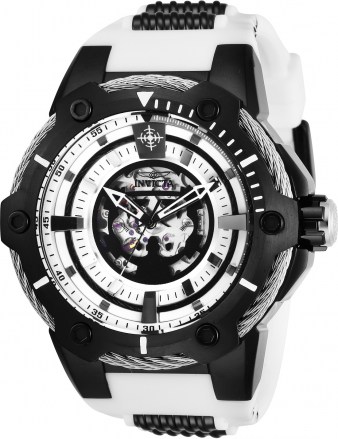 Right here, we have the top dog of the skeleton watches; Invicta. Invicta manufactures a lot of top tier skeleton timepieces that are often sought out by people belonging to almost every profession.
The Invicta star-wars collection is not to be mistaken for watches that are aimed to be entertained by teenagers or kids, In fact, even adults or younger professionals can savor this sweet limited edition watch with your choice of character dials.
Invicta's special star wards collection can give you the trip down the memory lane of the '70s and '80s and let you once again experience the long-forgotten surge of adrenaline when you heard the phrase "The Force will be with you at All Times" But this time, giving you the freedom to choose.
So what will it be? The Dark Side of The Light? With 4 different choices, the power is in your hands. The Invicta 26237 is very slightly or no different at all from its other companions of the same collection.
It features a 53mm stainless steel case with a white dial and is powered by an accurate automatic movement. The Invicta 26237 is reinforced with an astounding 10 bars of water pressure resistance so it is as tough as the stormtroopers from star- wars! Moreover, the Dial window is made from Synthetic Sapphire strapped with a silicone band.
It feels and looks incredibly amazing and very comfortable so you can keep rocking this watch without feeling any distress on your wrist.
3. Stuhrling Original Men's Automatic Watch, Skeleton Dial with Leather Band, 3933 Series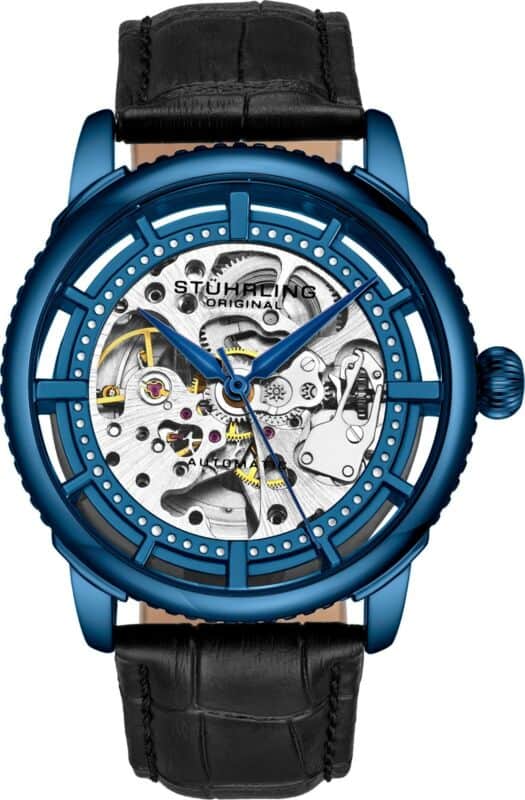 We once again come across another luxurious and mesmerizing skeleton watch from Stuhrling. But this time, the Stuhrling 3933 does not feature an A.M/P.M indicator but that is by no means a downside of this watch, In fact, we can gaze upon the brilliant machinery at with even more detail.
But that's not all, sure the Stuhrling's engraved and see-through skeletonized dial and exhibition back allow you to watch on your wrist as the mechanism inside marks the passage of time, the stunning and strong premium color of the case is the main thing that will attract the attention of many eyes should you wish for it or not.
People won't be able to help but behold the beauty of this magnificent timepiece. The automatic self-winding mechanism saves you the hassle of manually winding it by utilizing your natural mechanical movements to keep itself running for as long as you wear it.
The Stuhrling 3933 is strapped with an Alligator embossed brown premium leather strap and the whole sight of this timepiece emphasizes how the meticulous craftsmanship is both visually impressive and elegant. Although the watch is strapped with a hefty price tag of £395.00, It is worth every pound.
2. Scuderia Ferrari Men's Skeleton Automatic Watch with Stainless Steel Strap 0830602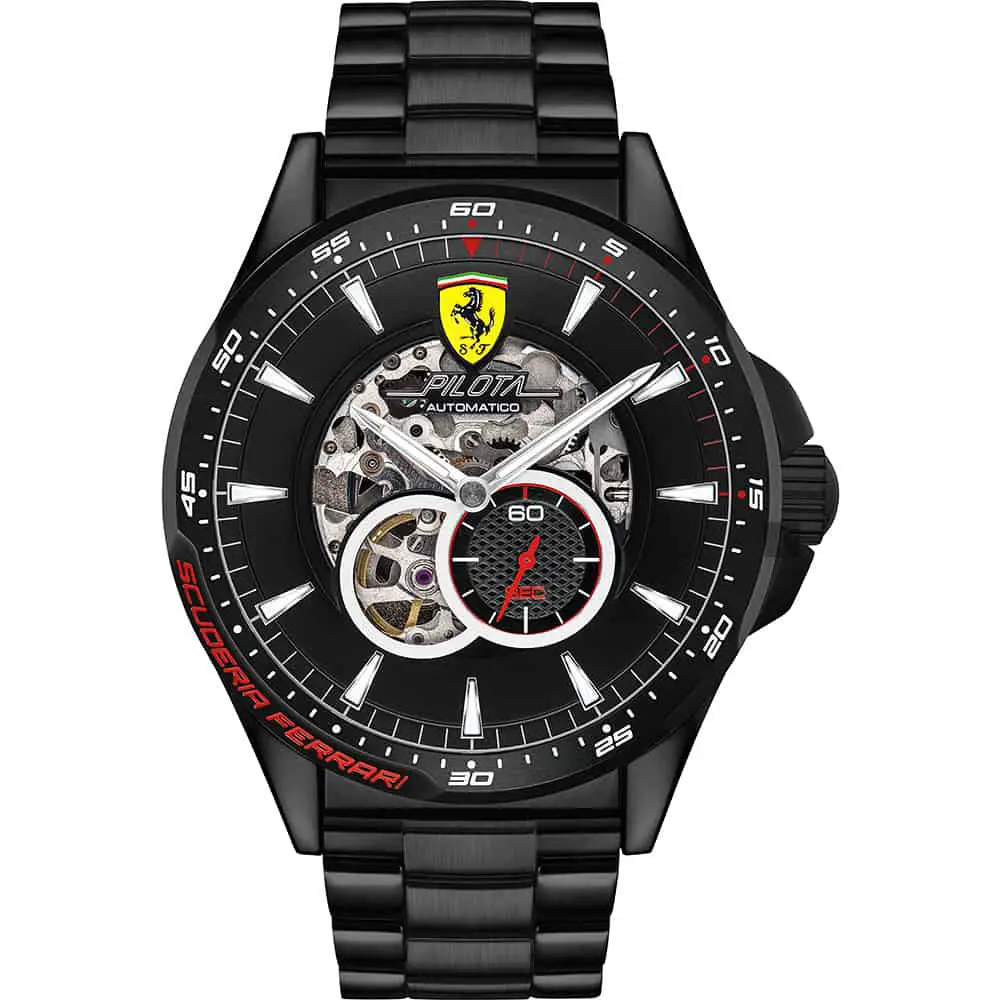 Priced at £290.89, The Scuderia from Ferrari is in a league of its own. The timepiece carries the luxury of the brand's success in the motorsport industry and the same incorporation of the fiery and sporty style in its watches.
Italian for "driver", the name Pilota featured on the front of the watch captures the cool competitive character of this dynamic chronograph timepiece with its color-charged, cock-pit style instrumentation dial details and the standard but wonderful 45mm case.
The Scuderia 0830602 skeleton watch is by no means a weak contender to the competition in the market but on the contrary, it is one of the best in terms of refined looks, unmatched trademark sporty design and even exhibits your fine taste in cars.
The timepiece has precise automatic movement with a mineral window protection paired with 5 bars of water pressure resistance. This watch with its modern aesthetics paired with the design inspired by the machines competing in the adrenaline-fueled and packed competitive battlefield for glory cannot be achieved by any other brand. A truly well-crafted timepiece worthy to be mentioned as one of the best-skeletonized watches.
1. Invicta Men's Mechanical Watch with Analogue Display and PU Strap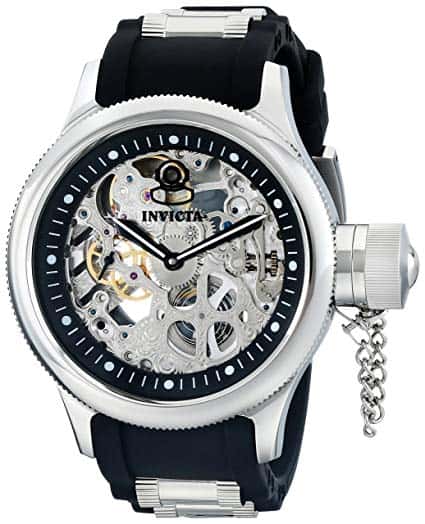 The best skeleton watch under £500 is without any argument definitely to be given to the Top Dog of skeleton watches; Invicta. In this titan of a skeleton watch, Invicta has renovated their design and their aesthetics in the Invicta 1088 where Fashion meets Function in this Russian diver's watch featuring sophisticated design details such as a polyurethane strap with stainless steel barrel accents, A large screw down cap and a fascinating skeleton window.
The 1088 has a reinforced protective flame-fusion crystal dial window for extra protection against any unforeseen incidents and this glorious watch is water-resistant to 50 meters.
The watch also has a rose gold-plated skeleton dial and case back. This timepiece leaves people short of words to describe the quality of such a premium watch. But trust me, this watch at £219.00 is the best bargain you can ever ask for.
CONCLUSION: OUR FINAL VERDICT.
The variety of skeleton watches you could choose from even in a narrow range of price is so huge that it's impossible to do so. But in today's List, I have carefully gathered 10 skeleton watches in a specific price range that proved to be deserving of the title of TOP 10.
I hope you can find a skeleton watch that suits your taste and style and also matches your budget in today's list and as always, let me know about your thoughts on this list of skeleton watches in the comments section below. I look forward to your feedback!