Regardless of what metric you go by, no watch brand on Earth could possibly beat Rolex in terms of reputation and sales numbers. Modern Rolex watches are undoubtedly attractive and impressive. But there's something incredibly eloquent about the vintage pieces that make them oh-so-wow!
New collectors often get intimidated by the sphere of vintage Rolex watches because it is a vast market with so many models, styles and histories to consider. Apart from this, they could go quite heavy on the pocket too. But there are a few hidden vintage gems that could bridge the gap. If you're an aspiring watch collector considering your options, we've rounded up some of the best vintage Rolex picks that would definitely quench your desire.
5 most desirable vintage Rolex watches for watch enthusiasts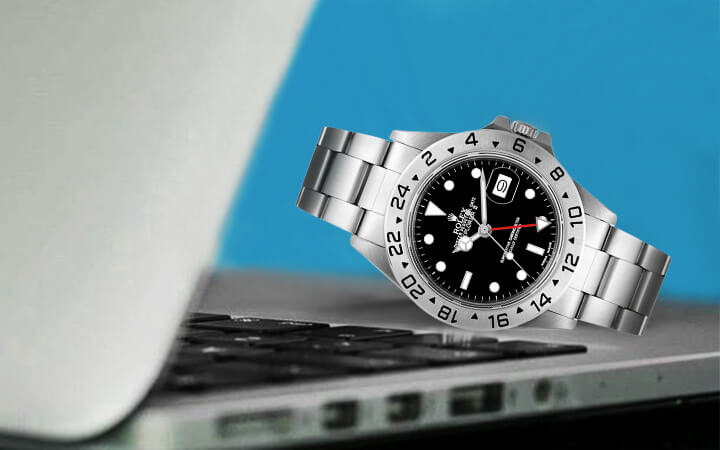 1. Rolex Explorer II Ref. 16550 (Black Dial)
Like many other Rolex novelties, the Explorer II was also born out of necessity but soon became an indispensable part of the watch world for its special features and history. Rolex released the original Ref. 1655 with a 24-hour bezel and a 24-hour hand to differentiate between the day and night, but soon upgraded to a GMT watch. The main signing difference between Ref. 1655 and the new Ref. 16550 is the presence of GMT functionality in the later.
The Explorer II Ref. 16550 was released in 1985 and featured a 40mm stainless steel case. While Rolex offers the model with black and white dial options, we picked black as our top recommendation. The sports model is highly sought-after by collectors for its interesting design. It has a fixed bezel engraved with 24-hour numerals, a stylish black dial featuring a long red 24-hour hand, sleek Mercedes hands and a date display at 3 o'clock.
We chose black because the white dial option already has a huge fan following, overshadowing the black. Therefore, you can purchase the undervalued black dial at a reasonable price from reputed vintage Rolex dealers.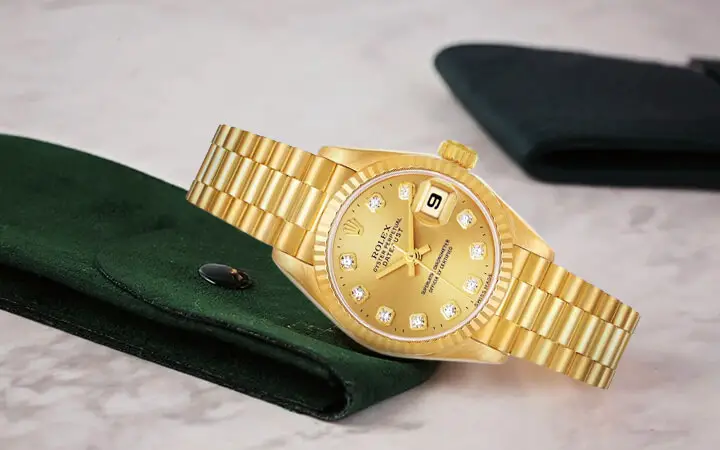 2. Rolex Oyster Perpetual Date (Rolex Date)
Many of us are familiar with the more popular sibling Rolex Datejust. But we're here to talk about the humble relative Rolex Date, also known as Rolex Oyster Perpetual Date. The model had been a mainstay in the brand's catalogue during the 1950s but is now officially discontinued. Throughout its span, Rolex released several variants of the Rolex Date in various styles, but what remains common, as the name suggests, was the date window at 3 o'clock and a Cyclops magnifier above it.
Most of you will love the Rolex Date because of its compact size and classic style, making it a great daily wear. The watch sits in a comfortable 34mm stainless steel case and will look fantastic on both men's & women's wrists. There is a lot of diversity in the Rolex Date collection, where you can find models in gold, steel and two-tone (steel & gold). Additionally, the various dial colours, bezel types (fluted, engine-turned & smooth), and bracelet options (Oyster, Jubilee 7 Leather straps) will spoil you with options.
As smaller-sized watches are right on trend, the Rolex Date could be your go-to! Another biggest benefit is the lower price point. Many reputable Pre-owned Rolex watch dealers could give you a great offer.
3. Rolex Datejust 36 Ref. 1601
When we talk of vintage icons, the conversation is credibly incomplete without mentioning the Datejust, which is by far Rolex's most talked-about and recognisable creation. The Datejust set its foot in 1945 and has retained its position as a signature classic Rolex creation. The 36mm classic Datejust was the first automatic timepiece with a jumping date complication displayed on its dial, further setting the standard for how a date-displaying watch should look and function.
Countless configurations of Datejust are available, making it challenging to pick one. However, the classic Ref. 1601 could be a good way to admire the Datejust on your wrist. This is a 36mm bi-metal (yellow gold & stainless steel) vintage Rolex Datejust with a yellow gold fluted bezel and the iconic date display at 3 o'clock on the dial. Something interesting about the Ref. 1601 is the 'pie pan' dial in which the dial's outer edge drops slightly, looking similar to a pan used for baking pies. The plexi crystal glass offers a more vintage appeal, and the fitted two-tone jubilee bracelet promises a touch of lavishness.
If it's your first vintage venture, the tried-and-tested Datejust is where you should start! You get all the desirable characteristics you're looking for in a typical Rolex, along with the added benefit of exploring your favourite bezel, dials, bracelets and material.
4. Rolex Submariner Ref. 16800
The Submariner is one of the most successful dive watches ever created, offering incredible durability and water resistance. And the very thought of owning a vintage version of the world's most iconic diving watch is an appealing proposition. The Submariner Ref. 16800 is often the first model that comes to mind when you think of a vintage Submariner. Not all vintage watches will hold up to the rigour of everyday use, but the Submariner Ref. 16800 is surely one.
The Ref. 16800 is often known as a 'Transitional' Submariner because it came equipped with new specifications and features from the previous Ref. 1680. It was the first Sub Ref. to feature a sapphire crystal, a unidirectional bezel, a quickset date complication and an increased depth rating of 300 meters. In short, this vintage Sub reference gives you all the character of a vintage Rolex while sporting important enhancements. However, one thing that remained the same as the predecessors were the matte dials with painted hour makers.
Today, Submariner Ref. 16800 is considered an investment model fetching a good value when you sell them. Of course, you're looking to buy one right now, but this is just for your future lookout!
5. Rolex GMT-Master Ref. 1675
We're taking the chance to suggest to you one of the most popular and investment-worthy Rolex watches of all time- the Ref.1675. Originally developed for airline pilots in 1959, the watch quickly gained popularity with all kinds of collectors. Over the years, Rolex has continually improved and upgraded the look and features of the Ref. 1675, making it one of the most valuable.
The watch features a 40mm stainless steel case and a matte black dial with printed indices and GMT functions. It also flaunts a small GMT hand in red. One of the most significant features of Ref. 1675 is the two-tone 'Pepsi' bezel, combining red and blue, which collectors lovingly refer to as PEPSI. You can find this watch with two bracelet options: Jubilee and Oyster.
If you want a rewarding investment watch that is also aesthetically pleasing, it can't get better than this. Throughout its production span from 1959-1980, the GMT Master 1675 had several modifications, which gives you more options to explore.
TO END WITH..
While new Rolex releases grab the headlines, the vintage collection claims its own territory. It indeed needs focus and attention to detail to choose the right vintage Rolex. Now we have done the work by equipping you with the knowledge and recommendations to confidently venture into the exhilarating world of vintage Rolex timepieces. Thank us later!
But, hey! You cannot walk up to a showroom to find your favourite vintage Rolex on the shelves. Find reliable and reputed pre-owned Rolex watch dealers in London to shop your pick.