SKMEI WATCHES REVIEW
Whenever the term "Watch" or a "Timepiece" is brought up, most commonly, people start guessing the extravagant prices of the delicate and precise piece of machinery in question. Higher is the price, Better is the craftsmanship and accuracy. While in almost all of the cases this is true, but sometimes for some brands, they choose to be different from the rest of the flock even if it has to be done in an unconventional way to make them stand out.
The brand we are going to review today matches perfectly to the perpetrator we had been looking for i.e " Skmei ". At first, it is nobody's fault if someone discredits this brand just at looking at the price range of this company's products which actually provide a fairly decent value for our money. Ranging from Digital, LED, Sport and Fitness Watches, Skmei also offers smartwatches that appeal to the younger and more tech-oriented generation by advertising their low price tag on such timepieces. As discussed above, Money does not always display a timepiece's true worth in the low-end market of watches and Skmei shows the truth to this statement. Skmei sacrifices the perfection of a watch sitting in the top-shelf with the big boys and makes up for this by providing a competent and appealing timepiece that gives the best value for a few dozen bucks spent on it.
Even on such a tight budget, here's a list of top 10 Skmei watches that you can grab immediately, giving you the best you can take for what you spend.
10. SKMEI 1219 DIGITAL WATCH
The SKMEI 1219 is part of the brand's cheap Skmei Digital Watch series with a price tag of as low as £11.99, a price so low you could be fooled if what was being sold was even a watch and the best part, It actually is! The Skmei 1219 has Electronic Movement with a time accuracy of +16 seconds/per month. It has a case diameter of 4.5 cm and thickness of 1.3cm, a quite low profile watch in my opinion. The case is material plastic which looks good and material resin window. The Watch Band is made from rubber and looks very durable adding comfort to the wrist when worn.
The only downside to this timepiece is that it's difficult to read the time in darker places because of it's an inverted LCD display. But even so, It's a fairly popular model.
9. SKMEI 9121 METAL MESH ANALOGUE WATCH
The Skmei 9121 is an amazing metal mesh stainless steel timepiece. It has more of a formal look and can easily display itself as a valuable watch because of its wonderful design. It boasts a well finished dial and case paired with the Miyota 2115 movement covered by a scratch-resistant window and comes with the chronograph feature only for the humble price of £25.99.
The downsides of the Skmei 9121 are its alloy case, and the poor quality of the bracelet but that's to be expected from a watch in the low-end market but even on those standards, it is still better than most of the other cheap watches out there.
8. SKMEI 0931 SPORTS WATCH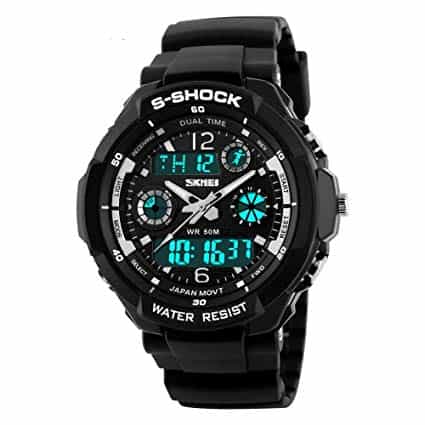 Skmei has done a really good job in applying the fashion concept of the G-Shock design and put forth the Skmei 0931. This good-looking sports watch has all the normal functions and an additional dual dial timezone. The sports design makes it as reliable and durable as a sports watch from skmei can get. The band is made of highly soft silicone with a steel buckle clasp so you can already know it's going to be comfortable. The Pros of the 0931 include that it's comfortable, has easily readable digits and arms and Japanese quartz movement.
The downsides, which are already very few, include the Skmei 0931 sports watch to have useless decorative sub-dials and an unsynchronized digital and analog time but it can be adjusted easily.
7. SKMEI 1227 SMARTWATCH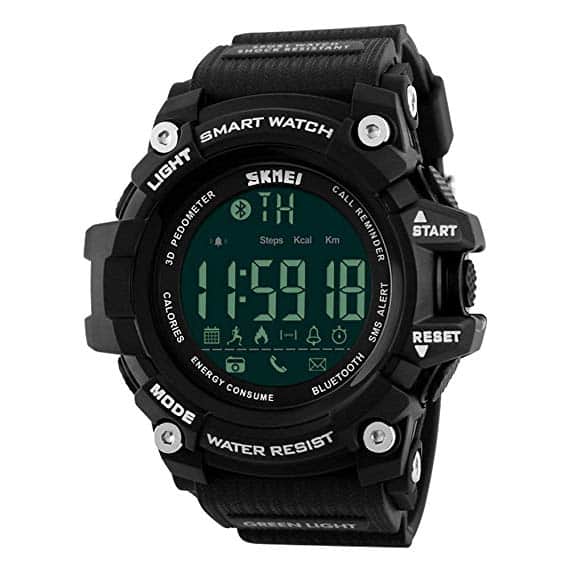 Skmei 1227 is an earnest smartwatch giving the absolute best for each pound spent on it. The 1227 is the most popular out of its alternatives i.e the 1245, 1256, 1250 and the Skmei 1287 smartwatch. This Skmei smartwatch can be used as a standalone watch or as a smartwatch. With such features, it needs to pack decent enough juice and it actually does, The Skmei 1227's battery can make the watch run for at least 6 months without needing to be replaced which is a big deal for a smartwatch with a price tag of £20.09. The smartwatch supports Android and iOS both making it convenient. The only complaint it has is that the app needs a lot of improvement.
6. SKMEI 1283 SPORTS LED WATCH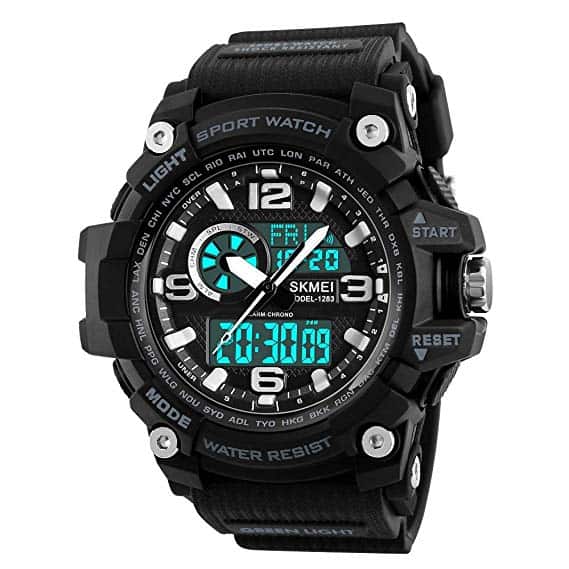 The Skmei 1283 is a big sized variant of the Skmei Watches Sports Series. The dial of this watch is incredibly accurate with its Japanese movement ensuring the precise timekeeping within more or less than 1s deviation per day. The 1283 has a backlit LED display with its large size facilitating the customers to read the time easily. The Analogue display supports two different time-zones. Even the sports design is cool and durable enough to be worn with a long life expectancy. A very good timepiece worth every penny in my opinion. The only downside of this timepiece is that it does not have a synchronized digital and analog dial movement but that's to be expected. The Skmei 1283 shows that even a low-end watch can prove to give more than what expected of a £16.99 watch.
5. SKMEI 9108 CASUAL WATCH
SKMEI shows that it is brand never to be made light of and underestimated through it's amazing and astounding timepiece of 9108. This Skmei timepiece is deserving of its a rightful place in our list and because of a very evident reason, Good Design, Good value, Japanese Movement Precision, and the classy design of the dials and the calendar. It all comes together to form a timepiece that would betray a person's intuition if asked to guess the price of this good looking timepiece manufactured by the humble brand. The Skmei 9108 has a very durable band with a scratch resistant window so you can bump around a little and still keep the fresh look of your timepiece. There is a good reason that this is a pretty popular watch among its peers and it is better understood when owned. On the other hand, this watch has an Alloy Case but it is just too normal for this price range of £19.46 so this should not even be a bother. This is one amazing watch that shows the potential of the Skmei Brand.
4.SKMEI A04AC204680-AN MILITARY WATCH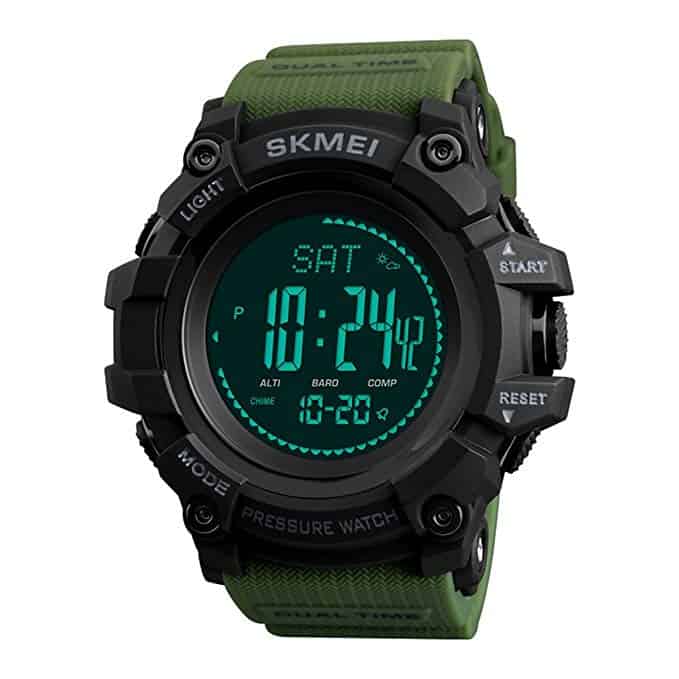 This sports watch from Skmei is a big sized digital watch from its other variants. It comes with special functions such as an Alti, Barometer, Compass, Thermometer, Pedometer, Weather Forecast, Calories, Distance Counter, Metronome, Data Storage, Stopwatch, 2 sets of Alarm Clocks and hourly timekeeping and yet this brilliant timepiece is not a smartwatch. Skmei has implemented a clear and refreshing sports/military design with high-quality electronic movement precision powered by the reliable Japanese battery. This watch is sure to suit your taste and the current trends among youngsters only for the measly price of £32.99.
3. SKMEI J1440Y-HXBIWO SPORTS WATCH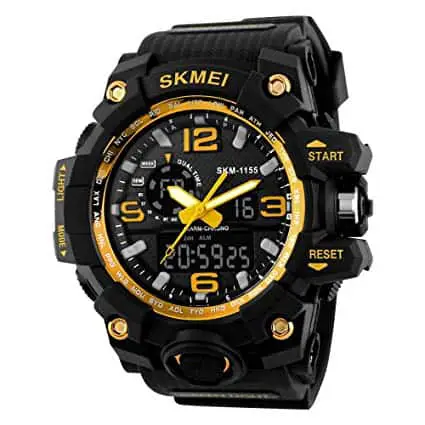 By now, I have completely fallen for Skmei's sports watch series. They are absolutely stunning and look incredibly stylish for the price they ask and they also offer a decent amount of functionality just as any mid-range sports watch would offer but the case is, Skmei cuts the price to a third of that. This watch from Skmei is equipped with an LED light which illuminated the entire watch face and numbers in the dark, making them easily visible. It features a precise digital movement with a nice watch dial offering all the functionalities of a standard good sports watch.
2. SKMEI 9117 CASUAL WATCH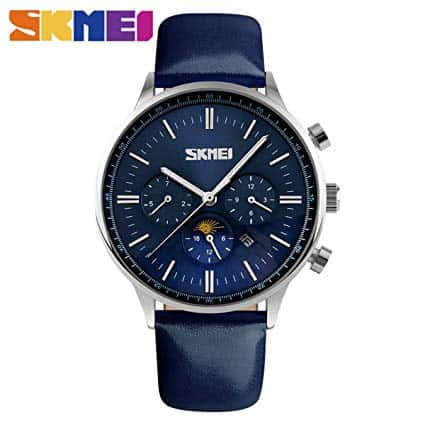 This is a model that's not very popular not because of its design or quality, rather it is not well known around its peers and is often overshadowed by the watches of the same style. But that does not mean it is worthless or a waste of money, The Skmei 9117 is a beautiful timepiece which is made keeping in view the classic style quartz luxury design strapped with a fine aesthetic genuine leather that feels amazing when contact is made with the impatient wrist. All subdials on the 9117 do their job and work fine and are well finished. The Skmei watch has the Miyota 2115 precision movement to make matters even better. The window is scratch resistance adding a bit more resilience to this timepiece so it can last as long as it can.
The watch has an alloy case but it's absolutely normal for watches in this price range and at this point, it should not be even seen as a demerit any longer for a £24.78 watch.
1. SKMEI YZS-22-ROSE-MAN BUSINESS WATCH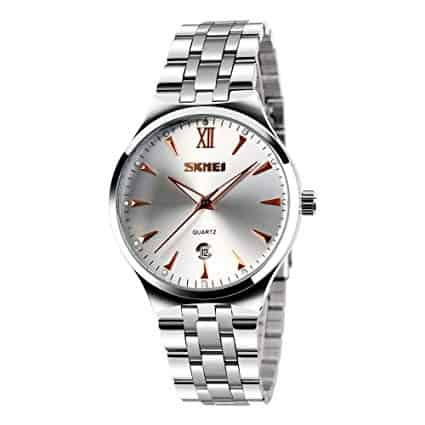 The YZS is an absolutely gorgeous and stunning business watch with a simple but very modern design. The amazing colors of rose gold imprinted upon the dials and pointers just add to the appeal of this already wonderful timepiece. The luminous rose gold pointer and scale makes it possible for you to check the time clearly even in dark places. Moreover, it has a Quartz movement which gives a much needed precise timekeeping covered by German high hardness glass plate. It has a water resistance of about 30 M deep so you can feel free to wash your hands or be a little soaked in the rain while wearing Skmei's wonderful watch. The date displayed in the calendar is automatic, just like a living calendar. All these features make this watch from Skmei an amazing gift for your loved ones or dear ones.
ARE SKMEI WATCHES ANY GOOD?
Skmei has put forth all kinds of watches be it Skmei's digital watches, LED watches, Sports Watches, Smartwatches, and even fitness watches. Each time Skmei has done a wonderful job in manufacturing timepieces that are way good for their money. A few dozen pounds for a watch that are both good looking, and functioning very well is a deal breaker for many people that look for such watches to either keep it as a disposable option and also feeling no remorse if anything happens to the timepiece. These watches are quite disposable and cheap but most of the times they prove to be quite resilient in giving up.
All in all, Skmei watches are quite cheap but offer a decent enough value for money in my opinion and I would definitely recommend this brand. I hope you find something that suits you in this Top 10 List and as always let me know about your thoughts on this list of Skmei watches in the comments section below. I look forward to your feedback!