Today I've put together an in-depth Fossil watches review for you. You'll learn about many aspects of the Fossil watch brand. From their history to where their watches are made. The quality of Fossil watches and if they offer value for money. And of course we'll finish things off with a look at some of the best Fossil watches currently on the market.
Fossil are a world renowned American watch and lifestyle company that produces watches, leather goods, and clothing. They're an excellent brand for stylish affordable watches and even have a brilliant selection of hybrid digital watches available.
By the end of this in depth guide to Fossil watches you'll know whether or not they're the right watch brand for you.
The History Of Fossil Watches
Fossil was founded by Tom Kartsotis in 1984. Originally, the company was known as Overseas Products international before later re-branding under the Fossil name. Tom, a former Texas A&M University student who was living in Dallas at the time got the idea of starting his company from his older brother, Kosta.
Kosta was an experienced merchandising executive over at Sanger-Harris and he advised his brother on the potential profits to be made by important retail goods from the Far East and selling them in the west.
A key product range talked about was fashion watches, affordable yet stylish – perfect for the mass market.
Over the years Fossil has gone on to make acquisitions to offer a larger range of watches and brands. They purchased the Swiss brand Zodiac watches from Genender International for $4.7 million in 2001. This helped them achieve a Swiss presence, something the company had aspired to do for some time.
Another major acquisition by Fossil was the purchase of Skagen Designs ltd in 2012. The Skagen group was purchased for approximately $225 million in cash and 150,000 Fossil shares on top. We've featured Skagen a few times over the years, they're a brand I rate highly for affordability and design.
More recently in 2015 Fossil made the move to acquire Misfit for $260 million. Like many tech acquisitions this was done with the aim of utilising the technology the company already owned and incorporating it into their watches.
Learn more about the acquisitions and brands managed by the Fossil group.
Where Are Fossil Watches Made?
Fossil manufacture a large majority of their watches in Asia, they're something of a giant within the Hong Kong watch industry – partly due to the large number of brands they control (16 and growing). If you're look at their more affordable watches then it's very likely it's been manufactured within the Asian region.
However, they have made notable moves into the Swiss industry. They acquired Zodiac watches (A Swiss made watch brand) and they also purchased a Swiss movement maker which churns out over 100,000 automatic movements a year, not to be sneezed at.
These days it's not too uncommon to come across a Swiss made Fossil watch – albeit priced for such quality.
Fossil Watch Quality?
Speaking of quality, what are Fossil watches like? Fossil is a known stickler for quality control, even their cheapest models are finished to a high degree. I often find myself saying to people "you can't go far wrong with a Fossil watch when it comes to affordable timepieces".
How Much Are Fossil Watches?
Fossil watches can typically cost anywhere from £100 to £250 for their standard models under their own brand name. Watches made by Fossil but produced under licence for other brands can end up costing considerably more.
Where To Buy Fossil Watches
I always stick to recommending places I've actually purchased watches from in the past. As such my two primary recommendations would be Amazon and Watch Shop.
Amazon is good for price and speed of delivery. They are a market place though so it's worth remembering to do your due diligence and check where you're actually ordering your watch from and always read the reviews.
Watch Shop on the other hand is a specialist market leading watch retailer. They offer excellent levels of service and also come along with seasonal deals from time to time.
Is Fossil A Good Brand?
Fossil's reputation has remained good for quite some time. They're known for their affordable fashion watches and if you're sensible with your expectations when you buy a Fossil watch – then you won't be disappointed.
It wouldn't be fair to compare them to a luxury Swiss watch brand – and as is all too often the case with any products, you get what you pay for.
I mentioned earlier on the Fossil manufactures many other brands, either ones they own themselves or under licence. These brands include Burberry, Michael Kors, DKNY, Marc Jacobs, Emporio Armani, Diesel, Zodiac and more. It's honestly a very impressive list of well known watch brands.
Are Fossil Watches Any Good?
Considering how fairly priced most Fossil watches are I'd be more than happy with a purchase of one of them. They're a watch I would buy for style over anything else of course.
Considering they often feature inexpensive Chinese quartz movements they're not going to be to the desire of any watch snobs. Of course, there's nothing wrong with Chinese quartz movements, they keep fairly good time and are featured in many affordable watch brands.
Fossil Smartwatches
If you're looking for a smartwatch but ideally want to keep the look and style of a traditional watch then Fossil's Hybrid range could be the way to go. I've included a couple of examples of their watches from this range later in this article.
Fossil's Hybrid watches are the ideal wearable for someone who wants the benefit of some of the new smart technology coming to the market without compromising on style.
Fossil Skeleton Watches
I love skeleton watches and Fossil has this beautiful affordable range that I couldn't go ahead and do a Fossil brand review without mentioning. Again, I've included a couple of examples in our list at the bottom of the review and I recommend checking them out.
Fossil Watch Warranty
Standard warranty for a Fossil watch (by the brand) is two years from the date of your purchase. This covers material and manufacturing defects – normal for the market. Of course, you do have to be careful when it comes to warranty as not everything is covered equally.
It's recommended you look into the full details of the warranty of any device you opt to purchase to avoid any surprises in the future. Depending where you purchase your watch from can also affect the type of warranty you have available to you.
Best Fossil Watches
Finally, you made it all the way to our coveted list of the best Fossil watches available. This is where I like to feature many of the most popular and best selling Fossil watches currently available. The aim is to show off a bit of everything that the brand has to offer. As such you'll see some traditional fashion watches, skeleton style timepieces and even hybrid smart watches.
1. Fossil Men's Quartz Watch Grant FS4735 with Leather Strap
First up in our list of the best Fossil watches for men is this popular stylish looking timepiece. The fossil Grant chronograph has a clear looking cream diam with these stand out Roman numeral hour markers.
The watch has a chronogrpah feature along with a Japanese quartz movement and 50m water resistance rating.
2. Fossil Men's Quartz Watch FS4835 with Leather Strap
This next Fossil Grant chronograph is one of my favourite Fossil watches on this list. It's a colour variant of the previous watch so features the same stand out Roman numerals and chronograph timekeeping.
But the main thing I love is how the PVD rose gold plating compliments the blue leather strap and the dial, it just looks awesome. The watch also functions using a Japanese quartz movement and has a 50m water resistance rating.
3. Fossil Men's Watch JR1401
The JR1401 or Fossil Nate as it's known is a popular oversized Fossil watch. It has a 50mm casing diameter with a 15mm thickness making is a sizeable watch that's bound to get noticed on your wrist.
I like the black Ion-plated finish to it and the chunky bezel too. The dial has these large combination hour markers in a stand out black along with a handy date function. It's also powered by a Japanese quartz movement and has a 50m water resistance rating.
4. Fossil Mens Watch Decker CH2600 with Black Multi Dial and Stainless Steel Bracelet
Another best seller is the Fossil Decker chronograph. The Fossil Decker features a large 45mm casing with a multi dial clock face and chronograph functions.
I like the smart finish to this one, the hands are high visibility making them really easy to see as they stand out from the black of the dial. The watch has a tachymetre, date display, and a 100m water resistance rating. Like the other Fossil watches it works on a Japanese quartz movement.
5. Fossil Gents Watch Chronograph XL Leather FS4885 Quartz
This leather strapped Fossil watch is also part of the Fossil Grant collection. It's a chronograph watch with a black ion plated steel and genuine soft leather strap.
The large round dial features these high visibility watch hands and showcases the chronograph functions. This model has a 50m water resistance rating and a Japanese quartz movement.
6. Coachman Fossil Men's Quartz Watch with Black Dial Chronograph Display and Brown Leather Strap CH2890 Sport
This next popular model is from the Coachman collection by Fossil. It has a sizeable 45mm round case with a nice white dial. The watch feel very sturdy on the wrist due to the large genuine leather cuff strap that hugs itself close to your arm.
Like the previous models the dial has this high visibility set up making the watch easy to read. It has a impressive 100m water resistance rating and is powered by a Japanese quartz movement.
7. Fossil Men's Machine Chronograph Watch Fs4662 With Black Dial And Smokey Grey Case And Bracelet
Next up we have the attractive looking Fossil Machine watch. It has a gunmetal Ion-plated stainless steel casing with a large 45mm diameter. This makes it a larger watch that's ideal for people who like oversized timepieces.
The Fossil Machine chronograph also has a date display on the dial, along with the high visibility hands. The watch is powered by a Japanese quartz and has a 50m water resistance rating.
8. Fossil Holiday 2009 FS4487 45mm Stainless Steel Case Black Silicone Mineral Men's Watch
This is a variation of the previous watch, it's also a Fossil Machine chronograph and just had a few differences in colour and strap. This model has a black Ion-plated stainless steel casing design with a black comfortable rubber strap.
I like the blue detailing on the chronograph function as well as the chunky side buttons. As with the other Machine edition it has a 50m water resistance rating and runs on a Japanese quartz movement.
9. Fossil Men's Quartz Watch ME1099 with Leather Strap
The next Fossil watch is a bit different. I absolutely love the dial design on this timepiece with all the intricate detailing with the sub dials and movement on show.
The watch is powered by a Japanese analogue quartz movement and has a 05m water resistance rating. I particularly like the PVD rose gold detailing on this timepiece.
10. Fossil-FS4865's Chronograph Watch Quartz Chronograph Brown Leather Strap
This next Fossil men's watch has a nice easy to read clear dial. I like the layout of the two chronograph sub dials on this watch. The watch has a nice genuine leather strap that's soft and also offers extra comfort.
The watch has a polished and brushed stainless steel finish and is powered by Japanese quartz movement.
11. Fossil CH2573 Gents 'Decker' Black Rubber Strap Black Dial Chronograph Watch
Here we have the Fossil Decker. This Fossil chronograph watch is very popular for its stylish finish and high-visibility baton hour markers and watch hands.
A lot of people are fans of the sturdy rubber strap that gives you some extra durability compared to other standard straps. As with the other Fossil watches it runs on a quartz movement and has a 100m water resistance rating.
12. Fossil FS4656, Machine Chronograph Watch
First up in our list of the best Fossil watches UK is this Fossil "Machine" watch. I like the laid back look of the dial with its chronograph sub dials, date display and gold baton hour markers.
A nice feature of this watch is the detailing on the bezel, a little dimpling effect that makes it stand out. The watch functions with a Japanese quartz movement has a mineral crystal glass, and a 50m water resistance rating.
13. Fossil ME3054, Grant Automatic Watch
One of my favourite watches is this skeleton automatic Fossil watch. It has a very attractive looking design with the rose gold PVD plating and dark blue leather strap working extremely well together.
My favourite feature has to be this large exposed skeleton dial that showcases a large amount of the inner works of the automatic movement. You can also see the movement through the exhibition caseback on the rear of the watch.
The watch runs on a Japanese automatic movement, has a mineral crystal glass, and a 50m water resistance rating.
 14. Fossil ME3052, Grant Automatic Watch
 Next up in this list of the best Fossil watches we have this colour variation on the second watch we featured. This model goes for a slightly off white coloured dial and features the same exposed skeleton automatic movement.
As with the other watch it also has a exhibition caseback which is a feature I love. The watch functions with a Japanese quartz movement, mineral crystal glass, and a 50m water resistance rating.
15. Fossil Gen 3 Smartwatch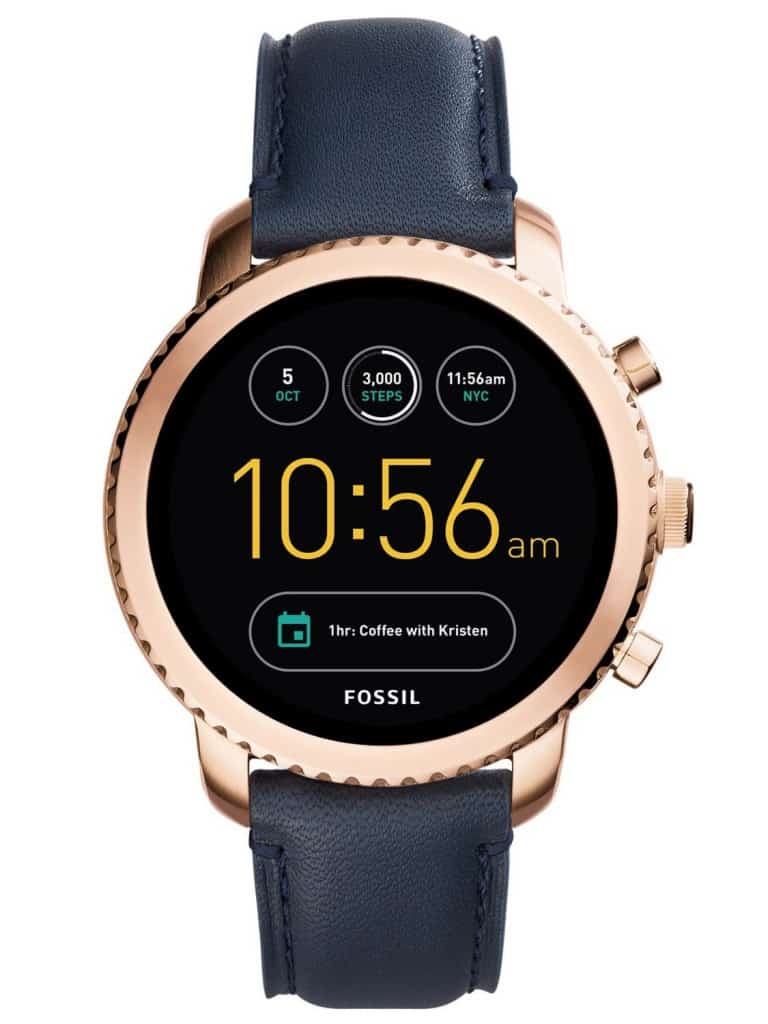 Buy on Amazon
First up in today's list of the top 10 premium Fossil watches you need to check out is the Fossil FTW4002 from the Fossil Gen 3 collection. This Fossil smartwatch is Android and iOS compatible and features an activity tracker, smartphone notifications, and multiple face designs.
The watch itself is built with a 44mm stainless steel casing that's finished in a rose gold colour. The thickness of this casing is 12mm. It's been paired up with a dark navy genuine leather strap that fastens with a buckle style clasp.
If you're considering entering the smartwatch market then an affordable timepiece like this one from Fossil could be ideal for you, I'd class it as an entry level timepiece myself.
16. Fossil Q Men's Smartwatch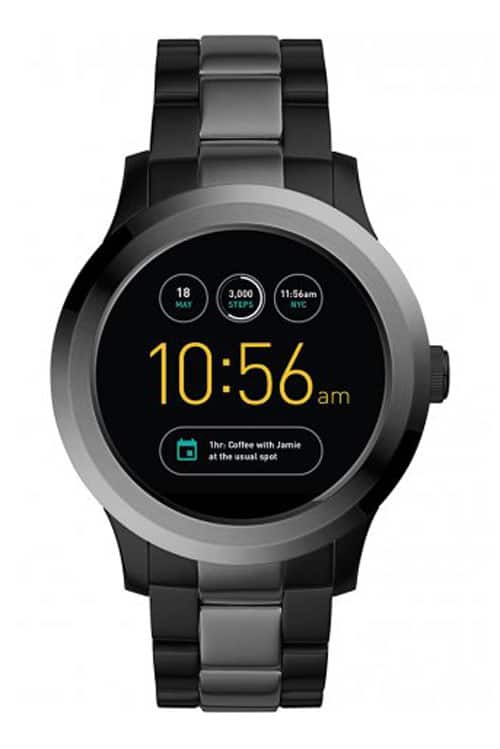 Buy on Amazon
Here we have another Fossil smartwatch this time from the Q collection and is compatible with Android OS 4.3+ and iPhone 5/iOS 9+.
The multi-face LCD dial comes with touchscreen functionality to operate the array of features such as the activity tracking, microphone and speaker, alarm clock, Email, and notifications. This smartwatch also comes with magnetic charging.
The Fossil Q is built with a larger 46mm casing that comes with a brushed and polished finish is smoke grey and black.  The strap itself is 22mm wide and fastens with a fold over push release clasp.
If you're after an elegant timepiece with smart technology then the Fossil Q collection could be ideal for you.
17. Fossil Men's Skeleton Automatic Watch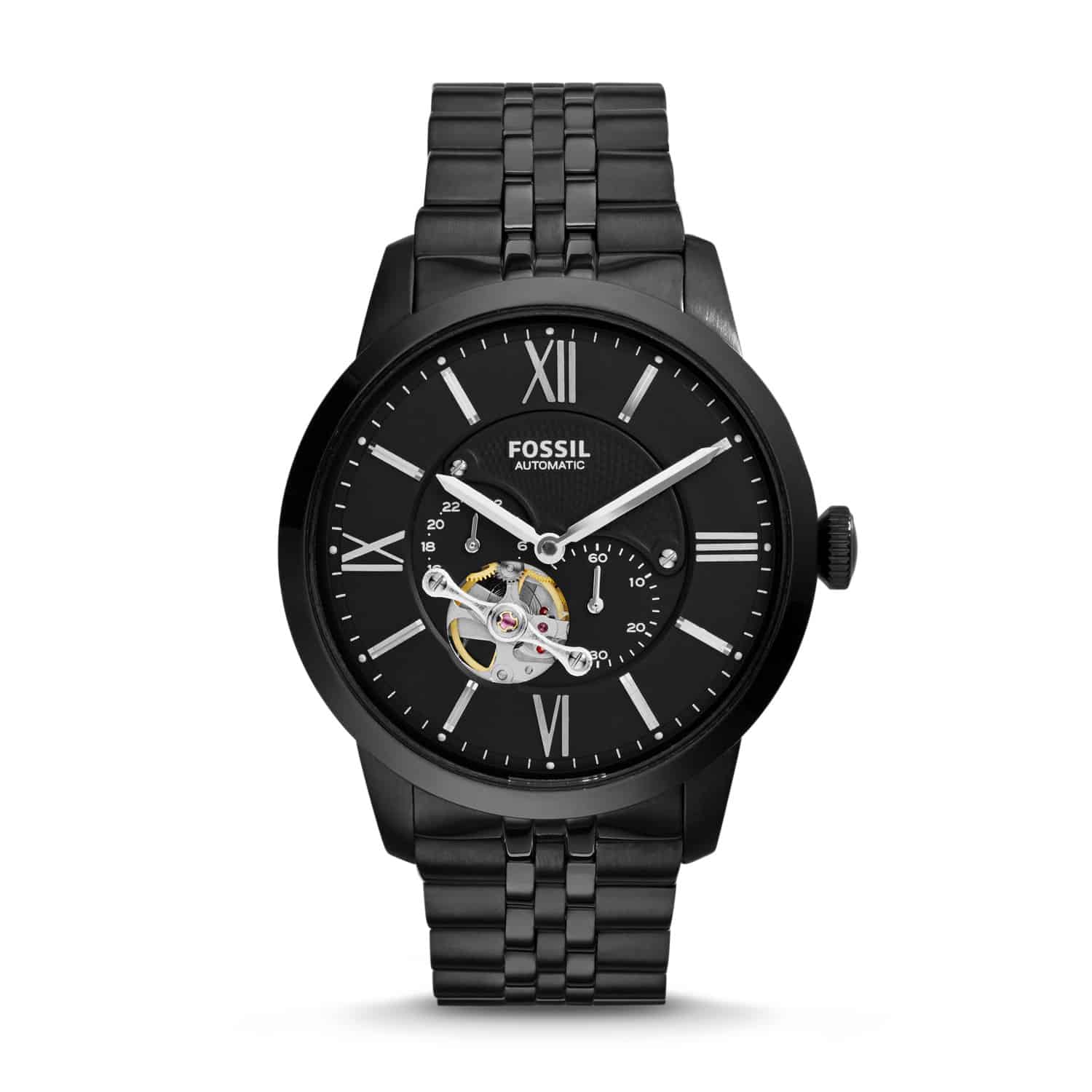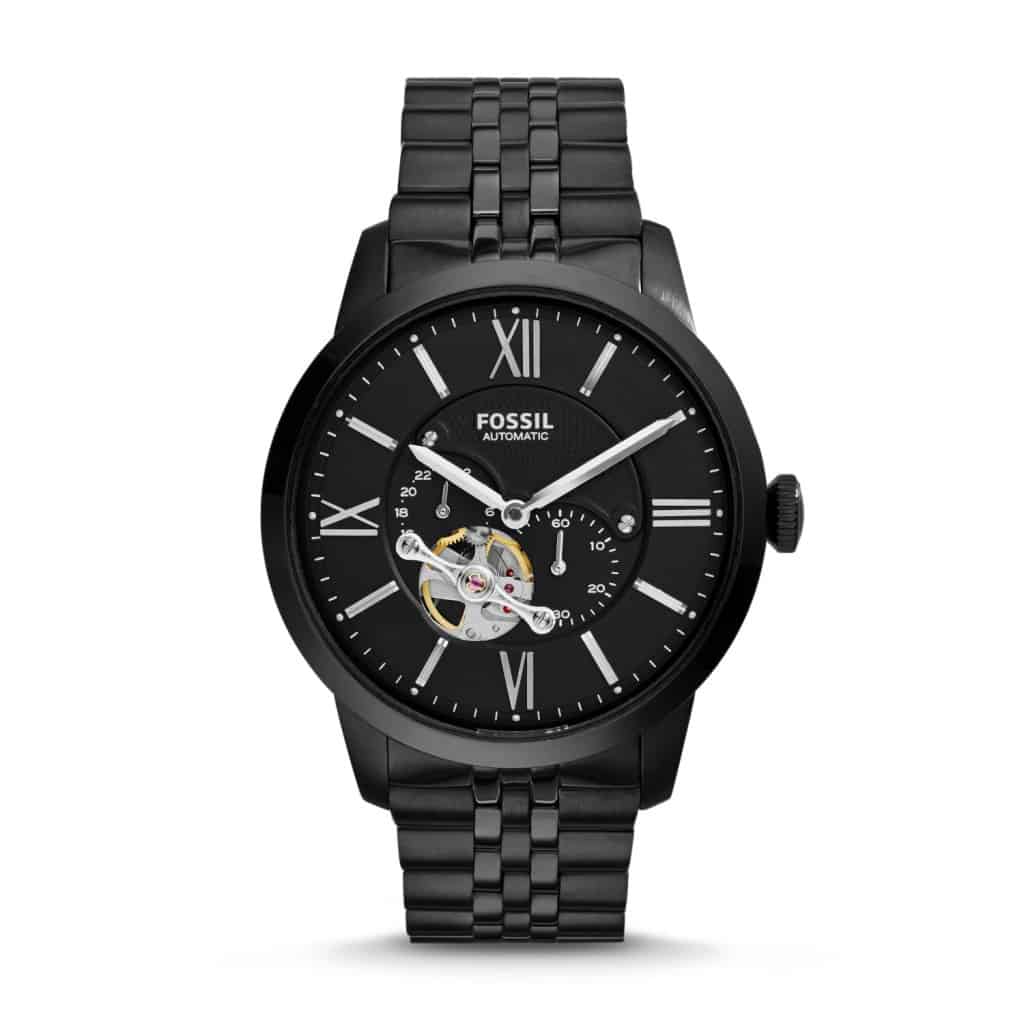 Buy on Amazon
Last up on today's selection of luxury Fossil watches is this all black sleek edition. The watch is built with a black stainless steel case that has a combination of brushed and polished finishes. The diameter of the casing is 44mm and it has a thickness of 12mm.
The dial is very easy to read with the silver toned hands and hour makers standing out well against the black background. There are also two small sub-dials on show along with a keyhole skeleton detail to see a portion of the automatic movement working away.
At the heart of this all black Fossil watch is a automatic movement which can be viewed through the exhibition style caseback. The glass protecting the front and rear of the watch is a mineral crystal lens which offers a combination of both scratch and shatter resistance. The watch also comes with a 50m water resistance rating.
Conclusion
Well thanks for reading all the way through, hope you found this Fossil watches review somewhat helpful. What's your favourite Fossil timepiece then? Comment below or come along and join the discussion on social media with us!