Hands-On Charlie Paris Watches Review

Today we're taking a look at this absolutely beautiful automatic watch from Charlie Paris watches. Designed and assembled in France, near Besançon, by professional and experienced watchmakers, this automatic watch really caught my eye. It's available with a whole range of straps and I've been lucky enough to have the watch sent over with 3 different straps for us to have a look at. You can find this model on their website for €595.00.
In today's watch review I'll be talking about the Charlies Paris watches brand, the details of their watch and the packaging and I'll finish off as always with an example of some of my favourite models from their collection.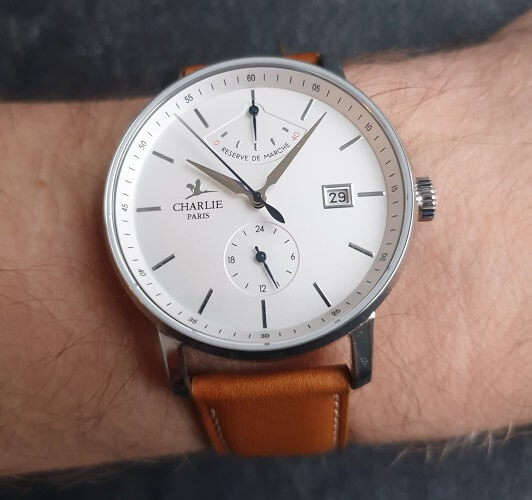 About Charlie Paris Watches

Charlie Paris was launched by childhood friends Ambroise and Adrien in 2014. They are a 100% independent company that's extremely passionate about beautiful watches. In 2016 they went on to open their first boutique store in Haut-Marais, at 26 rue Pastourelle, Paris 3rd.
"OUR MISSION IS TO MAKE THE WORLD MORE BEAUTIFUL AND BETTER BY PROVIDING CREATIONS THAT ARE BOTH BEING BEAUTIFUL, SUSTAINABLE, ACCESSIBLE AND INSPIRING"
The company offers a lovely selection of automatic and quartz watches for both men and women. They also have other leather goods available such as watch straps and handbags.
Charlie Paris are a brand that care about the environment, they use eco-friendly packaging and are partnered with EcoTempo, a company that recycles used watches. I didn't realise that it's actually possible to recycle up to 80% of a watches weight.
You can learn more about Charlies Paris watches on their about page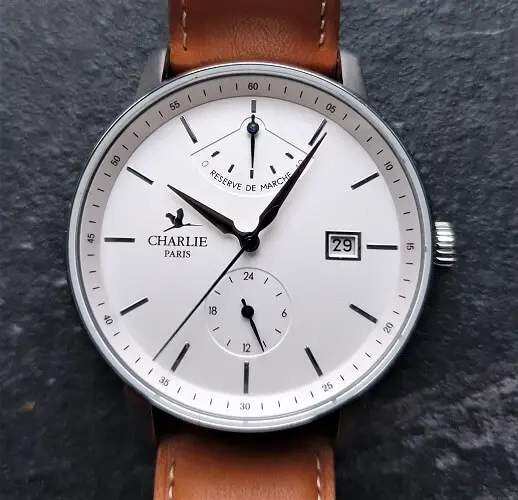 The Charlie Paris Initial Power Reserve In White
For today's Charlies Paris watches review I selected the Initial Power Reserve with a white dial. I've picked out 3 straps to feature along with it. The Mick Brown, Mick Blue and Mick Green to highlight how this watch can be paired up with different coloured straps to quickly change up the different outfits you can wear it with.
I've not actually had the opportunity to review a French timepiece before so I was very excited when this watch arrived. As with all my reviews, I've spent a couple of weeks wearing the watch on and off to get a good feel of it for the article.
This is a high end watch with added complications that's built with a quality automatic movement and sapphire crystal glass lens. In this review we'll take an in depth look at all the different aspects of the watch. As always, let us know what you thought of it in the comments section at the end.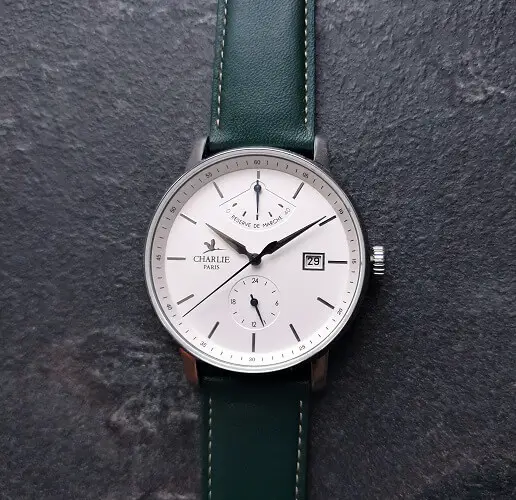 Dial Design
You can see they've opted for a classic contemporary dial design that features clean lines and just a hint of colour with their use of blue tinted hands, this pairs nicely with the short baton style silver hour markers. I also love the way they've highlighted the depth of the dial with the minute increments around the outer edge.
The dial features two additional counters, at the top we have the power reserve which indicates how much longer the timepiece can run for (up to 40 hours) at the bottom of the dial is a small 24 hour display also. There's a small date display at the 3 o'clock position and the Charlie Paris logo can be found at the 9 o'clock marker.
Overall, I've only got good things to say about this dial, I'm a sucker for blue tinted detailing as any regular readers will be well aware of. This clean, minimal finish is something I'm often going to be a fan of.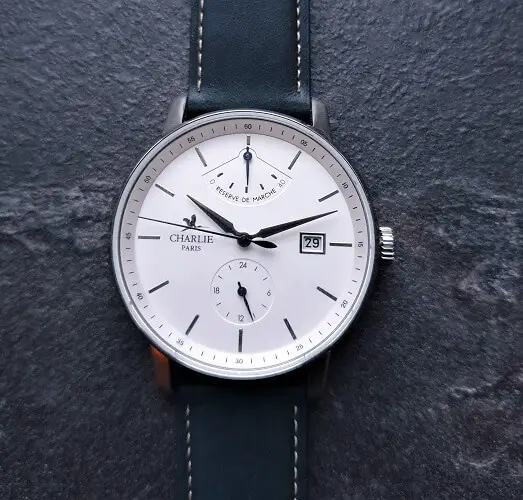 Watch Case & Sizing
Over to the casing now, it's made of 316 surgical grade stainless steel with a diameter of 40mm and a thickness of 13mm. As many of you will be well aware, 40mm is the new standard for men's watches, the 13mm thickness is a little large but I feel like they've used this well with the depth added into the dial design.
One of the things I've noticed whilst wearing the watch is that it does have a little bit of weight to it, I myself tend to like a little extra weight on a watch as I see it as a sign of a quality built.
One of my favourite aspects of this watch is the see-through glass caseback that allows you to take a look at the inner workings of the watch and its automatic movement. This is a quality screw-down case back with a sapphire crystal glass lens.
Whilst overall I like the design of the crown and the feel when you operate it, I was a little sad to see they hadn't opted for a specially made engraved one. In this price range it is something I thought I'd have a pretty good chance of seeing. This is of course only a minor negative and more a personal preference than anything else.
Watch Movement
At the heart of this French timepiece is a premium, high quality automatic Citizen Miyota movement, Caliber 9132. Miyota are owned by Citizen, they're one of the largest producers of watch movements in the world.
The Miyota 9132 is a 26 jewel automatic movement that beats at a frequency of 28,800 per hour, giving you a smooth 8 ticks per second that has a sweeping effect when running The power reserve on this Miyota movement is 40 hours which is great.
This is a 3 hand movement with a 24 hour display, power reserve indicator, date display and quick date setting. The accuracy rating for this movement is -10~+30 sec per day.
As I mentioned earlier on, you're able to take a look at this movement running through the exhibition style caseback on the rear of the watch.
In this price range I was expecting to find a high quality automatic movement so I'm very happy to see this Japanese made automatic movement in this watch.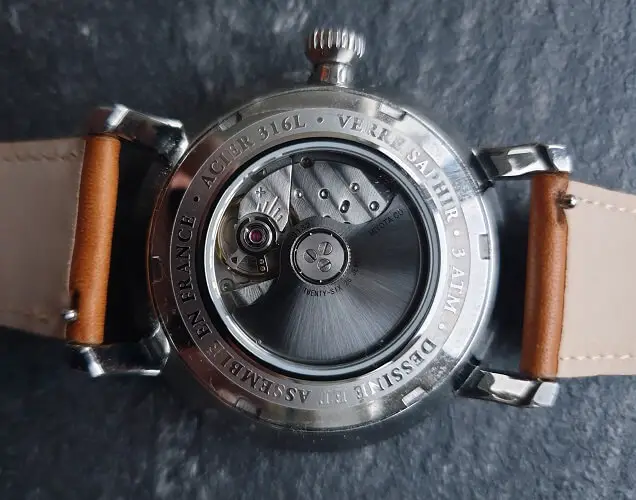 Watch Crystal
Protecting the dial is a high quality sapphire crystal glass lens. This is an ultra resistant anti reflective glass that offers an extremely high level of scratch protection with a Mohs hardness rating of 9. You'd effectively require a diamond to to make a scratch in this glass.
I'm pleased to see they've used a sapphire glass for this timepiece. In this price range for this style of watch it's exactly what I was hoping for.
Sapphire glass has one slight downside which is that it doesn't offer as much of a shatter resistance as the cheaper mineral crystal glass lens. I'd still personally prefer a sapphire glass for this style of watch.
Strap & Clasp
As you can see in the pictures, I decided to go for 3 different coloured straps from Charlies Paris to see how they go with the dial. The colours I chose from their selection were the Mick Brown, Mick Blue and Mick Green as shown.
Each of these straps are interchangeable with the use of flash pumps that allow you to quickly change the watch strap within a few seconds, you don't even require any tools to do this. I'm often a fan of getting extra interchangeable straps with a watch so that I can quickly swap up the look of the watch when I want.
Each of the straps I selected are made of fine Italian leather and feature fine ecru stitching. Charlies Paris work with Italian tanneries that offer leathers derived from vegetable and mineral tanning. On the inside of the strap they've included the Charlie Paris logo, a nice little touch in my opinion.
Charlies Paris have a large selection of varied straps available in different materials like leather, metal, nylon, lizard and ostrich, view all available straps here.
Water Resistance Rating
The water resistance rating of this watch is 3atm / 30m. This is suitable for everyday use. Splash/rain resistant. Not suitable for showering, bathing, swimming, snorkeling, water related work, fishing, and diving. You can read up more about water resistance ratings here.
This is pretty much the most basic form of water resistance you can get on a watch. I wasn't necessarily expecting a higher rating to be honest, but it would have been nice to see a 50m rating at least instead at this price range.
Packaging
I was also pleased with the packaging of the timepiece. It arrives in this high quality Eco-friendly watch case that's manufactured by an ISO4001 certified partner. This guarantees efficient and environmental management of the company.
The watch case is made of a recycled cardboard, ABS which is a recyclable polymer and a solvent-free glue. It's nice to see a company recognising the environmental impact it can have and doing what it can to improve its role in that.
This is a sturdy, well built case, the way the box opens up to reveal the timepiece is great, I prefer it over a simple 1 fold option. The Charlie Paris logo can be found on top of the box and on the inside on the reverse of the lid.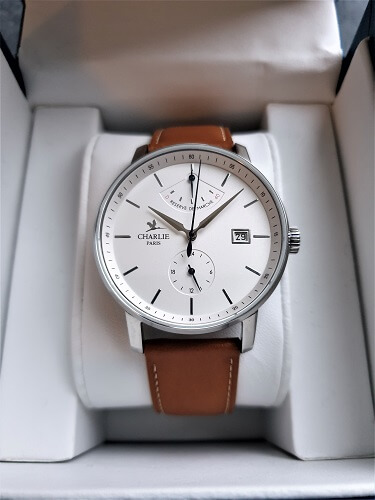 Specifications
Below I've listed some of the important specifications for the Charlie Paris Initial Power Reserve (for those of you who are skim reading).
40mm diameter
Automatic Miyota 9132 movement by Citizen
Sapphire crystal glass
30m water resistance rating
24 month warranty
Assembled in Besançon, France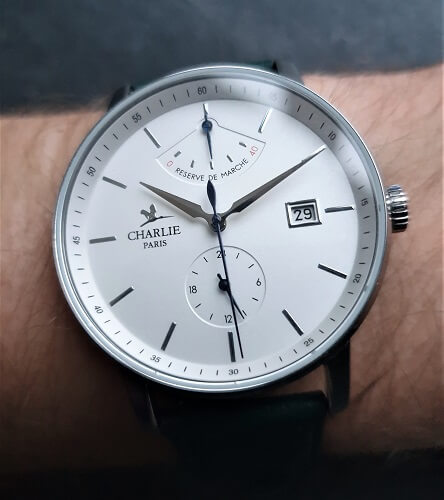 Overall Thoughts
This has to be up there as one of the top watches I've had the opportunity the review lately. It's a stunning timepiece that features many of the high end components I was hoping for, like the Miyota automatic movement and the sapphire glass lens.
It's beautifully well built and considering the quality components of the watch, I'd say fairly priced too. Overall I can do nothing but recommend such a delightful timepiece to anyone who shows even the slightest interest in horology.
If you want to see more of what this brand has to offer I'd recommend you head over to the Charlie Paris store front today.
Thank you for taking the time to read through today's Charlies Paris watch review. What do you think of the brand and their watches? Comment below and let us know.