Hands-On TID Watches Review

I am loving this very affordable minimalist watch brand. Today I've been lucky enough to have this beautiful minimalist watch sent to me from TID watches. This is their iconic No.1 which is available in black, white, steel and gold and is available in 33, 36 and 40mm making them suitable for both men and women. If you'd like to purchase this model, you can find it on here on their website for £169.
In today's watch review I'll be talking about the TID watches brand, the details of their watch and the packaging and I'll finish off as always with an example of some of my favourite models from their collection.
About TID Watches

In my continuing search for the best watches to feature for you, I stumbled across TID watches. This is a brand based in Stockholm, Sweden, they focus on minimalistic watches that are beautifully designed by Form Us With Love. Luckily enough TID Watches were happy enough to provide a timepiece for me to feature for you today.
This brand was founded back in October of 2012 by four friends, Jonas Pettersson and John Löfgren who were from the design studio Form Us With Love, and Ola. E Bernestål plus Petrus Palmér.
The friends wanted to create something that was timeless and stylish, a watch that would appeal to a wider audience, and with that they launched the No.1 collection in 2013.
What's the name about? TID actually means time in Swedish. The brand states that time is a precious currency to spend on things you love. TID watches explore time through products and creativity, within their collection they have fused a practical mindset with forward-thinking designs, with the aim of producing products you can wear every day.
I'd have to say I agree, the watches they've produced here are beautifully well made and designed, this is a perfectly affordable every day timepiece in my eyes.
The TID Watches No.1 
Today I'm focusing on the TID No.1, this watch is made of stainless steel and comes with either an ion coating, monochromatic brushed steel or gold finish. It comes in black, white, steel and gold and as previously mentioned, this is available in 3 sizes. It also has a large selection of straps available in both leather and nylon.
I've decided to go for the white dial model with the black ion coating and tan leather wristband for today's TID watches review.
Dial Design
As we see with many Scandinavian watch brands, the dial of the No.1 by TID watches has a focus on minimalist design. I love the way they've removed unnecessary clutter and kept to this crisp and clean design.
The black hands and hour markers stand out nicely against the clean white dial, so it's very easy to read, even at a glance. I like the use of the concave dial, the way the outer edges pull your eye line gently into the centre of the watch, it's a great element to the design.
I'm also a big fan of the design of the seconds hand, the way the circle at the tip floats just above the minute increments is a nice touch that I really appreciate.
Watch Case & Sizing
The casing itself is made of stainless steel that's coated in a black ion plating. The size of the casing is 40mm, this is a popular size for most men these days. Do keep in mind that it's also available in 36 and 33mm though so it really is suitable for everyone. I like that TID watches has been considerate like this.
As you'll often see in minimalist watches, they've opted for a slim 8mm casing on the 40mm variation. This gives the watch a nice profile on your wrist.
The caseback is fixed with 4 tiny screws I much prefer this over a simply flick off design. On here you can find the logo, and brand information as well as some of the specs for the watch.
An interesting feature of the casing is the position of the crown. Did you notice how it's positioned on the left? Not many brands opt for this. The positioning of the crown on the left of the casing avoids it digging into the wrist. As a lefty this isn't actually a problem I've ever suffered with.
The crown is very smooth to operate, this is one of these little details I always like to check on a watch review as it's a good sign of quality. It features the logo etched into it and has nice wide edges for griping.
Watch Movement
At the heart of the TID No.1 is a Japanese made Miyota 2035 quartz movement. Miyota are actually owned by Citizen, they're one of the largest producers of watch movements in the world. Known for their reliability and accuracy, this model has an accuracy rating of +/- 20 seconds per month.
Watch Crystal
Protecting the front of the watch is a mineral crystal glass lens. Mineral crystal glass is often found in watches in this price range, it has been specially hardened to offer a good level of both scratch and shatter resistance.
For something with a higher scratch resistance you'd look for a sapphire crystal glass lens which offers excellent scratch protection but lacks on the shatter resistance. You would typically find this on more expensive watches. TID do have some watches available with a sapphire crystal lens in their TID No.2 collection, these also have Swiss made movements.
Strap & Clasp
Having been in this industry a fair amount of time and seen hundreds of leather watch straps, I like to think I can spot the good from the bad. And this is definitely what I would class as a high quality leather strap. It's lovely and soft to the touch with excellent stitching work towards the buckle.
The TID leather wristband is made out of leather from the organic Swedish tannery Tärnsjö Garveri. Vegetable tanning gives the leather unique natural characteristics and environmentally friendly features.
The strap I selected was the tan leather edition. This strap is 21mm wide which is perfect for the casing size, the length of the strap is 240mm in total. It's comfortable to wear and easy to adjust. I've been wearing the watch on and off for the last weak and overall it's been a pleasant experience.
The only little thing I'd like to point out is that when you take the watch off, you have to be careful to make sure the casing doesn't slip off the strap, as it isn't fixed to it in anyway.
This isn't exactly a big issue though, I rather like the way this allows the casing of the watch to sit on the wrist, but I feel it's worth mentioning still so that you don't have any unexpected incidents with it. Another benefit of this is just how easy it is to change straps.
Overall, I was very pleased with this strap. If you're going to go for one of their watches, it may be worth checking out their huge selection of extra straps, they're easy to change so it would offer the ability to quite quickly make a change to your style for the day.
Water Resistance Rating
The water resistance rating of this watch is 5atm / 50m. This is suitable for everyday use, showering, bathing, shallow-water swimming, snorkeling, water related work, fishing. Splash/rain resistant. Note that this is not suitable for diving. You can read up more about water resistance ratings here.
It was quite nice to see this watch had a 50m rating actually, that's plenty for what I'd imagine most people would be using this style of watch for anyway.
Packaging
It's become more and more of a thing lately me mentioning the packaging of a watch here, it's not something I ever intended on being a major focus of reviews but you readers seem to appreciate it.
As you can see, the watch comes delivered in a small yet very sturdy white box with a clever little way of displaying the timepiece from the moment you open it up. Below this is simply the warranty information for the timepiece.
This packaging feels very on brand for TID, it's simplistic and there isn't anything that's unnecessary. I often find there can be a lot of wastage in packaging so this was a breath of fresh air, I'm not throwing away a load of unwanted bits of paper from packaging.
Overall, a big thumbs up from me in this department.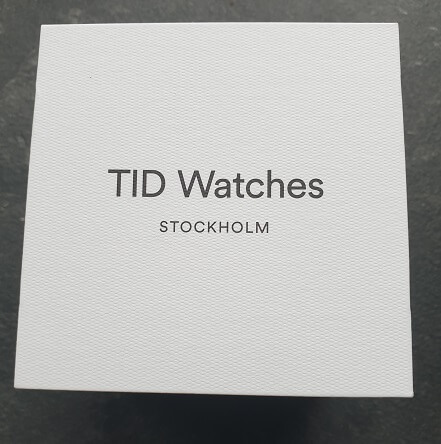 Specifications
Below I've listed some of the important specifications for the TID Watches No.1 (for those of you who are skim reading).
40mm diameter
Quartz Miyota 2035 movement by Citizen
Mineral crystal glass
Slim casing
50m water resistance rating
Leather from the organic Swedish tannery Tärnsjö Garver
Overall Thoughts
I've been looking to feature more minimalist watch brands for a while now and TID watches came along at the perfect time. I love being able to feature affordable watches as I like that they're attainable for everyone, and this watch at £169 seems very reasonably priced in my opinion.
Form Us With Love have done a splendid job in designing the timepiece, you can see they've put great effort into the minor details, something I always like to see, this truly shows the brand cares about their products and what the customers thinks of them.
Overall I think the watch is well built, has a brilliant design to it and is priced nicely. I'd happily recommend it.
If you want to see more of what this brand has to offer I'd recommend you head over to the TID watches store front today.
Thank you for taking the time to read through today's TID Watches review. What do you think of the brand? Comment below and let us know.