Hands-On Briston Watch Review

Today I've had the pleasure of checking out this absolutely stunning watch from Briston. This is the Clubmaster Classic Acetate Gold and it can be purchased for €290 directly from Briston-Watches.
In today's watch review I'll be talking about the Briston Watches brand, the details of the watch and its packaging and I'll finish off with a few of my other favourite picks from their website for you to check out.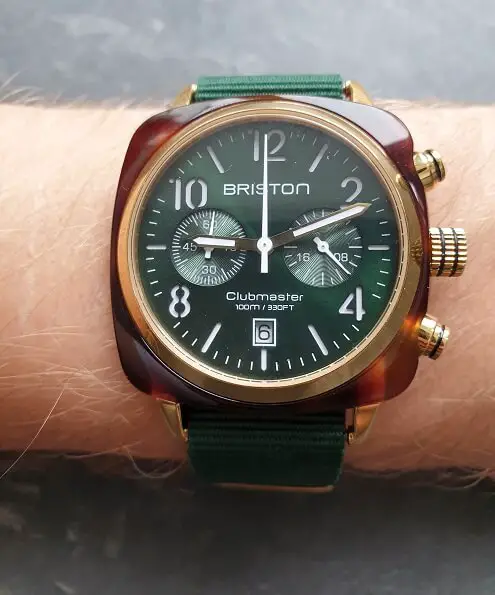 About Briston

I was searching online for some of the best watches available online to showcase to the community, when I came across Briston. I found their collection of watches instantly intriguing, the casing shape, design and use of materials really caught my eye. I was hooked and had to get in contact with them. Luckily for all of us, Briston were equally happy to show off their watch.
So who are Briston? The Briston brand was launched in 2012 by Brice. Brice Jaunet himself has a long history in the industry, having worked at some of the largest watchmaking groups around, including Richemont at Cartier, Baume & Mercier, Raymond Weil and eventually LVMH Group. You can read more about Brice Jaunet and his history on the companies' about page.
Brice Jaunet wanted to create a brand that was both beautiful and authentic whilst remaining affordable. I'd say he's definitely achieved this goal The brand has a sporty, chic and quirky spirit that was inspired by Brice Jaunet's student days in Oxford.
Briston has a huge selection of both men and women's watches available, many of which feature the cellulose acetate casings for a very unique looking finish . I'll highlight more of these towards the end of the hands-on review with the Clubmaster Classic watch.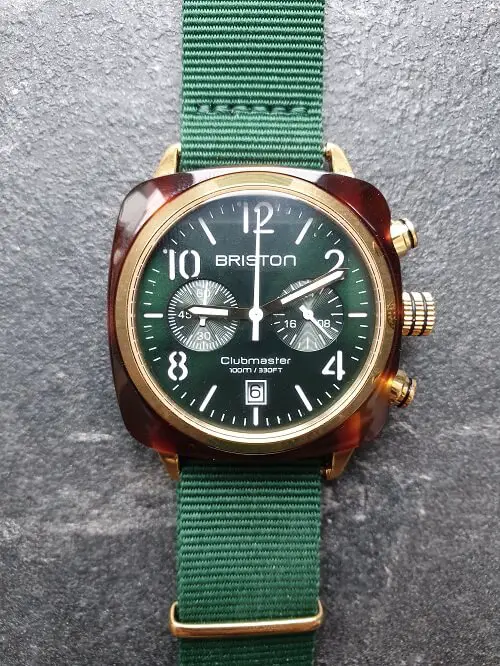 The Briston Clubmaster Classic Acetate Gold
For today's review I'm specifically taking a look at a timepiece from the Clubmaster Classic collection. The Clubmaster Classic features a cambered square design that's inspired by the roaring twenties, I must admit, it's beautifully designed and I'd be more than happy show it off on my wrist.
This 40mm casing can be finished with the cellulose acetate or steel, the cellulose acetate being my recommendation though, you wouldn't want to miss out on adding something like that to your collection.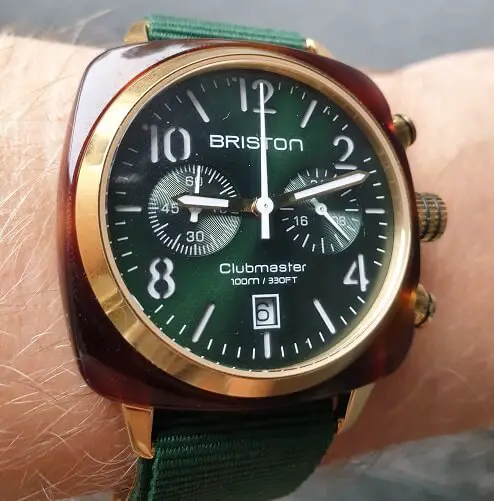 Dial Design
The dial features pointed gold tone hour and minute hands with white detail on the edges, these sit on top of a beautiful sunray British green base. The white numerals and hour markers are actually sunk into the dial which gives it this really good finish in my eyes, a style I don't see all too often.
On the dial we find the word 'Briston' at the top, proudly displaying the creators of this fine timepiece. There's also a small date display at the 6 o'clock position with the words 'Clubmaster' and the water resistance rating of 100m / 330ft displayed'.
Two chronograph sub dials can also be viewed, the one on the left is the chronograph minute hands, and the one of the right is the 24 hour hand. The prominent white hand in the centre is the chronograph seconds counter.
The whole design of the dial has been well thought-out, it blends perfectly with the bezel and casing, simply put, it's a stunner.
Watch Case & Sizing
The casing is made of tortoise shell acetate which is probably one of the most intriguing aspects of this watch for me. It's hard to show you just how beautiful this looks. The way it catches the light, I've not personally seen something like this before. In my time wearing this watch for the review I've received plenty of interest and compliments about this part of the timepiece especially.
The size of the casing for this watch is 40mm in diameter with the dial opening measuring 31mm. A 40mm size is the norm these days, it's sort of perfect for most men's style. The thickness of the casing comes in at 11.7mm
Another part of the watch I'm a big fan of is the grooved crown that offers an increased tactile feel and the two chronograph pushers. It was actually a joy to operate the crown , if only I needed to adjust the time and date more often.
It these sort of little design choices on a timepiece I really enjoy, the crown may seem like an odd thing to focus on, but if a brand has put extra effort into that, you can tell they've thought about the look and feel of their watches extensively.
The casing of this Briston Clubmaster features a screw down caseback which is something I've come to expect from slightly higher end watches. This caseback has a gold tone finish with the brand, logo, and details for the watch engraved on it.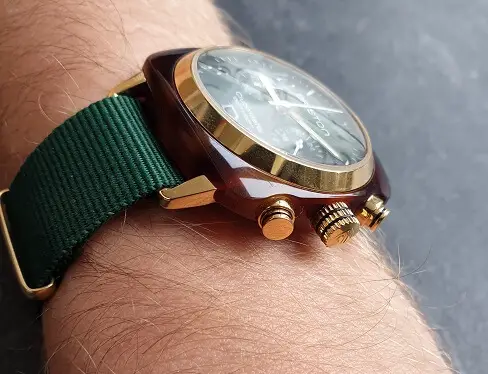 Watch Movement
Powering this watch is a quartz Miyota OS21 movement. Miyota are owned by Citizen, they are one of the largest producers of watch movements in the world. Miyota movements are well known for both their accuracy and reliability with an accuracy rating of +/- 20 seconds per month for this particular model.
So what is the Miyota OS21 like itself? This is a movement that makes use of a tuning fork type quartz crystal that vibrates at a frequency of 32,768Hz. It has a height of 5.10mm and adiameter of 30.8mm. Powering this quartz movement is a SR927W battery.
This functions of this movement include hours, minutes, central chronograph seconds, 60 minute counter, 24 hour hand, and date function. Briston has included a detailed and helpful manual on how to use each of their movements, this can be found on the product page under 'instructions manual'.
This movement is manufactured in Japan.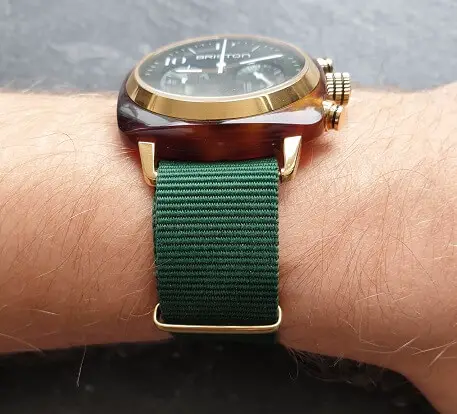 Watch Crystal
Protecting the front of the Clubmaster Classic is a domed mineral crystal style glass with a 2.3mm thickness. Mineral glass is often used in watches as it's been specially hardened to offer a decent level of both scratch and shatter resistance.
I'm quite happy with this type of glass in this watch, I know some people may prefer the more expensive sapphire glass that offers a higher level of scratch resistance, but the trade off with that would be the lack of shatter resistance, something sapphire glass doesn't provide, but mineral glass does.
Overall I'm pleased with this detail and think it's the right choice for the model.
Strap & Clasp
Now it might surprise some of you to find out that within my 50+ collection of watches I don't have many with NATO straps at all. It's just that given the choice, I'd often sway to a leather strap, but I think the experience with this watch and its nylon NATO strap may have changed the way I go about picking watches in future.
This model comes with an interchangeable nylon NATO strap in a British racing green finish with gold tone detail for the buckle. The beauty of these interchangeable straps is just how simple it is to quickly change out and alter the style of your wristwear.
Speaking of changing straps, Briston have a nice collection of NATO, leather, flannel, suede, rubber, steel and mesh straps all of which are priced very reasonably in my opinion. Check out the full collection of straps at Briston Watches.
For me this British Green NATO strap was perfect for this model, it goes well with the tortoise shell acetate casing and the gold tone finish on top of the dial. It's very easy to wear for long periods of time and sits comfortably on my wrist with a strap width of 20mm.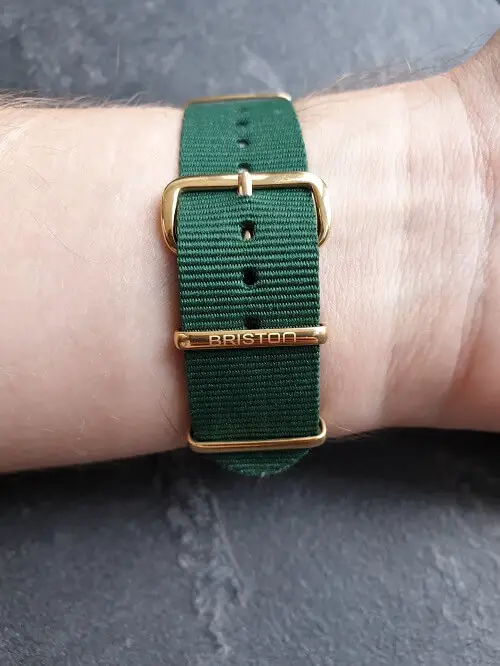 Water Resistance Rating
The water resistance rating of this model is 100m /330ft. A 100m rating is suitable for recreational surfing, swimming, snorkelling, sailing and water sports. You can read up more about water resistance ratings here. This is the sort of level I'd expect to see from a timepiece like this. Too often I come across watches with a basic 30m rating which disappoints me, so it's nice to see that Briston have gone the extra mile on this model.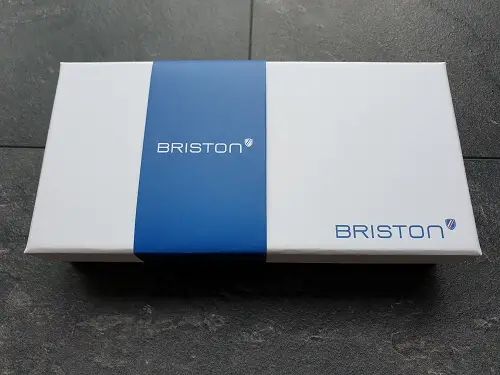 Packaging
My Briston delivery arrived nice and quickly, and overall came well packaged with zero damage to the watch packaging, which is nice to see. Inside the main box was padding that protected the main watch container. The watch itself comes packed inside a white box with the Briston logo on, this is completed with a nice blue sleeve.
I really liked the way the watch was packed into an extra protective holder, again this is another touch I don't see many brands caring about, but I loved the look of it.
The contents of the container includes the watch, a 24 month warranty card, and a well made booklet that informs you about the brand and the Clubmaster Classic collection, along with some of their top models.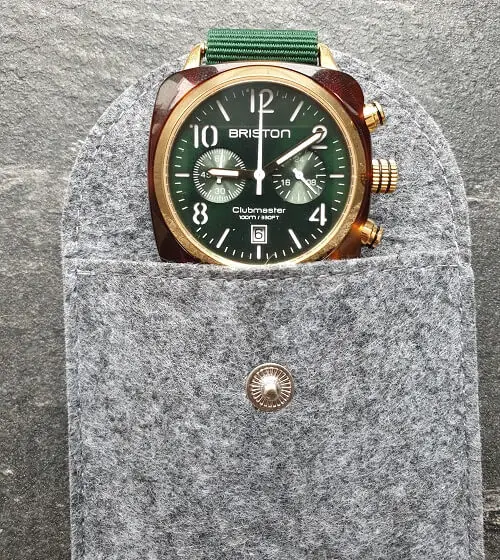 Specifications
Below I've listed some of the important specifications for the Briston Clubmaster Classic (for those of you who are skim reading).
40mm diameter
Tortoise shell acetate casing
Quartz Miyota OS21 movement
British Green sunray dial
Domed 2.3mm Mineral crystal glass
NATO strap
100m water resistance rating
2 year warranty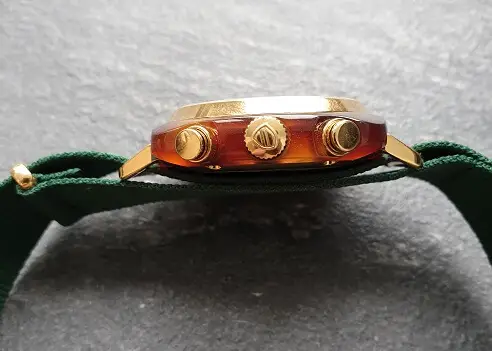 Overall Thoughts
I'm so pleased I've had the opportunity to review this watch in person. It's hard to really appreciate the beauty of the casing from the images available, as you really need to see how it looks with the movement of your wrist to fully appreciate it.
The overall care and attention Briston have put into designing this watch is incredible, it's something that the brand can truly be proud of.
If you are looking to add something a little bit different to your collection, it's honestly worth every penny. For someone in my position where I see watches all year round, it's exciting to come across something different that I haven't seen before, and that's been designed in such a well thought out, high quality way.
You can view Bristons full collection of watches here.
More From Briston
As I mentioned earlier on, Briston has a rather large range of impressive watches. I thought I'd take the time to just give a little nod to some of the other models I loved the look of:
Briston Clubmaster Diver Yachting Acetate
Briston Clubmaster Iconic Acetate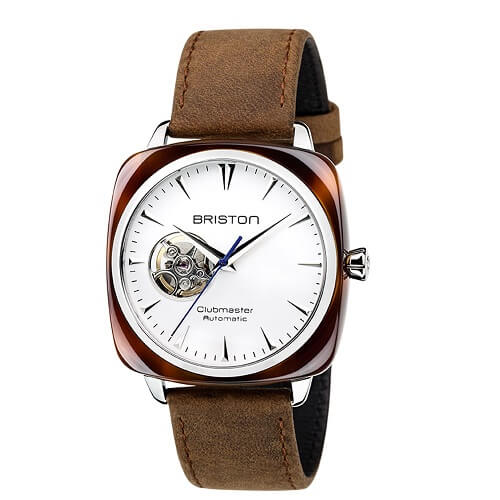 Briston Clubmaster Sport Acetate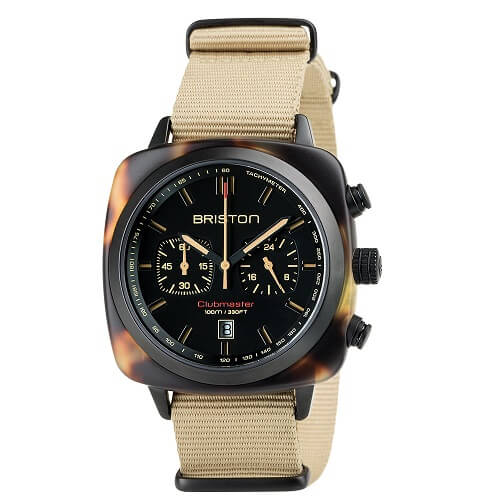 Briston Clubmaster GMT Traveller Acetate