Hands-On Raymond & Pearl Watch Review

Today I have my hands on this sleek dress watch from Raymond & Pearl watches. The Raymond & Pearl Horizon Eloquent Silver is an affordable Swiss made watch that can be purchased for £102 directly from Raymond & Pearl watches.
In today's watch review I'll be talking about the Raymond & Pearl Watches brand, the details of the watch and its packaging and I'll finish off with a few of my other favourite picks from their website for you to check out.
About Raymond & Pearl Watches

As I continue to seek out the best brands to feature on The Watch Blog I came across Raymond & Pearl. I instantly thought that this was a fresh brand that produced interesting watches that were very affordable. Everything I look for in a brand I want to feature and review. Raymond & Pearl were happy for us to review their timepiece, so here we are!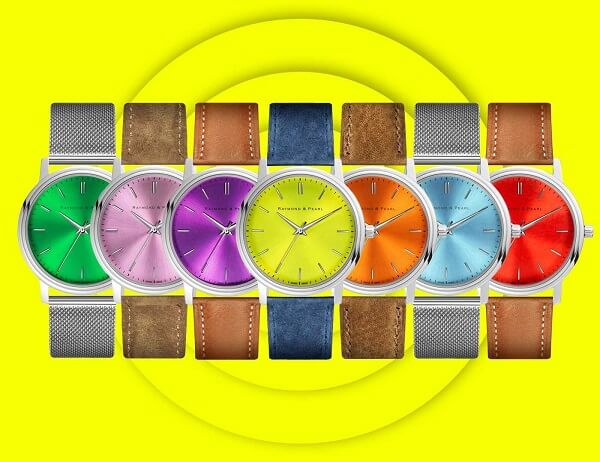 As you can see, the brand offers a great selection of colourful, fun watches with a selection of different straps. The suede option intrigued me the most which is why I went for that offering for this hands-on review.
So who are Raymond & Pearl? From the team themselves: "Two everyday guys that have been friends for a long time. We love entrepreneurship and we love watches. Between Raymond's larger- than- life personality and Pearl's artistic creativity we felt we had the right combination of traits to design and build truly fresh watches."
Raymond & Pearl aim to produce creative, fun and relevant watches with an exciting and unique approach. They're a fun and affordable brand that focuses on using the Swiss made tradition so that they still offer very reliable and precise watches.
You can learn about Raymond And Pearl on their brand page.
The Raymond & Pearl Horizon Eloquent Silver
For today's review I'm specifically taking a look at the Horizon collection. These feature watches with colourful dials in green, purple, yellow, pink, orange, blue, red and silver.
I appreciate you're going to think I'm a little boring picking the silver for the review, and I'm sorry about that. What do you expect from the type of guy who sits in and writes about watches all day? I'm still going to make sure I tell you about all the wonderfully coloured dials though.
The straps available for these watches include a black leather, silver mesh, leather oak, brown leather and a blue suede. I opted for the blue suede, I haven't seen a watch with a suede strap before and I figured it was about time I did. I'm very pleased I picked this, it's a beautifully made comfortable strap.
Dial Design
First thing I noticed about this timepiece was how the sunburst silver dial beautifully reflects light as you move your wrist around, combined with the hands and hour markers, it's brilliant.
The dial features slim dauphine style hands and small baton style hour markers. There's the "Raymond & Pearl text located in the upper third of the dial. These hands work well with the sunburst style as they also have their own creative way of reflecting light.
For a dress watch, this style is ideal, it's clean overall and easy to read. All in all I think it's a perfectly nice and smart dial design. I like it.
Remember that there's a great variety of coloured dials available also.
Watch Case & Sizing
The casing of this watch is made of stainless steel. This comes in a diameter of 40mm, one of the most popular sizes for most men's style these days. The thickness of the dial is just 7.9mm, it's a nice slim size and hugs close to your wrist, something I'm a fan of myself from my love of minimalist watches.
The crown is fairly standard on this watch. It's simple and easy to use but with no branding. Is the lack of a branded crown a big deal? No not really, I like to see them but I wouldn't have expected to see it on this watch given the price.
The casing of this Raymond & Pearl watches features a simple push down case back. At the centre of the caseback is the prominent text stating the "Raymond & Pearl" brand along with the fact the watch is "Swiss made". The remaining text around the outer ring states other specifications of the watch like the sapphire crystal, stainless steel case, and the 50m water resistance rating.
Watch Movement
Powering this watch is a Swiss made Ronda quartz movement. These movements are a popular pick for Swiss watches in this price range. They're known to be accurate and reliable and are well known in the industry.
Quartz movements also require very little in the way of maintenance and they're perfectly fine being taken off and not worn for sometime.
When I saw this watch was Swiss made I instantly suspected it would be a Ronda movement. I'd say this is a fantastic choice that I'm happy to see in this watch.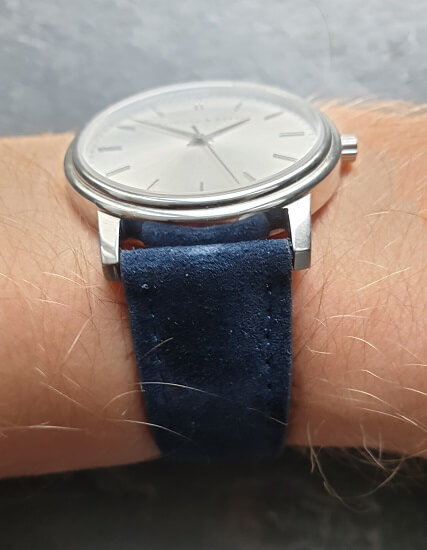 Watch Crystal
Protecting the front of the timepiece is a sapphire crystal glass lens. Sapphire crystal glass offers extremely good scratch protection with a Mohs hardness rating of 9, meaning you'd effectively require a diamond to scratch it.
Sapphire glass is often found in more expensive watches so it's great to see it in a watch at this value, not something I was initially expecting if I'm honest, I'm very pleased that it does feature it though.
The only downside of sapphire glass is that it doesn't offer a shatter resistance as high as mineral crystal glass. That's the trade off you make for the high scratch protection though.
Strap & Clasp
I opted for the dark blue suede strap for this Raymond & Pearl watches as it was something I'm yet to see on a watch and I thought it was a very interesting option to feature. Above all, I'm super pleased that I did this, the strap has been extremely comfortable and I really like the feel of the suede when you touch it.
I've been wearing the watch on and off for a couple of weeks now for my review. It's been a pleasure to wear, it's soft, comfortable and easy to use. It's made with Kvarnsjö leather that's made in Sweden, and overlayed with the blue suede. The stitching is slightly hidden by using the same coloured thread as the suede, on closer inspection it's been very nicely implemented.
If you're someone who likes to switch up your style at a moments notice you'll be pleased to see the straps feature the popular quick release pin system. I'd recommend taking a look at the other 20mm options available from Raymond & Pearl. I'd personally add in the leather oak as a nice secondary choice. View all available straps.
Water Resistance Rating
The water resistance rating of this model is 50m. This is suitable for everyday use, showering, bathing, shallow-water swimming, snorkeling, water related work, fishing. Splash/rain resistant. Note that it is not suitable for diving. You can read up more about water resistance ratings here.
I'm pleased with the 50m water resistance, it's exactly what I suspected this timepiece would come with.
Packaging
My Raymond & Pearl Watches delivery arrived nice and quick. As you can see they've opted for the elongated style watch box, it's well built packaging with good quality padding to protect the watch.
I often receive packaging or watch boxes I'd happily throw away or attempt to recycle in some form, this on the other hand is an obvious keeper for me as they haven't cut corners or cheaped out on it.
Specifications
Below I've listed some of the important specifications for the Raymond and Pearl Horizon (for those of you who are skim reading).
40mm diameter
Stainless steel casing
Swiss ronda movement
Sapphire crystal glass
Suede strap, quick release pins
50m water resistance rating
Overall Thoughts
I'm pleased I've been lucky enough to have the opportunity to put together a hands-on review of this watch and I'm thankful to Raymond & Pearl for the chance.
First of all I'd love to point out how impressed I am to see a Swiss made watch with sapphire glass in this price range, I often wonder how brands even manage to pull it off.
Notably, I loved the look and feel of the suede strap, I've long been a fan of the ability to quickly change the straps you have on your watches too so that's great to have.
Above all I'd highly recommend checking out what's available from this brand. You don't often get the chance to buy a Swiss made watch in this affordable price range. Having reviewed the timepiece myself, I can see they've put in some remarkable effort with their brand.
You can view Raymond & Pearl's full collection of watches here.
Thank you for taking the time to read through today's Raymond & Pearl watches review. What do you think of the brand and their watches? Comment below and let us know.
More From Raymond & Pearl watches
Earlier I mentioned that Raymond and Pearl had a large selection of colourful watches available. I thought I'd take the time to just give a little nod to some of the other models I loved the look of: