Hands-On DMC Watches Review

Hello everyone, today I'm taking a look at the DMC Alpha Collection by DeLorean Motor Company – a series of watches that are inspired by the DeLorean DMC-12. I've been lucky enough to have the watch sent to me so I could review it in person over the course of a week. I have the Alpha DMC Silver with me but you can also purchase this watch in a black or blue finish. You can find them on the DMC watch website for £119.99.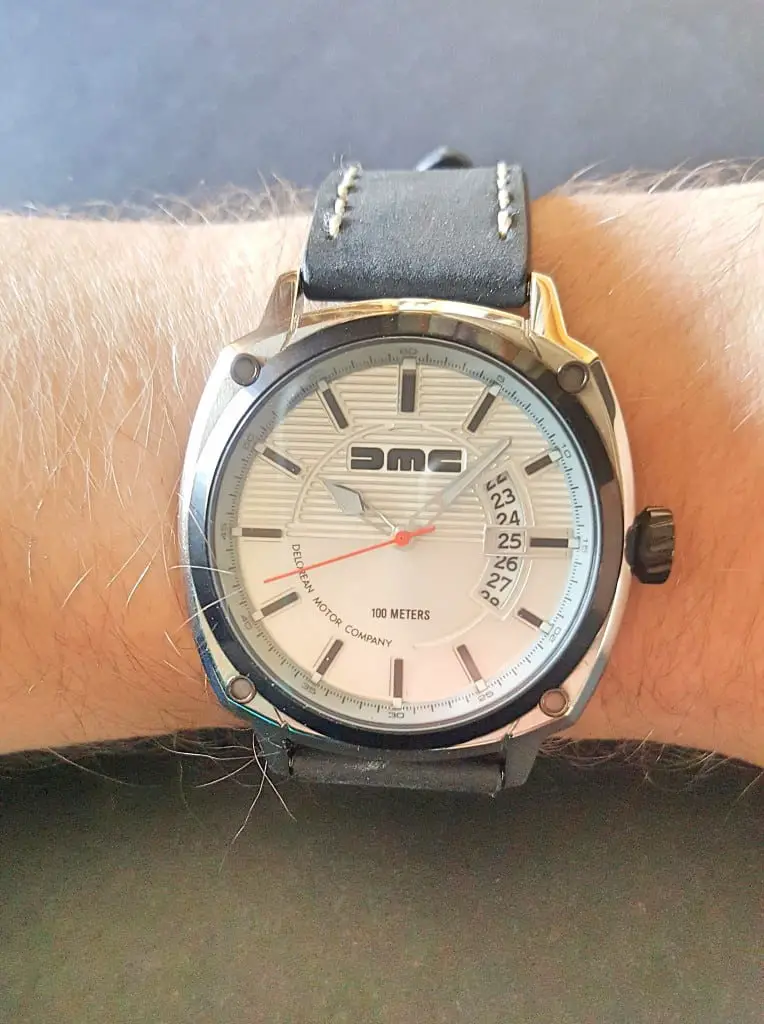 The Alpha Collection

Today I'm specifically taking a look at DMC's Alpha collection, as I mentioned earlier on, this consists of 3 variants that come in a silver, black or blue finished dial. Below you can see these 3 watches side by side.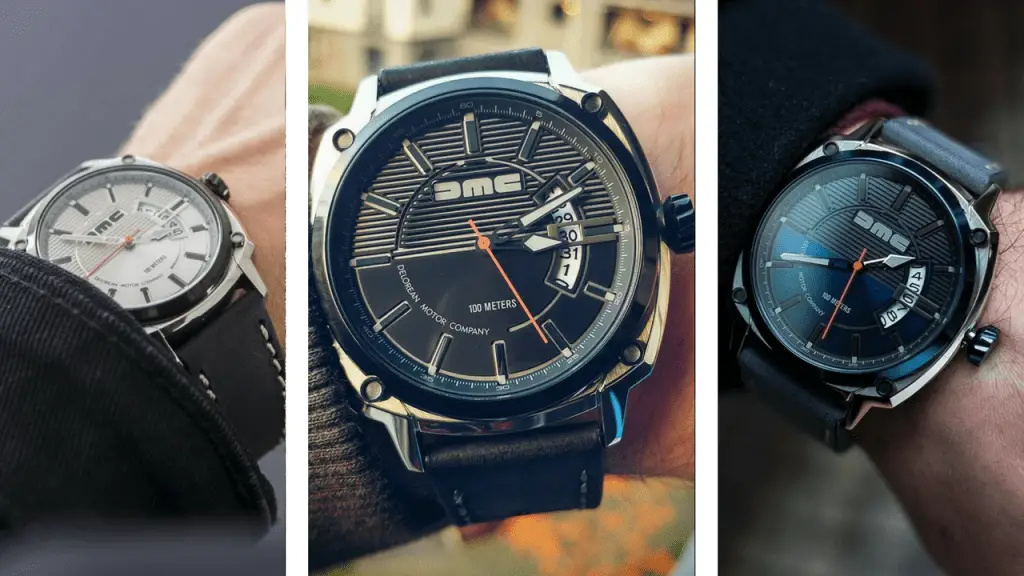 Design & Quality

The DMC Alpha collection is a clear show of appreciation towards the original DMC-12 sports car as featured in the Back To The Future films. One of the first things you notice about this timepiece is the grill inspired dial design, it's an impressively executed tribute to the DeLorean that works well and looks great. The DMC logo is also positioned in the grill to clearly show off the brand.
Continuing with the dial we have the semi-exposed date window display. You don't often see this type of date window design and I like that they've opted for it for this watch, it certainly blends with this style of the timepiece. The whole dial has a speedometer like design, this is reinforced by the sports red coloured seconds hand.
This is definitely what I would class as a larger watch with a 44mm diameter and a thickness of 11.5mm. I'm personally a fan of bigger watches so I'm happy with it, but for those with smaller wrists, it's something to take note of. On the whole, the watch has a good weighty feel to it that I and many others would often associate with quality.
Protecting the front of this watch is a specially hardened mineral crystal glass. This type of glass is commonly found on watches in this price range, it's good because it offers a decent level of scratch and shatter resistance. This is something I expected to see and am pretty pleased with to be fair.
I have to say I was actually fairly impressed with the strap on these watches. Often I find this to be an area that can let down a timepiece, but not on this occasion. The DMC Alpha has a thick sturdy genuine leather strap that has a quality stitched finish to it and comes fitted with an enlarged stainless steel buckle. This offers you a secure and comfortable fit. I've been wearing the watch for roughly a week and not had any discomfort whilst wearing it.
One of my favourite aspects of this watch is the engraved caseback with the image of the DeLorean with its gull door open and the terms DELOREAN MOTOR COMPANY plus OFFICIALLY LICENSED PRODUCT displayed. You can see an image of this below.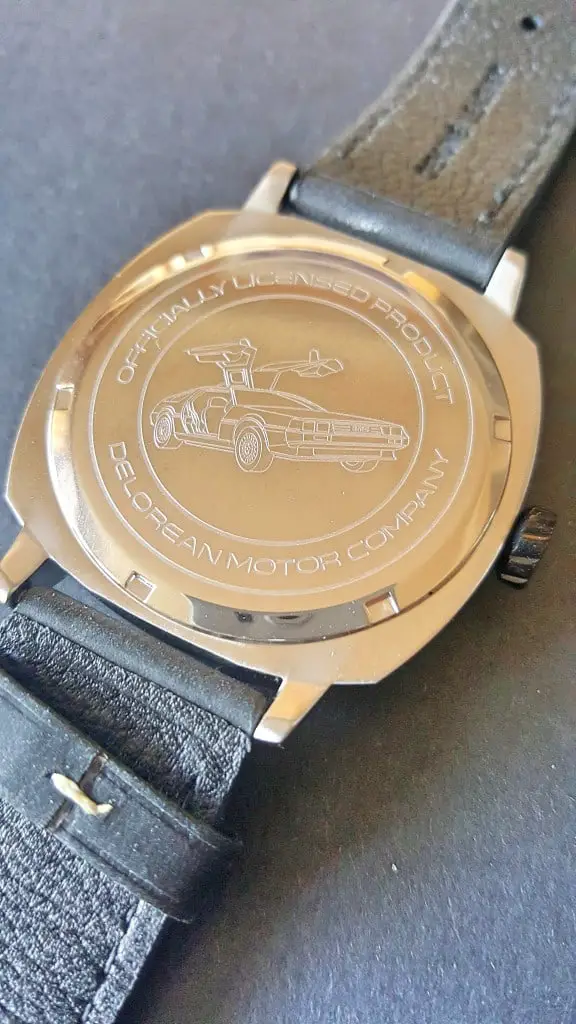 Specifications
Below I've listed some of the important specifications for the DMC Alpha watches.
Stainless steel casing with IP bezel and crown
44mm diameter
11.5mm thickness
Japanese Miyota 2315 Quartz movement
Hardened mineral crystal
Date display at 3 o'clock position
Genuine leather strap with stitching
100m water resistance rating
Quality presentation box
Movement
These timepieces feature a Japanese Miyota 2315 movement. Miyota is actually a division of Citizen watches, you'll commonly find similar movements in Citizen and Bulova watches. These Japanese quartz movements are built to last and provide watches with an accurate and affordable timekeeping mechanism.
Here are some specifications on the Japanese Miyota 2315:
Outside Diameter: 11 1/2 Ligne or 26.4 mm
Movement 4.15 mm thick
The height from the bottom of the watch movement to the top of the sweep second pinion is 6.0 mm
Has a date display at 3:00
Has multiple dial feet
Requires watch cell 377
Requires watch hands: hour 1.20, minute .70, and sweep second .17 mm
Has NO jewels
Stem: 065-299, Tap 10
Includes watch stem
Miyota/Citizen LTD quartz movement
Japanese assembled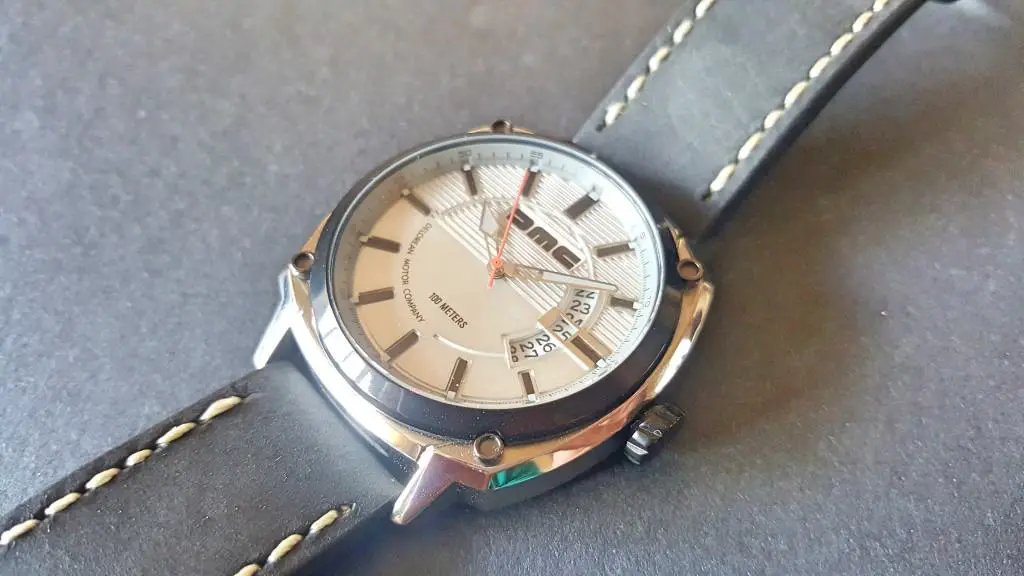 Overall Thoughts
Value for money and quality are very important to me. I'd personally consider the DMC Alpha collection to be an affordable watch at £119.99, but does it offer value for money? In my opinion, yes. The watch definitely appears well built in my eyes and they've used quality parts throughout for this price band. That's not forgetting of course that you're getting a wicked DeLorean DMC-12 inspired watch.
Overall, when it comes to auto-inspired watches I think the Alpha collection has been done just right. They have some nice design cues from the DeLorean without going over the top, which I often say can be the downfall of these types of watches.
If you love the DeLorean I highly recommend checking out these watches.
You can view the DMC watches website by clicking the link