Hands-On VEJRHØJ Watches Review

Today we're going to be taking a look at what has to be one of the most beautiful wooden watches I've seen this year. The moment I came across the brand I instantly thought "now that's a refreshing take on a wooden watch", it even features a Swiss quartz movement AND sapphire crystal glass.
VEJRHØJ have watches available for both men and women, I highly recommend checking out their whole selection. I apologise in advance for the difficulty you're going to experience when it comes to choosing which one of their watches is going to be your favourite.
I've been lucky enough to have the Nautic 55° NORTH sent over for today's hands-on watch review. You can find this model on their website for €330.00.
In today's watch review I'll be talking about the VEJRHØJ Watches brand, the details of their watch and the packaging.
About VEJRHØJ Watches

VEJRHØJ was founded by Janus Aarup in 2014. It's an independent watch brand based in Copenhagen, Denmark. They produce watches using a combination of natural hardwood and stainless steel with Nordic minimalist design for simple and distinctive timepieces.
"VEJRHØJ lends its name from the high hillsides next to the sea where Janus grew up"
Janus aimed to produce a Nordic brand with a focus on his passion for design, craftsmanship and timepieces. He teamed up with the renowned Danish designer, Bo Bonfils to develop a stunning collection of watches that featured a combination of wood & steel. The VEJRHØJ Nautic collection was the result of this impressive collaboration, with pre-orders from customers in over 38 countries, the collection has been quite the success.
You can learn more about VEJRHØJ watches on their about page
The VEJRHØJ NAUTIC 55° NORTH
For today's VEJRHØJ watches review I've picked out the Nautic 55° NORTH. This beautiful wooden watch was designed in collaboration with Danish designer Bo Bonfils. Crafted from natural walnut wood and rosegold stainless steel, this exquisite timepiece is going to be your next go to wooden watch.
All too often I see basic looking wooden watches looking to be reviewed, I often turn these down as they simply take the same style as each other and re-brand them, but not here. It was honestly so great to see a brand do something so wonderful and different with these materials. I have a love for wooden watches and VEJRHØJ have pulled off the sort of timepiece I've been looking for for a while now.
I hope you enjoy this in depth look at the NAUTIC 55° NORTH, as always, let us know what you thought of it in the comments section at the end.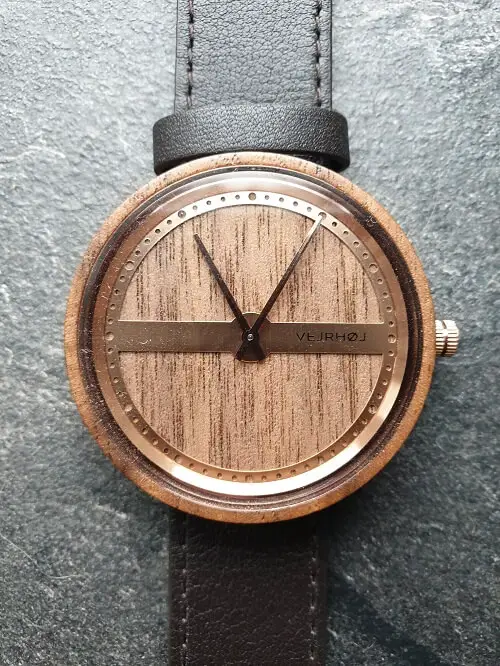 Dial Design
I've always loved the way minimalist watches often opt for the simplistic two hand time display, leaving out the seconds hand in aid of a aesthetically pleasing design. The dial of the VEJRHØJ NAUTIC 55° NORTH features beautiful natural walnut that makes each timepiece unique due to the way the grain leaves its mark.
The use of rose gold hands and detailing blends exceptionally well with the walnut. They've taken inspiration for the design from old navigational instruments to come up with this distinctive look. I also particularly like the way they've hollowed out each of the minute markers on the outer edge, a very clever way of displaying this in my opinion.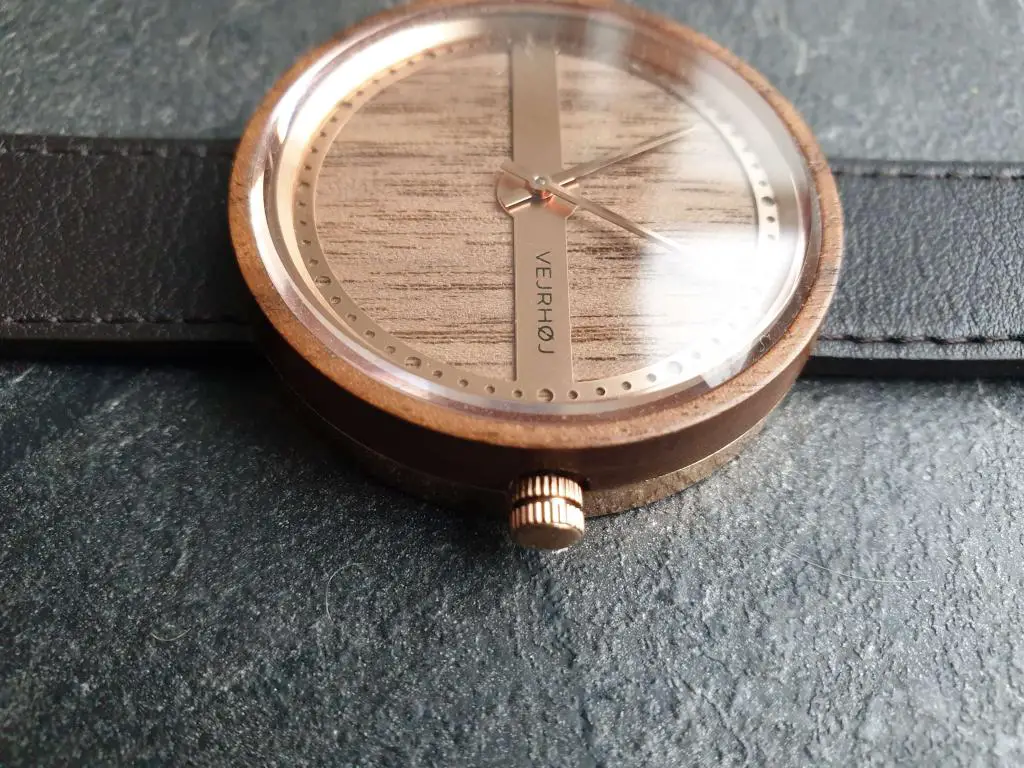 Watch Case & Sizing
I just want to take a moment to highlight the contrast between the wood and rose gold steel on the casing, it's design choices like this that make this one of my top wooden watches I've seen this year.
The casing itself is made of rose gold stainless steel and natural walnut wood with a diameter of 42mm and a thickness of 10.5mm. This makes the watch ideal for most people's style as this is one of the most commonly picked sizes for timepieces these days.
I love the design of the rose gold crown also, it has a feel of quality and is a pleasure to operate. It goes to show that they've taken the smallest of elements into account when it came to the overall design of the watch.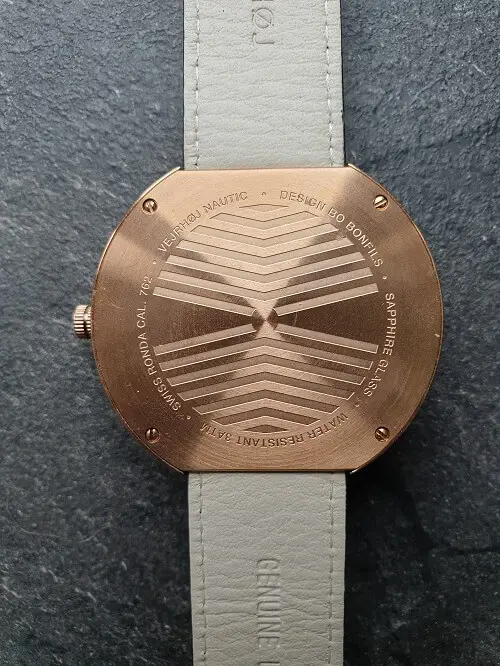 Watch Movement
Powering the watch is a Swiss made Ronda caliber 762 3H which is fantastic to see. Ronda are a well known brand when it comes to quality Swiss quartz movements.
The Ronda 762 is a gold plated 4 jewel movement with a very long battery life of up to 10 years. The accuracy rating for this movement is -10/ +20 sec/month. You can find the full details on this movement here.
Overall, I'm pleased to see this movement being used in this watch. Not only have they designed a great looking timepiece, they've made sure it features a top quality Swiss quartz movement too.
Watch Crystal
A sapphire crystal glass lens with bevelled edges protects the dial. This type of lens has an extremely high level of scratch resistance with a Mohs hardness rating of 9. To cause a scratch on this lens, an item would have to have the same hardness rating of a diamond.
The only thing you do lose with a sapphire crystal glass is the shatter resistance. Mineral glass provides a higher level of shatter resistance but much less scratch protection. Personally, I'd always opt for the sapphire glass in this style of watches.
Strap & Clasp
It's actually a first for me to come across this type of strap, not the material, but the way it attaches to the casing. It's a single piece of genuine leather that's pressed thin in the centre to allow it to run through the inside of the watch. It's held in place via the caseback which fixes on with the use of 4 tiny screws.
If you do opt to purchase a spare strap it comes with a screw driver and isn't too tricky to change yourself. They even provide a very useful video on how to change the straps on their website.
The strap itself has been extremely comfortable over the past couple of weeks I've taken to wear the watch for this review. It's made of a high quality genuine leather and the rose gold buckle is easy to operate.
Water Resistance Rating
With a basic 3atm / 30m water resistance rating this wooden watch is suitable for everyday use. Splash/rain resistant. Note that it isn't suitable for showering, bathing, swimming, snorkeling, water related work, fishing, and diving. You can read up more about water resistance ratings here.
Even though this is one of the lowest ratings available, it's not an issue I'm too concerned about. This isn't the type of watch you'd want to be getting overly wet anyway, on top of that, I'm not sure how I feel about getting any wooden watches too wet myself.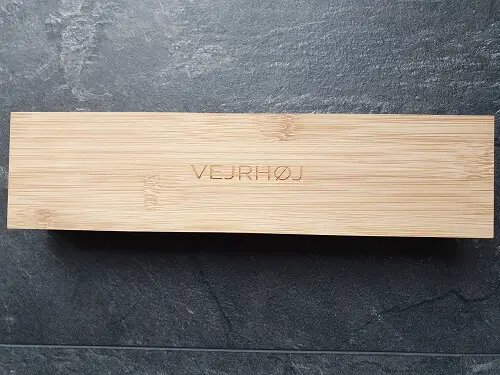 Packaging
The watch arrived in this lovely wooden watch box that keeps the timepiece safe during delivery. It features a padded inlay and opens up on a couple of hinges.
It is very nice to see they've gone through the extra effort of making this a custom piece with the branding along the top of the box. It's another prime example of watch packaging I'd be more than happy to keep, whereas many others I often just dispose of.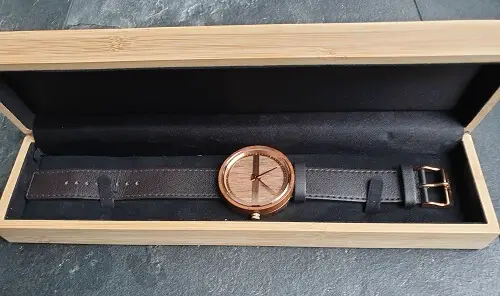 Specifications
Below I've listed some of the important specifications for the VEJRHØJ NAUTIC 55° NORTH (for those of you who are skim reading).
Natural Walnut Wood
42mm diameter
Swiss Quartz Ronda Movement
Sapphire crystal glass
30m water resistance rating
24 month warranty
Custom crafted wooden box
Free worldwide shipping & returns
Overall Thoughts
It's been an absolute pleasure getting the opportunity to review such a well made minimalist wooden watch from a Nordic brand. This watch is built to a high standard with high quality components such as the Swiss quartz movement and sapphire crystal glass. All in all I feel it offers very good value for money. If you're looking for a wooden watch, this is certainly one to consider.
If you want to see more of what this brand has to offer I'd recommend you head over to the VEJRHØJ store front today.
Thank you for taking the time to read through today's VEJRHØJ watches review. What do you think of the brand and their watches? Comment below and let us know.