Hands On Marloe Watches Derwent Collection Review

Hey everyone, today I'm taking a look at the Derwent collection from Marloe Watch Company. I've been lucky enough to have a couple from the collection sent to me, the Derwent Classic and the Derwent Nautical. These watches are available to buy through their website for £329.00.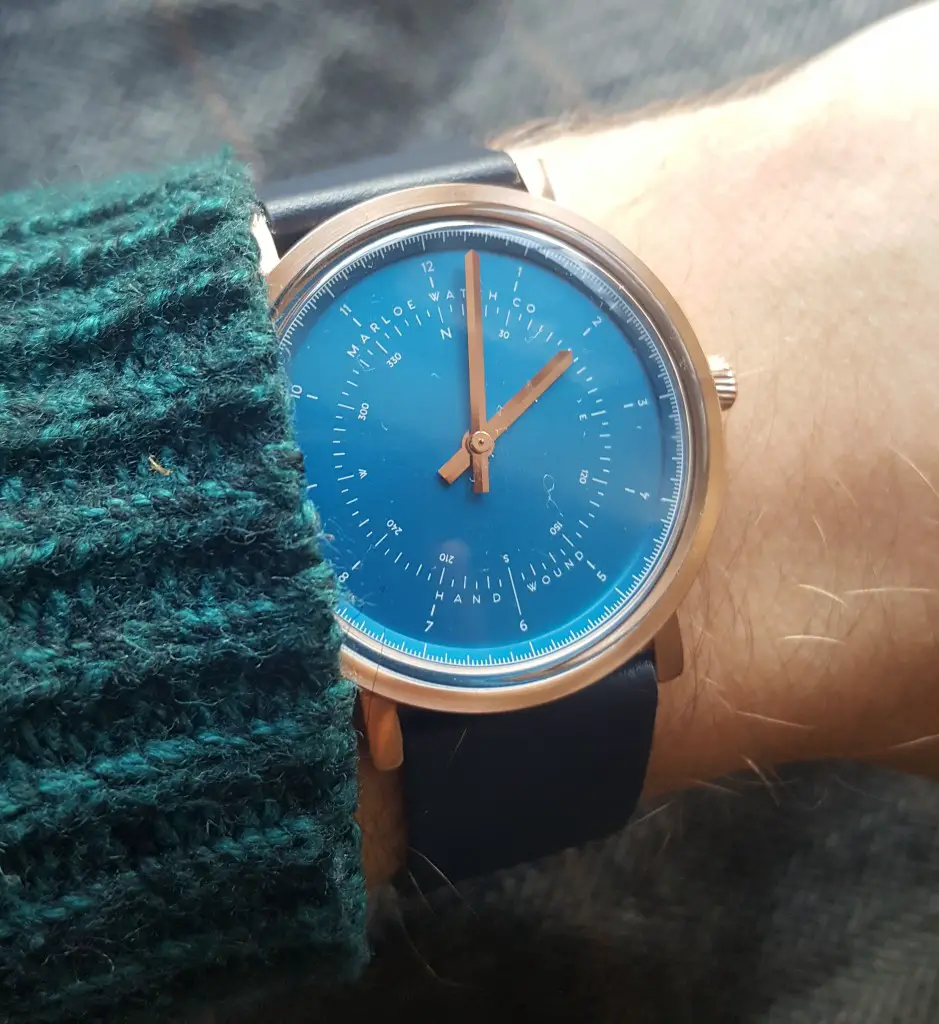 The Marloe Watch Company

The Marloe Watch Company are a relatively new independent watch designer & producer based in Buckinghamshire. They were created by Oliver and Gordon in 2015, they wanted to reinvigorate hand-wound watches and it's fair to say they've done a very good job of this.
The company is named after the town of Marlow which is close to where Oliver grew up, their values are strongly bound to tradition and design which I think you can definitely see shines through in their timepieces.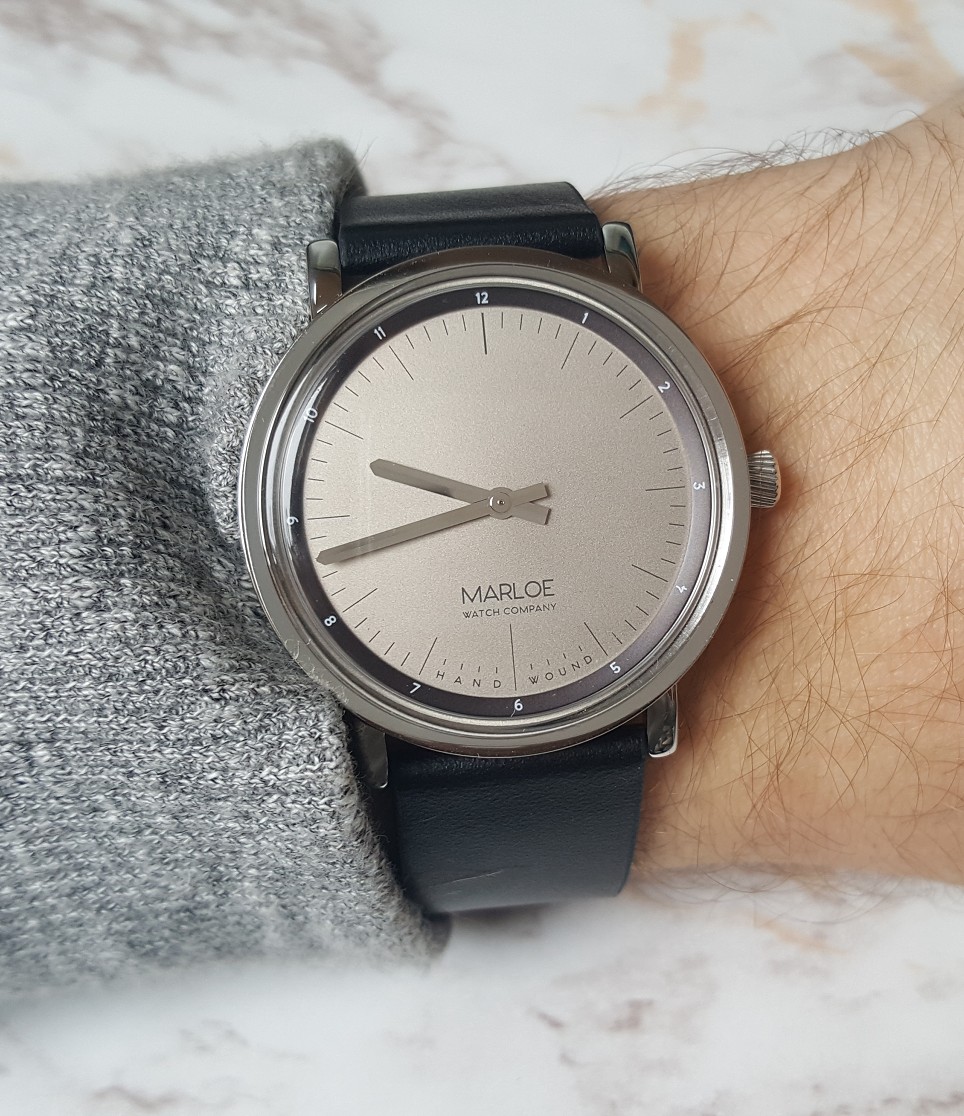 The Derwent Collection
Today I'm specifically taking a look at the Derwent collection. These are some truly beautiful traditional watches that I've enjoyed having the chance to review over the last couple of weeks. Below I've showcased all 4 of the watches available in the Derwent collection. From left to right you have the Classic, Nautical, Gauge, and Sundial.
Design & Quality

I love everything about these watches to be honest. They have a real traditional look and feel to them which is exactly what Marloe were aiming for with the Derwent collection. The casing has a smaller 38mm diameter which was once a very common size although you don't see it so often these days. It's just 9mm thick making it a nice slim size, ideal for this type of watch. There's also the slightly domed acrylic glass that again goes a long way to achieving this traditional style.
These various dial designs are all really interesting and unique looking. My favourite has to be the Nautical, but the gauge is very appealing to me too. If you're someone who prefers simpler traditional designs then there's always the Derwent Classic which may be more your thing. The watches feature just the hour and minute hands on display, they have simple straight designs with a high polished finish that's matching in colour with the casing and buckle of each individual design.
Although I'm not always a fan of acrylic glass, I have to say on these watches with the traditional style it just felt right. And there's also quite a lot of benefits to acrylic glass to be fair, it's one of the most easily repairable types of crystal available. Even a deep scratch can be buffed away with the right technique. I like the raised effect you get with this and the slight doming of the acrylic works brilliantly.
I love the look of the custom crown with the Marloe M engraved onto it. They've gone for a machined rifling texture with offers up some good grip that makes it easy to operate as well as adding some extra contemporary flair.
The watches are fitted with very comfortable genuine leather straps. I've worn the watches on and off for around two weeks now and had no problems with them, there was no catching or discomfort at all. Each model from the Derwent collection features a different coloured strap. I personally think the dark blue on the Nautical looks pretty great. The leather straps are fitted with a traditional buckle clasp that matches up to the casing of each chosen model, they're a good thickness and are about 20mm wide.
Specifications
Below I've listed some of the important specifications for the Derwent watches.
38mm diameter, 9mm depth
Japanese Miyota 6T33 manual mechanical movement
Power reserve of 40+ hours
Hi-dome custom acrylic crystal
Solid engraved case-back with port-hole crystal
Unique domed dial profile with chapter ring
Leather strap with stainless steel buckle (various finish depending on design)
Bespoke 316L stainless steel case (various finish depending on design)
20mm Lug width
3ATM
Movement
The Derwent watches feature a mechanical Japanese Miyota 6T33 movement. This is a reliable accurate movement that requires manual winding to run. From a full charge the movement can run for 40 hours with an accuracy of -20~+40 seconds per day. It runs at 28,800 BPH which is good quality for a mechanical movement. It's a really nice looking movement which is decorated with 17 jewels. Although only the balance wheel is on show through the port-hole display but I think this looks nice and elegant.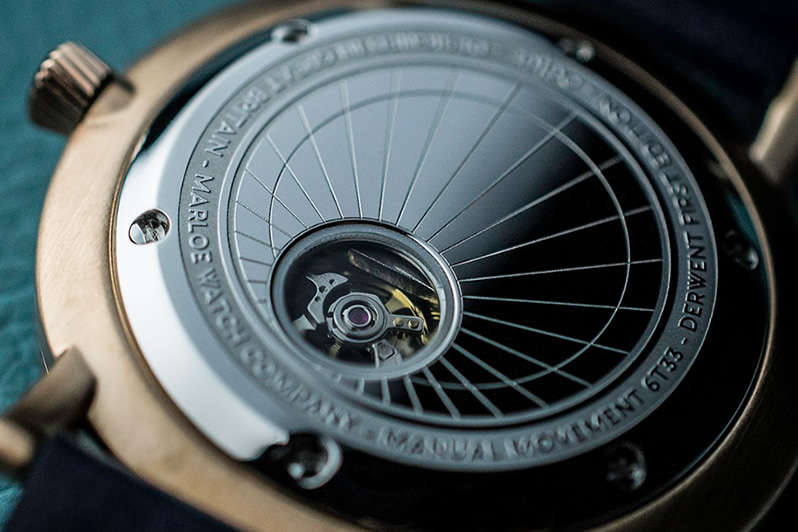 Overall Thoughts
You can see a great deal of care has gone into the design and production of these beautiful watches. I've fallen in love with the traditional style and various contemporary dial designs available. Being able to view movements at work is often one of my favourite features on a watch so I was pleased with the port-hole on the case back that added to the overall finish of the timepiece.   The watches are clearly very well made and go to show that you really are getting some good for money here.
You can view the Marloe Watch Company website by clicking the link.
More To Come
The Marloe Watch Company recently launched a new kickstarter for their latest model – The Lomond Chronoscope. This is a stunning chronograph watch that I managed to catch the start of and actually see them hit their target goal of £50,000 within 25 minutes or so. You can view that Kickstarter here.