Hands-On James McCabe Watches Review

I've been looking forward to featuring this latest timepiece, it's a take on a diving watch by James McCabe watches, and oh boy is it a beauty.
When I came across this brand the first thing that really struck me were the dial designs, I haven't seen any quite like them before so I knew I wanted to get them featured for everyone to see.
Luckily enough, James McCabe have sent over a model for review. You can find this model on their website for £580.
In today's watch review I'll be talking about the James McCabe watches brand, the details of their watch and the packaging.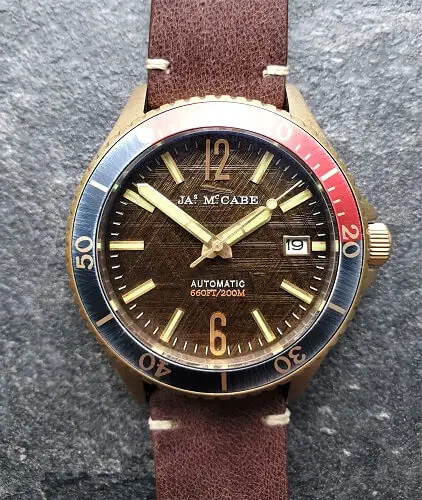 The James McCabe Baja Diver Automatic Gravel Gold
For today's James McCabe watches review I've picked out the Baja Diver Automatic Gravel Gold. This is a men's 41mm stainless steel diving watch built with a Japanese made NH35a automatic movement that comes with a 200m water resistance rating.
"The McCabe interpretation of the diver is a journey taken through Baja California. A land of magic hugging the Pacific Ocean. With our Gravel Wash finishing fused with a build of substance and integrity, this is a robust timepiece with a unique character as at home at sea or on land. With a Japanese Automatic movement under the hood for a battery less life and sapphire lens on top – this a diver unlike any other."
This James McCabe watch is a high end timepiece that I've been wearing on and off for the last couple of weeks whilst putting together this review. In this article we'll take an in depth look at all the different aspects of the watch. As always, let us know what you thought of it in the comments section at the end.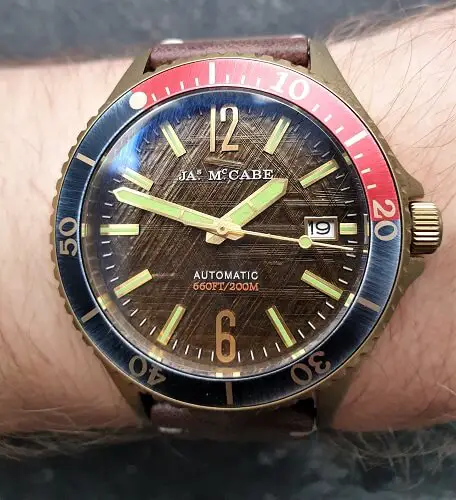 Dial Design
As I previously mentioned, one of the primary reasons I wanted to feature this James McCabe watch was the dial design. If you're looking for a timepiece that's going to get noticed on your wrist, this is a serious contender.
The dial has this unique effect to it that instantly makes it stand out from the crowd. They've opted for bold hands which is a typical design choice on diving watches, something I personally like. The applied hour markers with their gold detailing stand out and compliment the dial nicely.
Other details on the dial are the brand written along the top and "AUTOMATIC" + "660FT/200M" along the bottom. A small date display window can be located at the 3 o'clock position on the dial.
The whole dial blends beautifully together, no element feels out of place, excellent work I have to say.
Watch Case & Sizing
The casing of this James McCabe watch is made of an ionic plating gold stainless steel with a gravel wash finish. I've not seen a gold stainless steel used on a watch before but I have to admit it ties in rather beautifully with the dial and strap colours.
With a 41mm casing diameter this watch will be suitable for most people, this is the current standard for men's watches right now. The thickness is 14mm which does make it a little chunky, that's common in diving watches but something to watch out for if you're not used to thicker timepieces.
Sitting on top of the watch is this stunning Pepsi style rotating bezel with the iconic red and blue finish that stands out on your wrist. The crown has a branded top which I do like to see in watches in this price range, it also screws down for added water resistance.
I love the exhibition style screw down caseback on the rear of the watch, this allows you to take a look at the inner workings of the Japanese automatic movement. This is often one of my favourite features on an automatic watch – you can see an image of this in the next section.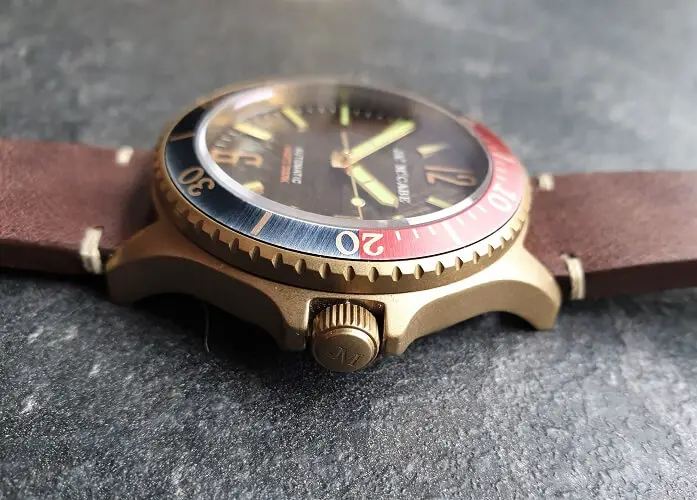 Watch Movement
Powering this James McCabe timepiece is a Seiko built NH35A automatic movement that's made in Japan. This is a well known high quality automatic movement that's used in a huge amount of great watches.
The NH35A is a 24 jewel movement that beats at a frequency of 21,600 bph, this gives you a 6 ticks per second movement. The power reserve of this movement is 41 hours which is fantastic as well.
This is a 3 hand movement with a date display. The accuracy rating for this movement is -20~+30 sec per day.
One of my favourite aspects of this timepiece is that you can actually take a look at the movement running through the exhibition style caseback on the rear of the watch.
Obviously, in this price range I was expecting to see a decent movement I recognised so I was pleased when I noticed it was the NH35a as it's a movement I appreciate and have in a few of my other watches.
To learn more about this movement you can read my full NH35a movement review here.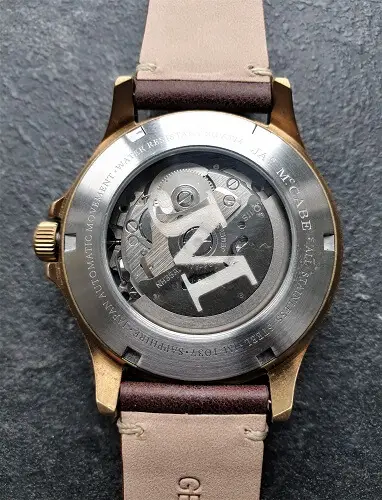 Watch Crystal
A sapphire crystal glass lens offers exceptional protection against scratches with its Mohs hardness rating of 9. To cause a scratch on this you'd need an item with the same hardness rating as a diamond.
The sapphire glass lens is what I was hoping for in a timepiece at this price range so I'm pleased to see it. A mineral crystal glass lens wouldn't have been too bad though as this is a diving style watch and there is an argument to be made for using mineral glass over sapphire due to the difference in shatter resistance.
Sapphire glass has one slight downside which is that it doesn't offer as much of a shatter resistance as the cheaper mineral crystal glass lens. I'd still personally prefer a sapphire glass for this style of watch.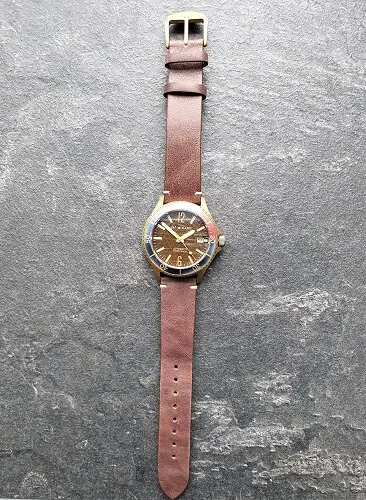 Strap & Clasp
A thick, sturdy genuine leather strap completes the look for this watch. It's held up well over its review time proving to be rather comfortable throughout. The strap clasp is finished in the same ionic plated gold stainless steel and has the brand engraved onto it, a nice little touch.
The width of the strap is 20mm, perfect for the 41mm diameter of the casing. It does feel slightly thicker than many of my other leather strap watches but this gives it that added feeling of toughness.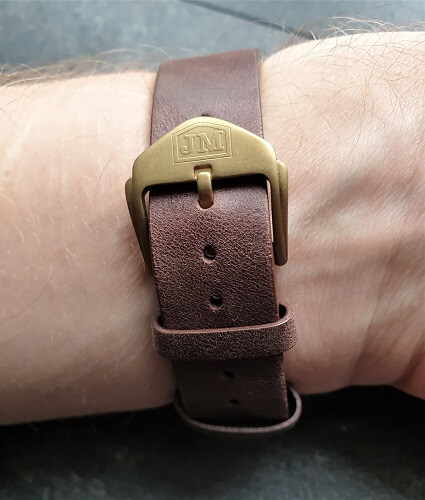 Water Resistance Rating
The water resistance rating of this watch is 20atm / 200m. This is suitable for professional marine activity, serious surface water sports and skin diving. You can read up more about water resistance ratings here.
This is great to see, a 200m water resistance mark is what I would have hoped as this should prove plenty for most people's requirements.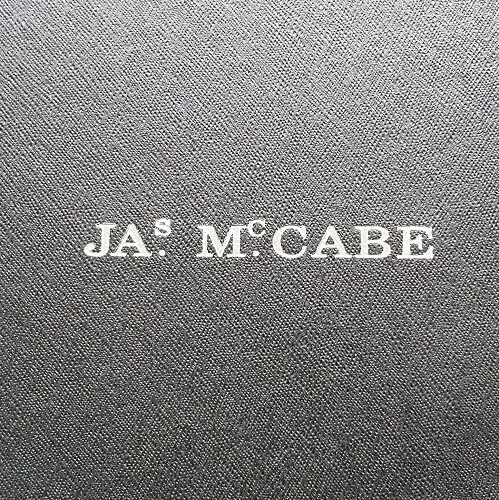 Packaging
Personally, I'm not often too fussed when it comes to packaging. I find myself stuck in the middle of wanting to be as eco-friendly as possible and also getting quite excited when something wows me.
If I'm honest, in this price range I was perhaps expecting something more towards the wow section, so it was a bit of a let down in that sense.
The timepiece came packaged in this basic watch box with the brand embossed on the top and the watch itself secured on the cushion insert.
It's only a small criticism and it's unlikely to effect too many of you really.
Specifications
Below I've listed some of the important specifications for the James McCabe Gravel Gold (for those of you who are skim reading).
41mm diameter
Japanese Automatic NH35A movement
Sapphire crystal glass
200m water resistance rating
24 month warranty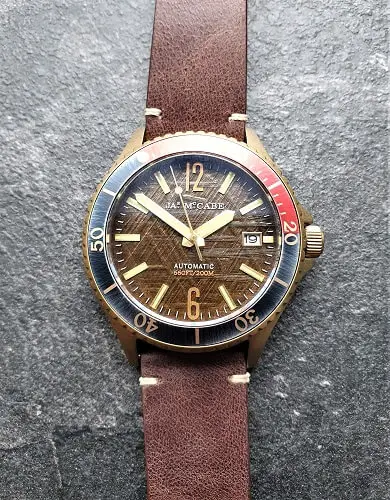 Overall Thoughts
This is another one of my favourite watches I've reviewed this year, it's really quite excellent. It's a beautiful looking watch with some great specs in my opinion.
I love the dial design, Pepsi bezel, the exhibition caseback, the NH35A movement, and the 200m water resistance rating. The only thing I wasn't fond of was the packaging and that's fairly unimportant to be honest.
All in all, I'd happily recommend this James McCabe watch to anyone considering a diving style timepiece right now. If you want to see more of what this brand has to offer head over to the James McCabe store front today.
Thank you for taking the time to read through today's James McCabe watch review. What do you think of the brand and their watches? Comment below and let us know.