Hands-On DuFa Watches Review

Deutsche-Uhrenfabrik, known more commonly as DuFa are in for today's watch review. DuFa are a brand that instantly caught my eye. They have a large selection of unique looking watches available and for today's review I've picked out the DuFa Aalto automatic regulator, a regulator watch with character.
I've always had an interest in German made watches and especially those with a focus on Bauhuas design so I've been looking forward to featuring this brand and timepiece.
You can find this model on their website for €460.00.
In today's watch review I'll be talking about the Dufa watches brand, the details of their watch and the packaging.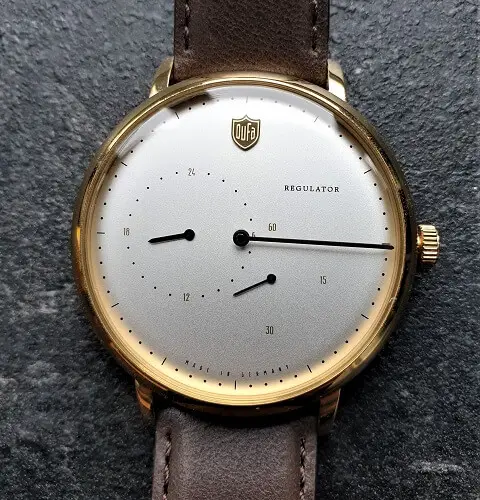 About DuFa Watches

Dufa are a German made micro-brand that produce a stunning collection of Bauhaus inspired timepieces. The brand has a focus on watches under the €500, all of which I'd class as fairly affordable. Whilst they originally started primarily with quartz watches they now have a fantastic selection of automatic models like the one we have featured today.
You can learn a little more about Dufa watches on their about page
The DuFa Aalto Automatic Regulator
For today's DuFa watches review I've selected the DuFa Aalto automatic regulator DF-9017-02. This is a Bauhaus inspired German made automatic regulator watch with a see-through exhibition caseback. It's available in a few variations with different coloured straps and dials available to suit each individual's taste.
As always I've taken a few weeks of wearing this watch on and off to get a real feel for the timepiece for my review. In the following review we'll be taking a deeper look at each of the elements of this watch. Let us know what you thought of this timepiece in the comments section at the end.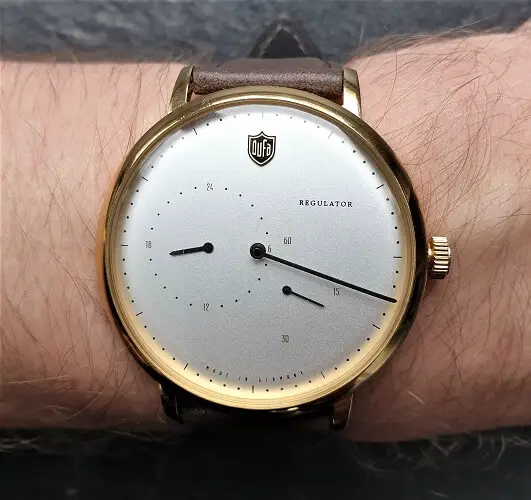 Dial Design
The dial of the Aalto automatic regulator features a textured silver white finish that works wonderfully with the gold tone casing, it creates this antique quality that when combined with the curved glass produces something quite spectacular.
In clear minimalist style the dial makes use of small, well printed elements like the dot minute markers and the words 'made in Germany' along the bottom of the dial. The DuFa logo shield is applied at the 12 o'clock position, this is the only applied element on the dial.
The dial features two sub-dials which display a 24 hour display and a separate 60 second display. The minutes are read from the primary display. Many regulator watches would opt for a 12 hour display as the traditional choice but for me personally, I've enjoyed the 24 hour indicator quite a lot.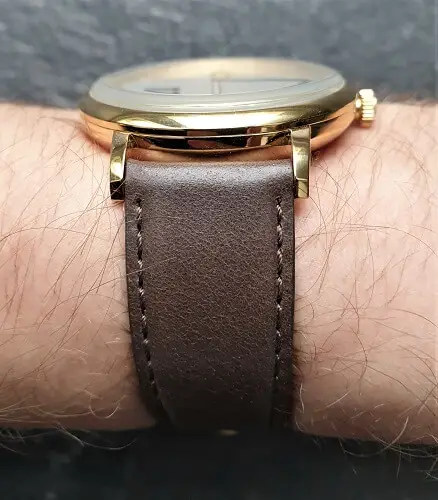 Watch Case & Sizing
The casing of the Aalta is made of stainless steel and finished with a gold tone ionic plating. It measures 42mm in diameter which is an ideal size for most men these days. The thickness comes in at 12mm which is to be expected considering it's housing an automatic movement.
Speaking of the movement, you can view this through the exhibition caseback of the watch, this has always been one of my favourite additional features on automatic watches. I love being able to view the inner workings of a timepiece likes this. You'll see a photo of this element in the next section.
The watch has a weight of 70mm, that's a fairly standard weight and it's not going to be too noticeable on your wrist, most people prefer their watches this way.
I do like that they've gone to the effort of branding the crown with the Dufa shield just like on the dial. In this price range I often expect to see a branded crown so I'm pleased with that addition.
Watch Movement
At the heart of this timepiece is a Japanese made automatic Miyota 8217. Miyota are a company owned by Citizen, they're known for producing many quality movement that are found in a huge selection of watches all around the world.
The Miyota 8217 is a 21 jewel movement that beats at a frequency of 21,600 bph which gives you a smooth 6 ticks per second.
I'm very happy to report that this model has a 40+ hour power reserve which is right around where I'd be aiming for in this price range.
When it comes to accuracy, Miyota claim that the caliber 8217 has a rating of -20 ~ +40 seconds per day which isn't bad for an automatic watch.
Other details of this movement include the fact it makes use of a Parashock anti-shock system, the movement doesn't feature hacking, and it can be wound in just one direction (left).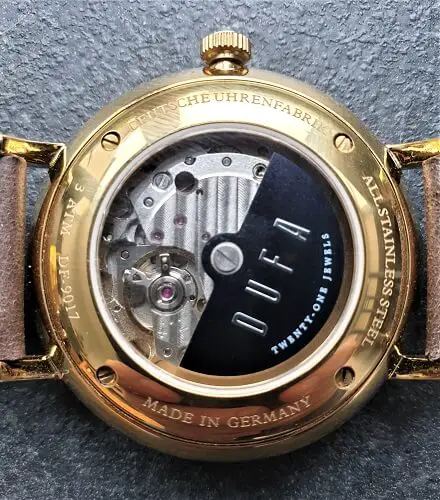 Watch Crystal
I have to admit I love the look of the domed mineral crystal glass lens on this timepiece, it fits perfectly with the vintage style of the watch. Part of me was expecting a sapphire glass lens in this price range, but I'm happy to forgive and forget in this instance as I do feel they've done an impressive job with this one.
A mineral crystal glass lens offers a decent level of protection from both scratches and shattering. It's often found in more affordable watches and those that have a focus on shatter protection.
Whilst a sapphire crystal glass lens does offer better scratch protection, it lacks when it comes to shatter protection so that's often a fair argument for using mineral over sapphire in those cases.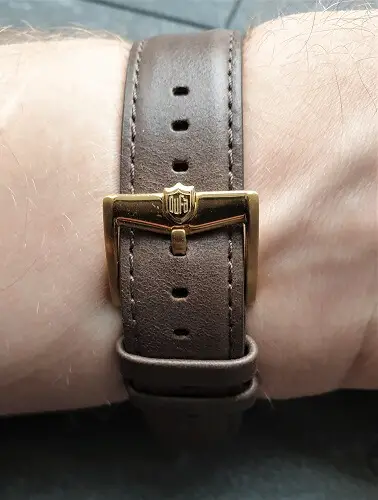 Strap & Clasp
The DuFa Aalto regulator features a dark tan genuine leather strap that compliments the gold case beautifully. It's comfortable to wear and fastens with a gold coloured buckle that's branded and engraved with the Dufa shield, this is a nice touch that I especially enjoyed. The width of the strap comes in at 20mm which is ideal for the casing size.
Dufa have opted for quick release flash pump straps, these don't require any tools to change and are easily swapped out in just a few seconds. More and more brands are opting for this style of strap and I'm honestly all for it as I think they're a brilliant idea.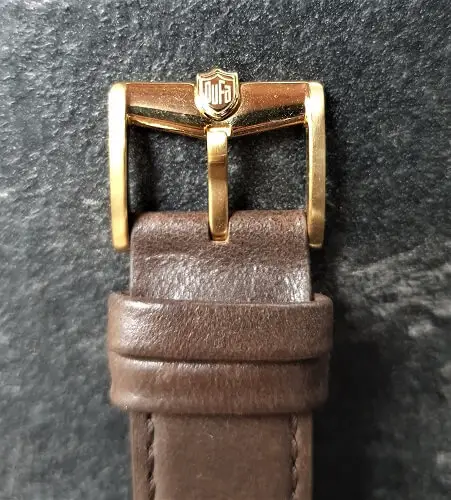 Water Resistance Rating
The water resistance rating of this watch is 3atm / 30m. This is suitable for everyday use. Splash/rain resistant. It is Not suitable for showering, bathing, swimming, snorkeling, water related work, fishing, and diving. You can read up more about water resistance ratings here.
A 30m water resistance rating is very basic but for this style of watch it's totally fine. I wouldn't have any intention of getting this watch wet so I don't see much need for a rating any higher than this.
Packaging
The packaging gets a big thumbs up from me. It's nice, without being too over the top. As you can see from the pictures, the Aalto automatic arrives in this well built branded watch box with a soft inlay and a branded padded insert that the watch sits in.
It's a rather nice box all round to keep your watch in safely whilst you're not wearing it. I often find myself throwing away most watch packaging, as I often mention here, but this is another addition I'd be happy to keep around.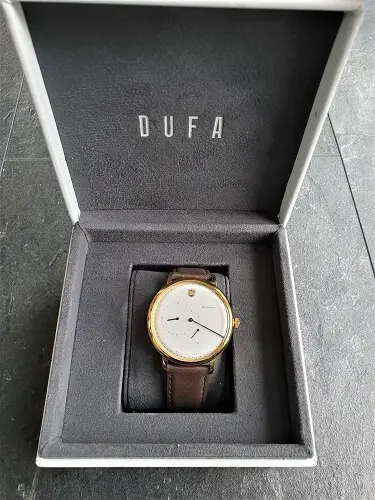 Specifications
Below I've listed some of the important specifications for the Dufa Aaalto automatic regulator 9017 (for those of you who are skim reading).
42mm diameter
Japanese automatic Miyota 8217 movement
40 hour power reserve
Mineral crystal glass
30m water resistance rating
Genuine leather strap
24 month warranty
Made in Germany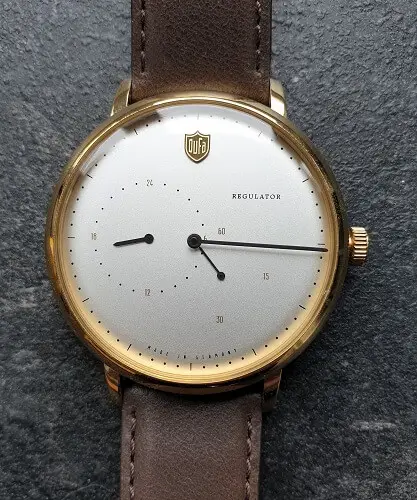 Overall Thoughts
If you're looking for a timepiece with some character, one that's going to get noticed on your wrist and get people talking then the DuFa Aalto Regulator certainly deserves to be considered. I've featured plenty of automatic watches under £500 in my time and this is up there as one of my favourites.
The dial design has been excellently executed, the genuine leather strap is super comfortable and it's great to see a decent Miyota movement at the heart of the watch also.
If you want to see more of what this brand has to offer I'd recommend you head over to the DuFa store front today.
Thank you for taking the time to read through today's DuFa watch review. What do you think of the brand and their watches? Comment below and let us know.