Rotary GLE000016/21 Watch Review Summary
My rating: 8.5/10. Great watch. Value for money skeletonised watch design.
Hello, today I'm doing a Rotary GLE000016/21 review. I recently wrote an article on the 10 best Rotary Skeleton watches for men and decided I'd like to feature more of Rotary's skeleton watches on the site. this model has a classic finish with easily visibile large Roman numerals.
I hope you enjoy this Rotary GLE000016/21 review below.
You may also like my: Best Rotary Watches.
Latest reviews, ratings and prices: Rotary GLE000016/21 watch
At the bottom of this article, you can find a list of my recommended retailers to purchase this watch from
Watch Review
Dial & Case Design
I really love the open heart design of this watch, skeleton dials are one of my favourite designs. This model shows a little less of the movement compared to some of Rotary's other skeleton watches, however I feel they've still done a brilliant job with this design. The Roman numerals and large and very easy to read which I'm sure some people will appreciate. The hands are coated in the same PVD gold plating as the stainless steel casing to give the watch that classic look.
Type Of Crystal
Protecting the front and back of the watch we have a mineral crystal glass. This type of glass is specially hardened to offer a higher level of scratch and knock resistance. It also offers better shatter resistance than sapphire glass, something worth keeping in mind if you ever accidentally drop your watch.
Watch Movement
Powering the watch is a Japanese automatic 20 jewel movement. Automatic movements are often desired over a traditional quartz. The movement never requires a battery as it's powered by the movement of the wearer's wrist.
Watch Size
The watch has some pretty standard sizing specifications. The casing diameter measures 42mm whilst the thickness stands at 13mm. All in all, a very popular size for men that's likely to suit most people.
Strap
The strap is made of a soft genuine leather strap that compliments the vintage style of the casing design. It fastens with a typical buckle style clasp with stainless steel fittings that match the casing colour.
Extra features
One of the main features of this watch is the exhibition style screw down caseback. This allows you to take a closer look at the automatic movement and view how it works. You can see an example of this in the image further below.
Water Resistance Rating
This watch has a water resist rating of 100m. A rating of 100m / 10 Bar makes this watch suitable for recreational surfing, swimming, snorkeling, sailing and water sports.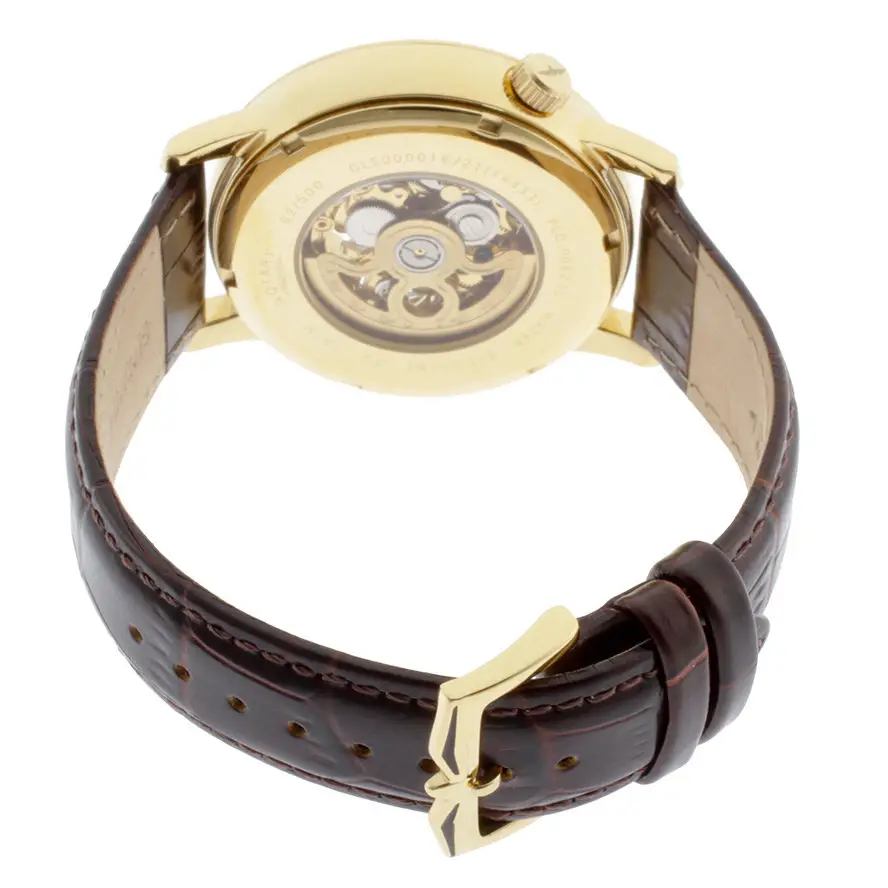 Watch Specifications
Band Genuine leather strap, standard length, 18mm width, standard buckle style clasp.
Case Stainless steel casing, sizing diameter: 42mm and thickness: 13mm.
Dial Analogue display. The window lens is made of mineral glass, this is specially hardened to be resistant to scratches and knocks.
Movement Accurate 20 jewel Japanese automatic movement.
Water Resistant A water resistance of up to 100m / 10 bar.
Watch Advantages
Rotary are one of the best affordable watch brands
Mineral glass offers a good level of scratch & shatter resistance
Automatic movements means you no longer require batteries
Exhibition caseback allows you to take a look at the movement
100m water resistance rating
Watch Disadvantages 
If left unworn for more than a day or so the watch will need to be reset and the time adjusted before wearing again. This is a standard process for automatic watches.
My Final Thoughts On This Rotary GLE000016/21 Review:
The Rotary GLE000016/21 is another fine example of Rotary's devotion to style and watch craftmanship. It's an excellently built timepiece that's received a lot of great reviews.
After looking into the watch design, quality, features, and pricing this watch received an 8.5/10 from us at The Watch Blog.
You may also like my 100 best watches under £500
Where to buy the Rotary GLE000016/21

I like to stick to listing retailers that I've actually had experience buying from in the past. Below I've listed some of the top places to buy this watch from, check all for the best price. Variations of this model include: GLE000016/21
Buy now at Amazon
Buy at Watch Shop (Unavailable, alternative Rotary watches are worth seeing)
Hope you enjoyed this Rotary GLE000016/21 review. Find more watch reviews below.