Rotary GS02942/01 Watch Review Summary
My rating: 8.5/10. Great watch. Value for money skeletonised watch design.
Hello, today I'm doing a Rotary GS02942/01 review. I recently wrote an article on the 10 best Rotary Skeleton watches for men and promised I'd take a closer look at each one of the watches featured in that list. This is one of Rotary's more vintage styled skeleton watches that's well worth checking out.
I hope you enjoy this Rotary GS02942/01 review below.
You may also like my: Best Rotary Watches.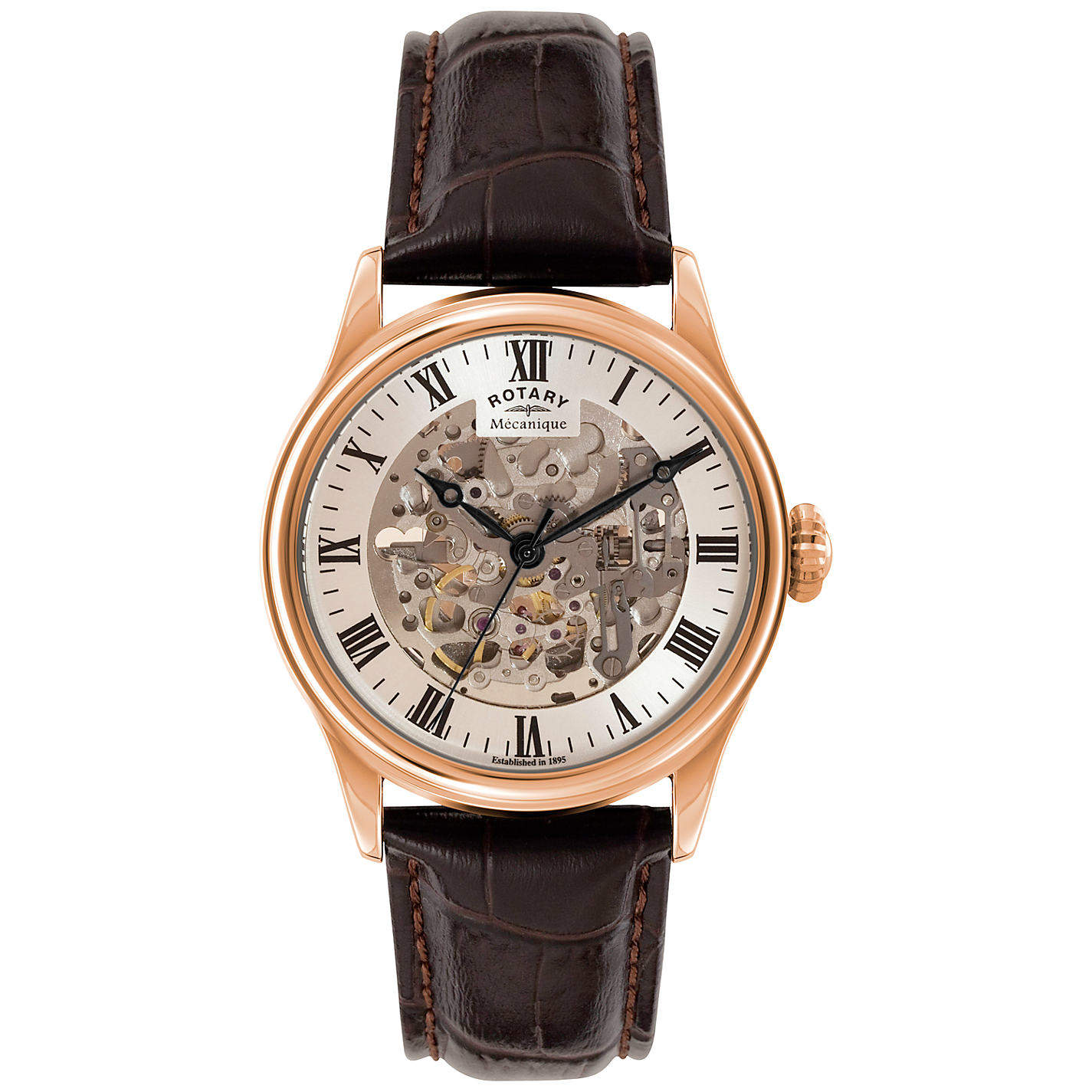 Latest reviews, ratings and prices: Rotary GS02942/01 watch
At the bottom of this article, you can find a list of my recommended retailers to purchase this watch from
Watch Review
Dial & Case Design
The skeleton dial design of this watch is truly stunning. The watch has a bit more of a vintage finish to it than previous Rotary watches that I've featured. The Roman numerals are in an older style font, the watch hands also follow on with this finish. The casing has this antique rose gold colouring to it as well, everything works together well to give the watch that classical finish, but with an open heart exposed dial.
Type Of Crystal
Protecting the dial and the rear exhibition caseback of the watch is a specially hardened mineral glass. This style of glass is often used in affordable watches as it offers a good level of scratch and knock resistance without costing too much. It's what I expected to find so I'm pretty pleased with this.
Watch Movement
The watch features a Japanese automatic self-winding movement. These style of movements are brilliant as they never require a battery because they power themselves from the movement of the wearer's wrist.
Watch Size
There's nothing surprising when it comes to the size of the watch. It's a popular men's size with a 40mm casing diameter and 11mm casing thickness. Overall it's likely to be suitable for most people looking at it for themselves or as a gift.
Strap
The strap itself has this lovely dark tan colouring the compliments the antique finish of the casing really well in my opinion. The strap is made of a soft genuine leather and fastens with a typical buckle style clasp. It measures 18mm wide that's in keeping with the rest of the watch sizing.
Extra features
The watch features this brilliant exhibition caseback, if you have a look here on the Watch Shop page you can use the 360 image to take a closer look at it (a very useful tool in my opinion). I love these exhibition casebacks as they allow you to take a look at the inner workings of the automatic movement. A feature I'm a really big fan of.
Water Resistance Rating
This watch has a water resist rating of 100m. A rating of 50m / 5 Bar makes this watch suitable for swimming, white water rafting, non-snorkeling water related work, and fishing.
Watch Specifications
Band Genuine leather strap, standard length, 18mm width, standard buckle style clasp.
Case Stainless steel casing, sizing diameter: 40mm and thickness: 11mm.
Dial Analogue display. The window lens is made of mineral glass, this is specially hardened to be resistant to scratches and knocks.
Movement Accurate automatic movement.
Water Resistant A water resistance of up to 50m / 5 bar.
Watch Advantages
Rotary are one of the best affordable watch brands
Mineral glass offers a good level of scratch & shatter resistance
Automatic movements means you no longer require batteries
Exhibition caseback allows you to take a look at the movement
50m water resistance rating
Watch Disadvantages 
If left unworn for more than a day or so the watch will need to be reset and the time adjusted before wearing again. This is a standard process for automatic watches.
My Final Thoughts On This Rotary GS02942/01 Review:
The Rotary GS02942/01 is suited for people who prefer vintage style watches. The antique rose gold plating coupled with the vintage style font give this watch that older feel.
After looking into the watch design, quality, features, and pricing this watch received an 8.5/10 from us at The Watch Blog.
You may also like my 100 best watches under £1000
Where to buy the Rotary GS02942/01
I like to stick to listing retailers that I've actually had experience buying from in the past. Below I've listed some of the top places to buy this watch from, check all for the best price. Variations of this model include: GS02942/01
Buy now at Amazon
Buy at Watch Shop 
Hope you enjoyed this Rotary GS02942/01 review. Find more watch reviews below.