Rotary GS05035/03 Watch Review Summary
My rating: 8.5/10. Great watch. Value for money skeletonised watch design.
Hello, today I'm doing a Rotary GS05035/03 review. I recently wrote an article on the 10 best Rotary Skeleton watches for men and I decided I wanted to feature more of their huge range of skeleton watches.
I hope you enjoy this Rotary GS05035/03 review below.
You may also like my: Best Rotary Watches.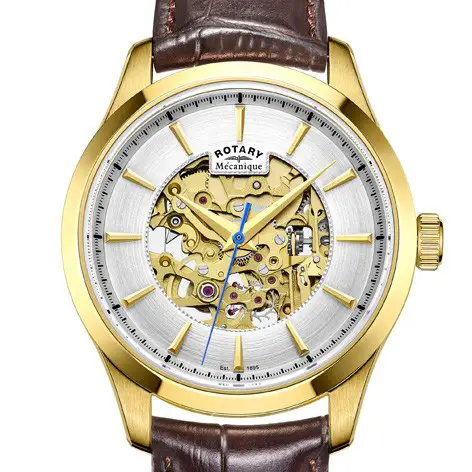 Latest reviews, ratings and prices: Rotary GS05035/03 watch
At the bottom of this article, you can find a list of my recommended retailers to purchase this watch from
Watch Review
Dial & Case Design
I love this open heart skeleton dial design that Rotary have gone for here. It's a smaller amount of mechanism on show compared to some of their other watches but it's allowed them to go for these longer PVD gold plated baton hour markers that I like the look of. The champagne dial blends really well with this gold detailing throughout the watch design, I think the touch of blue on the seconds hand was an excellent idea. The casing itself is made of a tarnish resistant stainless steel and coated with a gold PVD plating.
Type Of Crystal
Protecting the front and rear of the watch is a mineral crystal glass that's been specially hardened to offer extra resistance to scratches and knocks. Mineral crystal also offers a higher level of shatter protection than a sapphire glass would. At this price range mineral glass is exactly what I expected to see so I'm quite happy with this.
Watch Movement
Powering the watch is a beautiful Miyota Japanese automatic movement with jewelled detailing. Automatic movements are powered by the movement of the wearer's wrist and never require a battery. They're also great to look at through these exposed dials.
Watch Size
The casing diameter measures 40mm and has a thickness of 12mm. All in all a very popular size for men's watches at the moment so I'm sure this will be suitable for most people.
Strap
The dark tan strap is made of a soft genuine leather that measures 20mm wide. It fastens with a standard buckle style clasp that has the same PVD gold plating to match that casing.
Extra features
By far my favourite feature of this watch is the brilliant exhibition caseback. This lets you take a look at the inner workings of the watch through the rear glass of the watch. You can see an example of this in the image below.
Water Resistance Rating
This watch has a water resist rating of 100m. A rating of 100m / 10 Bar / 300ft makes this watch suitable for recreational surfing, swimming, snorkeling, sailing and water sports.
Watch Specifications
Band Genuine leather strap, standard length, 20mm width, standard buckle style clasp.
Case Stainless steel casing, sizing diameter: 40mm and thickness: 12mm.
Dial Analogue display. The window lens is made of mineral glass, this is specially hardened to be resistant to scratches and knocks.
Movement Accurate Japanese automatic movement.
Water Resistant A water resistance of up to 100m / 10 bar.
Watch Advantages
Rotary are one of the best affordable watch brands
Mineral glass offers a good level of scratch & shatter resistance
Automatic movements means you no longer require batteries
Exhibition caseback allows you to take a look at the movement
100m water resistance rating
Watch Disadvantages 
If left unworn for more than a day or so the watch will need to be reset and the time adjusted before wearing again. This is a standard process for automatic watches.
My Final Thoughts On This Rotary GS05035/03 Review:
The Rotary GS05035/03 is another brilliant watch from their MECANIQUE collection. I love the champagne dial with the gold detailing and blue seconds hands that makes it stand out. Overall a stunning watch that's well worth considering.
After looking into the watch design, quality, features, and pricing this watch received an 8.5/10 from us at The Watch Blog.
You may also like my 100 best watches under £500
Where to buy the Rotary GS05035/03

I like to stick to listing retailers that I've actually had experience buying from in the past. Below I've listed some of the top places to buy this watch from, check all for the best price. Variations of this model include: GS05035/03
Buy now at Amazon
Buy at Watch Shop

Hope you enjoyed this Rotary GS05035/03 review. Find more watch reviews below.