Invicta 9010 Watch Review Summary
My rating: 8.5/10. Great watch. Affordable automatic Pro Diver.
Hello, today I'm doing a Invicta 9010 review.This is another one of Invicta's most popular watches from their Pro Diver series. It's an affordable automatic watch with a 200m rating, lets take a look at it in more detail below.
I hope you enjoy this Invicta 9010 review below.
You may also like my: 21 Best Invicta Watches.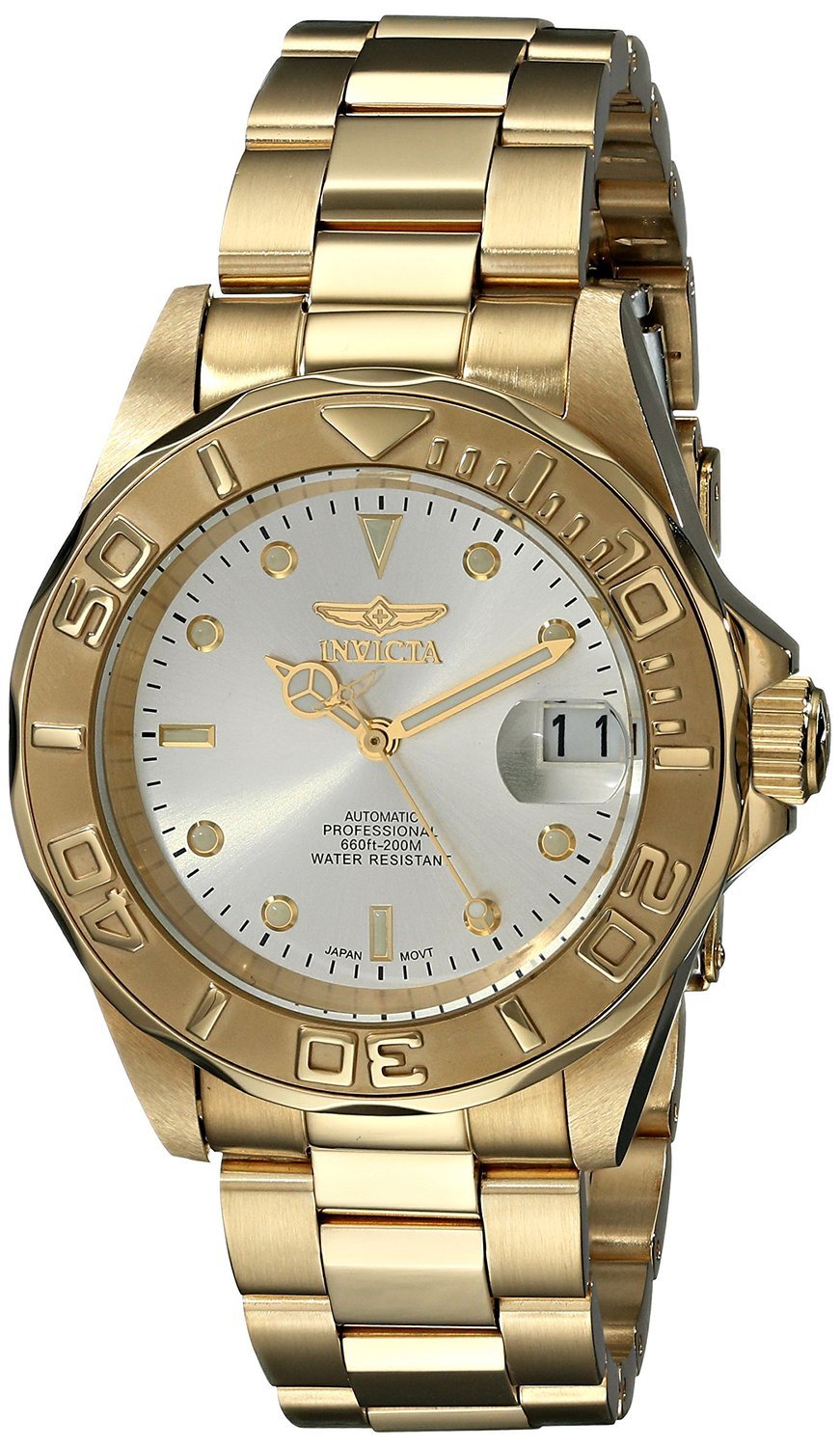 Latest reviews, ratings and prices: Invicta 9010 watch
At the bottom of this article, you can find a list of my recommended retailers to purchase this watch from
Watch Review
Dial & Case Design
You have to admit the watch has a pretty flashy design to it with its PVD gold plating all over. If you like you're all gold coloured watches then this timepiece is sure to interest you. The dial design is nice and clean with these thick dots marking the hour positions, each one featuring a good amount of lume which also coats the hour & minute markers to make reading in dim lit conditions much easier. There's a simple date display that has a magnifying bubble above to appear larger to the reader also. Overall a really nice bold dial design. The casing itself is made of stainless steel and topped off with a gold coloured tone.
Type Of Crystal
The watch has been kept at a very affordable price, so we shouildn't be expecting anything higher than a mineral glass, and that's fair in my opinion. A mineral glass is perfectly acceptable for this timepiece. It's specially hardened to offer a good level of scratch and knock resistance. As well as having a higher level of shatter resistance than sapphire glass.
Watch Movement
Powering the watch is a pretty nice Japanese NH35A automatic movement. This is a 24 jewel movement made by Seiko. It has a 41 hour power reserve and 21,600 bph vibrations per hour. The movement also features hacking and bi-directional winding.
Watch Size
Invicta are normally known for their oversized watches. This watch isn't as big as some of those, but it is still fairly large with a 44mm casing diamater. Most the popular watches you see around at the moment tend to be between 40-42mm. As for the thickness, it's 13mm which is a nice standard size, not too chunky.
Strap
The strap is made of a gold tone stainless steel to match the casing, with a standard fold over clasp including safety. I'm not normally one for safety clasps as I personally find them a bit of a hassle to operate, but each to their own eh.
Extra features
A key extra feature of the watch is the exhibition style caseback on the rear of the watch. This allows you to take a look at the inner workings of the automatic movement. It's a feature I love to have on my automatic watches.
Water Resistance Rating
This watch has a water resist rating of 200m. A rating of 200m / 20 Bar makes this watch suitable for professional marine activity, serious surface water sports and skin diving.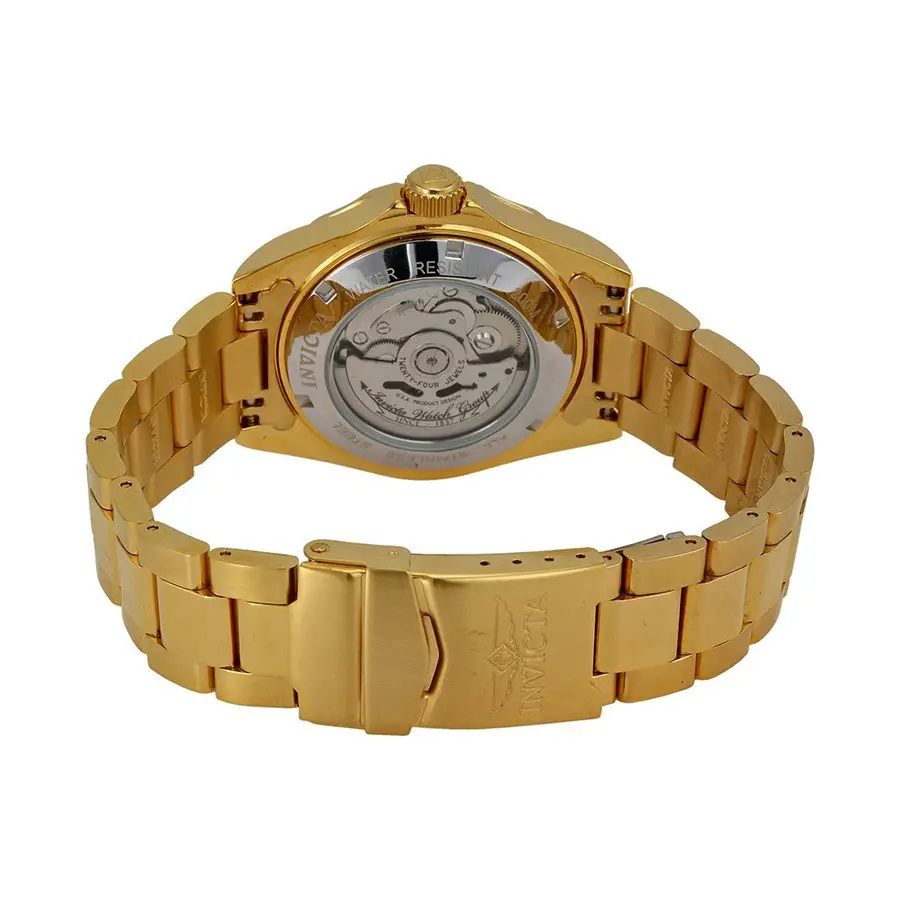 Watch Specifications
Band Gold tone stainless steel strap, standard length, 20mm width, standard fold over style clasp.
Case Stainless steel casing, sizing diameter: 44mm and thickness: 13mm.
Dial Analogue display. The window lens is made of mineral glass, this is specially hardened to be resistant to scratches and knocks.
Movement Japanese Seiko NH35A automatic 24 jewel movement.
Water Resistant A water resistance of up to 200m / 20 bar.
Watch Advantages
Invicta have a huge selection of affordable quality watches
Quality Seiko made automatic movement
Mineral glass offers a good level of scratch & knock protection
Part of the popular Invicta Pro Diver series
200m water resistance rating
Watch Disadvantages 
As with most automatic watches, if left unworn for a while you will need to reset it next time you wear it.
My Final Thoughts On This Invicta 9010 Review:
The Invicta 9010 is one of Invicta's most popular Pro Diver watches. It's understandable too, the watch is affordable, has a decent automatic movement, and an impressive 200m water resistant rating. I think it's fair to say that it offers pretty good value for money.
After looking into the watch design, quality, features, and pricing this watch received an 8.5/10 from us at The Watch Blog.
You may also like my are Invicta watches good?
Where to buy the Invicta 9010

I like to stick to listing retailers that I've actually had experience buying from in the past. Below I've listed some of the top places to buy this watch from, check all for the best price. Variations of this model include: 9010
Buy now at Amazon
Buy at Watch Shop (Unavailable)

Hope you enjoyed this Invicta 9010 review. Find more watch reviews below.