G-Shock AWG-M100SB-2AER Watch Review Summary
My rating: 8.5/10. Great watch. Value for money, tough, durable watch.
Hello, today I'm doing a G-Shock AWG-M100SB-2AER review. This timepiece features G-Shock's multi-band 6 radio controlled timekeeping, a feature that makes the watch extremely accurate. It's a model that's been very popular so it should be interesting to take a closer look into it.
I hope you enjoy this AWG-M100SB-2AER review below.
You may also like my: Best Affordable G-Shock Watches.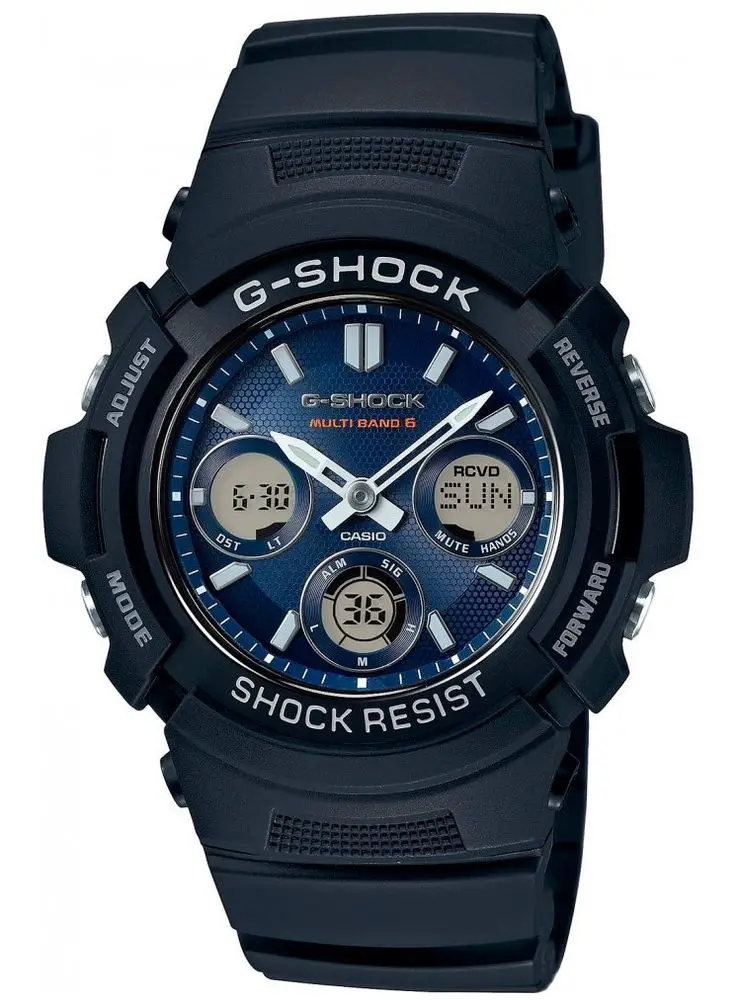 Latest reviews, ratings and prices: G-Shock AWG-M100SB-2AER watch
At the bottom of this article, you can find a list of my recommended retailers to purchase this watch from
Watch Review
Dial & Case Design
This watch has a fantastic navy blue finish to it that I'm sure lots of people are going to be fond of. The dial has a dual digital/analogue display that's very easy and clear to read. I think the use of the 3 mini digital displays if very interesting, not something I see done that often. The case itself is made of stainless steel and wrapped with this thick protective resin that gives it that brilliant shock resistance.
Type Of Crystal
Protecting the face of the watch is a mineral crystal glass. This type of glass is specially hardened to be extra resistant to scratches and knocks. The glass is also shatter resistant that's great for a watch designed for shock resistance.
Watch Movement
The watch features an impressive radio controlled quartz movement, it automatically synchronizes with an atomic clock that makes it extremely accurate. The watch itself is solar powered using Casio's tough Solar technology.
Watch Size
This model is a little smaller than your typical G-Shock watch, but don't let that fool you, it's still a fairly large watch. The casing diameter measures 46mm and it has a thickness of 15mm. One thing to keep in mind is that these bigger watches aren't always suitable for people with smaller wrists.
Strap
The strap is a standard size for a men's watch with a 22mm width. It's made of the same comfortable resin rubber that's used on the casing surround offering great durability. The strap fastens with a typical buckle clasp that's easy to operate.
Extra features
G-Shock are known for their multifunction capabilities and this timepiece is no different. A key feature of this watch is the multi-band radio controlled timekeeping. Extra functions of this watch include a world time display, world time display, automatic calendar,  countdown timer, 5 alarms, super led light, stopwatch.
Water Resistance Rating
The water resistance level of this watch is 200m, this is what you find in many of the G-Shock watches and something I'm always impressed with. A rating of 200m / 20 Bar / 600ft makes this watch suitable for professional marine activity, serious surface water sports and skin diving.
Watch Specifications
Band Resin strap, standard length, 22mm width, standard buckle style clasp.
Case Stainless steel casing with resin surround, sizing diameter: 46mm and thickness: 15mm.
Dial Digital/analogue display. The window lens is made of mineral glass, this is specially hardened to be resistant to scratches and knocks.
Movement Accurate Japanese Quartz movement.
Water Resistant A water resistance of up to 200m / 20 bar.
Watch Advantages
G-Shock watches are known for the excellent durability & toughness
Backlight feature for easier reading in dim lit conditions
Built for shock resistance
Radio controlled timekeeping, excellent accuracy
Multi-function watch with stopwatch, alarms, countdown timer, and world time display and more
Mineral glass offers a good level of scratch & shatter resistance
200m water resistance rating
Watch Disadvantages 
It's not quite as big as some of G-Shock's other watches, but at 46mm it still might be a little too big for some people's wrists.
My Final Thoughts On This G-Shock AWG-M100SB-2AER Review:
The G-Shock AWG-M100SB-2AER is a great choice for those who loves the G-Shock range of watches but fancied something a little smaller than normal. The radio controlled timekeeping makes this a very accurate watch, it also includes lots of extra useful features. Overall it's a watch that offers great value for money and is perfect for people looking for a tough, durable timepiece who don't want to shell out a fortune. Why not take a look at a high quality analogue digital watch list next.
After looking into the watch design, quality, features, and pricing this watch received an 8.5/10 from us at The Watch Blog.
You may also like my 100 best watches under £1000
Where to buy the AWG-M100SB-2AER
I like to stick to listing retailers that I've actually had experience buying from in the past. Below I've listed some of the top places to buy this watch from, check all for the best price. Variations of this model include: AWG-M100SB-2AER
Buy now at Amazon
Buy at Watch Shop
Hope you enjoyed this G-Shock AWG-M100SB-2AER review. Find more watch reviews below.