Casio G-Shock GA-150-1AER Watch Review Summary
My rating: 8.5/10. Great watch. Durable oversized watch.
Hello, today I'm doing a G-Shock GA-150-1AER review. If you're after a serious, durable timepiece that's full of useful features, then Casio's G-Shock range are well worth considering. I love these massive oversized watches with their extreme durable designs. This digital analogue watch design have proven popular for Casio.
I hope you enjoy this Casio GA-150-1AER review below.
You may also like my: 13 Best Cheap G-Shock Watches.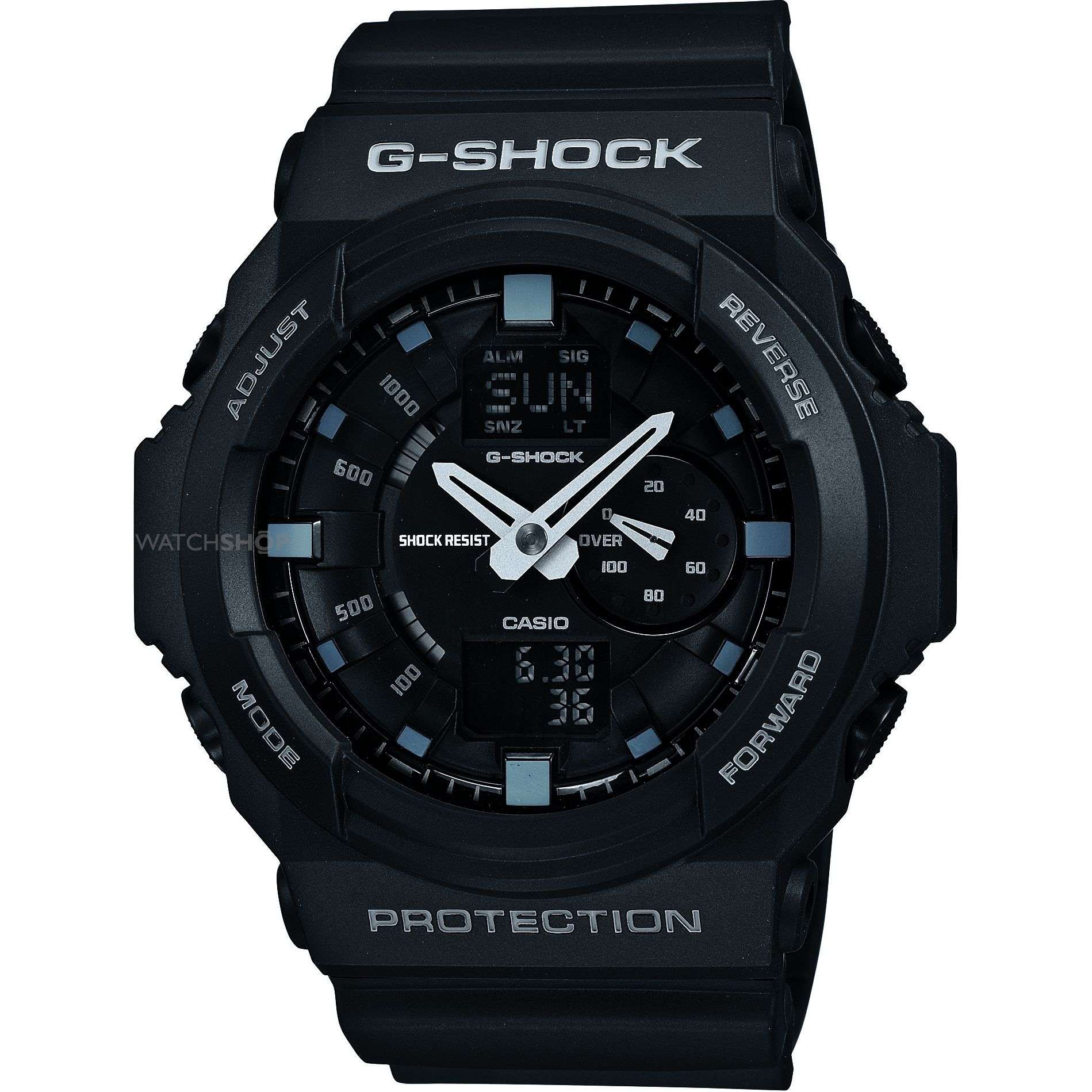 Latest reviews, ratings and prices: G-Shock GA-150-1AER watch
At the bottom of this article, you can find a list of my recommended retailers to purchase this watch from
Watch Review
Dial & Case Design
This watch is keeping to the popular primarily all black design that's in style at the moment. It features a dual analogue/digital display that a lot of people actually look for in a watch. The bold white hands are a great contrast to the black finish of the watch giving it a pretty easy to read style. The watch casing itself is made of stainless steel and protected by this thick durable resin that surrounds the watch giving it this excellent shock resistance as well as that oversized design. Overall a great look watch with a very popular design.
Type Of Crystal
Protecting the dial of the watch is a mineral crystal glass. This is ideal for this type of watch that's designed to withstand a rough time. It may not be the strongest in terms of scratch resistance, but it offers a great level of shatter resistance which I think is key for this type of watch. Mineral crystal glass is specially hardened to offer a good level of scratch and knock resistance.
Watch Movement
At the heart of the watch is a popular Japanese quartz movement. Quartz movements are often used for their accuracy and reliability. You'll find them across the G-Shock range of watches.
Watch Size
This watch is big, and I mean BIG. G-Shock are known for their oversized designs so I'm sure this wont come as a suprise to many people. The casing diameter measures 52mm and has a thickness of 16mm. That gives you an oversized style watch with a chunky finish.
Strap
The strap itself is nice and sturdy. It's made of a black polyurethane that's comfortable and durable. It fastens with a standard buckle style clasp and measures 25mm that's quite wide, but in keeping with the oversized style of the watch.
Extra features
This Casio watch is packed full of extra features. These include a yahct timer, stop watch, countdown timer, multi alarm, LED lighting, auto calender, and more.
Water Resistance Rating
This watch has a water resist rating of 200m. A rating of 200m / 20 Bar makes this watch suitable for professional marine activity, serious surface water sports and skin diving.
Watch Specifications
Band Thick polyurethane strap, standard length, 25mm width, standard buckle style clasp.
Case Stainless steel casing, sizing diameter: 52mm and thickness: 16mm.
Dial Analogue digital dual display. The window lens is made of mineral glass, this is specially hardened to be resistant to scratches and knocks.
Movement Japanese quartz movement.
Water Resistant A water resistance of up to 200m / 20 bar.
Watch Advantages
G-Shock watches are built to last with their durable tough design
Mineral glass offers a good level of scratch & knock protection
Full of multiple useful functions
Features a backlight for easier reading in dim lit conditions
200m water resistance rating
Watch Disadvantages 
With an oversized 52mm casing diameter this watch might not be suitable for people with smaller wrists
My Final Thoughts On This Casio G-Shock GA-150-1AER Review:
The G-Shock GA-150-1AER is another one of Casio's best selling durable watches. For people with an active outdoor lifestyle they're perfect, built to last and extremely durable. I've always thought the G-Shock range of watches offer some very good value for money, and I feel the same about this model. Overall a great watch that's worth checking out.
After looking into the watch design, quality, features, and pricing this watch received an 8.5/10 from us at The Watch Blog.
You may also like my Best Watches Under £500
Where to buy the G-Shock GA-150-1AER

I like to stick to listing retailers that I've actually had experience buying from in the past. Below I've listed some of the top places to buy this watch from, check all for the best price. Variations of this model include: GA-150-1AER, GA-150-1, CHF-100-2AVER
Buy now at Amazon
Buy at Watch Shop

Hope you enjoyed this Casio G-Shock GA-150-1AER review. Find more watch reviews below.