Bulova 98G229 Watch Review Summary
My rating: 9/10. Excellent watch. Very impressive watch design.
Today I'm doing a Bulova 98G229 review. Now this is an absolutely stunning watch, I just love this black gun metal design with the blue detailing on the hands, it's superb. This watch is part of Bulova's Precisionist Chronograph series which has a focus on accuracy. It utilizes a super quartz UHF (Ultra High Frequency) movement that gives the watch this sweeping second hand and accuracy to within seconds per year. The impressive chronograph function can record to 1/1000th of a second all on an analogue dial. To top things off the watch features a sapphire glass front which has a Mohs hardness rating of 9, it's nearly impossible to scratch this type of glass.
If you love luxury chunky watches then I recommend you consider this beast, it has a casing diameter of 46mm and a thickness of 19mm, this watch will stand out on your wrist with its impressive size and design. If you like this brand why not check out my Bulova watches review next.
This Bulova 98G229 also features a 300m water resistance with a screw down crown. Screw down crowns are a lot better than your standard push in crowns when it comes to water resistance, anyone looking for serious water protection knows to go for a screw down crown.
You may also like my 100 best watches under £500 for men.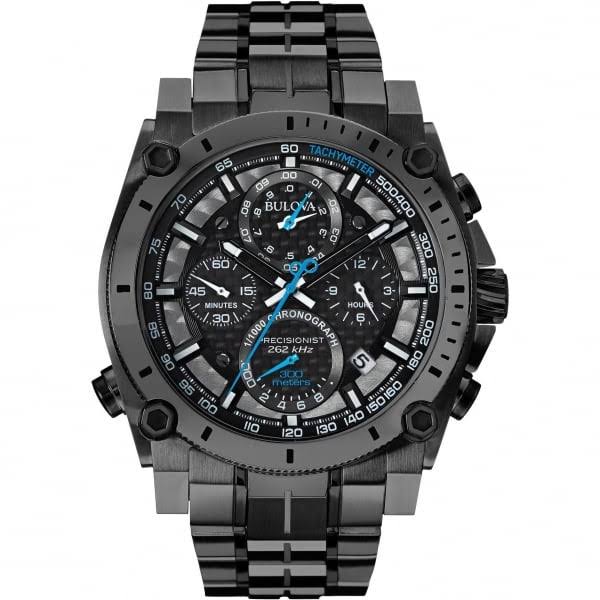 Latest reviews, ratings and prices: Bulova 98G229 watch
Watch Specifications
Band Stainless steel black ion plated strap, standard length, 24mm width, standard fold over style clasp.
Case Stainless steel black ion plated casing, sizing diameter: 46 mm and thickness: 19 mm.
Dial Analogue chronograph display. Sapphire glass offers exceptional protection from scratches with a Mohs hardness rating of 9.
Movement Japanese Miyota Quartz chronograph movement.
Water Resistant A water resistance of up to 300m / 30 bar.
Watch Advantages
Sapphire glass offers a very high level of protection from scratches.
High performance quartz movement with a frequency of 262 kHz for unparalleled accuracy.
Screw down crown offers better water resistance than standard push down crowns.
Features a continuously sweeping second hand which looks very impressive.
Features luminous hands and hour indicators making it easier to read in dim lit conditions.
300m water resistance, suitable for professional marine activity, serious surface water sports, and skin diving.
Watch Disadvantages 
At this price, I would have liked to have seen a more impressive style of clasp.
Higher level water resistant watches can cost a little bit extra to get their batteries replaced properly and keep their water resistant rating.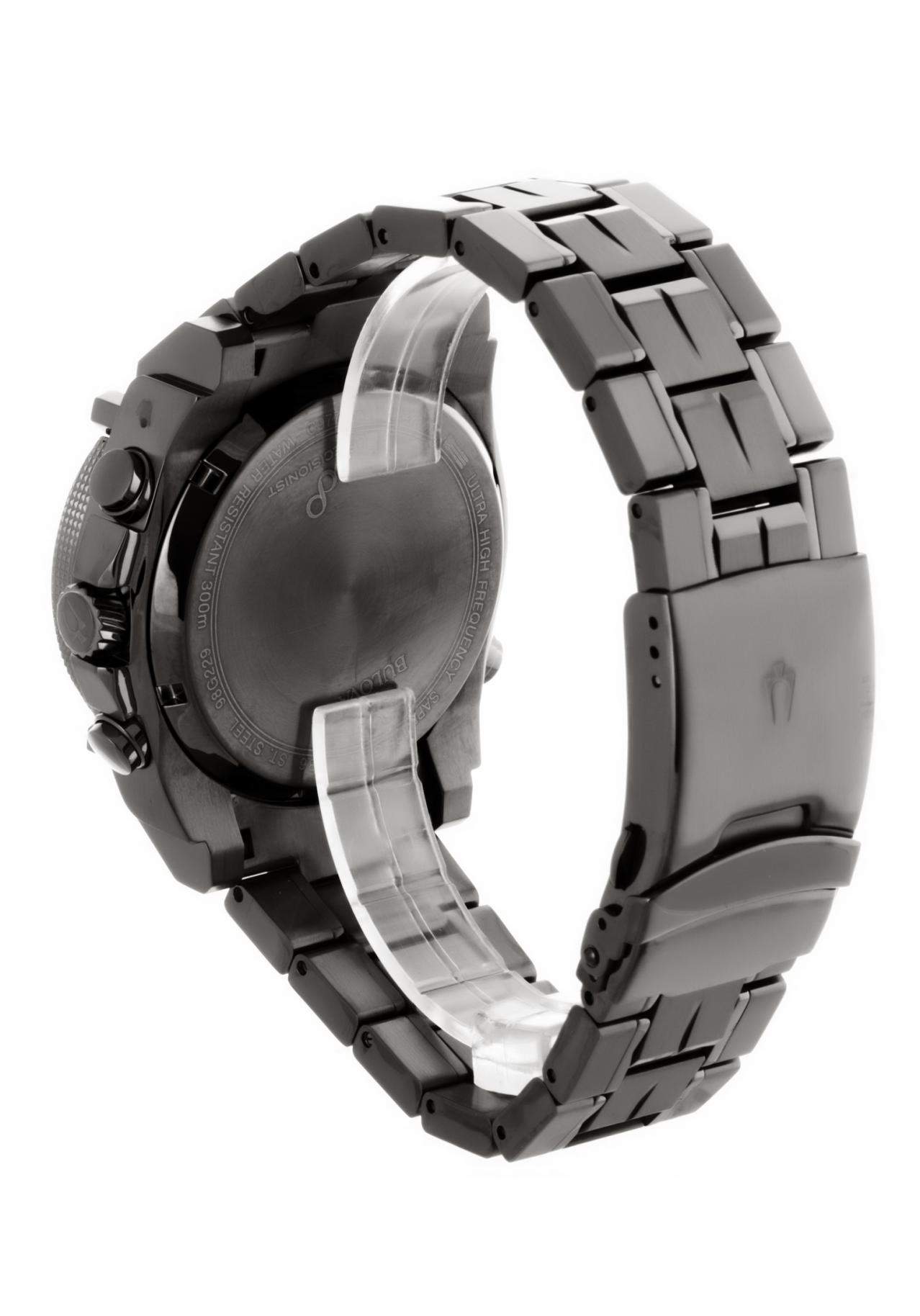 My Final Thoughts On This Bulova 98G229 Review:
The Bulova 98G229 gives you a real sense of luxury with its oversized watch design and impressive black ion plated style. It has all the features I'd expect from a watch in this price range, the sapphire glass is something I always like to see as it's just so good. If you're considering this as a gift for your other half then I have no doubt that you'll make him extremely happy with this watch. In my opinion, a very well deserved 9/10 from us at The Watch Blog.
Buy Now: Bulova 98G229 watch
Hope you enjoyed this Bulova 98G229 review. Find more watch reviews below.