Skagen SKW6007

 Watch Review Summary

My rating: 8/10. Titanium Skagen watch. Slim 8mm timepiece.


Hello, today I'm doing a Skagen SKW6007 review. This is a popular sleek watch from Skagen's Aktiv range, it's made of titanium which makes it both strong and lightweight, this is in a gun metal grey colour.

I hope you enjoy this Skagen SKW6007 review below.

You may also like my: 100 Best Watches Under £500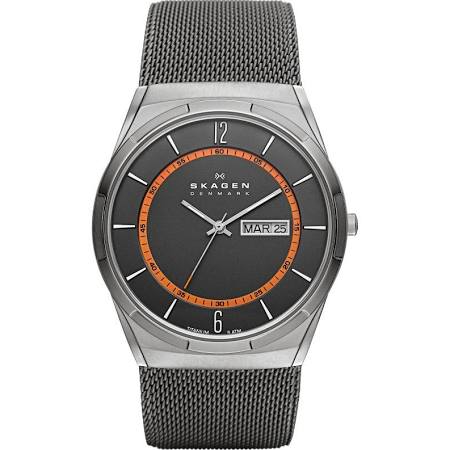 Latest reviews, ratings and prices: Skagen SKW6007 watch
At the bottom of this article, you can find a list of my recommended retailers to purchase this watch from
Skagen SKW6007 Watch Review
Dial & Case Design
The dia lof this Skagen watch has a nice minimal feel to it. The orange circle within the dial does a good job at drawing your eye into the centre of the watch, also adding a nice touch of colour to the design. The hands also have a nice coating of lume to make them easier to read in dim lit conditions. There's a day and date display located at the 3 o'clock position on the watch.
As I mentioned earlier on, the casing is made of titanium. This is stronger than stainless steel and also lighter, making it a popular material for watches.
Type Of Crystal
A mineral crystal glass can be found protecting the dial on the front of the watch. This type of glass is specially hardened to offer a good level of scratch and knock protection. It's commonly found on watches in this price range so overall, I'm quite happy with this.
 Watch Movement
At the heart of the watch is a quartz movement. These are a popular choice in affordable watches as they are reliable and accurate as well as being fairly affordable.
Watch Size
The casing diameter of this men's Skagen watches measures approximately 41mm in diameter and has a thickness of just 8mm. It's a slim watch with a nice large dial, a popular combination these days.
Strap
The strap is made of stainless steel in a mesh style which is something I'm quite a fan of lately. From trying various mesh style straps I find them to be quite comfortable and extra easy to adjust the size of. It's a nice wide strap measuring 28mm in width.
Water Resistance Rating
This watch has a 50m water resistance rating. A 50m or 5 bar rating makes this watch suitable for swimming, white water rafting, non-snorkeling water related work, and fishing.
Watch Specifications
Band: Stainless steel mesh strap, standard length, 28mm width, jewellery style clasp.
Case: Titanium casing, sizing diameter: 41mm and thickness: 8mm.
Dial: Analogue display. Mineral crystal glass window lens.
Movement: Quartz movement.
Water Resistant: A water resistance of up to 50m / 5 bar.
Watch Advantages
Large easy to read display
Titanium casing
Mineral crystal glass
Reliable quartz movement
Stainless steel mesh strap
Lightweight watch
Watch Disadvantages 
None to mention, comment below if you have something you'd like to add
My Final Thoughts On This Skagen SKW6007 Review:
Skagen makes a nice selection of relativly affordable slim watches with popular dial designs. This is a strong and lightweight model that features a popular mesh style strap.Overall, I'm quite pleased with the design of the watch, I like the touch of colour they've gone for with the dial and am happy to see the 50m water resistance rating.
After looking into the watch design, quality, features, and pricing this watch received a 8/10 from us at The Watch Blog.
You may also like my Best Watches For Teens
Where to buy the Skagen SKW6007

I like to stick to listing retailers that I've actually had experience buying from in the past. Below I've listed some of the top places to buy this watch from, check all for the best price. Variations of this watch include: OB16BDW16

Buy at Amazon
Buy at Watch Shop

Hope you enjoyed this Skagen SKW6007 review. Find more watch reviews below.