Seiko Men's Watch SKS485P1 Review.
Hello, today I'm doing a Seiko SKS485P1 review. Yes, you read that right, another Seiko watch review. I enjoy featuring this brand as they often offer great value for money with an affordable price tag. I'm interested to see what this watch has to offer.
(Click on any image to head straight to the product page for prices and specifications)
Anyway, I'll get on with my SKS485P1 review below and you can find out the price on Amazon today, enjoy.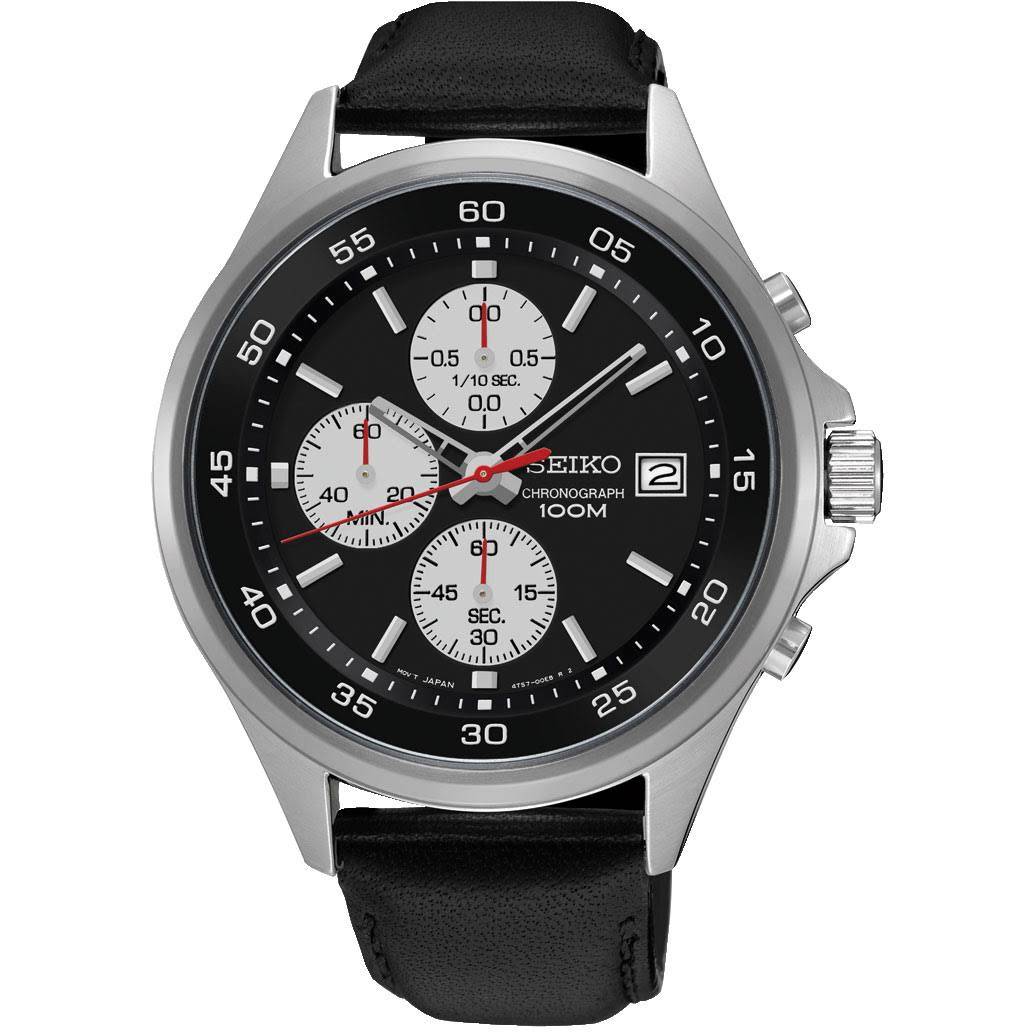 At the bottom of the article, I'll show you some of my recommended places to buy this watch from
My Initial Thoughts On This Watch
Now I've always been a fan of chronograph watches, and I think the rounded finish of the casing on this watch looks great. The little red detailing on the seconds hand and the sub dials adds a much-needed bit of colour to the design. My only concern with the dial would be the minute and hour hands, and how easy they are to read.
This timepiece does still have a lot to offer, though, Seiko are known for their high-quality builds, so I'm prepared to give it a chance and see how it performs.
Movement
This timepiece from Seiko uses a Japanese chronograph Quartz movement. This style of movement is known to be accurate and reliable, values you'd want in a decent movement. The sub dials show a minute, seconds, and 1/10 second display.
Type of glass
For a watch in this price range it's common to find watches using various styles of mineral glass, and with this Seiko that's exactly what you get. Mineral glass is often used due to its good scratch resistance, it can also withstand knocks as well. This is exactly what I expected to find, so it's fair value in my opinion.
Size
They've gone for a fairly popular men's watch sizing. The casing diameter is 43mm which is classed as a large, whilst the thickness is 11mm. Bigger watches have become more and more popular lately, it's nice to see that they haven't overdone it with the thickness, though.
Calendar
There's an easy to read date display at the 3 o'clock position. I think size wise they've done quite well with in considering the rest of the dial is taken up with the chronograph sub dials. Due to it being a basic date display, it will need to be adjusted for the varying amount of days in each month.
Watch strap and clasp
Below you'll find a picture of the style of strap and clasp they've gone for. It uses a comfortable genuine leather strap that's finished off with a standard stainless steel buckle. The width of the strap is 20mm which again is a fairly standard size to fit in with the rest of the watch specifications.
Water Resistance:
I was pleased to see a 100m water resistance rating on this watch, also known as 10 bar. This makes the watch suitable for recreational surfing, swimming, snorkeling, sailing and water sports. I think that's pretty adequate for this watch in my opinion.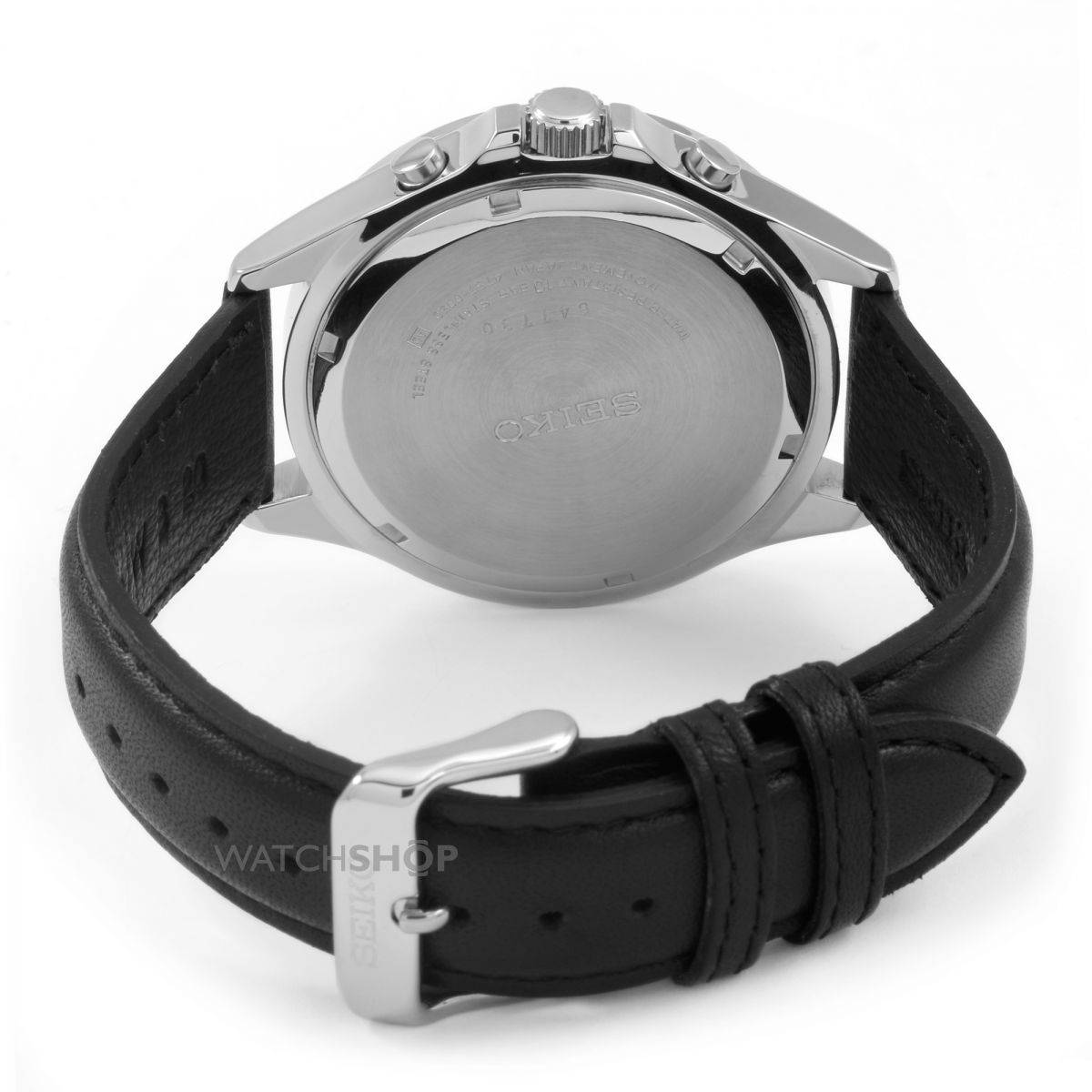 Features:
Brand: Seiko
Model: SKS485P1
Dial Window Material: Mineral Glass
Clasp Type: Buckle clasp
Case Material: Stainless Steel
Case Diameter: 42mm
Case Thickness: 11mm
Band Material: Stainless Steel
Band Width: 20mm
Calendar: Date Display
Movement: Japanese Quartz Movement
Water Resistance Rating: 100m
Conclusion
Overall I'd give this watch a 7.5/10. I like the design of it, I'm just a little concerned about how easy it would be to read. Whilst I'm sure most people wouldn't have an issue with it, I felt it was worth mentioning. As you'd expect from Seiko, it is well built and uses quality parts, I'll leave it up to you to decide on how easy the dial is to read.
Hope you found this Seiko SKS485P1 review useful and enjoyable, comment below and let me know what you think of it.
Where to buy the Seiko SKS485P1
I like to stick to listing retailers that I've actually had experience buying from in the past. Below I've listed some of the top places to buy this watch from, check all 3 for the best price.
Thanks for reading, find more of my watch reviews below.