SEIKO 5 SNK809 Automatic Review
My rating: 9/10. Excellent watch. Value for money.
Today I'm doing a Seiko 5 SNK809 review.  The Seiko SNK809 is part of Seiko's extremely popular Seiko 5 series. These watches were designed to set the standard for affordable quality in watches.
Seiko 5 was born in 1963, they wanted to offer accessibly priced mechanical watches, they combine an automatic movement, 3 bar water resistance, and a one-level day and date display in a single window.
A lot of Seiko 5 watches feature this unique position of the crown where it's tucked behind the 4 o'clock position. They were an instant success and to this day Seiko 5 watches offer that same value for money.
You'll see from this Seiko 5 SNK809 automatic review that the watch stands by its values and offers
great value for money
with excellent design, which has no doubt been the reason for its huge popularity among Seiko watch fans.
Click here for the latest reviews, ratings, and PRICES
SEIKO 5 SNK809 Technical specifications
First off we're going to take a quick look at the general watch specifications of the Seiko 5 SNK809. This allows you to quickly grasp some of the important details of the watch before we later go into deeper detail about the watch as a whole.
Model Number: SNK809
Crystal Material: Hardlex
Case Diameter: 37mm
Movement: Automatic Seiko 7S26
Extra Features: Day & date display
Water Resistance: 30m / 3 bar
Strap Material: Black canvas fabric
Seiko 5 SNK809 Design And Build Quality
It's safe to say that the Seiko 5 SNK809 isn't one of the most stunning looking watches. I don't think I'd wear it to any serious formal occasions myself, but I would be more than happy to wear it as a day to day watch.
While I do love the design of the dial, fabric straps aren't something I'd personally go for, that being said I fully respect that they are still very popular.
Seiko watches are known to be built to a very high-quality level. In my experience, I've never had a problem with any of the Seiko watches in my collection, with proper care you can expect your Seiko watches to last an extremely long time.
SNK809 Dial
It has a simple uncomplicated design to it, getting back to the basic of watch craftsmanship which is nice to see. The dial design of the SNK809 does have a smart feel to it, everything looks very organised and it utilises luminous markers every 5 minutes that make it extra easy to read in dim lit conditions.
I do love the idea of having the 5-minute intervals and the hour dual displayed, it's something I don't see done very often.
SNK809 Sizing
Unlike many watches you see around these days, the SNK809 isn't huge, it's perfect for people looking for a watch that suits smaller wrists.
The case diameter is 36mm so it's fairly smaller than these 42mm watches you see around. So for people who've had enough of large watches not sitting right for them, give this watch a chance.
As far as thickness goes, it's rather modest with an 11mm case thickness. The watch has a rather flat finish to it so it sits quite nicely on your wrist.
SNK809 Crystal
This Seiko features Hardlex glass, this is a type of mineral glass that is specially hardened to be highly resistant to knocks and scratching.
It was developed by Seiko for use in their Seiko, Pulsar and Lorus watches, it's similar to mineral glass and basically their own take on this type of glass. It's exactly what I'd expect to find in a watch in this price range so I'm very pleased with that.
The next step up would have been sapphire glass which is scratch proof rather than the scratch resistant you see in Hardlex crystal. Due to the price of sapphire glass though you only really see it on premium watches.
Strap & Clasp
I mentioned earlier that I'm not overly fond of fabric straps, that being said they're still extremely comfortable and hard wearing.
The watch comes with this black canvas fabric straps that're built extremely well. You wouldn't expect anything less from Seiko, would you?
There isn't any fraying insight that you might have found on a cheaper generic watch. What's really impressive and worth noting is that due to the 18mm lug sizing this watch is extremely easy to swap straps for. I was reading someone's comments about the watch earlier and they mentioned they bought 5 extra straps in different colours and styles for as little as £30.
This meant they could easily switch up the character of the watch from day to day with no problem at all. The clasp featured on the original strap has a buckle style clasp, each of the holes for the clasp are reinforced to make them longer lasting, this is also something you don't often find in cheaper watches.
As you'd expect the canvas strap is designed to last, it's typically very difficult to do any damage to it, short of taking a knife to the strap and cutting it, that strap is going to last you for years to come.
Also Read: Interesting Steinhart Ocean 1 review
SNK809 Water Resistance 
The Seiko SNK809 features a water resistance of 30m or 3 bar if you prefer reading it that way. 30m water resistance isn't much, but I don't expect you're going to go all out diving with this style of watch.
Wikipedia's example of what 30m water resistance offers you in 'suitable for everyday use. Splash/rain resistant. Not suitable for showering, bathing, swimming, snorkelling, water related work and fishing.' The thing with water resistance testing is that it's done in a still environment with no added pressure.
So 30m resistance doesn't mean you can take it 30m deep. The very motion of moving your arm would increase the pressure forced upon a watch greatly from that that it would experience just submerged.
So there you have it, the Seiko SNK809 is fine for everyday use, and can resist splashes and rain. Just don't go using it for anything else. And remember you should never submit a water to hot water, it varies greatly from that of normal temperature water as far as testing goes.
SNK809 Caseback
A feature that I really love about this watch is its case back, many automatic watch fans love to be able to see their automatic watch movements in motion.
The SNK809 features an exposed glass case back which makes the movement easily view-able. It's quite fun every now and then to take off your watch and just watch that gears go round. While it is classed as an un-decorated movement, I'm sure you'll agree from looking at the picture below that it's still very pretty to look at.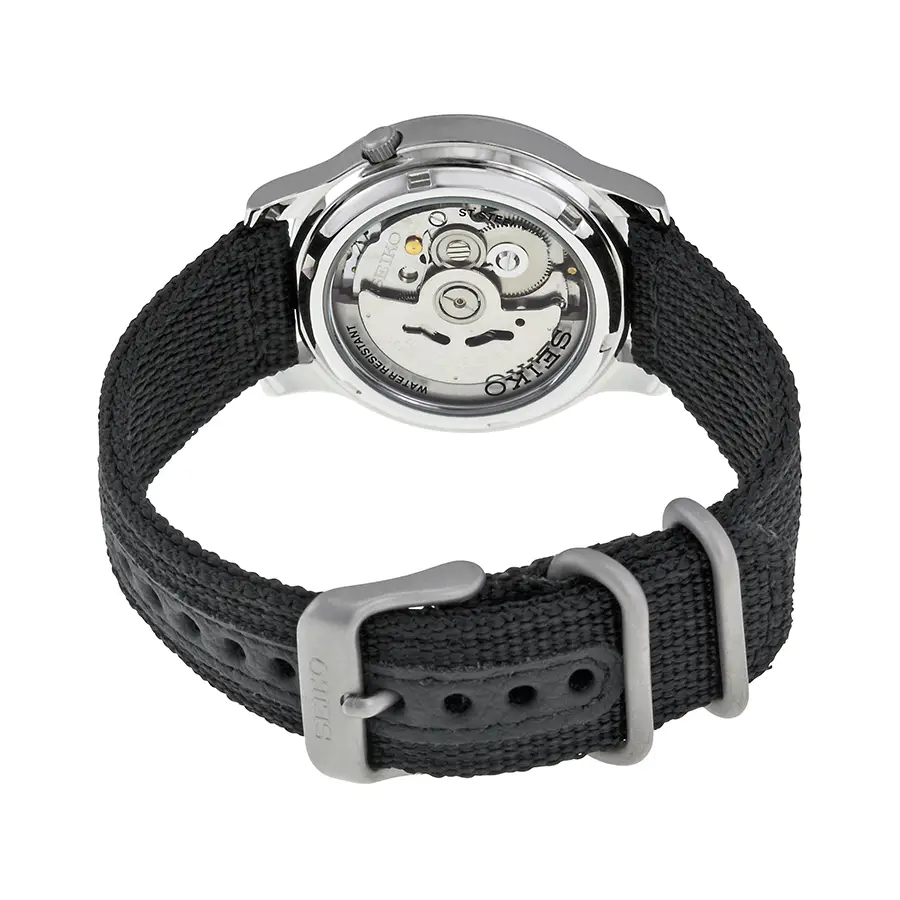 Click here for the latest reviews, ratings, and PRICES
The SEIKO SNK809 Automatic Movement
I mentioned earlier in our specifications section that the Seiko featured a Seiko 7S26 movement. The Seiko 7S26 automatic movement is basic 21 jewel style movement.
In comparison to other automatic brands, it would be fair to say the 7S26 is a fairly basic movement. It doesn't feature hand winding or hacking however it is a very affordable movement that is extremely reliable.
It's always worth remember we're looking at a high-quality Seiko watch for a very fair price. Over the course of a month, you could expect to gain or lose about 1 or 2 minutes. But when you think about it this shouldn't be too much of a big problem.
Like many other watches, the Seiko SNK809 has a basic calendar, this means that it can't adjust for the varying amount of days in a month. So you're likely adjusting the date at the end of the month, this would be a perfect time to adjust your minute timer to bring it back in line again.
Personally, I don't expect automatic movements to be extremely accurate, time deviation is to be expected in most automatic watches be it Seiko or some other brand. So I would never let something like this put me off going for a watch like this.
Seiko SNK809 Pros & Cons
I figured I would take a look at some of the pros & cons of the Seiko SNK809 and display them in an easy to read format for those of you who love to skim read, I got your back.
Seiko SNK809 Pros:
 High lasting, durable stainless steel design
Lightweight design for added comfort
21 jewel automatic Seiko 7S26 movement
High-quality luminous hands and hour indicators for easy reading in dim lit conditions
30m water resistance offers you splash protection and is suitable for everyday use
Hardlex glass gives you a good level of protection from scratches and knocks. This is fair value for money in my opinion
The watch is self-winding which means it never requires any battery changes
Fabric straps are very comfortable
18mm lugs make it very easy to find interchangeable straps that would fit this watch
Seiko SNK809 Cons:
The general design of the watch isn't exactly screaming for attention. It's nice, just not as nice looking as other watches in this price range
30m water resistance isn't very high, it's suitable for day to day use but you can't go swimming etc with it.
You can expect to loose around 1 minute per month in accuracy, however, this is easily sorted when you adjust the date.
A Final Word On The Seiko SNK809
So there you have it, a fairly detailed look at the Seiko SNK809. You should be able to get a fair grasp of why the Seiko SNK809 has been one of the most popular watches for Seiko, it offers a great quality build at a very accessible price range.
While I'm not a fan of the black canvas strap, with the ability to easily change the strap I'm sure I could find something a bit more me to add to it.
Overall I highly recommend the Seiko SNK809, and it deserves it. We took a look at some of the watches benefits and highlighted some of the negatives associated with it but I feel it still whole heartedly deserves the 9/10 that we've awarded it.
 Click here for the latest reviews, ratings, and PRICES
Where To Buy The Seiko SNK809
I'd recommend buying the Seiko SNK809 from Amazon here, it's been a big seller on Amazon and has lots of reviews from other buyers available for you to read through as well. Amazon offers great customer service and Amazon Prime customers can get their watch within a day.
Thanks For Reading
I hope you enjoyed having a read through of this extensive Seiko SNK809 review. As always let us know in the comments what you thought.
Why not check out our top 100 best watches under £500 next.