Review Seiko Titanium SNAA30 Gents Watch .
Hello, today I'm doing a Seiko SNAA30 review, this is a extremely popular titanium chronograph watch at a rather affordable price. Seiko are quite possibly one of the most popular and well known affordable brands world wide. They have tons of awesome watch designs, with a focus on high quality and affordability you can understand why they've done so well as a brand.
Editor rating: 8/10 Continue reading to find out why.
You may also be interested in my top 21 men's watches under £200.
(Click on any image to head straight to the product page for prices and specifications)
Anyway I'll get on with my Seiko SNAA30 review below, you can click here for the latest reviews, ratings and PRICES on Amazon, enjoy.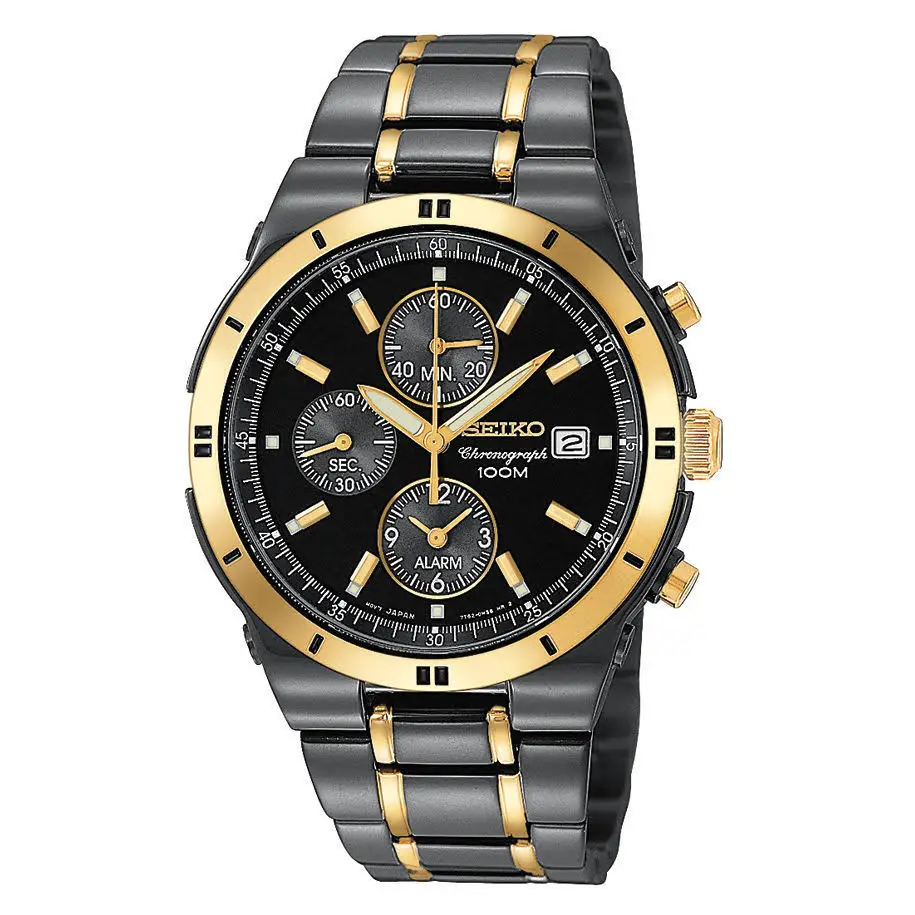 My Initial Thoughts On This Watch
You really can't go wrong with a Seiko watch, there are a lot of people who swear by the brand, and for good reason, the watches they make are very good quality. I particularly love the design of this watch, regular readers will know I'm often hesitant about this two tone design however when done properly I love it. The black and gold blend gives off a very luxury feel to the SNAA30, along with that gold detailing it really does look the part.
You'll notice the watch is rather light, that's due to the titanium that's been used in place of traditional stainless steel. Titanium is stronger yet lighter than stainless steel so it's perfect for watch making, it does however cost more (you knew there was a downside coming).
So overall I can't fault the design, I love it's very striking luxury design. I'm also happy so far with the use of materials, it's looking to be well worth the money to me, but let's take a look at the individual parts below and see what I think.
Type of glass
The type of glass they've gone for on this Seiko called 'hardlex' now you'll be forgiven if you haven't heard of that before. Hardlex is somewhat similar to hardened mineral glass. It has a Mohs hardness rating of 7 so it is fairly good. This is the level of protection I would expect around this price range. I'm happy with this however it would have been nice to see the more robust sapphire glass although I expect with the added cost of titanium on the watch you can't really have everything without paying a lot more.
Size
The Seiko has a nice case size with a diameter of 40mm, in all honesty I would prefer a 42mm case but then I typically go for larger watches. 40mm is classed as a medium size, it's a fairly common size so don't worry about it being too big or too small. The thickness of the case is 10mm, this is also classed as average so you don't have to worry about it being too chunky in design. All in all a fairly typical watch size.
Calendar
There is a standard date display at the traditional 3 o'clock position, it's a shame they couldn't have added the gold detailing to the surround of the date display, I think it would have added to the design a bit.
Watch strap and clasp
This watch features a standard fold over clasp, I've posted a picture below. I like that they haven't bothered with a safety catch, I don't know about you but I just hate safety catches, trying to open them is a pain. The strap has a width of 20mm, fairly average and exactly what you would expect to go with the case sizing.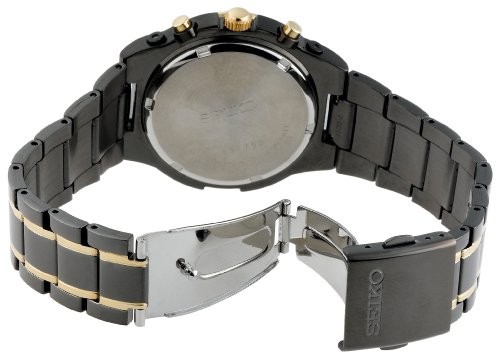 Features:
Brand: Seiko
Model: SNAA30
Dial Window Material: Hardlex
Clasp Type: Fold Over Clasp
Case Diameter: 40mm
Case Thickness: 10mm
Calendar: Date Display
Movement: Precision Japanese Quartz Movement
Conclusion
Thanks for having a read through today, I mentioned earlier I gave this an 8/10 overall, I think when it comes to design and value for money you have to give it such a good rating. This is another one of those watches I'd love to add to my personal collection and would be more than happy to recommended to any of my friends.
Overall definitely value for money for such a high quality watch from such a popular well known brand. If you do end up buying one making sure you send in your pictures to the site.
If you're looking for something a little different make sure you check out my top 100 men's watches under £500 sometime.
Hope you found this Seiko SNAA30 review useful and enjoyable, comment below and let me know what you think of it. Click here for the latest reviews, ratings and PRICES on Amazon.