Review Casio Edifice EQW-M710DB-1A1ER Solar Radio Men's Watch .
Hey everyone, today I'm doing a Casio Edifice EQW-M710DB-1A1ER review. It's a watch that's packed full of features, I'm always happy to promote watches that use solar or kinetic energy to power themselves. The Casio Edifice is a very popular series at the moment that people can't seem to get enough of.
Editor rating: 8.5/10 Continue reading to find out why.
You may also be interested in my top 21 men's watches under £200.
(Click on any image to head straight to the product page for prices and specifications)
Anyway I'll get on with my Casio Edifice EQW-M710DB-1A1ER review below, you can click here for the latest reviews, ratings and PRICES on Amazon, enjoy.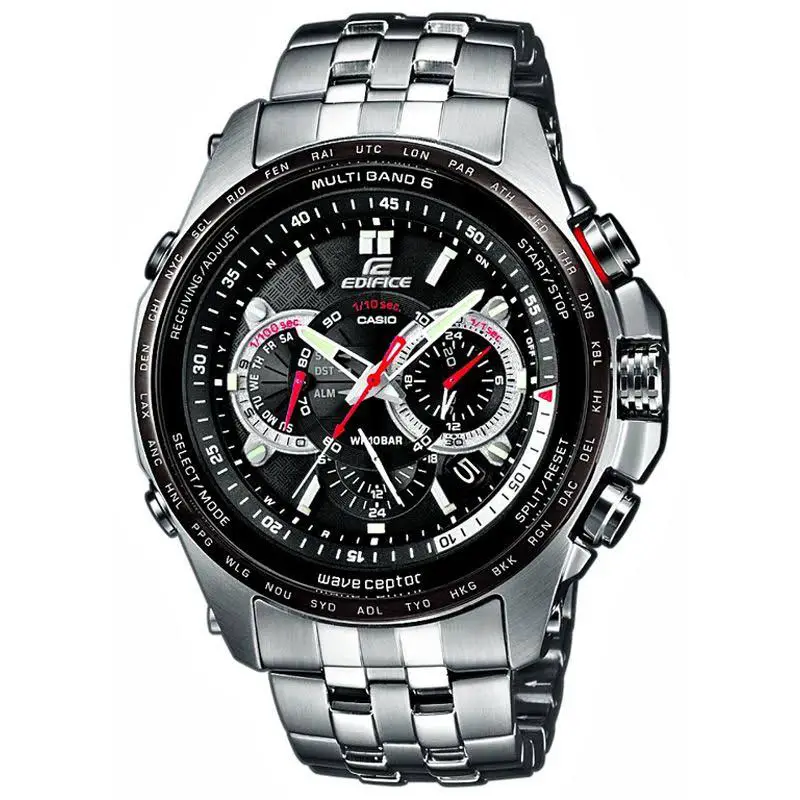 My Initial Thoughts On This Watch
If you like oversized style watches you'll definitely like this watch, it has a large 47mm case diameter so it will be noticeable on your arm.  It's not too heavy though so it won't be weighing you down like some other larger watches can end up doing.
I mentioned the watch had some impressive features, it recharges it's battery using solar energy, this means you wont be required to replace the batteries which is pretty handy. The EQW-M710DB-1A1ER is radio controlled, that means it automatically synchronises with an atomic clock to keep extremely accurate time. It normally adjusts once a day often whilst you are asleep. It can adjust for different countries throughout the world which is also pretty handy. Fancy an Edifice automatic watch instead? Check out the list.
As far as the design of the watch goes, I like the use of colour they've gone for, especially the red detailing on the hands. The larger case design is something I'm also a fan of, I don't often go for smaller watches you see.
Anyway lets take a look at some of the other specifications and features a little closer below.
Type of glass
As I was expecting to see they've used a mineral glass on this watch. Mineral glass is specially hardened to make it more resistant to scratches, it's a lot tougher than acrylic but not quite as strong as sapphire. To be honest though in this price range from Casio I expect the mineral glass so I'm quite happy with that.
Size
I mentioned earlier this watch has a awesome oversized design to it, the casing diameter is 47mm which is classed as large. The standard size you see these days in popular watches is 42mm so that might give you an idea of how much larger it is. The thickness of the case is 13mm is also classed as large, it's thick but doesn't give it that chunky feel which I know some people aren't fond of.
Calendar
This watch features an automatic calendar, that means you only have to set it once since it automatically adjusts for the varying amount of days in each month, and even leap years. It's incredibly handy as I'm sure anyone who's used a standard watch and has to alter the date often will be well aware of.
Watch strap and clasp
The strap is made of stainless steel to go along with the casing materials. It's 20mm wide which is a standard size for a watch strap. They've gone for a standard fold over clasp, to be honest I would have preferred to see a push release clasp as I think they're a lot nicer but I can understand going for something that is better known.
Features:
Brand: Casio
Model: EQW-M710DB-1A1ER
Dial Window Material: Mineral
Clasp Type: Fold Over Clasp
Case Diameter: 47mm
Case Thickness: 13mm
Calendar: Perpetual Calendar
Movement: Precision Quartz Movement
Conclusion
Thanks for taking the time to read through my review today, it's what I would consider a high quality intelligent watch. Other features the watch has are a daily alarm, a stop watch function, neo-display for illumination in the dark and a water resistance rating of 10 bar which is pretty good. When you take all the features into account it's easy to see that it's a very fairly priced watch which is why I came to my decision of 8.5/10.
If you're looking for something a little different make sure you check out my top 100 men's watches under £500 sometime.
Hope you found this Casio EQW-M710DB-1A1ER review useful and enjoyable, comment below and let me know what you think of it. Click here for the latest reviews, ratings and PRICES on Amazon.