Review Emporio Armani AR0673 Men's Chronograph Watch.
Hello today I'm doing a Emporio Armani AR0673 watch review. The AR0673 is part of Armani's classic collection and is one of the most popular watches available on Amazon. It's often bought as a gift as Armani is one of the go to affordable designer brands and this watch particularly has a great classic design that many people are fond of. Armani are known for making a wide range of stylish designer watches, if this one isn't quite what you're after do make sure you check out the other watches they have available.
Editor rating: 9.2/10 Continue reading to find out why.
You may also be interested in my top 21 men's watches under £200.
(Click on any image to head straight to the product page for prices and specifications)
Anyway I'll get on with my Emporio Armani AR0673 review below, you can click here for the latest reviews, ratings and PRICES on Amazon, enjoy.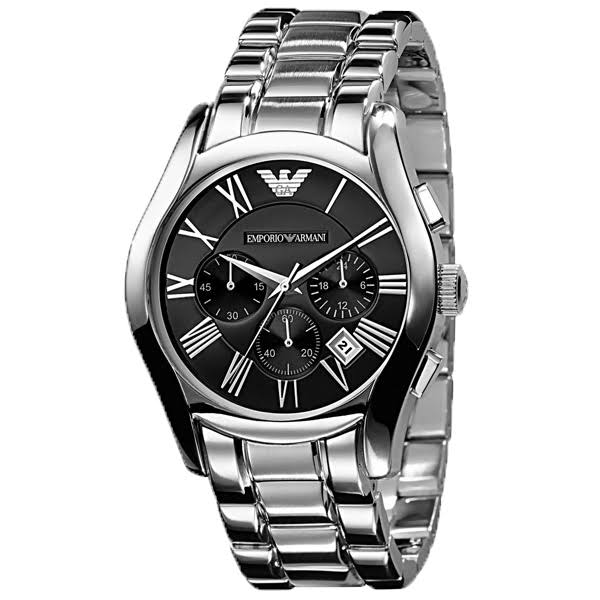 My Initial Thoughts On This Watch
It's a very smart looking watch right? I can see this going well with formal or casual wear. I like this monochrome style that the watch has, it's a very sleek professional looking design. When it comes down to value for money I'm always quite happy with these cheaper Armani watches. Yes you have to be honest with yourself and admit you are paying a little towards the brand, but you'll end up doing that with most popular watch brands. Still when I look the watch parts, design and brand I can honestly say I think it's a very fair price.
Type of glass
As you would expect with a watch in this price range it features a mineral glass, this is specially hardened to make it more scratch resistant. This type of glass will resist most scuffs and scratches but not to the same extent as a sapphire glass would. When it comes to watches sapphire glass is one of the top levels of protection you can get, but it does often cost more for the privilege. Overall though I'm fairly happy with the mineral glass being used on this occasion.
Size
The AR0673 is sized to appeal to the masses, perhaps why it's been such a successful watch for Armani. The casing diameter is 42.5mm which is classed as large but really is the most popular standard size for men's watches these days. The thickness of the casing is 12.65mm, again considered large but fitting in nicely with the rest of the watch sizing.
Calendar
There is a standard date display in an offset position at the half 4 position on the watch. Personally I'm not a fan of the offset date displays but if you want to fit the chronograph feature on the watch, and have a date display at the same time then you're pretty constrained to where you can have it on the dial. So when you consider you have the benefit of the chronograph its fair to place it where they have.
Watch strap and clasp
This is something I'm really happy about, the invisible double locking clasp. I love it when watches use better style clasps and these just look so much nicer in my opinion. Quite often you'll find watches go for the safe approach and choose a standard fold over clasp, but I have to say these double locking clasps just look so much better and feel a lot nicer. The strap itself is made of stainless steel and has a width of 22mm, this is a standard size and fits perfectly with the casing size.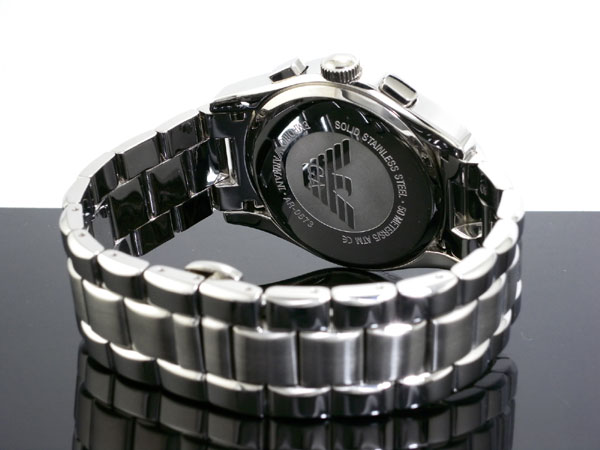 Features:
Brand: Emporio Armani
Model: AR0673
Dial Window Material: Mineral
Clasp Type: Invisible double locking clasp
Case Diameter: 42.5mm
Case Thickness: 12.65mm
Calendar: Standard date display
Movement: Precision Quartz Movement
Conclusion
Thanks for taking the time to read my Armani AR0673 review. Is the Armani AR0673 a good watch to go for? Most definitely, you're getting a very stylish watch with good design and quality parts for a affordable price. These Armani watches really do make perfect gifts and the ideal first 'proper' watch. I especially like that clasp design, it's the little additions on watches that you end up appreciating the most. After taking the watch design, price and quality into consideration I decided to give the AR0673 a 9.2/10.
If you're looking for something a little different make sure you check out my top 100 men's watches under £500 sometime.
Hope you found this Emporio Armani AR0673 review useful and enjoyable, comment below and let me know what you think of it. Click here for the latest reviews, ratings and PRICES on Amazon.