Review Casio G-Shock GA-100-1A1ER Watch.
Hello today I'm doing a Casio G-Shock GA-100-1A1ER watch review. If you're after a bad-ass watch that can handle the worst of situations, you've come to the right place. Casio is one of the 5 most popular watch brands in the UK with over 1 million sales each year. G-shock is one of it's tough brands with a special focus on being hard wearing and able to resist shock and water. This is a highly functional, brilliant value for money watch.
Editor rating: 9.5/10 Continue reading to find out why.
You may also be interested in my top 21 men's watches under £200.
(Click on any image to head straight to the product page for prices and specifications)
Anyway I'll get on with my Casio G-Shock GA-100-1A1ER review below, you can click here for the latest reviews, ratings and PRICES on Amazon, enjoy.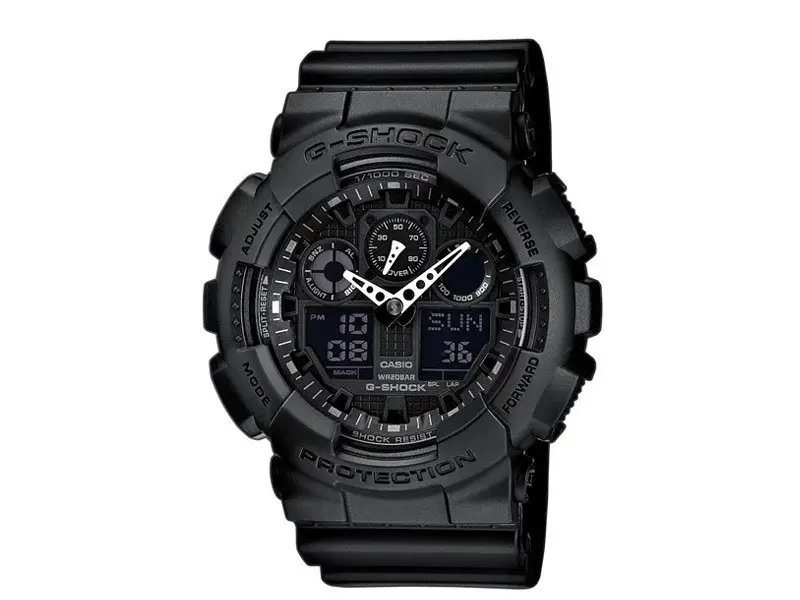 My Initial Thoughts On This Watch
This watch is designed to be shock resistant with it's extra large case made of hardened resin it can take a pretty brutal amount of wear. The watch is very large with a casing diameter of 52mm and a thickness of 17mm they don't get much more serious looking. It would make a perfect watch for work or outdoor activities as it will be able to handle everything you can throw at it.
Also Read: Best digital watches for men guide
It's also packed full of features as well:
World time display – Displays the current time in major cities and specific areas around the world.
Countdown timer – Countdown start time setting range: 1 minute to 24 hours (1-minute increments and 1-hour increments).
Multi alarm – The daily alarm reminds you about recurring events with an acoustic signal at the time you have set. You can also activate hourly time signals (each hour). This model has 5 independent alarms.
Stop watch – Accurate measurement of elapsed time with a touch of a button.
200m Water resistance – suitable for swimming and snorkelling
LED back light – Accurate measurement of elapsed time with a touch of a button.
With all those features, and the extra hard wearing design of the watch you can see why I highly approve of the price they've gone for here. 10/10 when it comes to value for money.
Type of glass
The glass they've gone for in this watch is a specially hardened mineral glass, it's scratch resistant and more importantly shatter resistant which is a benefit it has over sapphire glass. Not many people are actually aware of that benefit but it's why they elected to go for mineral as the whole emphasis on the watch was for protection against dropping and vibrations. So sapphire wouldn't be ideal for this, where as mineral glass is more suitable.
Size
I mentioned earlier that this watch is large, it's likely to be one of the bigger watches you'll ever see with a casing diameter of 52mm, to put that into prospective the popular men's watch size you often see at the moment is 42mm so it's a considerable size difference. This is due to the extra resin padding protecting the watch, giving it that more robust feel. The thickness of this case is also a lot larger than your standard watch at 17mm, the standard tends to be around 12mm. This gives the watch a rather chunky feel that you either like or you don't, it's a personal preference thing.
Calendar
This Casio features a day, date and month display on it's calendar. It's what I would expect from a digital watch like this so nothing much to report in this section.
Watch strap and clasp
Like the rest of the casing the strap is made of this hard wearing resin. It offers comfort and isn't going to be broken or scratched up. It's 25mm wide which is about 25% wider than your average strap, it's what you would expect though with the much larger casing and everything. It utilizes a standard double pin buckle clasp. It has quite the military design to it and really does look the part.
Features:
Brand: Casio
Model: GA-100-1A1ER
Dial Window Material: Mineral
Clasp Type: Double Pin Buckle Clasp
Case Diameter: 52mm
Case Thickness: 17.mm
Calendar: Date Day And Month Display
Movement: Precision Quartz Movement
Conclusion
Thanks for taking the time to read my Casio G-shock GA-100-1A1ER review. If you like the watch features but aren't too happy with the colour etc, then check out the rest of the G-shock range here. Overall Casio really achieved what they set out to do when they went about designing a series of watches that can handle a ton more than your average watch. They wanted something that would protect against impact and vibration, and be able to deal with a fair amount of water. This makes the watch perfect for your day to day work, especially on a construction site for example.
When you take into consideration all the features, the design of the watch and the price, I'm sure you can see why I decided to rate this 9.5/10.
If you're looking for something a little different make sure you check out my top 100 men's watches under £500 sometime.
Hope you found this Casio GA-100-1A1ER review useful and enjoyable, comment below and let me know what you think of it. Click here for the latest reviews, ratings and PRICES on Amazon.