Casio G-Shock GR-8900A-1ER Watch Review Summary
My rating: 9/10. Excellent watch, very durable.
Today I'm doing a Casio G-Shock GR-8900A-1ER review. Casio's G-shock range of watches offer some great value for money, they are well built, extremely tough and fairly affordable. They're built to withstand mechanical shock, the stainless steel casing is coated in a thick resin that offers great protection and gives the watch that chunky style.
Like many of G-Shock watches this model has a selection of useful features like world time display, super LED light, LCD display, alarm, snooze feature, stopwatch, date function, automatic calendar, battery level indicator, chronograph, and of course it's powered by solar energy. With all this packed into an extra tough watch, it definitely delivers value for money.
You may also like my 21 most recommended watches for men.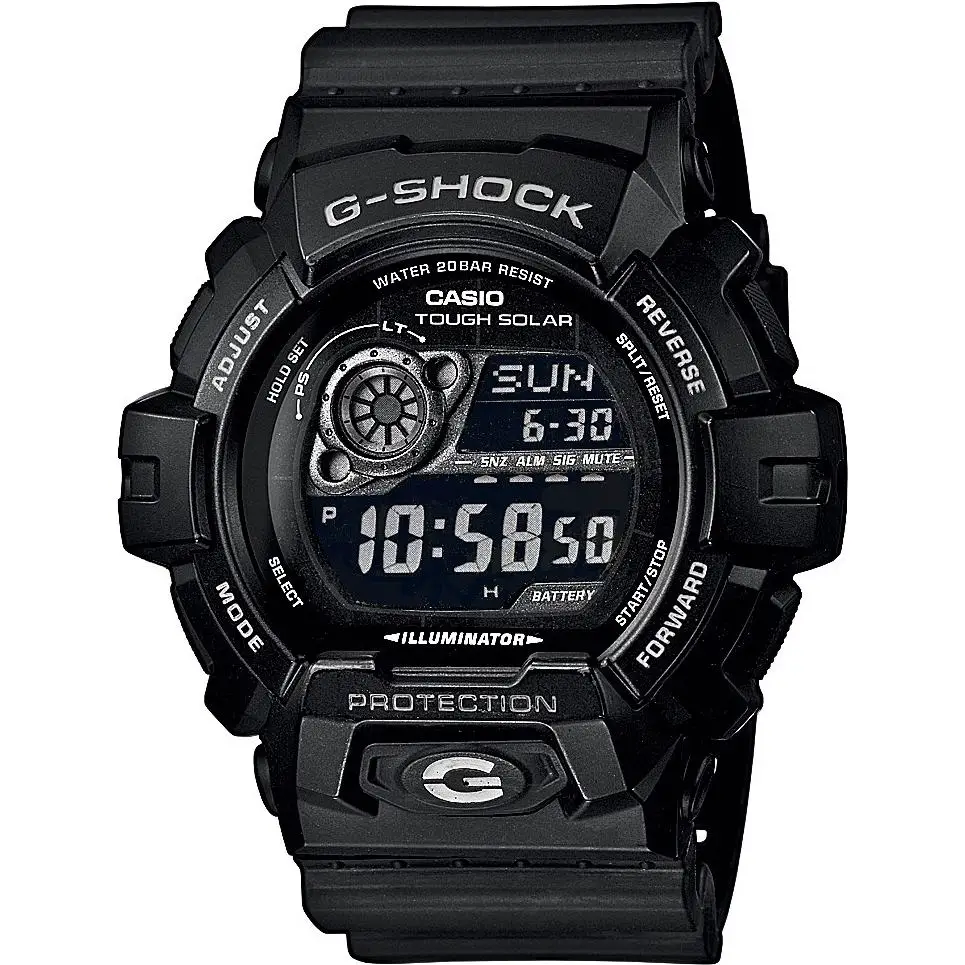 Latest reviews, ratings and prices: Casio G-Shock GR-8900A-1ER watch
Watch Specifications
Band Thick rubber strap, standard length, 21mm width, standard buckle clasp.
Case Stainless steel resin coated casing, sizing diameter: 53 mm and thickness: 17 mm.
Dial Digital display. Mineral glass offers a good level of protection from scratches.
Movement Tough Solar movement
Water Resistant A water resistance of up to 200m / 20 bar.
Watch Advantages
G-Shock watches are very durable with their thick resin build.
This model is very chunky giving you that popular oversized style.
The watch is powered by Casio's Tough Solar movement.
200m water resistance, suitable for professional marine activity, serious surface water sports, and skin diving.
Watch Disadvantages 
Due to the large size of the watch, it may not be suitable for people with smaller wrists.
My Final Thoughts On This Casio G-Shock GR-8900A-1ER Review:
Casio G-Shock GR-8900A-1ER is ideal for those after the perfect hardworking, hard wearing watch. Perfect for people who are outdoors a lot as it can withstand much more than many other watches. It's built to last and full of useful features which are great to see in a watch for this sort of price. Overall I think most of the Casio G-Shock watches are great and this is no different, a well earned 9/10 from me.

Buy Now: Casio G-Shock GR-8900A-1ER watch
Hope you enjoyed this Casio G-Shock GR-8900A-1ER review. Find more watch reviews below.