Junghans 027/5382.00 Review

My rating: 9/10. A luxury German made automatic watch from Junghans

Hello, today I'm taking a look at the Junghans 027/5382.00. This is the Junghans Men's Mesiter Telemeter automatic chronograph watch. It's a Vintage inspired German made luxury watch powered by an impressive J880.3 calibre movement.  If you love unique looking watches, I recommend checking out this timepiece.
I hope you enjoy today's Junghans 027/5382.00 review below.
Below is an image of the Junghans 027/5382.00 featuring a genuine leather strap.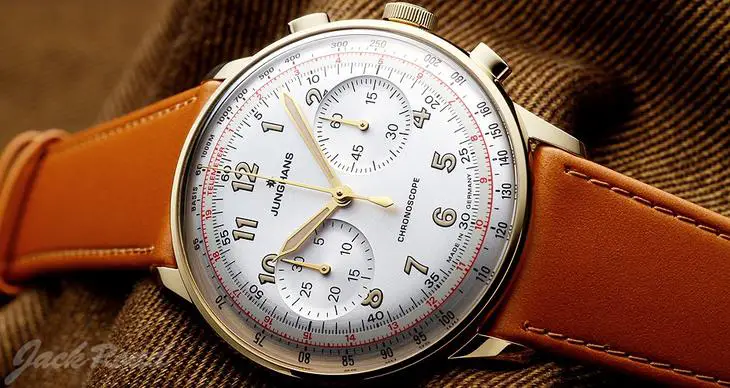 Check latest reviews, ratings and prices on Amazon or Watch Shop
Junghans 027/5382.00 Technical specifications
As always I wanted to start off by featuring some of the most popular technical specifications in a nice and easy to read style. This gives you the opportunity to see if you like this style of watch from the get-go. For example, some people wouldn't want to go for a very large watch.
Model Number: 027/5382.00
Crystal Material: Plexiglass
Case Diameter: 41mm
Case Thickness: 13mm
Movement: J880.3 Automatic
Water Resistance: 30m / 3 bar
Strap Material: Genuine leather
Junghans 027/5382.00 Dial and Casing Design

The Junghans Meister Telemeter is an absolutely stunning work of craftsmanship. This dial may initially look like it has a lot going on, but it's so beautifully laid out that it simply just works. The time remains very easy to read with the gold toned hands standing out against the silver coloured dial. The sword shaped hands also have a coating of lume for better visibility in dim lit conditions.
The terms "Junghans" and "Chronoscope" can be seen display on the dial along with two chronograph sub-dials. The chronograph subdial at the 9 o'clock position is a 30 minute counter, with the 3 o'clock subdial display a continous seconds count.
Extra functions on the dial include a telemeter scale and further out is the tacymeter scale. There's not a huge amount of requirement for a telemeter these days, so it wouldn't surprise me if you aren't aware of its use. A telemeter is used to measure the distance from an event that you can see and hear, for example, a lightning strike.
The casing of this Junghans Meister Telemeter timepiece is made of stainless steel with a PVD gold plating and has a diameter of 41mm with a thickness of 13mm.
One of my favourite features on this watch is the exhibition style caseback which allows you to take a look an the inner workings of the self-winding movement.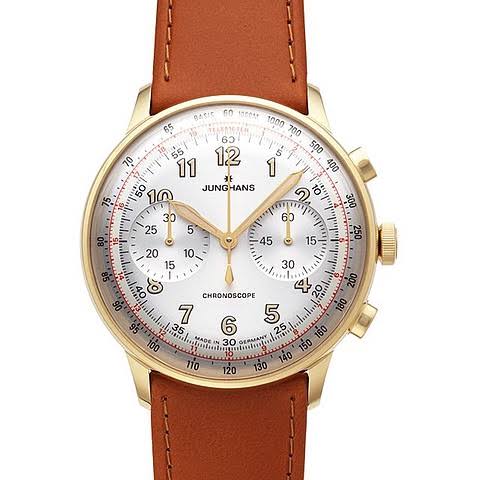 Strap & Clasp
The strap of the Junghans 027/5382.00 is made of a soft genuine leather thats thin but comfortable. This strap fastens with a traditional buckle style clasp, going with that vintage style perfectly. The width of the strap is 21mm which is something worth point out, this could actually be a little tricky to replace in the future as it isn't a common size.
The Junghans 027/5382.00 Movement
Powering the Junghans Meister Telemeter is a J880.3 automatic self-winding movement. The J880.3 is based on the ETA 2892 and is modified by Junghans with a Dubois Depraz 2030 chronograph module.
This is a high quality movement that's decorated with blued steel screws and features a 45 jewel design. The J880.3 beats at 28,800 BPH which gives it a smooth sweeping second hand at 8 ticks per second. When fully wound this impressive movement has a power reserve of 42 hours.
Below you can see a picture of the J880.3 movement on show through the rear exhibition caseback.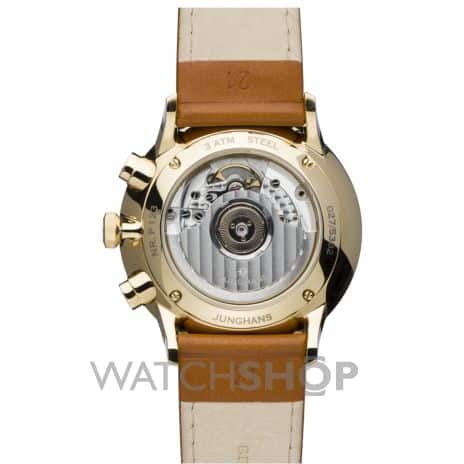 Junghans 027/5382.00 Crystal
Protecting the front of the timepiece is a Junghans Plexiglass, again, I wouldn't blame you for not knowing quite what this is or the quality of it, as it's not something you see all too often. Plexiglass or polymethyl methacrylate (PMMA) if you prefer the chemical term was developed in 1928, it was later marketed in 1993 by Otto Röhm in Germany.
This is a lighter substitute for glass with the benefit of a non-splintering design. Junghans plexiglass is coated with a transparent protective coating that creates a functional aesthetic, an increase scratch resistance, improve UV and chemical resistance, and finally, a much more intensive deep gloass finish.
Also Read: Best Minimalist Watches
Junghans 027/5382.00 Water Resistance 
The water resistance rating of the Junghans 027/5382.00 is 30m, also known as 3 bar. As per Wikipedia, this is suitable for everyday use. Splash/rain resistant. Not that I'd personally want to get this timepiece anywhere near water.
Junghans 027/5382.00 Pros & Cons
I wanted to point out some of the pros and cons of this Junghans watch and display them in a nice and easy to read format so you can see if this watch is right for you.
Junghans 027/5382.00 Pros
Junghans luxury timepiece
High quality J880.3 automatic movement
German made watch
Exhibition caseback
Lume
Plexiglass
Junghans 027/5382.00 Cons:
Odd width for the strap at 21mm
A Final Word On The Junghans 027/5382.00

The Junghans Meister Telemeter is perfect for anyone seeking something a little different and a bit luxurious. It really is a beautifully designed timepiece that's bound to get noticed on your wrist.
This high quality German made watch features an excellent J880.3 movement, Plexiglass, and an exhibition caseback. If I had the money available , I'd be adding one to my collection straight away.
Having taken a look at the quality, specifications, and pricing of this watch, I've decided to give it a 9/10.
Where To Buy The Junghans 027/5382.00

I like to stick to listing retailers that I've actually had experience buying from in the past. Below I've listed some of the top places to buy this watch from, check all for the best price.
Buy on Amazon

Buy on Watch Shop

Thanks For Reading
I hope you enjoyed having a read through of this Junghans 027/5382.00 review. As always let us know what you thought in the comments section below.
Why not check out our top 100 best watches under £500 next.