Ingersoll I00402 Review

My rating: 8/10. An impressive skeletonized men's watch from Ingersoll's The Herald collection.

Hello, today I'm taking a look at the Ingersoll I00402. This is a pretty inredible looking automatic watch with a huge amount of the movement on show through the skeleton style dial and exhibition caseback.
I hope you enjoy today's Ingersoll I00402 review below.
You can check out my full Ingersoll watches review here.
Below is an image of the Ingersoll I00402 featuring a genuine leather strap.
Check latest reviews, ratings and prices on Amazon or Watch Shop
Ingersoll I00402 Technical specifications
To start things off I wanted to take a look at some of the most common techincal specifications that people check out before looking any more into a watch. This gives you the opportunity to see if you like this style of watch from the get-go. For example, some people wouldn't want to go for a very large watch.
Model Number: I00402
Crystal Material: Mineral crystal
Case Diameter: 423mm
Case Thickness: 13mm
Movement: Automatic
Water Resistance: 50m / 5 bar
Strap Material: Genuine leather
Ingersoll I00402 Dial and Casing Design

The key feature of this Ingersoll I00402 is that stunning skeleton dial design. The whole movement can be seen working away through the front of the timepiece. They've used grey coloured hands that match up with the outer ring and feature the seconds hand in a separate subdial at the 6 o'clock position.
The casing of the Ingersoll Herald is made of stainless steel with a diameter of 43mm and a thickness of 13mm. The crown on this model is located at the 3 o'clock position on the dial.
The rear of the casing features an exhibition style caseback which allows you to take a look at the inner workings of the timepiece through a glass panel, this is one of my favourite features to have on an automatic watch.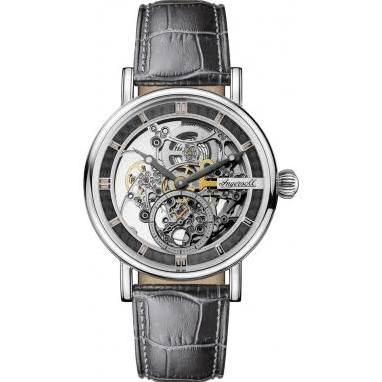 Strap & Clasp
I love the strap on this Ingersol watch, it's made of a genuine soft leather in grey and comes with a double folding deployment style clasp. You don't see this all too often on affordable watches like this.
The Ingersoll I00402 Movement
Powering the Ingersoll The Herald timepiece is an automatic self-winding movement. This movement uses the motion of your wrist to charge up the timepiece. If you like watches that don't need a battery, this is sure to be up your alley.
You can take a closer look at the movement in detail with the image provided below.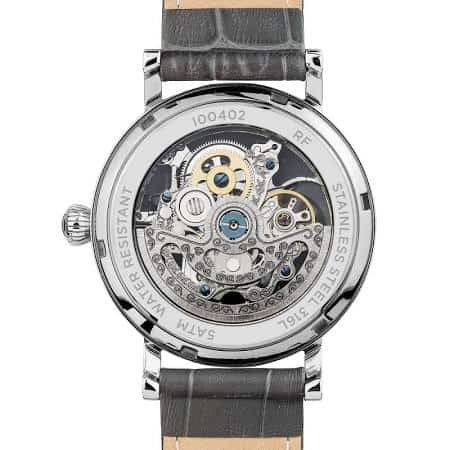 Ingersoll I00402 Crystal
Protecting the front and rear of this automatic watch is a mineral crystal glass lens. This is a specially hardened glass that's designed to offer a good level of both scratch and shatter resistance. It's commonly found in many affordable watches, so it's no surprise to find it on this timepiece.
Also Read: Best Minimalist Watches
Ingersoll I00402 Water Resistance 
The water resistance rating of the Ingersoll I00402 is 50m, also known as 5 bar. As per Wikipedia, this is suitable for swimming, white water rafting, and fishing.
Ingersoll I00402 Pros & Cons
I wanted to point out some of the pros and cons of this Ingersoll The Herald watch and display them in a nice and easy to read format so you can see if this watch is right for you.
Ingersoll I00402 Pros
Large skeletonised dial design
Automatic self-winding movement
50m water resistance rating
Deployment leather strap
Ingersoll I00402 Cons:
None to mention, comment below if you have any to add
A Final Word On The Ingersoll I00402

Overall I love the design of this Ingersoll watch, there's also a couple of colour variations available that I like the look of. Ingersoll are a brand I've featured quite a bit in the past and I've grown to become quite a fan of the brand.
I think with a timepiece like this you're really buying it for the style and design. Yes, the quality is still there, you have a self-winding automatic movement, mineral crystal glass, and 50m water resistance rating. But I just can't draw myself away from this awesome dial design.
Having taken a look at the quality, specifications, and pricing of this watch, I've decided to give it a 8/10.
Where To Buy The Ingersoll I00402

I like to stick to listing retailers that I've actually had experience buying from in the past. Below I've listed some of the top places to buy this watch from, check all for the best price.
Buy on Amazon

Buy on Watch Shop

Thanks For Reading
I hope you enjoyed having a read through of this Ingersoll I00402 review. As always let us know what you thought in the comments section below.
Why not check out our top 100 best watches under £500 next.