5 Most Popular Stuhrling Skeleton Watches With Leather Straps 2016.
Today I'm taking a moment to check out the 5 most popular skeleton design watches from the Stuhrling brand. Stuhrling have offered a great selection of affordable watches for quite some time now and I've featured some of their watches a few times on the site and they've always been popular with everyone. Skeleton watches are some of my favourite designs so I thought today we would look at these specifically. You can find more of the best skeleton watch brands here.
Hope you enjoy having a read through, let me know you favourite in the comments below.
1. Stuhrling Men's Original Special Reserve Automatic Watch with Black Dial Analogue Display and Black Leather Strap 835.02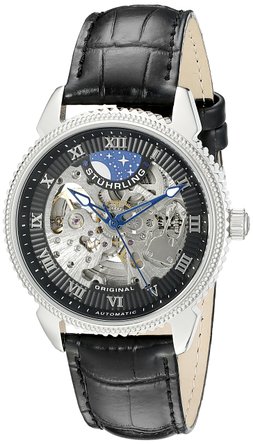 Stuhrling are well known for the exhibition style dial designs so it's no surprise this is one of their most popular options. I do like the design of the dial but personally I'm not too fond of that casing design. It has some nice features, the glass is actually a Kyrsterna crystal, I had to look it up actually but it's between a mineral and a sapphire if terms of quality. It's more scratch resistant than a mineral glass and actually more shatter proof than a sapphire. Was pretty interesting to see this as it was the first I had heard of it. As expect the it has a automatic movement, you'll find this with most of their watches.
2. Stuhrling Original Classic Winchester Tempest II men's automatic Watch with black Dial analogue Display and black leather Strap 571.33151
Another stunning design here from Sturhling, again utilizing that Krysterna crystal. It also features an exposed exhibition case back meaning you can take a close look at the automatic movement workings of the watch. Looking at the size of the watch i's actually a little larger than your normal options, the casing diameter is 44mm which is classed as large. These days the average of most new watches coming out is 42mm. The thickness of the casing is 14mm which is also classed as large and I would say would come out a little chunky.
3. Stuhrling Original Classique Delphi Atrium Men's Automatic Watch with Black Dial Analogue Display and Black Leather Strap 747.02
Probably one of my preferred Stuhrling watches, I like the use of the rose gold detailing on the design of the dial that blends in nicely with the overall black appearance of the watch. It's a subtle use of an exposed mechanism without going completely over the top. It has the same crystal glass mentioned earlier, Krysterna which appears to be very good.
It's similar in size to the previous model with a casing diameter of 42mm and a thickness of 14mm, this allows for that fantastic exhibition case back as well, take a look at the linked page for a picture of that.
4. Stuhrling Men's Original Atrium Automatic Watch with Silver Dial Analogue Display and Brown Leather Strap 747.01
This Atrium Stuhrling watch is another fantastic designed skeleton timepiece that utilises a ST-90050 automatic movement. The Roman numeral markets look very impressive around the movement of the watch. I am also a big fan of the use of blue detailing on watches so I think the hands look very good here. The strap is a genuine leather embossed with an alligator pattern.
The sizing and features are the same as some of the previous watches with the Krysterna crystal and a casing of 42mm x 14mm. It also has a exhibition case back like the other watches above. A great feature to have in my eyes.
5. Stuhrling Original Special Reserve Emperor's Grandeur Men's Automatic Watch with Silver Dial Analogue Display and Blue Leather Strap 127A.3315C2
So this is an interesting design, and it's a very popular Stuhrling watch however I have to admit I don't really like the design of the metal attachment between the strap and the casing. Whilst I would say that dial looks very impressive and people are bound to notice it, I just think personally I wouldn't be able to get over that design feature. That's just my thoughts on it anyway.
As for features this watch is a lot larger than the other models with a casing diameter of 48mm which is considered extra large, with a thickness of 14mm. I would definitely class this as an oversized style watch that is fairly chunky and bound to be noticed. The glass is also of good quality again being the Krysterna crystal.
Conclusion
Hope you enjoyed today's post. Personally my favourite has to be the watch at number 3, I just love rose gold detailing on watches so it puts this in front of the others for me. I didn't overly like number 5 but clearly a lot of other people really do and I have to admit the dial does look really nice.
If you fancy reading another post on affordable watches why not check out my top 21 watches under £200 next.