Victorinox 241791 Review

My rating: 8/10. A beautiful looking Victorinox Swiss Army timepiece powered by a Swiss quartz movement

Hello everyone, today I'm taking a look at the Victorinox 241791. Victorinox Swiss Army are a well known brand for their quality affordable Swiss made watches. The model I'm taking a look at today features a stunning dark blue dial and is powered by a Swiss made quartz movement.
I hope you enjoy today's Victorinox 241791 review below.
You can read my full Victorinox watches review here.
Below is an image of the Victorinox 241791 featuring a stainless steel strap.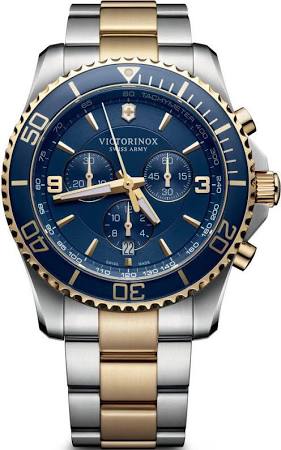 Check latest reviews, ratings and prices on Amazon or Watch Shop
Victorinox 241791 Technical specifications
To get things started off I've put together an easy to skim list of some of the most common technical specifications that people like to check on a watch. This gives you the opportunity to see if you like this style of watch from the get-go. For example, some people wouldn't want to go for a very large watch.
Model Number: 241791
Crystal Material: Sapphire crystal
Case Diameter: 43mm
Case Thickness: 12mm
Movement: Swiss quartz
Water Resistance: 100m / 10 bar
Strap Material: Stainless steel
Victorinox 241791 Dial and Casing Design

The Victorinox Swiss Army 241791 features a large, luxurious dial with this beautiful dark blue background and bezel that's complemented by the gold tone hands and hour markers. The design continues with the gold PVD plated design with the outer edge of the bezel, chronograph pushers, and crown. The bezel on this model rotates uni-directionally and features minute numbering.
The hour and minute hand of the 241791 feature lume for better visibility in dim lit condition. There are 3 chronograph sub dials on display as well as a useful date indicator located at the 6 o'clock position. The terms "Victorinox" and "Swiss Army" are also clearly seen at the top of the dial.
The casing of this Victorinox Swiss Army watch is made of stainless steel with a two tone PVD gold finish. It has a diameter of 43mm and a thickness of 12mm. Note that the crown on this model is located at the 3 o'clock position and operates with a simple push/pull motion.
Strap & Clasp
The strap of the Victorinox Swiss Army 241791 can be seen in the image below. It's made of stainless steel with a two tone finish, has a width of 22mm, and fastens with a fold over style clasp.
The Victorinox 241791 Movement
Powering this Victorinox watch is a Swiss made chronograph quartz movement. This is a battery operated movement that provides you with reliable and accurate timekeeping. Victorinox features Swiss made movements in all their watches, the quartz versions tend to be more affordable.
Victorinox 241791 Crystal
On the front of this timepiece is a sapphire crystal glass lens with an anti-reflective coating. A sapphire glass lens has a Mohs hardness rating of 9, this provides you with a very high level of scratch resistance. The anti-reflective coating on the lens helps to reduce glare from the glass. Sapphire crystal glass is often featured in higher quality, more expensive watches.
Also Read: Best Minimalist Watches
Victorinox 241791 Water Resistance 
The water resistance rating of the Victorinox 241791 is 100m, also known as 10 bar. As per Wikipedia, this is suitable for recreational surfing, swimming, snorkeling, sailing and water sports. Note that this is not suitable for diving.
Victorinox 241791 Pros & Cons
I wanted to point out some of the pros and cons of this Victorinox Swiss Army watch and display them in a nice and easy to read format so you can see if this watch is right for you.
Victorinox 241791 Pros
Stunning twon-tone design
Reliable Swiss quartz movement
Affordable Swiss made watch
100m water resistance rating
Sapphire glass glass
Date display
Victorinox 241791 Cons:
None to mention, comment below if you have any to add
A Final Word On The Victorinox 241791

This particular Victorinox Swiss Army watch is certainly one I'd love to add to my collection, that being said, I'm quite fond of the brand as a whole. Victorinox are an excellent brand for anyone seeking a quality, yet affordable Swiss made watch.
Having taken a look at the quality, specifications, and pricing of this watch, I've decided to give it a 8/10.
Where To Buy The Victorinox 241791

I like to stick to listing retailers that I've actually had experience buying from in the past. Below I've listed some of the top places to buy this watch from, check all for the best price.
Buy on Amazon

Buy on Watch Shop

Thanks For Reading
I hope you enjoyed having a read through of this Victorinox 241791 review. As always let us know what you thought in the comments section below.
Why not check out our top 100 best watches under £500 next.