Seiko SSC081 Watch Review
My rating: 9/10. Excellent watch. Seiko Solar technology.
Today I'm doing a Seiko SSC081 review. This is a very popular Seiko watch that utilises Seiko's Solar technology. With its popular style and great features, it's easy to see why so many people love this watch.
After reading through this detailed Seiko SSC081 review you'll be able to get a better idea if this is the watch for you.
You should also check out my best 100 watches under £500 next.
Click here for the latest reviews, ratings, and PRICES
Seiko SSC081 Technical specifications
First things first let's take a quick look at the main specifications of the watch in this Seiko SSC081 review. This just helps you get a quick grasp of some of the main features people like to know about on a watch.
Model Number: SSC081
Crystal Material: Hardlex
Case Diameter: 42mm
Movement: Japanese Quartz
Extra Features: Date display / chronograph timekeeping / Extra bright lume
Water Resistance: 100m / 10 bar
Strap Material: Genuine leather
Seiko SSC081 Design And Build Quality
With Seiko being one of the biggest watch producers worldwide it's safe to say they know a thing or two about watches. They have a keen following among watch collectors and are known for their SKX007, Seiko turtle, and Seiko 5 series just to name a few.
This watch by Seiko is a men's sports watch designed with a focus on high functionality and style. The SSC081 Adventure-Solar is built to a very high-quality finish while still offering good value for money. We'll take a look at the watch in more detail below.
Seiko SSC081 Dial
You can see from the picture below that this Seiko watch has a very easy to read dial. The chronograph dials are set out very nicely giving it a spacious finish. The small date display window is situated at the 3 o'clock position with a sunken finish. The hour markers and watch hands feature Seiko's Lumbrite technology that makes it very easy to read in the dark or dim lit conditions. Seiko's Lumbrite is highly quality than standard luminous markings so expect this to stay brighter and last longer than traditional watches.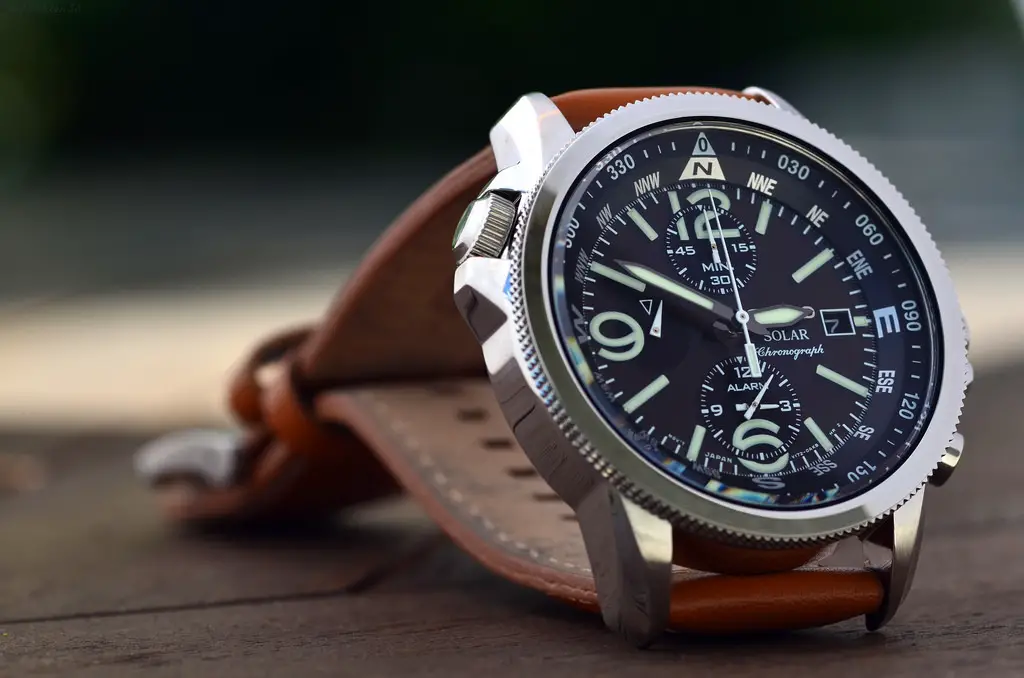 SSC081 Sizing
Unlike some of the other watches we've been featuring lately, the Seiko SSC081 isn't some oversized massive watch. It's actually a pretty standard size with a diameter of 42mm. Whilst it's still classed as a large watch, this sort of casing size has become the new norm in watchmaking. The thickness of the watch case is 13mm which again is a fairly normal size these days. This gives the watch a nice profile and although not overly thick, the dial design manages to give off a good impression of depth on the watch.
SSC081 Crystal
This watch features Seiko Hardlex glass. It's fairly standard and found in most Seiko, Pulsar and Lorus watch models. Hardlex glass is a toughened type of mineral crystal that was developed by Seiko. It's highly resistant to scratching and knocks. It's much more affordable than sapphire glass which is why you'll find it a lot more often in watches in this price range.
Strap & Clasp
As you can see from the picture below the SSC081 features a tan coloured genuine leather strap. I've always preferred leather straps over metal ones myself. The strap has a standard Seiko branded buckle clasp. The strap is 20mm wide which is perfectly suited for the casing size.
Seiko SSC081 Water Resistance 
The Seiko SSC081 features a water resistance of 100m also known as 10 bar. Wikipedia classed 100m water resistance as 'suitable for recreational surfing, swimming, snorkeling, sailing and water sports.'
It's always worth knowing that with water resistance testing, it's done in a still environment with no added pressure. So 100m resistance doesn't mean you can take it 100m deep. The very motion of moving your arm would increase the pressure forced upon a watch greatly from that that it would experience just submerged.
Click here for the latest reviews, ratings, and PRICES
The SSC081 Movement
This Seiko features a Japanese quartz v172 solar movement. It's a fairly high-tech movement that uses the power of sunlight to charge up its battery and run the watch. The Seiko Solar watches can charge themselves up using both natural or artificial light.
I'm a really big fan of Solar powered watches. Firstly you never need to replace the batteries on them, this can save you a fair bit of money in the long term. Also, they're better for the environment, no more throwing away worn out batteries.
Quartz watches work by synchronising a quartz crystal with an electronic oscillator. The electric current then causes the quartz to pulsate at a precise frequency which gives you this great accuracy for a modest price.
SSC081 Pros & Cons
For the skim readers out there I've put together this handy list of some of the main pros and cons for this SSC081 review.
 Pros:
Features Seiko Solar technology
Accurate Japanese Quartz movement
Uses Seiko's Hardlex Crystal that offers a good level of protection from scratches and knocks
100m water resistance suitable for recreational surfing, swimming, snorkeling, sailing and water sports.
Chronograph timekeeping
Extra features include an alarm, date display, and stopwatch
High-quality lume makes it very easy to read this watch in dim lit conditions and at night time.
Two-way turning bezel
Comfortable genuine leather strap
Cons:
With this being a Solar powered watch you can't go about just chucking it in a drawer and expecting it to be fully functional whenever you want to wear it
Some people may feel the dial is a bit too busy for them
A Final Word On The Seiko SSC081 review
The Seiko SSC081 is a pretty stunning watch in my opinion. I love the busy dial with the set out of the chronograph sub-dials and how the 6, 9 and 12 overlaps onto them. I really like the use of solar technology on watches so that's great to see as well.
Seiko makes some truly great watches and having had an in depth look I can see why this model has been so popular.
Having taken a look at the design, build quality, features, materials, and pricing I gave this watch a 9/10 from us at The Watch Blog.
 Click here for the latest reviews, ratings, and PRICES
Where To Buy The Seiko SSC081
I normally like to showcase multiple places to buy a watch from online, however, this model is a little harder to come by. As always I stick to recommending places where I've actually bought watches from.
Thanks For Reading
I hope you enjoyed having a read through of this extensive Seiko SSC081 review. As always let us know in the comments section below what you thought of this watch.