Invicta 9307 Watch Review Summary
My rating: 8.5/10. Very good watch. Swiss quartz movement with 200m water resistance rating.
Hello, today I'm doing a Invicta 9307 review. That marmite brand that some people love, and some people hate. I've always said if you're looking at their watches that are under £300, then they can be pretty decent. The model I'm looking at today is very affordable and popular, so should be great to check out.
I hope you enjoy this Invicta 9307 review below.
You may also like my 100 best watches under £500 for men.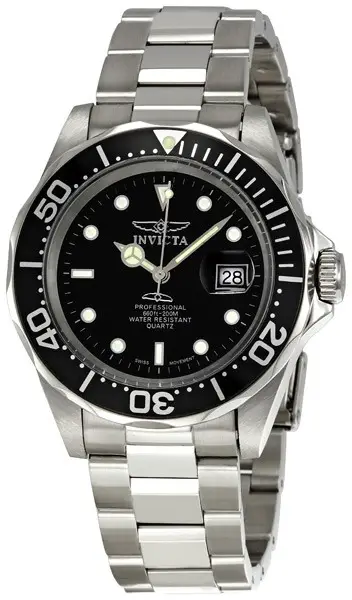 Latest reviews, ratings and prices: Invicta 9307 watch
Watch Review
This timepiece from Invicta has a really nice Diver's style to it, as you'd expect from a watch that's in their Pro Diver collection. This model offers some pretty good value for my eyes and I'm sure many would agree after taking a closer look at some of the watch specifications. You should also check out my best Invicta watches list.
Firstly taking a look at the design of the watch, I've always loved this diver's style that's popular with a lot of brands. The face of the watch is simple and easy to read which is nice. You'll notice there's a magnifier window on the date display which makes it really stand out which adds to this easier reading. I love this bold uni-directional bezel, it really makes the watch face stand out in my opinion. A key benefit of this way is the use of quality lume on the hour markers and hands.
Taking a look at the movement now, we have a Swiss quartz 705 movement that's reliable and accurate, brilliant to see in a watch at this price as well.
When it comes to sizing the Invicta 9307 is a fairly popular size with a 40mm casing diameter and 10mm thickness. This suits a lot of people and is one of the most popular size choices available.
The watch has a 200m water resistance rating which is really good. A 200m water rating or 20 ATM is suitable for professional marine activity, serious surface water sports and skin diving. It's worth noting thought that the crown is just pushed down, rather than screwed.
It features a fairly standard stainless steel strap with a fold over clasp and safety catch. These are very common, but personally I"m not a fan of them as I find them a little tricky to operate.
Watch Specifications
Band Stainless steel strap, standard length, 19mm width, fold over style clasp with saftey catch.
Case Stainless steel casing, sizing diameter: 40mm and thickness: 10mm.
Dial Analogue display. The window lens is made of mineral glass, this is specially hardened to be resistant to scratches and knocks.
Movement Accurate Swiss Quartz movement.
Water Resistant A water resistance of up to 200m / 20 bar.
Watch Advantages
Invicta are well known for their quality affordable watches
features a Swiss quartz movement
200m water resistance rating
Mineral glass offers a good level of scratch resistance. This glass is anti-reflective coated
Date display with magnifier for easier reading
Good use of lume on the hands and hour markers
Great value for money
Watch Disadvantages 
Lack of a screw down crown which is desired in a divers watch
Safety catches can be tricky to operate
My Final Thoughts On This Invicta 9307 Review:
The Invicta 9307 is a really nice watch that offers some very good value for money in my opinion. It's a smart looking watch and has the Rolex homage design to it that many brands go for. Overall I think it's a pretty good watch for the money.
After looking into the watch design, quality, features, and pricing this watch received an 8.5/10 from us at The Watch Blog.
You may also like my 100 best automatic watches under £1000
Where to buy the Invicta 9307
I like to stick to listing retailers that I've actually had experience buying from in the past. Below I've listed some of the top places to buy this watch from, check all listings for the best price.
Buy now at Amazon
Hope you enjoyed this Invicta 9307 review. Find more watch reviews below.