Daniel Wellington Watch Black Sheffield Review Summary
My rating: 8.5/10. Minimalist watch. Affordable simplistic timepiece.
Hello, today I'm doing a Daniel Wellington DW00100139 review. If you like minimalist timepieces then most watches from Daniel Wellington are likely to be right up your street. I'm a big fan of their designs and overall style. Today's timepiece is the DW Sheffield which is classed as a unisex watch due to its 36mm casing diameter.
I hope you enjoy this Daniel Wellington DW00100139 review below.
You may also like my: 100 Best Watches Under £500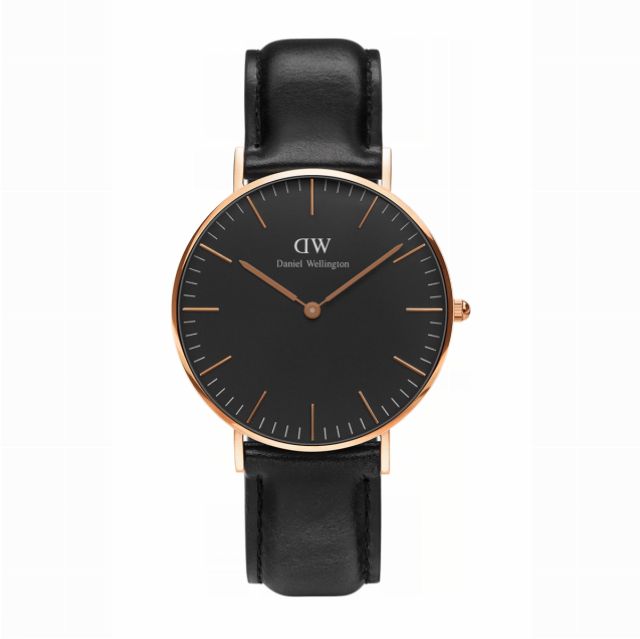 Latest reviews, ratings and prices: Daniel Wellington DW00100139 watch
At the bottom of this article, you can find a list of my recommended retailers to purchase this watch from
Daniel Wellington DW00100139 Watch Review
Daniel Wellington Sheffield Dial & Case Design
As I've already mentioned, I'm a big fan of this minimalist dial design, as are a lot of other people with it quickly becoming the go to watch. This black and rose gold finish is very stylish with the detailing on the slim watch hands and hour markers. The casing itself is made of stainless steel with a rose gold PVD plating.
Daniel Wellington Sheffield Type Of Crystal
The Sheffield features a mineral crystal glass. This type of glass is specially hardened to make it extra resistant to scratches and knocks. Overall this is a pretty good glass that you find in many watches in this price range so I'm quite happy with this.
DW00100139 Watch Movement
At the heart of the watch is a reliable Japanese quartz movement. Quartz movements are commonly used as they're both accurate and reliable requiring very little maintenance.
DW00100139 Watch Size
A big hit for this watch is its ultra slim design. The casing is just 6mm thick giving it a really low profile that a lot of people like. The casing diameter measures 36mm so it's suitable as either a large women's watch or small men's watch.
DW00100139 Strap
The strap is made of a comfortable soft genuine leather and fastens with a buckle style clasp with matching rose gold PVD detailing. It measures about 20mm across which fits in quite nicely with the rest of the watch sizing.
Water Resistance Rating
The watch from Daniel Wellington has a fairly basic 30m water resistance rating. This 30m or 3 bar rating makes the watch suitable for everyday use. Splash/rain resistant. Not suitable for showering, bathing, swimming, snorkelling, water related work and fishing.
Daniel Wellington DW00100139 Watch Specifications
Band Genuine leather strap, standard length, 20mm width.
Case Stainless steel casing, sizing diameter: 36mm and thickness: 6mm.
Dial Analogue display. Mineral crystal glass window lens.
Movement Japanese quartz movement.
Water Resistant A water resistance of up to 30m / 3 bar.
Daniel Wellington DW00100139 Watch Advantages
Minimalist style
Unisex watch
Mineral crystal glass
30m water resistance rating
Reliable quartz movement
Daniel Wellington DW00100139 Watch Disadvantages 
With the slim baton markers and hands and a lack of lume, the watch can be a little hard to read in the dark
My Final Thoughts On This DW DW00100139 Review:
Overall I'm quite a fan of DW watches. This Sheffield Daniel Wellington watch is very affordable and suitable as a unisex timepiece. It's very stylish with that popular minimalist design that so many people are after. So when you put together the design and pricing it's easy to see why this watch has been so popular.
After looking into the watch design, quality, features, and pricing this watch received an 8.5/10 from us at The Watch Blog.
You may also like my Best Watches For Teens
Where to buy the DW00100139

I like to stick to listing retailers that I've actually had experience buying from in the past. Below I've listed some of the top places to buy this watch from, check all for the best price. Variations of this model include: DW00100139
Buy now at Amazon
Buy at Watch Shop

Hope you enjoyed this DW DW00100139 review. Find more watch reviews below.