Timberland TBL.94502AEU/02B Watch Review Summary
My rating: 7/10. Designer brand watch.

Hello, today I'm doing a Timberland TBL.94502AEU/02B review.Timberland are an American manufacturer and retailer of outdoors wear with a focus primarily on foot wear. They do have quite a popular range of watches though, which is why I'm taking a look at this rather masculine edition today.
I hope you enjoy this Timerberland TBL.94502AEU/02B review below.
You may also like my: 100 Best Watches Under £500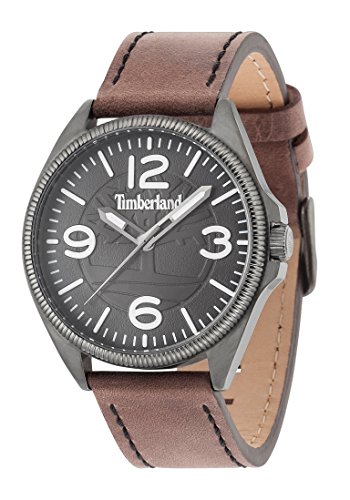 Latest reviews, ratings and prices: Timberland TBL.94502AEU/02B watch
At the bottom of this article, you can find a list of my recommended retailers to purchase this watch from
Timerberland TBL.94502AEU/02B Watch Review
Dial & Case Design
I love this high visibility dial. The hour markers and large bold numerals stand out brilliant on the black dial. I think the seconds hand can be a little hard to see, but it's not really a major issue. The casing is made of stainless steel with a black ION plating which looks great. I also quite like the look of the bezel, it makes the watch stand out a little more.
Type Of Crystal
This Timberland watch features a mineral crystal glass. This type of glass is specially hardened to offer a higher level of resistance to scratches and knocks. It's not as scratch resistant as a sapphire glass, but you don't often see that in this price range. I'm quite happy with a mineral glass is this type of watch.
Watch Movement
The watch functions with a quartz movement. These are accurate and very reliable as well as being quite affordable. Quartz movements don't really require much maintenance either so they're ideal for most watches.
Watch Size
It's a fairly standard large size when it comes to men's watches. The casing diameter measures 40mm and has a thickness of 10mm. 40mm is a popular size at the moment as watches have become larger and larger over the years.
Strap
The strap is made of a high quality thick genuine leather that's 21mm wide. It's a pretty sturdy strap that fastens with a buckle style clasp. I quite like the look of the strap with its rugged design and the black stitching along the edges.
Water Resistance Rating
The TBL features a 50m water resistance rating which isn't bad. A 50m or 5 bar rating makes this watch suitable for swimming, white water rafting, non-snorkeling water related work, and fishing.
Timberland TBL.94502AEU/02B Watch Specifications
Band Thick genuine leather strap, standard length, 21mm width.
Case Stainless steel black plated casing, sizing diameter: 40mm and thickness: 10mm.
Dial Analogue display. Mineral crystal glass window lens.
Movement Quartz movement.
Water Resistant A water resistance of up to 50m / 5 bar.
Timerberland TBL.94502AEU/02B Watch Advantages
Large high visibility display
Sturdy leather strap
Mineral crystal glass
Reliable quartz movement
50m water resistance rating
Timerberland TBL.94502AEU/02B Watch Disadvantages 
You have to accept you're somewhat paying for the brand on this model in my opinion
Can't see the seconds hand that well
My Final Thoughts On This Timerberland TBL.94502AEU/02B Review:
Timberland do make a nice selection of outdoor styled watches. This model does have quite the rugged look to it that I'd associate with the brand and I do really like the high-visibility dial, it's very easy to read. Overall it's not a bad watch, I'm not sure I'd personally pay that much for one, that being said it's clearly still a very popular watch.
After looking into the watch design, quality, features, and pricing this watch received an 7/10 from us at The Watch Blog.
You may also like my Best Watches For Teens
Where to buy the TBL.94502AEU/02B

I like to stick to listing retailers that I've actually had experience buying from in the past. Below I've listed some of the top places to buy this watch from, check all for the best price. Variations of this model include: TBL.94502AEU/02B
Buy now at Amazon
Buy at Watch Shop Unavailable

Hope you enjoyed this Timerberland TBL.94502AEU/02B review. Find more watch reviews below.