Hugo Boss1513041 Watch Review Summary
My rating: 8.5/10. Stylish genuine leather strap watch.

Hello, today I'm doing a Hugo Boss 1513041 review. Yeah, it's time for another extremely stylish popular Hugo Boss watch as I make my way through some of their top timepieces. I particularly like the dial design on this model so I'm looking forward to showing it to you.
I hope you enjoy this Hugo Boss 1513041 review below.
You may also like my: 100 Best Watches Under £500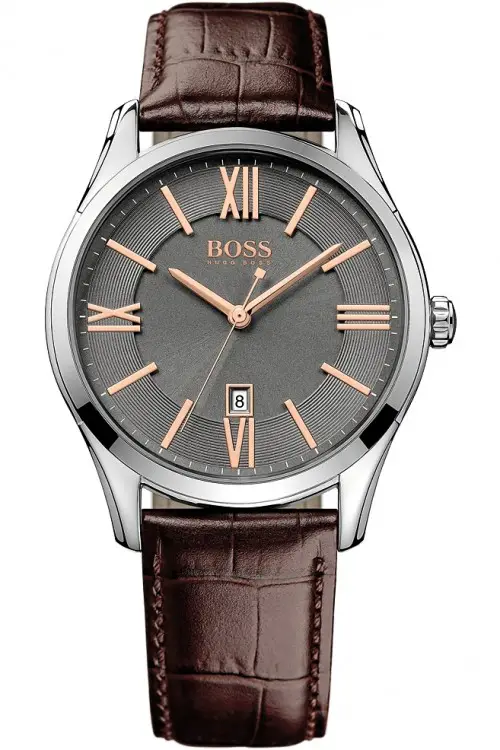 Latest reviews, ratings and prices: Hugo Boss 1513041 watch
At the bottom of this article, you can find a list of my recommended retailers to purchase this watch from
Hugo Boss 1513041 Watch Review
1513041 Dial & Case Design
This is an absolutely stunning watch. I love this dial design with the rose gold PVD plated detailing on the hands and hour Roman numerals as well as the detailing done on the outer rim of the dial, it adds that something extra to the design. The whole finish has this luxury eye catching look to it which I'm sure a lot of people are going to be after. The casing itself is made of stainless steel with a very high polished finish with a standard sized crown on the right hand side.
1513041 Type Of Crystal
Protecting the dial of the watch is a mineral crystal glass. This type of mineral crystal glass is specially hardened to make it more resistance to scratches and knocks. This is fairly common on watches in this price range so I'm happy with this level of quality, to be honest.
1513041 Watch Movement
As with many other Hugo Boss watches this model features an analogue quartz movement. These are affordable, reliable, and accurate. You'll find them across a lot of the range from Hugo Boss.
1513041 Watch Size
This watch has a nice large dial and casing design. The diameter of the casing measures approximately 43mm and has a thickness of 11mm. This is a very popular size at the moment as the trend has leant towards larger watches.
Hugo Boss 1513041 Strap
The strap of this Hugo Boss timepiece is made of a soft genuine leather that's extra comfortable. I have a few watches from Hugo Boss in my personal collection and I've always been very pleased with the quality of these straps. The strap has a width of 22mm which is in keeping with the casing sizing. It fastens with a standard buckle style clasp that's easy to use.
Hugo Boss 1513041 Extra Features

The only extra feature that this watch has is the date display located at the 6 o'clock position.
1513041 Water Resistance Rating
Like the previous Hugo Boss watch this timepiece also has a pretty standard water resistance rating. The 30m or 3 bar rating makes it suitable for everyday use. Splash/rain resistant. Not suitable for showering, bathing, swimming, snorkelling, water related work and fishing.
Hugo Boss 1513041 Watch Specifications
Band Soft genuine leather strap, standard length, 22mm width, buckle style clasp.
Case Stainless steel casing, sizing diameter: 43mm and thickness: 11mm.
Dial Analogue display. Mineral crystal glass window lens.
Movement Quartz movement.
Water Resistant A water resistance of up to 30m / 3 bar.
Hugo Boss 1513041 Watch Advantages
Stylish sleek design
Mineral crystal glass is specially hardened to prevent scratches
Reliable quartz movement
Rose gold PVD detailing
Date function
30m water resistance rating
Hugo Boss 1513041 Watch Disadvantages 
With a large casing diameter of 43mm, this watch might not be ideal for people with smaller wrists
My Final Thoughts On This Hugo Boss 1513041 Review:
Overall it's another stunning timepiece from Hugo Boss, as you'd expect from a designer brand. It's a beautiful watch that actually manages to look a lot more expensive than it really is in my opinion. I'm a big fan of the rose gold detailing on the dial design, as well as the soft leather strap. It's definitely worth considering if you want a luxury looking watch without the huge price tag.
After looking into the watch design, quality, features, and pricing this watch received an 8.5/10 from us at The Watch Blog.
You may also like my Best Watches For Teens
Where to buy the 1513041

I like to stick to listing retailers that I've actually had experience buying from in the past. Below I've listed some of the top places to buy this watch from, check all for the best price. Variations of this model include: 1513041
Buy now at Amazon
Buy at Watch Shop

Hope you enjoyed this Hugo Boss 1513041 review. Find more watch reviews below.