Citizen NY0040 Review Summary
My rating: 9/10. Citizen Promaster automatic men's diving watch.

Hey everyone, today I'm putting together a Citizen NY0040 review. This is a popular automatic diving watch that I've been wanting to feature for a while now. It's great to find an impressive ISO certified diver at such an affordable price point.
The Citizen Promaster NY0040 is often overshadowed when it comes to diving watches by the likes of the Seiko SKX007 or the Seiko SKX009 which there's no denying, are impressive watches. I just think when it comes to ISO certified diving watches, the Promaster NY0040 deserves a little more credit.
The Citizen NY0040 was released back in 1997 and is still in production today. When you consider that Citizen has greatly moved over towards their eco-drive movements in watches it's nice to see this as one of the few remaining mechanical Citizen watches in production.
I hope you enjoy this Citizen NY0040 review below.
You may also like my: Best Seiko Automatic Affordable Watches For Men

Check out the latest reviews, ratings and prices of Citizen Promaster Watches on Amazon
At the bottom of this article, you can find a list of my recommended retailers to purchase this watch from
Citizen NY0040 Review
Dial Design
To get things started we're going to be taking a look at the general design of the dial. As is common practice for diving watches, the Citizen NY0040 has a high visibility design making it easy to read at a glance and in dim conditions.
The Citizen NY0040 has a glossy black finish to the dial with these large bold hands and hour markers that feature this silver trim to make them stand out even more. This is all to improve the visibility of the watch which is, of course, a key function of a diving watch.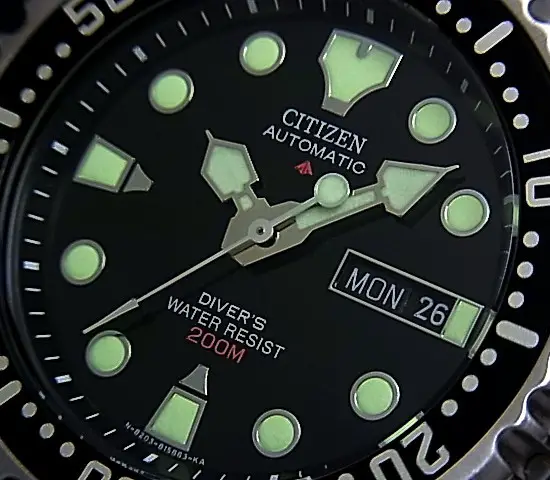 Both the hands and the hour markers have a good coating of lume to make reading in dim lit conditions much easier. Most decent diving watches are expected to come with sufficient lume.
There's a day/date display at the 3 o'clock position on the dial with a black background and light coloured text and numerals which I think works quite well actually.
As for the text on the Citizen NY0040 at the 12 0'clock position, it says 'CITIZEN AUTOMATIC' to display the brand and type of movement featured in the timepiece. Below this is a small red arrow which is a common detail found on Citizen diving watches.
On the bottom part of the dial just above the 6 o'clock position is displayed the information 'Diver's water resist 200m'. A watch has to be ISO certified to display the diver's aspect of this text. You can learn all about ISO diving watch certification here.
Casing And Bezel Design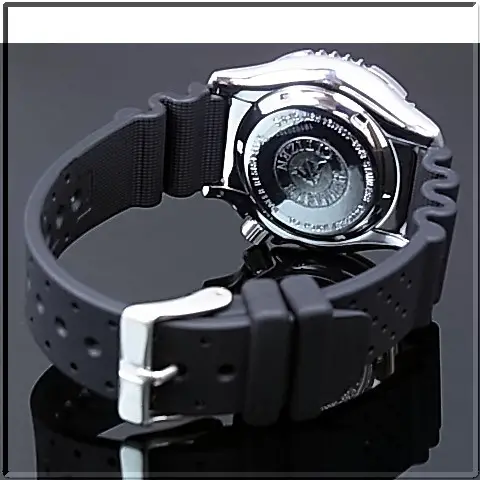 The casing of the Citizen NY0040 has this brilliant rugged design which gives the watch this robust style and feeling.
They've gone for both a brushed and polished finish which is something I've always been quite a fan of. The top of the casing is finished in a brushed style, however, the sides of the casing have a polished shiny finish. I tend to find this sort of design gives a watch a high-quality look.
Something a little strange that you may have noticed about this watch is the crown at the 8 o'clock position on the dial. This is something I see quite rarely to be fair, and I write about watches every day. Being a lefty, and someone who loves to see something a little different with watch design, I really like it.
I'm sure many people would be well aware having already seen the ISO diving certification but it's worth mentioning that the Citizen NY0040 does have a screw down crown function. If you haven't used a screw down crown before I'd have a read of this useful forum thread.
The Bezel on the Citizen NY0040 has a 60 click uni-directional design which is often favoured. The bezel is often seen to be a little stiff but I'd personally rather have a stiff dial that one that could accidentally be turned.
Personally, I'd have preferred a coin edged bezel design but that's more down to my personal taste than anything else. That being said, a lot of other people obviously seem to like it.
On the back of the casing for the Citizen NY0040, we have the Citizen 'Promaster' emblem along with the famous arrow. Other information includes the water resistance rating, serial numbers, and 'Citizen Watch Co'.
Strap Design
I wanted to quickly talk about the strap of the Citizen NY0040. The watch comes with a thick rubber strap which can be a little hit and miss but is actually fairly easily swapped out so I honestly wouldn't let this be a deciding factor when it comes to buying or leaving this Citizen timepiece.
Something that's often glossed over about the strap is the fact it features N.D limits written on it. The ranged are called "No Decompression Limits", they're the range within which a diver can rise to the surface without rest for decompression. This is determined by the depth and elapsed time of the dive. You can learn all about how the no decompression limits work on Citizen's information page.
 Type Of Crystal
Protecting the front of the timepiece is a mineral crystal glass. This is commonly found on mid range watches as well as diving timepieces. Mineral crystal glass is specially hardened to offer a good level of both scratch and shatter resistance. The shatter resistance if often a key decider for diving watches as you'd often rather have better shatter resistance than scratch resistance. This is why we don't see sapphire crystal glass so often.
Watch Movement
Powering the NY0040 is a Citizen in house movement, the Miyota 8200. This is a 21 jewel movement with a 21,600 BPH which many find to be more accurate than the Seiko SKX007, although this can cause quite the debate.
Whereas both the Seiko SKX007 and the Citizen NY0040 feature day and date functions, the Citizen is the only model which also features hand winding which is something many people look for in an automatic watch.
A strange feature of the Miyota 8200 movement is the fact that the crown sits at this odd 8:00 position, something I've already mentioned I'm a fan of.
Water Resistance Rating
So what is the water resistance rating of the Citizen NY0040? For anyone skim reading through you may not have found this out just yet. This Citizen NY0040 has an impressive diver's 200m water resistance rating which makes it a proper ISO certified diving watch.
A diver's 200m water resistance rating makes this watch suitable for scuba diving at depths not suitable for saturation diving.
You can learn all about water resistance ratings from this wiki page.
Watch Specifications
Band: Thick rubber, standard length, buckle style clasp.
Case: Stainless steel casing, sizing diameter: 46mm and thickness: 12mm.
Dial: Analogue display. Mineral Crystal glass window lens.
Movement: Miyota 8200 automatic self-winding movement
Water Resistant: A diver's 200m water resistance rating.
Watch Advantages
Miyota 8200 automatic movement
Date and day display
ISO certified water resistance rating
High visibility lume dial
N.D limits on the strap of the watch
Watch Disadvantages 
The strap is not to everyone's taste
Bezel can be a little stiff
My Final Thoughts On This Citizen Promaster NY0040 Review:
Overall, it's easy to see why the Citizen NY0040 has been such a popular timepiece. I think it's a shame that it isn't as well known as its Seiko counterparts to be fair.
There's no denying it's a well made Japanese watch that's ideal for diving with the ISO certification and high visibility display. Plus it's what I'd class as an affordable watch which is something I love featuring on this watch blog.
After looking into the watch design, quality, features, and pricing this watch received a 9/10 from us at The Watch Blog.
You may also like my Best Budget Watches
Where to buy the Citizen NY0040

One of the main issues people have with the Citizen NY0040 is actually acquiring it. It's fairly hard to come across on any of the UK channels I'd normally use. You may be able to pick it up second hand somewhere like eBay if you're happy using that outlet.
I'd recommend searching for Promaster watches on Amazon myself, this way you can see all of the Citizen diving watches available.
I Hope you enjoyed this Citizen NY0040 review. Find more watch reviews below.