Seiko SARB021 Review

My rating: 8/10. A high quality Seiko timepiece powered by a 6R15 automatic movement.

Hello, today I'm taking a look at the Seiko SARB021. This is a pretty impressive watch that's powered by the reliable 6R15 automatic movement and is perfect for casual and formal occasions.
The SARB021 is one of Seiko's higher-end timepieces and as such comes with more of a mid-range price tag. Sadly it's actually quite difficult to come across them these days. I'd recommend asking around some of the bigger watch forums for some tips if you're after one.
I hope you enjoy today's Seiko SARB021 review.
You can check out more of the top Seiko diving watches here.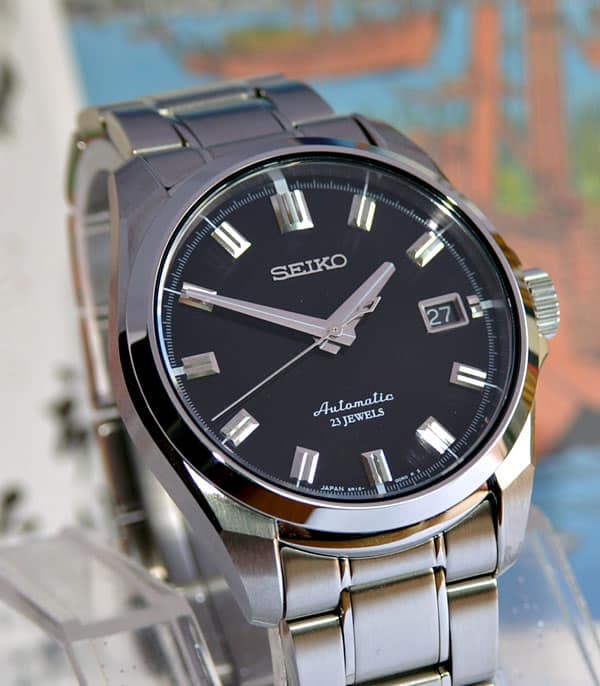 Seiko SARB021 Technical specifications
To get things started I wanted to showcase some of the most popular specifications that people like to check up on for a new watch. This gives you the opportunity to see if you like this style of watch from the get-go. For example, some people wouldn't want to go for a very large watch.
Model Number: SARB021
Crystal Material: Sapphire crystal
Case Diameter: 39mm
Case Thickness: 12mm
Movement: 6R15 Automatic
Water Resistance: 100m / 10 bar
Strap Material: Stainless steel
Seiko SARB021 Dial and Casing Design

The Seiko SARB021 is a popular automatic dress watch from the popular SAR collection of watches. The dial is finished in black with silver coloured hands and bar style hour markers.
On the dial at the 3 o'clock position is a date indicator which is highlighted by a silver square. There are also the terms 'Seiko', 'Automatic', and '23 jewels' written on the dial.
The casing of the Seiko SARB021 is made of stainless steel and has a diameter of 39mm with a thickness of 12mm.
The crown is located at the 3 o'clock position on this model and features a crown guard, note that the crown does not screw down on this timepiece.
On the rear of the SARB021 is an exhibition style caseback. This allows you to take a look at the inner workings of the watch through a glass lens that's made of Hardlex glass.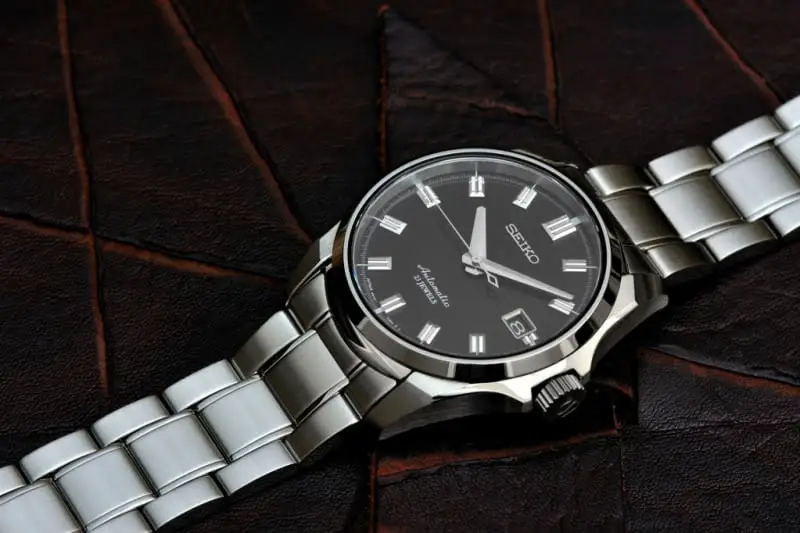 Strap & Clasp
The strap of the Seiko SARB021 is made of stainless steel with a width of 20mm and fastens with a push release style clasp. You can change the strap if you feel like it, the gap between the lugs measures 20mm. Purchase a watch repair kit for all the tools required for this job.
The Seiko SARB021 Movement
Powering this popular Seiko watch is the 6R15 automatic movement, this is found in many SARB and SARX watch models like the SARB033 and SARB065 for instance.
The Seiko 6R15 automatic movement has a 23 jewel design and beats at 21,600 BPH. This gives you a smooth sweeping second hand movement with its 6 ticks per second vs a standard quartz that beats at 1 tick per second.
When fully wound this timepiece has an excellent power reserve of 50 hours. This movement features hacking, this means the second hand will stop movement when the crown is pulled out to the time-setting position, this allows you to set it to the second.
Seiko SARB021 Crystal
Whilst the rear exhibition caseback on this watch makes use of a Hardlex crystal glass, protecting the front of the watch is a more expensive sapphire crystal glass. Sapphire glass offers an excellent level of protection against scratches and knocks. Knowing this is a higher end Seiko watch, I'm not surprised at all to see this.
Also Read: Best Minimalist Watches
SARB021 Water Resistance 
The water resistance rating of the Seiko SARB021 is 100m, also known as 10 bar. As per Wikipedia, this is suitable for recreational surfing, swimming, snorkeling, sailing and water sports. Note that this is not suitable for diving.
Seiko SARB021 Pros & Cons
I wanted to point out some of the pros and cons of this Seiko SARB021 and display them in a nice and easy to read format so you can see if this watch is right for you.
Seiko SARB021 Pros
High end Seiko timepiece
Reliable 6R15 automatic movement
50 hour power reserve
6 ticks per second sweeping movement
Exhibition caseback
100m water resistance rating
Sapphire glass glass
Date display
Seiko SARB021 Cons:
A Final Word On The Seiko SARB021

The Seiko SARB021 is a very elegant looking timepiece that's best suited for formal occasions in my opinion. Whilst you can wear it day to day, it's the type of timepiece I'd save for special occasions.
The quality is definitely there, the SARB021 is well built with a very reliable 6R15 automatic movement and a sapphire crystal glass. Of course, let's not forget the 100m water resistance rating that's also included.
Having taken a look at the quality, specifications, and pricing of this watch, I've decided to give it a 8/10.
Where To Buy The Seiko SARB021

I like to stick to listing retailers that I've actually had experience buying from in the past. Below I've listed some of the top places to buy this watch from, check all for the best price.
Buy on Amazon Unavailable
Buy on Watch Shop Unavailable
Thanks For Reading
I hope you enjoyed having a read through of this Seiko SARB021 review. As always let us know what you thought in the comments section below.
Why not check out our top 100 best watches under £500 next.