Casio G-Shock G100 Watch Review Summary
My rating: 8.5/10. An affordable G-Shock watch that offers excellent value for money.

Hello, today I'm doing a Casio G100 review, for the purpose of this review I'll specifically be looking at the G100-1BV model. This is a very popular lower priced G-Shock watch, it still features a tough durable design but misses out on some of the more advanced features of other higher priced G-Shock watches.
I hope you enjoy this Casio G100-BV review below.
You may also like my: 100 Best Watches Under £100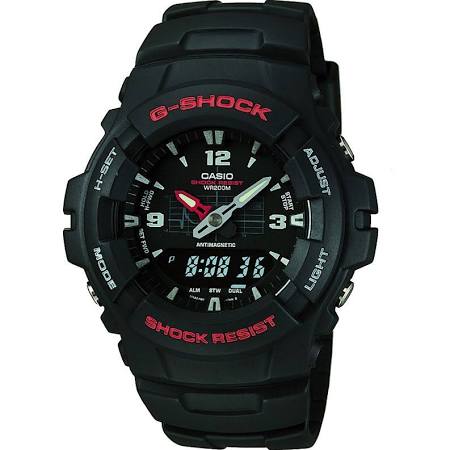 Latest reviews, ratings and prices: Casio G100-1Bv watch
At the bottom of this article, you can find a list of my recommended retailers to purchase this watch from
Casio G-Shock G100 Watch Review
Dial & Casing Design
G-Shock watches are well known for their shock resistance designs, this is a more affordable G-Shock timepiece but it still keeps to this key function. The casing of this watch is made of stainless steel which is wrapped in a thick resin that gives it this protective shock resistance design.
It's another typically larger G-Shock watch with a 48mm casing diameter and a thickness of 16mm. This makes it a chunky watch that's bound to get noticed on your wrist.
The dial uses a popular dual analogue digital display to showcase various bits of information from the functions available, these I'll go into below. A backlight feature can be used to illuminate the lower portion of the watch for better visibility in dim lit conditions.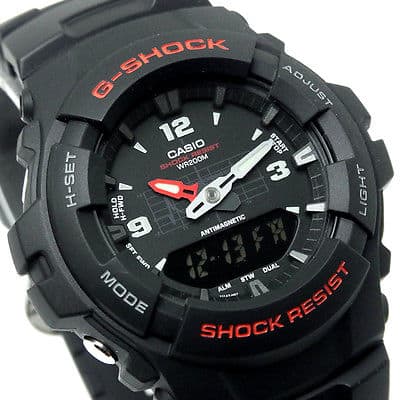 G-Shock G100 Features
This affordable G-Shock watch still has quite a few handy features available in its arsenal. These include a shock and magnetic resistance design, though the magnetic resistance is quite low. An automatic calendar that means you don't need to keep adjusting the date display each month. A 1/100 second stopwatch, 12/24 hour format, daily alarms, and EL backlight are all useful too.
Type Of Crystal
On the front of the timepiece is a mineral crystal lens that offers you a good level of scratch and shatter resistance. Mineral crystal is often chosen for G-Shock watches due to the shatter resistance that you can't get on more expensive sapphire crystal glass.
Watch Movement
Powering the G-Shock Casio G-100 is a reliable and accurate quartz movement. These are often affordable and require very little upkeep, making them a very popular choice. The quartz movement in this watch is Japanese made. Some of Casio's more expensive watches feature Tough Solar movements.
Strap
The strap of the Casio G100-1BV is made of a nice thick rubber with a width of 16mm for a comfortable fit. It fastens with a single tange buckle with a stainless steel clasp as seen in the picture below.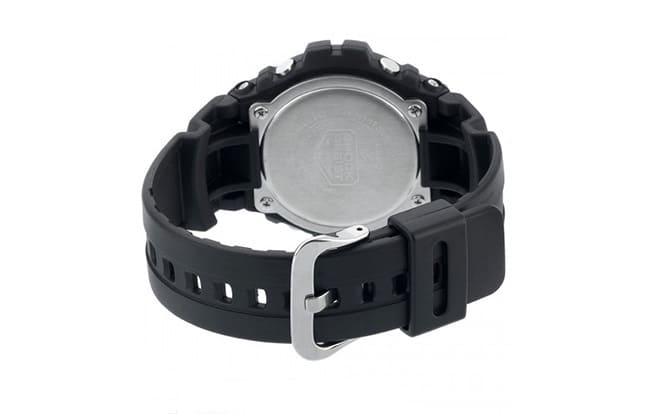 Water Resistance Rating
This watch has a 200m water resistance rating. A 200m or 20 bar rating makes this watch suitable for professional marine activity, serious surface water sports and skin diving.
Watch Specifications
Model Number: G100-1BV
Crystal Material: Mineral crystal
Case Diameter: 48mm
Case Thickness: 16mm
Movement: Japanese Quartz
Water Resistance: 200m / 20 bar
Strap Material: Rubber
Watch Advantages
Quality durable shock resistant construction
Magnetic resistance
Popular oversized design
200m water resistance rating
LED illumination
Value for money
Watch Disadvantages 
Due to the oversized design of this watch, the timepiece may not be suitable for people with smaller wrists
The backlight feature would be better if it lit up the whole dial
My Final Thoughts On This Casio G-Shock G100 Review:
All in all I'd say the Casio G100 series offers excellent value for money. It's a well built rugged watch with some useful functions and an impressive 200m water resistance rating which is nice to see on a watch in this price range.
After looking into the watch design, quality, features, and pricing this watch received an 8.5/10 from us at The Watch Blog.
You may also like my Nixon watches review
Where to buy the Casio G100

I like to stick to listing retailers that I've actually had experience buying from in the past. Below I've listed some of the top places to buy this watch from, check all for the best price. Variations of this watch include: GW 9400

Buy at Amazon
Buy at Watch Shop

Hope you enjoyed this Casio 9400 review. Why not check out our best minimalistic watches next.