Bulova Dress Men's Quartz Watch – 96B223 Review
Yes I get to review another Bulova! Past few days I've been looking at the Citizen Eco drive range but my heart really lies with the Bulova brand, they are one of my favourite affordable brands. If you get a chance I suggest you check out my top 10 Bulova watches for men. Today I'm doing a Bulova 96B223 Review, let me know what you think in the comments below.
This watch is available from Amazon, I hope you enjoy the review below.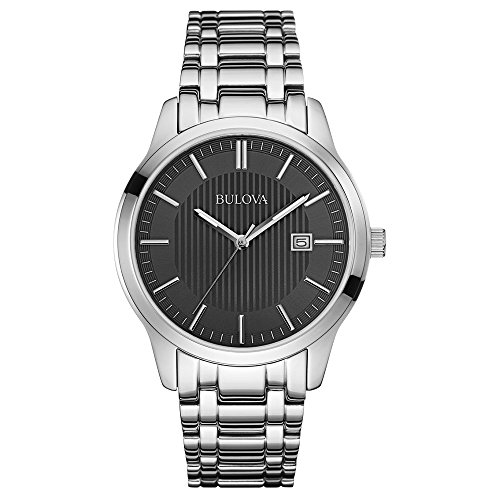 My Thoughts On This Watch
This is your perfect low key dress watch if you ask me. It's got a subtle smart design that will go with most outfits. It's also thin enough that it will nicely fit under the cuff of your shirt if you're suited and booted. The dial has a clear easily legible design with a small date indicator at the 3 o'clock position.
Type of glass
This Bulova features a mineral crystal glass. Mineral glass is a specially hardened via heat treatment to resist most scratches, other scratches can sometimes be buffed out which is good also. The next common crystal that's hard would be the sapphire which is 3 times tougher than mineral but you really wouldn't expect to find this on a watch around this price.
Size
When it comes to size it's perfect for the dress watch style they've gone for. The diameter of the casing is 40mm which is classed as an average man's size dress watch. The thickness of the watch is also smack bang in the middle at 11mm. It's a classic style dress watch and all the sizes are in-keeping with the design.
Calendar
This Bulova 96B223 features a standard date feature with the window at the 3 o'clock position. I think it's fair to say you wouldn't expect anything more at this price but I still like that they've at least kept this feature in otherwise the dial may have felt too empty.
Watch strap and clasp
The strap of the watch is stainless steel with a width of 21mm, again this is in keeping and exactly what I expected. They've also decided to go for the standard fold over clasp, I'm actually quite happy it hasn't got the extra safety catch as I find them a bit of a nightmare to deal with, don't know what the rest of you think about them.
Features:
Brand: Bulova
Model: 96B223
Dial Window Material: Mineral
Clasp Type: Fold Over Clasp
Case Material: Stainless Steel
Case Diameter: 40mm
Case Thickness: 11mm
Band Material: Stainless Steel
Band Width: 21mm
Calender: Standard Date Calendar
Movement: Quartz
Water Resistance: 3 Bar
Conclusion
Overall I think Bulova have been spot on with this watch. If you're looking for something smart, subtle and not going to cost you the world then this is perfect. It's one of my favourite brands for under £100 with a nice design that appeals to me, so I'd be more than happy to recommend this to friends and family. As always it would be great to hear what you think in the comments below.
While you're here check out my top 21 under 200, it's worth looking around and seeing what else you can get for your money too.
Hope you enjoyed my Bulova 96B223 review. You can buy this watch on Amazon.