Boccia Men's Hypoallergenic Titanium Leather Strap Watch B3538-01 Review
Hello today I'm doing a Boccia B3538-01 review. I was recently asked about the best watches for people who have allergies to metal so I was looking into hypoallergenic watches. I'm hoping to put together a top 10 list in the coming days but for now this was the top recommended watch so figured I would take a deeper look at it for you.
This watch is available for from Amazon, I hope you enjoy the review below.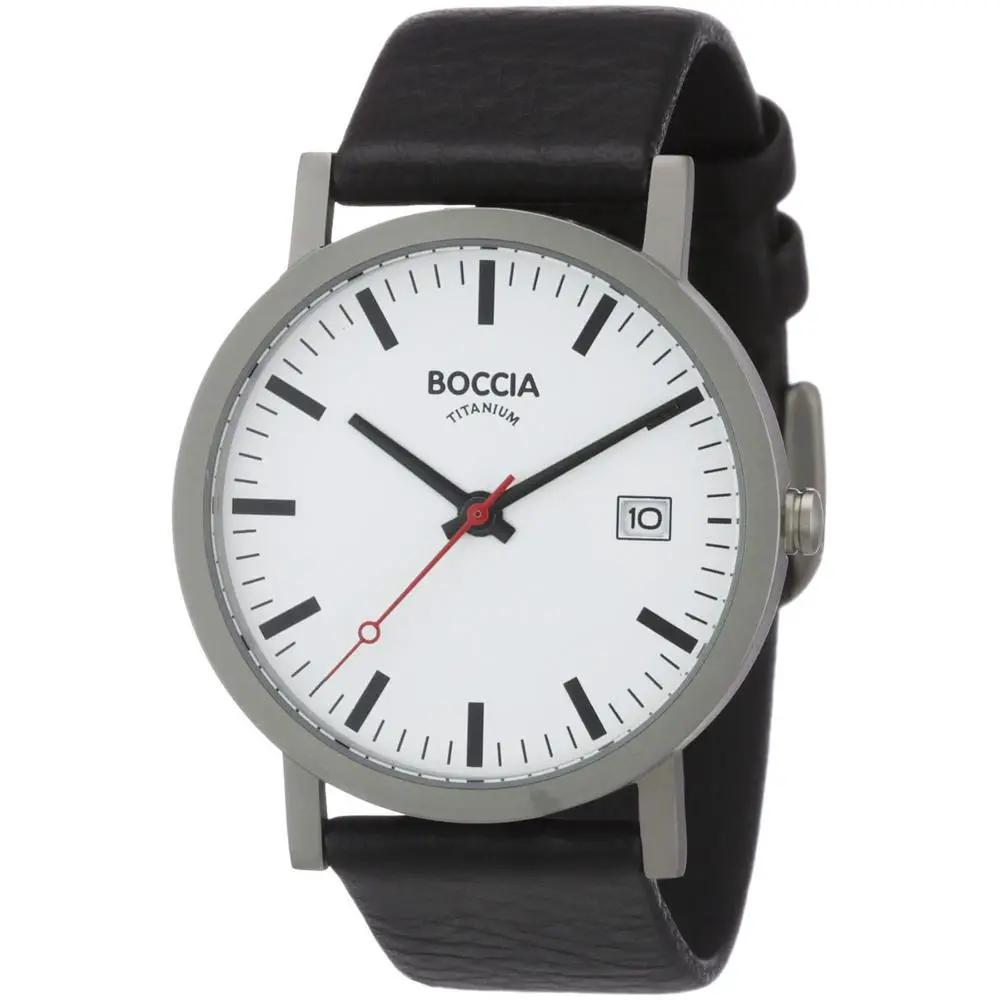 My Thoughts On This Watch
As I mentioned earlier I was looking for the perfect hypoallergenic watch, this watch is completely nickel free and made of titanium which is 30% strong and 50% lighter than steel. Basically I think I found exactly what I was after! Boccia have gone with a nice clean and simple design for the B3538-01. I do like these more simplistic designs but it's worth noting this is a smaller watch at 36mm but we will look into all the extra details in a moment.
Type of glass
Boccia have decided to go for a mineral glass. At this price I think that's a pretty good choice. Mineral glass is pretty much what you would expect around this price. Mineral glass is specially heat treated to be able to resist most scratches although not to the extent a sapphire glass would, but you shouldn't expect sapphire at this price at all.
Size
This is one I'm not so sure about. Personally I like larger watches and normally go for a minimum of 42mm (that's classed as large) where as this watch has a diameter of 36mm which is a small. Now I know I wouldn't really like this but if you prefer smaller watches then it really is perfect. I expect this to sit extremely lightly on the wrist when you combine the size and the fact it's made of titanium. The thickness of the watch is only 6mm so again it's pretty thin adding to the whole lightweight theme.
Calendar
This Boccia B3538-01 has opted for a standard date feature calendar. Not really too much to say about this and again wouldn't expect anything too much more advance for this sort of money. It's worth noting the crown is also titanium which is decent.
Watch strap and clasp
The strap of the watch is made of leather and is 20mm in width. That's a good size really as anything larger really wouldn't go with the size of the case. The clasp is your standard buckle which again is titanium. The use of leather and titanium makes the watch perfect for people with allergies to metal.
Features:
Brand: Boccia
Model: B3538-01
Dial Window Material: Mineral
Clasp Type: Buckle
Case Material: Titanium
Case Diameter: 36mm
Case Thickness: 6mm
Band Material: Leather
Band Width: 20mm
Calender: Standard Date Calendar
Movement: Quartz
Water Resistance: 5 Bar
Conclusion
So if you remember at the start of the review I mentioned I was searching for the best hypoallergenic watches. I have to say I think we've done pretty well finding a decent titanium watch for this sort of money. I'm obviously not overly happy with this size but that's just down to preference and I understand for some people this won't bother them at all. So this will of course be in at number one when I make my top list of hypoallergenic watches which I'm looking forward to doing as I think people will find it pretty helpful. I think the design is nice and low key and could just be perfect for what people are after. As always let me know what you think in the comments below.
While you're here check out my top 21 under 200, it's worth looking around and seeing what else you can get for your money too.
Hope you enjoyed my Boccia B3538-01 review. You can buy this watch on Amazon.