Top 10 Best Watch Boxes UK
Today we're going to be taking a look at some of the best watch boxes available. Be it boxes, cases, winders or roll ups, we want to show you what's our these. It's probably no surprise to you that I love my watches and with that comes a pretty big collection.
I'm currently on 56 watches in my personal collection and need more storage, and that's why today we're looking at the best watch boxes available.
I do keep some of my watches in their original packaging. However, for my more prized ones, I do have a really nice watch box that holds 24 and I'll show you this first and then we'll take a look at a wider selection for all price budgets. Look out for number 10.
1. First up, my Rosewood watch box that holds 24. View on Amazon.
First up in my list of the best watch boxes is the one I've actually purchased for keeps. I've been really pleased with the quality of this watch box. It's very weighty and all the little details make it feel very good value for money. There are obviously cheaper options to hold 24 watches that I'll also include in this post. But if you're after something a little more special I really do recommend this one.
You'll notice on this design the first layer lifts out to reveal the second layer beneath. The top layer sits on an elevated edge so there is no worry about any of the watch faces below getting damaged at all. The watch box is relatively heavy when you compare it with the cheaper options. If you want to find out more details about this one just check out the Amazon listing here
2. The Rochester Watch Box for 10 Watches by Mele & Co View on Amazon
This is another glass top watch box similar to the first option but not of quite the same quality. It also only holds 10 watches. The first layer is for the storage of up to 10 watches. Underneath it comes out with a plain pull out drawer for the storage of other jewellery items. Do you think it earned it's place in our list of the best watch boxes?
3. Songmics Watch Storage Box Jewellery Organiser Case Display Tray Case (10 watches) View on Amazon
If you're looking for a nice storage box and want value for money, you can't really go wrong with this very affordable watch box.
It's made of a faux leatherette, personally, I prefer the wooden veneer boxes but you aren't going to get them for this sort of price. This box holds 10 watches but also has space for more items in the storage pull out tray below.
4. Songmics Elegent Christmas Gift Watch Box Storage watch organiser View on Amazon.
This is another one of the cheaper options. Again, if value for money is your main concern, this one and the one above are sensible choices. But the quality isn't going to be as high as some of the other options in this post that I'll be focusing on more. This option holds 8 watches but also has space for other jewellery items, cufflinks etc.
5. Walnut Watch Collector Box with Chrome fittings for 5 watches by Aevitas View on Amazon
So this is more like it in my opinion. If you're looking for the best watch box for only a few watches then this one is great and only holds 5. This one is by the same company that made mine, the fittings etc are all very good quality.
6. Time Tutelary KA074, 4-Way Automatic Watch Winder Case View on Amazon
Looking into the various reviews online this appears to be a very good value for money option for an automatic watch winder. The case itself is made of a high-quality plastic, similar to that of a decent cars dashboard trim. It runs on a mains adapter and many customers have commented on how quiet it is. Which is a good feature as sometimes this watch winders can be a little noisy. It's built in Germany and shipped from the UK.
7. Carbon Fibre Watch Collectors Box for 8 watches by Tempus View on Amazon.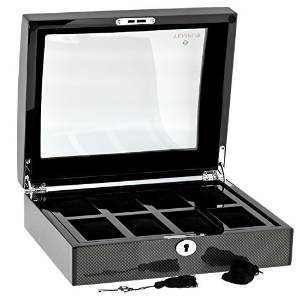 So I really love this one. Just do yourself a favour, take a look at the detailed listing on Amazon and use the zoom feature to look at the carbon fibre detailing. It's damn good. I think if I were to buy another small box today I'd go for this one. It's quite different to get a box made from carbon fibre so I think it's pretty special.
8. Dulwich Designs Connoisseur Collection Black Leather 12 Piece Watch Box View on Amazon
I like the look of this one, and it is one of the best watch boxes for under £100. I'd consider checking out the latch a bit before buying just to make sure it's the style you're happy with.
9. Wolf Designs 457256 Module 2.7 Roadster Double Watch Winder with Cover and Storage View on Amazon
This automatic watch winder looks great and is truly build to high specifications. The high-quality artificial leather housing and chrome-plated lock on the front create a stylish and at the same time, secure repository. The interior's high-quality, exotic Macassar veneer and the chrome-plated fittings lend the watch winder a luxurious and at the same time sporty appearance. The watch winder's LCD control panel makes programming simple. All in all a great purchase for those of you with a bigger budget looking for a luxury watch box. But be prepared for number 10 on our list.
10. Luxtime Winder Baron LCD Touch For 16 Watches Black View on Amazon
So if you don't really have a budget like the rest of us (you lucky so n so) this could be perfect for you. This watch case holds 16 watches up to 60mm in size and holds out well as one of the best watch boxes available.
The rotations can either spin clockwise, anti-clockwise or alternate between the two. I'm a fan of the large glass front so you can really show off your collection if you wish to. Which I'm sure, if I had the money for this sort of thing I would be doing.  To get the full details on this one just check out the listing.
So there you have it, hope you all enjoyed taking a peek at these. Obviously, I personally recommend the first one that I have as I've got first-hand experience with it and know the quality. But I shall leave it up to you. What's your favourite?  Comment below.