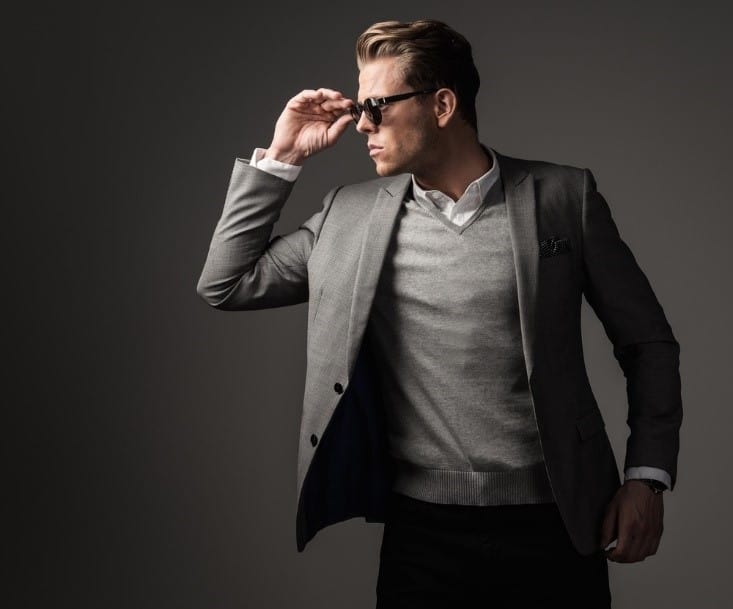 Source: Deposit Photos
Hollywood once said that The Devil Wears Prada, but some of the hottest male celebrities of our times wear the Italian luxury brand, too – and especially Prada sunglasses. Associated with manly sophistication, luxury, and the ultimate expression of style, Prada sunglasses have a strong reputation and a tradition of making any man stand out from the crowd. 
There are many Prada eyewear lines and styles, but today we will focus on the Prada wayfarer sunglasses, as they are all the rage right now both in the streets and on the red carpet. If you want to look your best this season, let us see why you should try Prada's wayfarer glasses and how to wear them! 
Three Things to Know About Prada Wayfarer Sunglasses

 
You will find abundant resources on men's Prada wayfarer sunglasses, and especially on the Prada Men's OPR 01SS wayfarer-style glasses, in the linked article. Experts at ProLuxuryStyle have compiled a list of the best Prada wayfarer shades and their alternatives. Moreover, you should also check out the price points and the extra information about the accompanying accessories of any authentic Prada sunglasses.  
These being said, let us see three things about Prada wayfarer sunglasses that may convince you to try them! 
Prada Wayfarer Sunglasses Work Best with Oval and Heart-Shaped Faces
The wayfarer style of sunglasses comes with a bold, somewhat rugged design, perfect to add balance to an oval-shaped or heart-shaped face.  
In other words, if you look a bit like Justin Timberlake or Will Smith – you have an oval face that is – the wayfarer style is just what you were looking for this season. Besides Prada wayfarer sunglasses, if you have this face shape, you can also wear square sunglasses or brow-line frames.  
Mind your haircut as well! Here are some hairstyles suggestions that will work incredibly well with your oval face and your new Prada sunglasses: 
Buzz-cut hairstyle;

 

Crew cut with fade;

 
A faux hawk hairstyle;

 

An undercut hairstyle;

 

A man bun.

 
Heart-shaped faces work well with wayfarer sunglasses styles and semi-rim or rimless glasses. You have, unfortunately, fewer options in comparison to men with oval faces, so you should hold on to your Prada wayfarers and even get a supplemental pair just in case.  
If you have a heart-shaped face – think Joseph Gordon Levitt – you try a new haircut this summer as well (in case that you are not already sporting a modern haircut): 
A side part haircut;

 

A swept back hairstyle;

 

A fringe cut.

 
Prada Wayfarer Sunglasses Work Great for Men with Sensitive Eyes
The Prada Men's OPR 01SS wayfarer sunglasses are probably some of the best accessories if you have an increased light sensitivity. The glass lenses make the sunglasses durable, resilient, and of good quality. Even though the frames are plastic, they are also scratch proof, so you should not worry about daily wear, tear, or accidents. 
As we were saying, these stylish sunglasses offer 100% protection against UV radiation, so you can wear them during the day, while driving, at the beach, the club, and everywhere you spend your summer days.  
Keep in mind that authentic Prada sunglasses come with a cleaning cloth and hard shell, so you can keep them safe at all times, even at the beach or during holidays.  
Prada Sunglasses for Ages of Timeless Style
The Prada Men's 0PR 01SS wayfarer sunglasses come in four different colors: 
Brushed matte grey;

 

Brushed matte brown;

 

Havana/green.

 
What's more, the versatility of the wayfarer sunglasses helps you achieve a different style and rock a different outfit whenever you feel like it. You can add a pair of brushed matte brown to an Ethan Hawke-style brown suit and conquer the world. Moreover, since Prada accessories will always compliment Prada outfits, you can try the matte grey wayfarers with a grey slim-fit wool Prada suit. 
The Havana/green Prada wayfarers are extremely popular these days, especially since some very hot male celebrities began wearing all shades of green. 
Ever since 2016, the runways and men's fashion shows have been highlighting green creations coming from Richard James, Paul Smith, Burberry, Hermes, Berluti, and Craig Green (excuse the pun), so if you have picked up the trend and want to breathe new life into your classy or casual outfits this summer, think green clothes and Havana Prada wayfarers. Keep in mind that such sunglasses are among those particular men's accessories that will never fade, so style up and make a statement this season! 
We hope we have convinced you to try a pair of Prada wayfarers, for their classic design and timeless appeal. But no matter what sunglasses work best with your facial features or what models you prefer, never forget to accessorize!